LOBBYWATCH
Welcome to the latest Lobbywatch Review. This one has a big section on conflicts of interest that takes in GMO promoters in the US, Canada, and the UK, as well as the European Union, where a new report on vested interests has seriously ruffled feathers. Other sections include Spinning Extinction and De-extinction, and Africa, Gates and Magic Seeds. Finally, there's our usual section on the origins of COVID-19, about which controversy continues to rage.
CONFLICTS OF INTEREST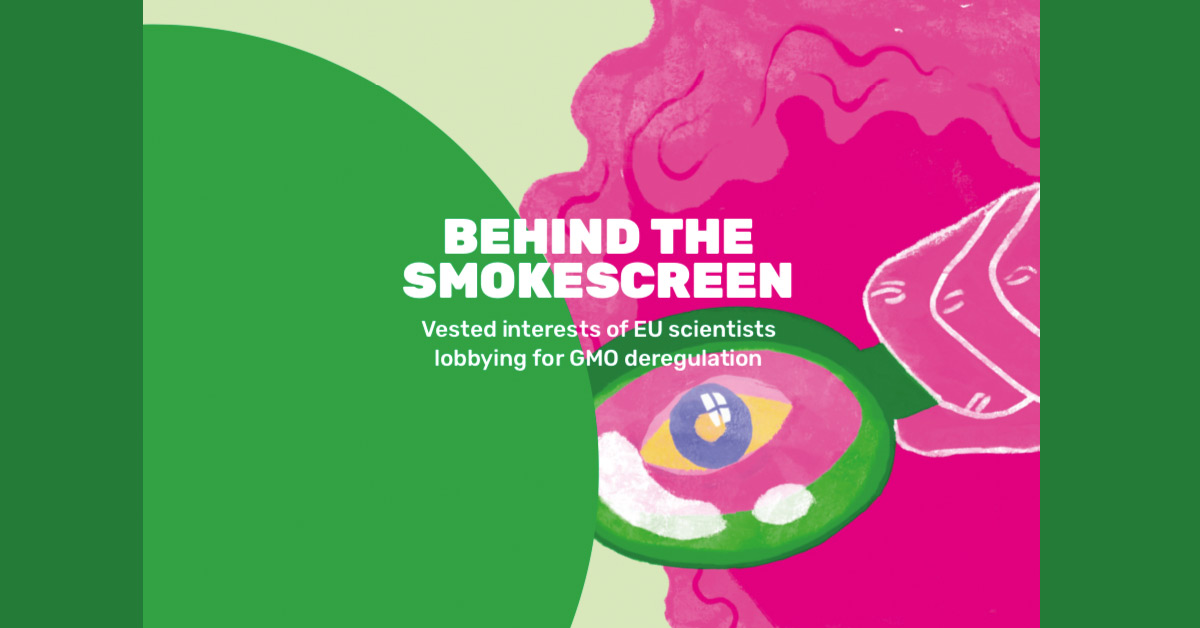 A large number of European scientists involved in agricultural biotechnology research who are actively lobbying for deregulating new gene editing techniques have direct or indirect vested interests in the marketing of plants derived from those techniques, through patents, patent applications, or links with the seed industry. This has been revealed in a new report commissioned by the Green Group in the European Parliament: Behind the smokescreen: Vested interests of EU scientists lobbying for GMO deregulation. The report was written by GMWatch co-director Claire Robinson but represents a team effort by a group of researchers and editors. It follows a GMWatch article on our research showing that 100% of the members of the UK government's GMO advisory body ACRE have potential or actual conflicts of interest with the industry they are supposed to regulate.
The new report gained good coverage in influential European publications, such as Le Monde (France), De Standaard (Belgium), EU Observer, and Die Zeit (Germany). The article in Le Monde noted that organisations representing themselves as the "voice of science" not only had a large number of members with personal interests in the commercialization of GMO plants but a very narrow membership not obviously inclusive of areas of expertise relevant to GMO regulation, such as ecology, agroeconomics, agroecology, toxicology and public health. Another problem highlighted by the report was that universities and public research institutions are not necessarily home to independent scientific thought, due to their close ties to commercial interests. This is the result of government policies encouraging scientists to pursue funding from industry and revenue from developing technologies.
With GMOs and pesticides there always seems to be a ferocious backlash against anyone sharing information on conflicts of interest, and the report exposing the vested interests of researchers and institutes advising the European Commission on GMO legislation has proved no exception. Clearly worried by coverage in Germany's leading quality newspaper, Die Zeit, Bayer's Head of Communications and Media, Christian Maertin, focused on the new report's lead author being from GMWatch. In one tweet the Bayer PR man even claimed the report had been called "the worst defamation of science in many years"(!), although interestingly, after we drew attention to his ludicrous claim, Maertin deleted his tweet. There were multiple other attacks from the usual suspects on not just the report's authors but on some of those who shared the report on social media, and even on Le Monde's award-winning investigative journalist Stéphane Foucart – a frequent target of the pesticide lobby – for daring to write about the report.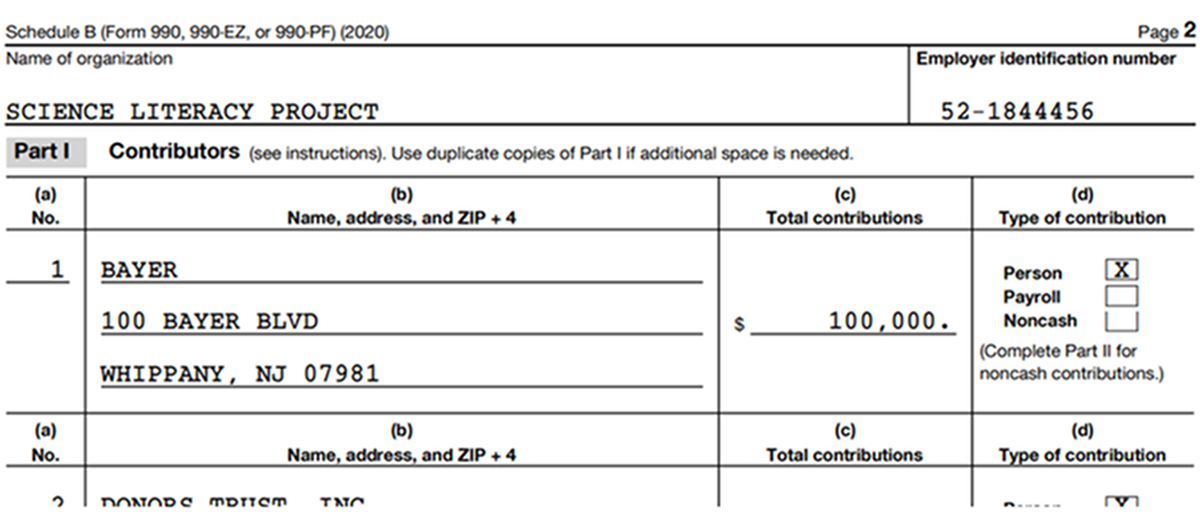 The Genetic Literacy Project has targeted critics of the herbicide Roundup, now owned by Bayer, with a recent barrage of articles, podcasts, and tweets, in which University of Florida scientist Kevin Folta has been to the fore. It started when the Guardian published a piece by the award-winning journalist Carey Gillam on a study showing the prevalence in urine samples in the US of Roundup's ingredient glyphosate, which has been linked to cancer. Folta led the charge for the GLP with a piece that attacked Gillam personally, as well as her reporting. The GLP followed up Folta's article with two pieces targeting Gillam, authored by the GLP's founding executive director Jon Entine. But neither Folta's GLP piece, nor Entine's followups, mentioned that the GLP is funded by Bayer, the producer of Roundup, to the tune of $100,000. Folta's own lucrative financial relationship with Bayer, which has earned him over $200,000 in consultancy fees, also failed to merit a mention. Following Bayer's takeover of Monsanto, a person high up in the company had told Gillam that it was not going to be funding – or engaging in – the front group misinformation and character assassination campaigns that Monsanto had. But that is exactly what Bayer is doing.
A former ally of Kevin Folta and Jon Entine has effectively accused them of "omitting or lying about" Bayer's big dollar funding of the Genetic Literacy Project. Karl Haro Von Mogel is the co-founder of Biofortified, a GM-defending nonprofit that used to have Kevin Folta as one of its directors before an acrimonious falling out. In a series of tweets, Haro Von Mogel alleged that Folta not only already knew about the GLP's industry funding when he claimed it had no industry connections, but that Folta actually assisted the GLP with securing the Bayer money. He also accused Entine's GLP of taking many months to disclose its Bayer funding. Folta's long history of non-disclosure of his own financial connections to industry, and archived versions of the GLP's "financial transparency" page, give credibility to both accusations.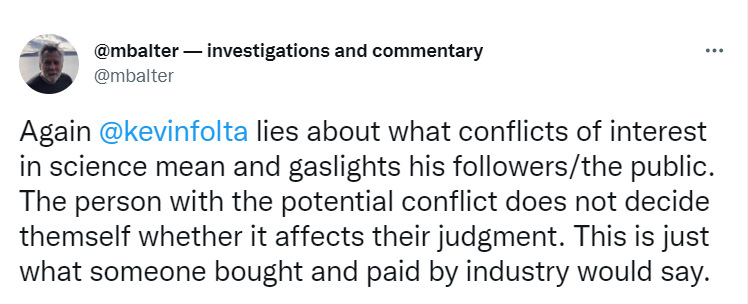 Kevin Folta has attacked GMWatch's recent reporting on the Genetic Literacy Project's long delayed disclosure of its Bayer funding and his alleged involvement in securing it. Responding to our article in a series of tweets, Folta complained that GMWatch had subjected him to "a decade of defamation". Folta also maintained that he had "zero funding from any company, and even if I did, that does not affect the science.". But the veteran science reporter and journalism instructor Michael Balter shot back in a tweet, "Again @kevinfolta lies about what conflicts of interest in science mean and gaslights his followers/the public. The person with the potential conflict does not decide themself whether it affects their judgment. This is just what someone bought and paid by industry would say." Interestingly, Kevin Folta has completely failed to respond to the principal allegation levelled against him – of helping the GLP get Bayer's big dollar funding, then lying about it.
As in the UK, the Canadian government is proposing to deregulate gene-edited crops. When it presented the details of its proposed reform of Canada's GMO regulations in Word files, however, they turned out to have been authored by Jennifer Hubert, the director general of the GMO and pesticide lobby group CropLife Canada. Among the recipients of the document was Vigilance OGM, a Quebec-based NGO which campaigns for transparency and application of the precautionary principle to GMOs. According to the organisation's coordinator, Thibault Rehn, the name of CropLife Canada's director general is not there by chance. "Even if we do not know what part she had, it's still scandalous that the industry is at the origin of this document," he said. "I understand that they are consulted but it is hoped that the government does not directly use the documents drafted by the lobbies for GMOs and pesticides as the basis for significant regulatory change." Federal Agriculture Minister Marie-Claude Bibeau admitted it was "inappropriate" for civil servants and an agrichemical lobbyist to work in the same Word document on a reform aimed at overseeing a new generation of GMOs. In the wake of the controversy, Bibeau promised organic farmers traceability of seeds resulting from gene editing.
Representatives of civil society and Indigenous Peoples' organisations have called on the UN Food and Agriculture Organization (FAO) to end its existing agreement with the pesticide industry lobby group CropLife International, to publicly clarify the nature of its ties with the pesticide industry, and to subject these ties to greater transparency and accountability.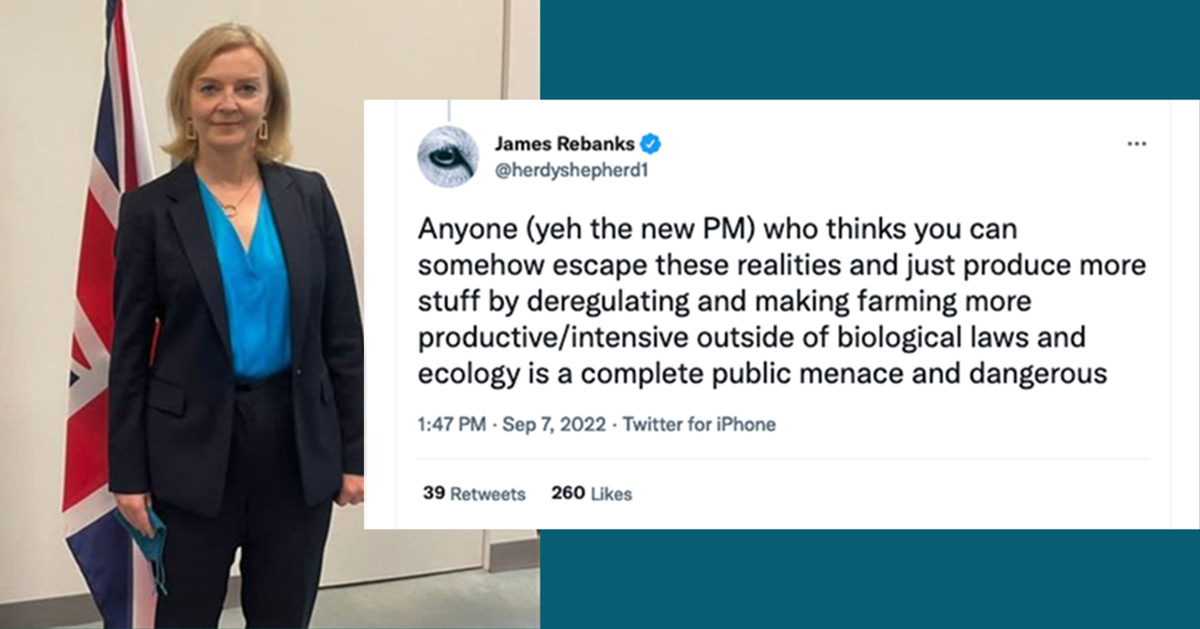 Liz Truss's election as leader of the ruling Conservative Party, and hence the UK's new Prime Minister, appears to hold out little prospect of an improvement in the Tory Government's dire record on food, farming and the environment. In fact, Truss's own statements, her track record, and her ministerial appointments all suggest things could well get worse. That might seem surprising, given that Truss's predecessor, Boris Johnson, used his first three speeches as Prime Minister to flag up his desire to "liberate" GMOs and went on to introduce the "Precision Breeding" bill to fast-track deregulation of gene-edited crops and animals in England. But Truss made clear during her leadership campaign her own commitment to this direction of travel, vowing to "unleash British farming" through deregulation, including of "precision breeding technologies" (code for GMOs). We looked at some of her most alarming ministerial appointments.
Sixteen years after its foundation, the Round Table on Responsible Soy (RTRS), which notoriously greenwashed glyphosate herbicide-doused GMO soy as "responsible", is totally unabashed at holding its 2022 meeting at the campus of Bayer Crop Science, which took over Monsanto, in Monheim, Germany. Does anyone wonder why even its co-founder WWF has since left its ranks? For more on what was always a Big Ag platform, see this.
Remember Patrick Moore, the environmentalist-turned-industry lobbyist who said you can drink a whole quart of glyphosate and it won't hurt you, then ran away when he was offered some? His new book, Fake Invisible Catastrophes and Threats of Doom, claims to be science-based, but the researchers Moore cites in it say he got their work wrong. Read GMWatch's Twitter commentary on Moore. And check out this article about how Kevin Folta gave Moore a platform on his podcast to promote his book and his climate denial – and this piece by the same author about all the GMO promoters who give a free pass to climate science deniers.
AFRICA, GATES AND MAGIC SEEDS
An article for AP News shows the shallowness of Bill Gates' thinking. He actually calls GMO crops "magic seeds" and compares alternatives to "singing kumbaya". The article cites critics in Ghana as asking what would happen if instead of funding GMO crops, so far to little effect after nearly a decade, those resources went to the national research centres in Ghana, to building roads, to building storage, to building silos or to help build markets.
Most people in American agriculture are mostly wrong on most things African, writes the award-winning ag journalist Alan Guebert, so there is no reason for Americans to think they know what's best for this culturally rich, diverse, enormous continent's farm and food sectors. He also says that Bill Gates' general plan for Africa – to "use more pesticides and fossil fuel-based fertiliser that add to climate change" – is the opposite direction from the one that most Western governments, farm groups, and farmers are now headed in, as they try to decarbonize their food economies as quickly as possible.
During September, the Gates Foundation-funded Alliance for a Green Revolution in Africa held its 12th Summit in Rwanda, promising to take "bold actions for resilient food systems". And so they should, because they have taken Africa in the wrong direction, writes Anne Maina of the Biodiversity and Biosafety Association of Kenya. Agricultural production is down, costs to farmers are up for fertilisers that fail to produce results, and hunger is getting worse.
A billion-dollar program meant to revolutionise African agriculture, backed by the Bill and Melinda Gates Foundation and the German government, is fighting to defend its future as more critics argue it's hurting farmers and should be brought to an end. AGRA was founded in 2006 by the Gates and Rockefeller foundations to increase agricultural yields and farm profits in Africa by making it easier for smallholder farmers to access modern fertilisers and seeds. But a group of regional civil society, farm and faith groups has called on international donors, including in Germany, the Netherlands and the UK, to defund the initiative. AGRA stands accused of funnelling fertilisers into African food systems, fuelling debt and raising environmental risks. It's had 17 years to produce results and it's failed.
SPINNING EXTINCTION AND DE-EXTINCTION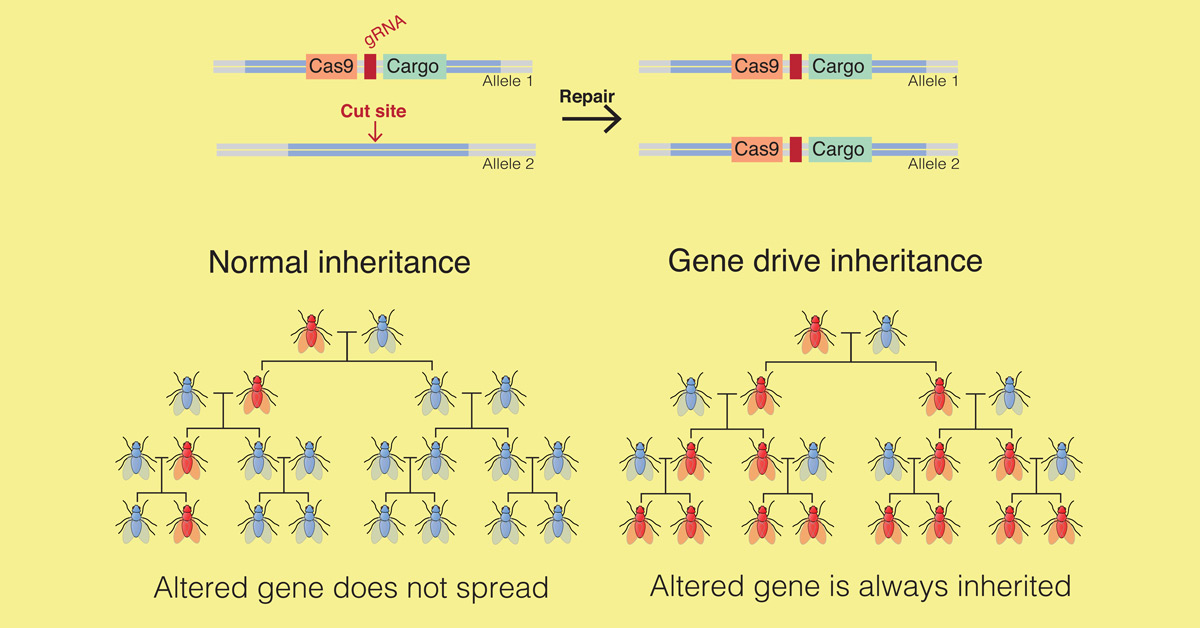 Those who are watching the UK government's moves to "deregulate" (remove regulatory controls from) GMOs will have noticed the attempts to normalise genetic engineering in the mind of the public, policymakers and regulators by using the terms "nature" and "natural" to describe the changes brought about by GM techniques like gene editing. The motivation appears to be to create a sense of safety and familiarity around genetic engineering that will defuse opposition to deregulation. Now similar Orwellian moves are happening in the area of gene drives. Some researchers have begun to describe so-called "selfish genetic elements" found in nature as "natural gene drives" and to present gene drives as a "ubiquitous natural phenomenon". In line with this trend, in an opinion piece, a group of gene drive developers attempt to redefine gene drives as natural – but independent scientists have hit back in a new publication.
Scientists in Australia and the US have launched a multimillion-dollar project to bring back the thylacine or Tasmanian tiger, a marsupial that died out in the 1930s, and reintroduce it to its native Tasmania. Corey Bradshaw, a professor in global ecology at Flinders University, believes it is unlikely to be successful: "Even if you can do it [in the lab] – and I have my doubts about that – how do you create the thousands of individuals of sufficient genetic variation you need to create a healthy population?"
In 2021, the Texas-based biotechnology company Colossal announced their plans to use genetic engineering to recreate the woolly mammoth and return it to the Arctic tundra, its original habitat. Mammoths aren't the only de-extinction target of Colossal — they recently teamed up with scientists in Australia for the plan to bring back the Tasmanian tiger. But conservationists point out that resources could be better spent conserving species currently alive at a time when more than one million species are at risk of going extinct, the majority due to human civilisation. "Any sober look at the situation, and you see that huge amounts of money are being diverted away from conservation programs," said Faysal Bibi, a paleontologist at the Museum of Natural History in Berlin.
Promotional content for Colossal Biosciences' de-extinction work has been posted on Instagram and TikTok. Among the influencers is Kendall Long, a former contestant on the dating and relationship reality television series The Bachelor. Dr Belinda Barnet, a senior lecturer in media at Swinburne University, said: "A research project is not meant to be a brand. You're not trying to sell something. So the fact that this has happened should tell us something about research culture… I can see why Colossal Biosciences might try it – perhaps a media profile will attract more investment". Among those already known to have invested in the company are Paris Hilton, Peter Thiel and the CIA.
Stewart Brand is presented by his admirers as a major alternative thinker and early environmentalist who went on to inspire ecomodernism and champion nuclear energy, GMOs, synthetic biology, geoengineering, and in particular the rebranding of Jurassic Park-type engineering as "de-extinction". But in this Tech Won't Save Us podcast about Brand's real legacy, Paris Marx talks to the author Malcolm Harris, who debunks claims that Brand was ever a notable thinker or environmentalist. Harris also argues that far from representing alternative thinking, the people and projects Brand has backed helped create the disastrous world we live in. For more on Brand, see his entry in our Lobbywatch A-Z of GMO promoters. We're currently updating it, so do let us know about any additions you think the index needs.
COVID-19
The US National Institutes of Health (NIH) has announced it is finally cutting off a grant to the Wuhan Institute of Virology after it continued to refuse to hand over key information about the gain-of-function coronavirus research it conducted with US tax dollars. NIH deputy director Michael Lauer made the revelation in a letter to House Oversight Committee Republicans, in which he said the Wuhan lab had refused to turn over lab notebooks and electronic files connected to its research funded through an NIH grant given to it by the US-based EcoHealth Alliance (EHA), directed by Peter Daszak, who has become notorious for his efforts to squelch the theory that COVID-19 emerged from a Wuhan lab. But Lauer indicated the NIH may continue funding EcoHealth's controversial bat coronavirus research despite the group's documented noncompliance issues, its close links to the Wuhan institute, and its history of funnelling hundreds of thousands of US tax dollars to the Wuhan lab.
Paul Thacker, an award-winning investigative reporter, has published an article about how the major news story of the NIH's cutting off a grant to the Wuhan Institute of Virology has been virtually ignored by the mainstream media and science writers. Thacker's article also shows how the abject failure of science writers to check glaring conflicts of interest has allowed them to be played like puppets. And now, where their failure to do basic journalism is in danger of being exposed, they're choosing silence over reporting.
Dr Anthony Fauci has announced that he will be stepping down from the positions of Director of the National Institute of Allergy and Infectious Diseases (NIAID) and Chief of the NIAID Laboratory of Immunoregulation, as well as the position of Chief Medical Advisor to President Joe Biden. He will be leaving these positions in December of this year "to pursue the next chapter of my career". Some reactions to the announcement can be read in the exchanges about the Twitter thread of Professor Richard H. Ebright, a long-time critic of Fauci who has been outspoken about the dangers of gain-of-function virus research, such as that funded at the Wuhan Institute of Virology by Fauci's NIAID via the EcoHealth Alliance.
The news that the chief US collaborator of the Wuhan Institute of Virology, Peter Daszak's EcoHealth Alliance, has received renewed funding from the National Institutes of Health has sparked indignation. An editorial in the Wall Street Journal noted, "EcoHealth Alliance hasn't been forthcoming about how it used National Institutes of Health grants for coronavirus research in China that may have resulted in the COVID-19 outbreak. Yet Anthony Fauci on his way to retirement this year is rewarding the outfit by giving it more money for… coronavirus research." Iowa Senator Joni Ernst was more forthright: "This is like a bad sequel with the same plot and characters, but a bigger budget. It is absolutely batty that NIH would give another cent of taxpayer money to EcoHealth… EcoHealth's president has demonstrated his total disregard for scientific inquiry by covering up what was really happening in Wuhan and smearing the reputation of those seeking the truth."
Peter Daszak has so far declined to answer questions from lawmakers about EcoHealth's work with the Wuhan Institute of Virology, leading Iowa Senator Joni Ernst to call for the organization to be blocked from receiving federal funds until its leader comes clean. Ernst said, "Giving taxpayer money to EcoHealth to study pandemic prevention is like paying a suspected arsonist to conduct fire safety inspections. NIH got it right when it cancelled the funding for the experiments EcoHealth Alliance was conducting with China's state-run Wuhan Institute. In addition to violating multiple federal laws, EcoHealth has still not turned over documents about these dangerous studies that NIH has requested on multiple occasions that could offer vital clues to the origins of the COVID-19 pandemic".
A Texas lab said it assumes responsibility for entering into "poorly drafted" agreements with three Chinese maximum bio-containment labs that granted them broad authority to delete so-called "secret files", including research data stored on US servers. In a new statement to US Right to Know, the University of Texas Medical Branch acknowledged that data destruction provisions in its contracts with three Chinese labs — including the Wuhan Institute of Virology — may have violated Texas state law.
In the earliest days of the pandemic, Anthony Fauci and Francis Collins emailed about coronaviruses under study at the Wuhan Institute of Virology and about whether they had steered money to the lab, an email obtained by US Right to Know shows. Collins, then leader of the National Institutes of Health, and Fauci, leader of its infectious diseases institute, exchanged emails on February 1, 2020, about a preprint authored by Zhengli Shi, director of the Wuhan Institute of Virology's Center for Emerging Infectious Diseases. The preprint described bat coronaviruses under study at the lab, including a coronavirus 96% genetically similar to the coronavirus that causes COVID-19. The emails show that Collins and Fauci were concerned about links between the Wuhan Institute of Virology and NIH. About two hours after the email exchange, Collins and Fauci would join a secret teleconference with a group of virologists who were closely examining the novel coronavirus. The teleconference touched off a high profile push to discredit the lab leak hypothesis.
"The proximal origin of SARS-CoV-2" is one of the most influential scientific articles in history. "We do not believe that any type of laboratory-based scenario is plausible," the article read. It took 15 months and a Freedom of Information Act lawsuit to reveal that each of the five authors had privately expressed concerns about the engineering of the virus or about the Wuhan Institute of Virology's store of novel coronaviruses. Now US Right to Know, the organisation that has played a key role in forcing the release of this information, has put together a revealing timeline that fleshes out the backstory of the enormously influential article, and its authors' interactions with Francis Collins and Anthony Fauci.
Through his investigations as the head of the COVID-19 commission, Prof Jeffrey Sachs has come to the conclusion that there is extremely dangerous biotechnology research that is being kept from public view, that the United States was supporting much of this research, and that it is very possible that SARS-CoV-2, the virus responsible for COVID-19, originated through dangerous lab research gone awry. Prof Sachs recently co-authored a paper calling for an independent inquiry into the virus's origins. He believes that there is clear proof that the National Institutes of Health and many members of the scientific community have been impeding a serious investigation of the origins of COVID-19 and deflecting attention away from the hypothesis that risky US-supported research may have led to millions of deaths.
A senior World Health Organization expert expressed skepticism in 2020 that the COVID-19 pandemic originated in a wet market, according to a US State Department cable obtained by US Right to Know. The November 20, 2020 cable provides a window into the views of a high-ranking WHO expert about the pandemic's origin, and contrasts with the certainty of some Western virologists that the pandemic crossed over from wildlife at the Huanan Seafood Wholesale Market in Wuhan, China.
..................................................................
We hope you've enjoyed this newsletter, which is made possible by readers' donations. Please support our work with a one-off or regular donation. Thank you!