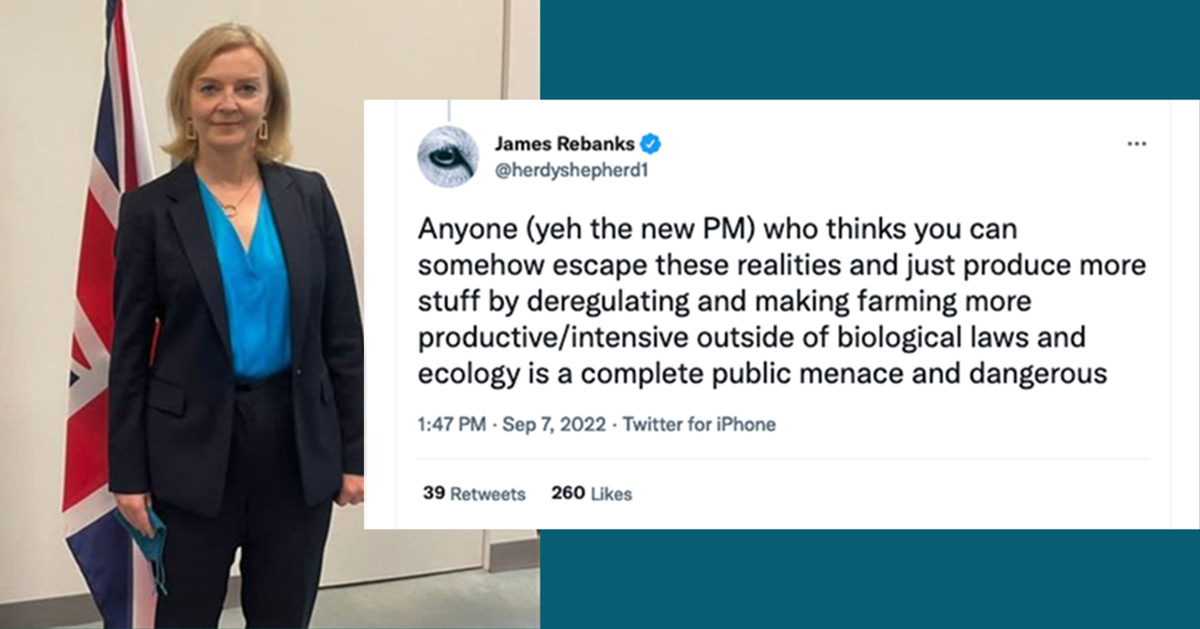 James Rebanks calls Liz Truss and some of her ministers "full on crazed ideologues". Report by Jonathan Matthews
Liz Truss's election as leader of the ruling Conservative Party, and hence the UK's new Prime Minister, appears to hold out little prospect of an improvement in the Tory Government's dire record on food, farming and the environment. In fact, Truss's own statements, her track record, and her ministerial appointments all suggest things could well get worse.

That might seem surprising, given that Truss's predecessor, Boris Johnson, used his first three speeches as Prime Minister to flag up his desire to "liberate" GMOs and went on to introduce the "Precision Breeding" bill to fast-track deregulation of gene-edited crops and animals in England.

But Truss made clear during her leadership campaign her own commitment to this direction of travel, vowing to "unleash British farming" through deregulation, including of "precision breeding technologies" (code for GMOs).
Dubious track record
Then there is Truss's track record as Secretary of State for International Trade (2019-2021) and in particular her trade deal with Australia, which is widely seen as leaving the UK open to imports of food produced to lower animal welfare and environmental standards. It's a deal that critics say effectively "offshored" the use of toxic pesticides banned in the UK on health and environmental grounds. Such deals are likely to put pressure on British farmers to intensify their own production and lobby for lower UK standards that allow them to compete.

And Truss's record as Secretary of State for the Department for Environment, Food and Rural Affairs (Defra) from 2014‐2016 suggests she is open to such industry lobbying. Despite having made positive noises about protecting pollinators, Truss approved the National Farmers Union (NFU) request for special use of bee-toxic neonicotinoid pesticides, regardless of the government's own promise, an EU ban and considerable domestic opposition.
"Our very own little Bolsonaro"
The concerns raised by Truss's track record are more than reinforced by some of the ministerial appointments she has made in forming her new government. Of particular concern is the appointment of Mark Spencer as a Defra (farming and environment) Minister.
During the leadership campaign, Zac Goldsmith issued a strongly worded warning about Spencer's potential impact if he went to Defra. He tweeted, "Mark was the biggest blocker of measures to protect nature, biodiversity, animal welfare. He will be our very own little Bolsonaro.* Grim news for nature."

Goldsmith's bleak assessment of Spencer was seconded by the conservationist Miles King, who tweeted, "If NFU champion Mark Spencer gets into Defra, it'll be a disaster for nature."

Spencer isn't only deeply unpopular with environmentalists. He was the only member of Boris Johnson's cabinet, other than Johnson himself, to have had seriously negative ratings among Conservative Party members. He also became unpopular with Tory MPs during the Owen Paterson lobbying scandal, where he played a pivotal role.

But for the All-Party Parliamentary Group (APPG) on Science and Technology in Agriculture it was "Great news that a farmer, and a past chair of this All-Party Group, has been appointed as Minister of State at @DefraGovUK". This APPG that Spencer previously chaired is one used by the biotech industry to lobby on behalf of its business interests, and in particular for the introduction of GMO crop cultivation to UK farming – a prospect about which Mark Spencer is extremely enthusiastic.
Other worrying appointments
As a Minister of State, Spencer will be senior to everyone at Defra bar the ministry's new Secretary of State, Ranil Jayawardena, a former banker and former minister for international trade, who replaces the sacked George Eustice. According to the monitoring website They Work for You, Jayawardena has "consistently voted against measures to prevent climate change".

That puts him on the same page as Jacob Rees-Mogg, whom Truss has put in charge of both energy and meeting the UK's legally binding target of net zero greenhouse gas emissions by 2050. The Green MP Caroline Lucas describes Truss's new Secretary of State for Business and Energy, a notorious climate denier, as "fossil fuel loving" and "deregulation-obsessed".

That obsession with slashing regulations will be shared by Matthew Sinclair, Truss's new chief economic advisor. He's the former boss of the TaxPayers' Alliance, a right-wing Tufton Street think tank whose undeclared financial backers are said to include "dark money" funders from the US. A profile in the "i" newspaper says, "Sinclair appears to be more interested in mining asteroids and terraforming Mars** than the environment on his own planet."
Our Roundup-loving Deputy PM
In as Health Minister and Deputy Prime Minister is the Roundup-loving Therese Coffey, who is said to be one of "Truss's closest friends in Whitehall". Coffey hit the headlines in 2018 when she took to Twitter to announce that she was "Getting ready to deploy the amazing Roundup", alongside a picture of Monsanto's product.

There was considerable surprise that an environment minister, as Coffey then was, thought it appropriate to publicly promote a commercial product that many regard as harmful to the environment. It also looked like Coffey was deliberately coming to Monsanto's aid at a time when the world's media was busy reporting how a US jury had just determined that the company's "amazing Roundup" had caused Dewayne Johnson's cancer, in the first landmark Roundup-cancer court case.
Reaction: "Bleak day for agriculture and the environment"
Truss's views, record and appointments have generated a lot of concern. The well known author and farmer James Rebanks tweeted, "They are full on crazed ideologues. I'm amazed people don't see this for what it is… it's levels worse than any government we have ever had including those in the 1980s on environment/food/farming."

Rebanks also commented, "Anyone (ye[a]h the new PM) who thinks you can… just produce more stuff by deregulating and making farming more productive/intensive outside of biological laws and ecology is a complete public menace and dangerous."

The magazine Wicked Leeks reported, "The Landworkers' Alliance (LWA), a farmers' union which represents more than 2,000 small and medium-scale farmers and landworkers said that (Truss's) record on trade, proposed tax cuts and her focus on high-tech solutions represented 'a bleak day for agriculture and the environment'."

It also quoted the LWA's horticulture campaign coordinator, Rebecca Laughton: "Less public budget to support the food and farming sector will likely result in the roll-out of new 'efficient' hi-tech solutions such as gene editing and the use of robotics to replace labour on farms, thereby taking control of our farming system out of the hands of farmers and food producers and putting it firmly into the hands of large corporations and tech giants."

The only potentially positive aspect to Truss's appointment is that she looks set to preside over an even deeper descent into chaos for our food and farming systems, making the need for reform towards genuine sustainability clearer than ever before.


* Jair Bolsonaro, the Brazilian president who has gained notoriety for his destructive policies that have wreaked havoc on the Amazon rainforest and the Indigenous peoples who live there.
** Deliberately modifying the environment of Mars to make it habitable for humans.


Image of Liz Truss from Tasnim News Agency via Wiki Commons, licensed under a Creative Commons Attribution 4.0 International License.