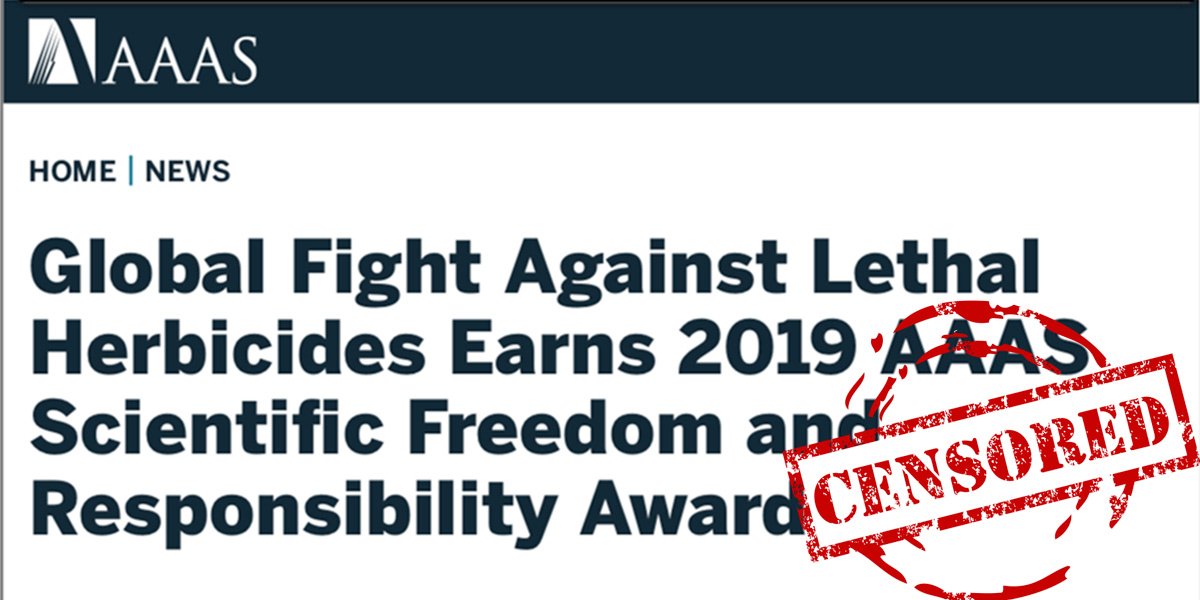 Press release announcing award to Sri Lankan researchers is suppressed
The American Association for the Advancement of Science (AAAS) says it's "reassessing" its previous decision to give the 2019 Award for Scientific Freedom and Responsibility to two Sri Lankan scientists who uncovered an association between glyphosate herbicide exposure and chronic kidney disease in farmers in areas with hard water.
 
In a series of peer-reviewed papers, Drs Sarath Gunatilake and Channa Jayasumana presented their hypothesis that glyphosate, marketed mostly by Monsanto as Roundup, was transporting arsenic, cadmium and other heavy metals to the kidneys of those drinking contaminated water, causing chronic kidney disease.
 
Just a few days ago, on 4 February, the AAAS announced it was giving the award to Drs Gunatilake and Jayasumana, whom it characterised as "Two public health researchers who battled powerful corporate interests to uncover the deadly effects of industrial herbicides, solving a medical mystery and protecting the health of farming communities across the world".
 
The AAAS press release continued, "Drs. Sarath Gunatilake and Channa Jayasumana faced death threats and claims of research misconduct while working to determine the cause of a kidney disease epidemic that has claimed tens of thousands of lives in their home country of Sri Lanka and around the world. Ultimately, their advocacy led to the culprit, a herbicide called glyphosate, being banned in several affected countries."
 
In a strange reversal, by 6 February, the AAAS had removed its press release from the Internet – but not before GMWatch republished it. You can read it here.

In response to a Twitter storm from defenders and foes of glyphosate, the AAAS tweeted, "We are taking steps to reassess the 2019 Award for Scientific Freedom and Responsibility, after concerns were voiced by scientists and members. This award will not be presented next week as originally planned while we further evaluate the award selection."
 
Who exactly were the people who voiced these "concerns"? We know who one of them was: Kevin Folta, the University of Florida promoter of GMOs and pesticides, and a member of the AAAS. On 5 February Folta wrote a blog post which was republished on the website of the Genetic Literacy Project, under the heading, AAAS fumble? Prestigious scientists' organization endorses 'data-less' study suggesting links between glyphosate and kidney disease in Sri Lanka.
 
Citing the Sri Lankan authors' first paper, Folta wrote, "The paper presented a hypothesis. There were no data. There were no experiments. It was a semi-well-crafted hypothesis that could be tested."
 
However, Folta's claim that there are "no data" in the paper is false. There are plenty of data in this and the authors' follow-up papers – from epidemiological and case-control studies, as well as geographical surveys – that support the idea that glyphosate herbicides should be withdrawn from use as a precautionary measure until they can be proven safe.
 
Are these data conclusive? No. They point to an association. It's true that the link between glyphosate exposure and chronic kidney disease will always remain a "hypothesis" until it is proven in controlled long-term animal feeding studies. Such studies would count as the "experiments" that Folta complains haven't been done. The truth is that they are unlikely to be done, due to the massive expense and the unwillingness of industry and governments to fund studies that could show that they were responsible for exposing people to poisons over many years.
 
Drs Sarath Gunatilake and Channa Jayasumana, as Folta admits, have in no way overstated their case. They are conservative and careful in forming their conclusions.
 
The AAAS's press release likely overstated things in calling glyphosate herbicides "deadly" and "lethal", as such words tend to imply acute toxicants that kill with immediate effect. It would be more accurate to call them slow poisons, though there is little doubt that the end result of exposures can be "deadly".
 
But a less than ideal choice of words on the part of the author of a press release is an argument for modifying the press release, not reconsidering an award given to honest public interest researchers, particularly ones who have already been the victims of industry-linked intimidation.
And in the case of this particular award, the conclusiveness of the researchers' findings on glyphosate is irrelevant. As Prof Jack Heinemann of the University of Canterbury, New Zealand, said on Twitter, "Whether or not the link between glyphosate (or formulation) and kidney disease is right misses the point. A scientific freedom award is given for persecution. If you only give it for proven science, it would be delayed decades and it would only benefit those who persecute."
Folta's record
Now let's look at the record of their accuser. Kevin Folta took a $25,000 grant from Monsanto to promote GMOs and took steps to avoid disclosing it to the public, while all the time falsely telling the public that he had "nothing to do with Monsanto".
 
Folta has allowed an agrochemical industry PR firm to ghostwrite for him, but then denied it. The PR firm ghostwrote answers to questions on GMOs, which were then published on the industry's public relations website, GMO Answers, under Folta's name.
 
He had to stand down as Chair of his university department after his then wife accused him of violent abuse. She also accused him of taking money for consulting for Bayer. He was deserted by several of his former close associates after that turned out to be true. He has also publicly defended drunk driving and published advice on how to get away with it.
 
Finally, although Folta has no known medical or toxicology background, he regularly pontificates on food and chemical safety as if he were an expert, often inaccurately. And in his defence of Monsanto's glyphosate-based herbicide Roundup, Folta has not only made a series of false claims, but irresponsibly, has even drunk it publicly, supposedly to demonstrate its "harmlessness".
The AAAS's record
Let's hope the AAAS stands up to the likes of Folta – and stands by its decision to honour the Sri Lankan scientists, who have endured too much victimisation already for their brave work.
 
The AAAS has a mixed record when it comes to public interest issues. In 2013 the AAAS's board of directors issued a statement opposing the labelling of GM foods in the US. The statement argued that such labelling "can only serve to mislead and falsely alarm consumers". The AAAS was at the time chaired by Nina Fedoroff, who has close ties to the GMO industry.
 
But in an incident that showed that the AAAS is not monolithic but contains scientists who do not toe the GMO lobby's line, a group of scientists and physicians that included many long-standing AAAS members condemned the AAAS board of directors' statement as "an Orwellian argument that violates the right of consumers to make informed decisions". They pointed to evidence showing that Roundup, the herbicide used on most GM crops, could pose risks that consumers might reasonably want to avoid.
 
Sadly, the AAAS board seems more likely than its membership to have the power to decide on the fate of the award that was to be given to the Sri Lankan scientists. Whatever they decide, the row kicked up by the antics of the likes of Folta has served to bring the risks of glyphosate herbicides to the notice of a wider public.
 
If the AAAS does decide to withdraw its award to the Sri Lankan scientists, that will send a clear message to the public about the suppression of science. Ironically, of course, it was the now-suppressed AAAS press release which noted that jeopardizing the profits of the glyphosate industry has come with serious "consequences" for Drs Gunatilake and Jayasumana.