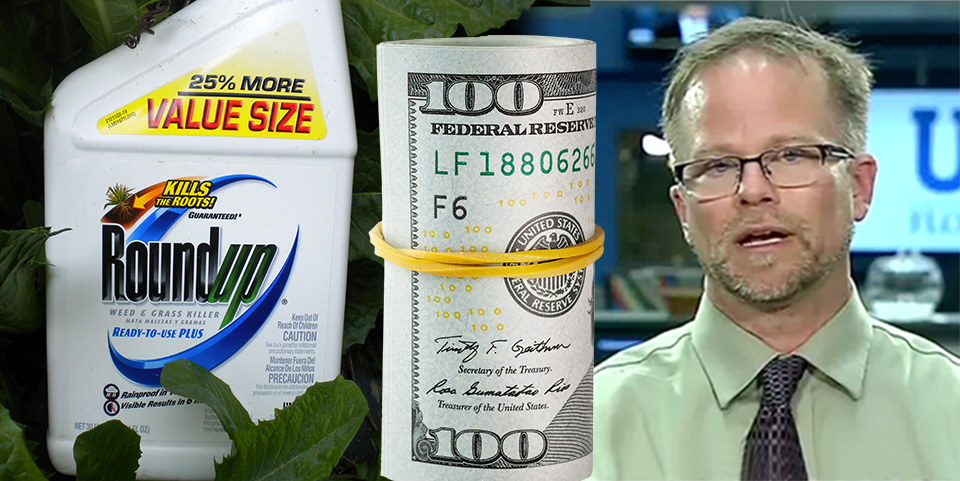 Investigation reveals damaging conflict of interest despite claims of no Monsanto funding. Report by Claire Robinson and Jonathan Matthews
In what appears to be an exercise in damage limitation, an article in the journal Nature has disclosed that Kevin Folta, a plant scientist at the University of Florida, received a US$25,000 grant last year from Monsanto. Monsanto noted that the money "may be used at your discretion in support of your research and outreach projects", according to the journal.
 
Folta is active on the GMO-promoting website GMO Answers. The website is "funded by the members of The Council for Biotechnology Information, which includes BASF, Bayer CropScience, Dow AgroSciences, DuPont, Monsanto Company and Syngenta." The site describes Folta as an "independent expert" and to date has not disclosed his Monsanto funding.
 
The Folta-Monsanto collaboration was revealed in an investigation by the food transparency campaign, US Right to Know. The investigation yielded 4,600 pages of e-mails and other records from Folta.
 
Folta says that the funds are earmarked for a proposed University of Florida programme on communicating biotechnology. But according to the article in Nature, the documents show that Monsanto paid for Folta's travel to speak to US politicians, the media, farmers, and students.
 
US Right to Know launched its investigation of academic researchers after it noticed that several had answered questions about GM crops on the GMO Answers website. US Right to Know considers the industry-funded site, which is managed by public relations firm Ketchum of New York, to be a "straight-up marketing tool to spin GMOs in a positive light". It is now seeking the records of public-sector researchers — who are subject to freedom-of-information laws — to confirm its suspicions.

It appears from the Nature piece that the emails released by the University of Florida may show that Folta used material provided by Ketchum's PR people in his GMO Answers' responses. Folta is quoted as saying of Ketchum's suggested answers, "I don't know if I used them, modified them or what."
 
What makes the Folta disclosures particularly notable is that to date Folta has gone to great lengths to bat off suggestions that he gets any money from Monsanto, emphasizing that he is an independent scientist working in a public institution and funded from public sources. "I'm paid by the citizens of my state to help them understand science. I'm a shill for science and the land grant university mission," he commented on one site. On another, when the question of whether he got money from the biotech industry came up, he emphasized how open he is about his funding: "Hey guys, you know you could just reach out and ask… always glad to talk about such things. My research has been funded 100% by public sources, except for a small amount we get for strawberry research... No Monsanto." Later he elaborates: "Alas, no research money from Monsanto, never any personal compensation for any talks" (our emphasis). That posting was made this year – after the Monsanto funding is now known to have been awarded.
 
Indeed, only two months ago Kevin Folta declared, "I have nothing to do with Monsanto."
 
And as far as we are aware, prior to the article in Nature, Folta has never disclosed anywhere that he has received this funding from Monsanto, even in response to direct questions. This failure to disclose needs to be seen in the context of Folta's long history of not just aggressively denying receiving any monies at all from Monsanto, even as much as "a dime", but ridiculing those who suggested otherwise.
 
Defending Roundup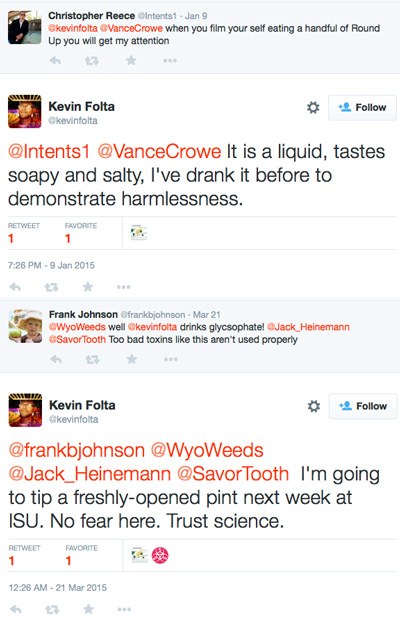 As well as GMOs, Folta is well known for his aggressive defence of another very lucrative Monsanto product: Roundup. On Twitter and in public talks, Folta has told audiences that he drinks Monsanto's herbicide formulation, a registered poison. Not only does Roundup come with a warning that it is a poison and should not be taken internally, but it is the subject of ongoing research worldwide for its suspected and proven adverse effects on human and animal health. It's also a "probable" carcinogen, according to the World Health Organization's cancer agency IARC. Yet on Twitter, Folta has said that he has drunk it "to demonstrate harmlessness". On another occasion he declared, "I'm going to tip a freshly-opened pint next week at ISU. No fear here. Trust science."
 
What makes these issues so important is that it is clear from the scientific literature, dating back over three decades, that funding has a marked influence on science. This has led to demands for disclosure of industry payments, most notably by scientific journals. It is also recognized that even the provision of free travel and other expenses may compromise integrity and impartiality and that this principle does not only apply to  research, but also extends to science communication activities, as in the case of Folta.

Kevin Folta's impartiality has been challenged many times. He says on GMO Answers, "My answers are 100% consistent with the peer-reviewed literature." But he has been found to disregard peer-reviewed research, for example, on the nutritional value of organic food, in order to push his biotech agenda.

And now Folta's apparent failure to give any indication of his Monsanto support until forced to do so has fatally damaged his credibility.