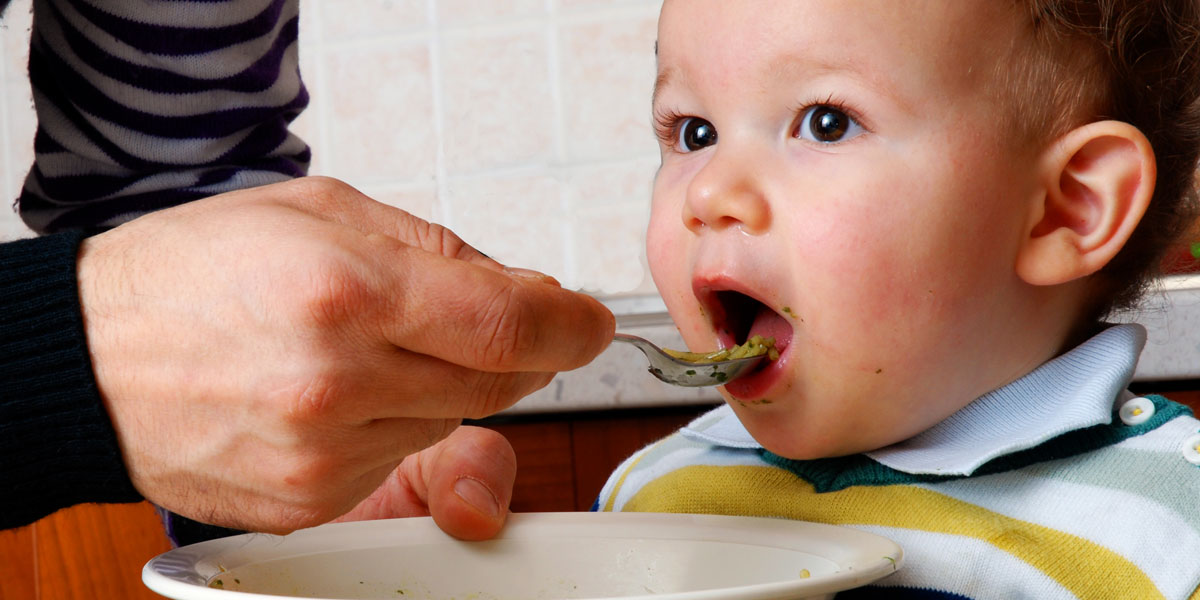 A scientist has warned that gene-edited foods could prove toxic or allergenic and that if the UK scraps or weakens EU rules after Brexit, public health could be put at risk. Dr Michael Antoniou voiced his concerns at the Oxford Real Farming Conference earlier this month. Now they have been featured in an article in The Sunday Times by its science editor Jonathan Leake, titled, "GM food: Keep EU rules or risk health, says gene expert".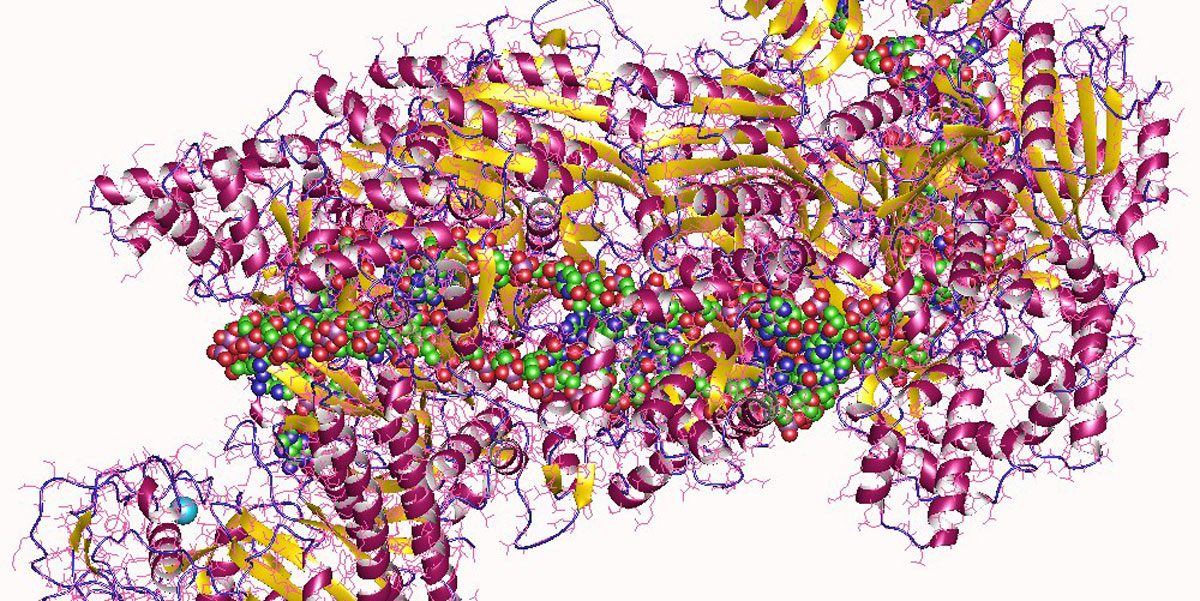 A new study reveals yet another major unintended effect from the CRISPR-Cas9 gene editing tool – with potentially serious implications for the food safety of gene-edited plants. The study found that CRISPR-Cas9 edits intended to knockout the function of a gene fail to do so. Instead, proteins are still produced from the damaged genes, and many of those proteins are still functional, though mutant, which means they could gain a novel function with unknown consequences. The result could be the production of gene-edited plants that are toxic or allergenic.
A new tool for rapidly analyzing CRISPR edits has revealed frequent production of unintended edits, according to a study published in the Nature journal Communications Biology. "We've developed a new process for rapidly screening all of the edits made by CRISPR, and it shows there may be many more unintended changes to DNA around the site of a CRISPR repair than previously thought," said Eric Kmiec, PhD, lead author of the study.
An article from the German newspaper Der Freitag is a rare example of both sides of the debate about new GM techniques getting coverage in the mainstream media. The article quotes critical scientists and experts drawing attention to the risks and limitations of gene editing as applied to food plants. Apple grower Hans-Joachim Bannier says that in view of the history of modern apple cultivation, which has neglected holistic considerations of plant health, genetic engineers' belief "that a single gene can save a species that has long since developed in a risky direction" is wrong.
Bayer scientist Dr Larry Gilbertson has admitted that gene-editing techniques, which the industry calls "New Breeding Techniques", are GM techniques and are "the same", in terms of the fact that they make changes in DNA. He adds that "there's no intrinsic difference in the risk" between older-style GM and newer techniques. He also says, contrary to frequent claims, that organisms obtained by gene-editing techniques are detectable. However, in GMWatch's view, his claim that the changes produced by new GM techniques are "just like breeding, just like random mutagenesis technologies" is not supported by evidence. The evidence shows that the techniques are different and lead to different risks.
Dr Michael Antoniou of King's College London and Claire Robinson of GMWatch will speak at a conference in Brussels on 20 February, hosted by the European Economic and Social Committee and Via Campesina. The conference is on New GMOs, Patents and the Peasants' Rights to Seeds in Europe. The title of their talk is "Why the regulation of gene editing will not hurt small and medium size companies". It will challenge the notion that the de-regulation of new GM techniques like gene editing will help such companies. Register now!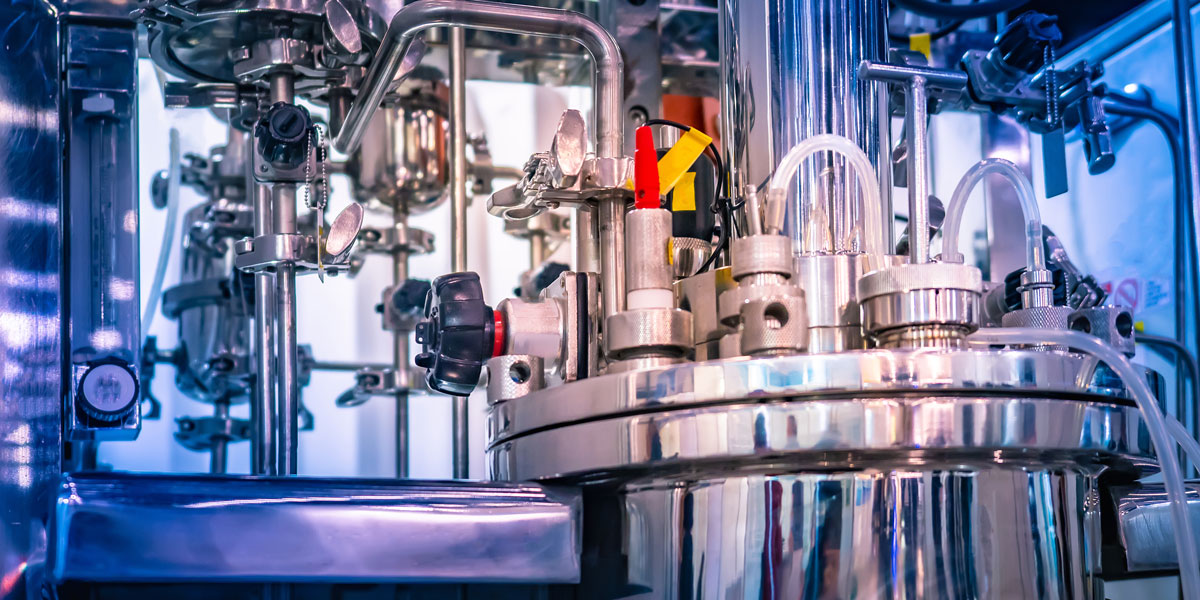 The journalist George Monbiot has created a huge controversy by predicting that farmers and farming as we know them will soon be made redundant by the massive expansion of lab-grown food. This, he argues, is largely a good thing (though not without its own dangers), because agriculture is the key driver of major environmental catastrophes: climate breakdown, maxed-out water use, agrochemical pollution, soil erosion, and Insectageddon (the mass die-off of insects). We at GMWatch respect and admire Monbiot for his courageous work over many years, but we explain why we believe he is seriously mistaken in his latest intellectual venture.
Many have responded to George Monbiot's embrace of farm-free food by trying to marshal a bunch of "killer" facts to prove him wrong. But Pat Thomas of Beyond GM writes, "A more constructive activity would be to try and understand the landscape from which his claims have emerged, and who else is paying attention to them, and challenge that instead. The bigger context is important here. We exist in world of aggressive tech start-ups and prophesying tech think-tanks like RethinkX, whose recent report, 'Rethinking Food and Agriculture 2020-2030 – The Second Domestication of Plants and Animals, the Disruption of the Cow, and the Collapse of Industrial Livestock Farming', suggests that new technology and a radical new business model that envisions 'food-as-software' are driving the most consequential disruption of food and agriculture in 10,000 years."
The American food technology company Impossible Foods has applied to the food safety regulator for approval of its genetically engineered imitation blood ingredient in New Zealand. Impossible Foods, makers of the plant-based meat alternative the Impossible Burger, has applied to Foods Standards Australia New Zealand (FSANZ) to allow the ingredient, called soy leghemoglobin, which is derived from GM yeast, to be used in New Zealand.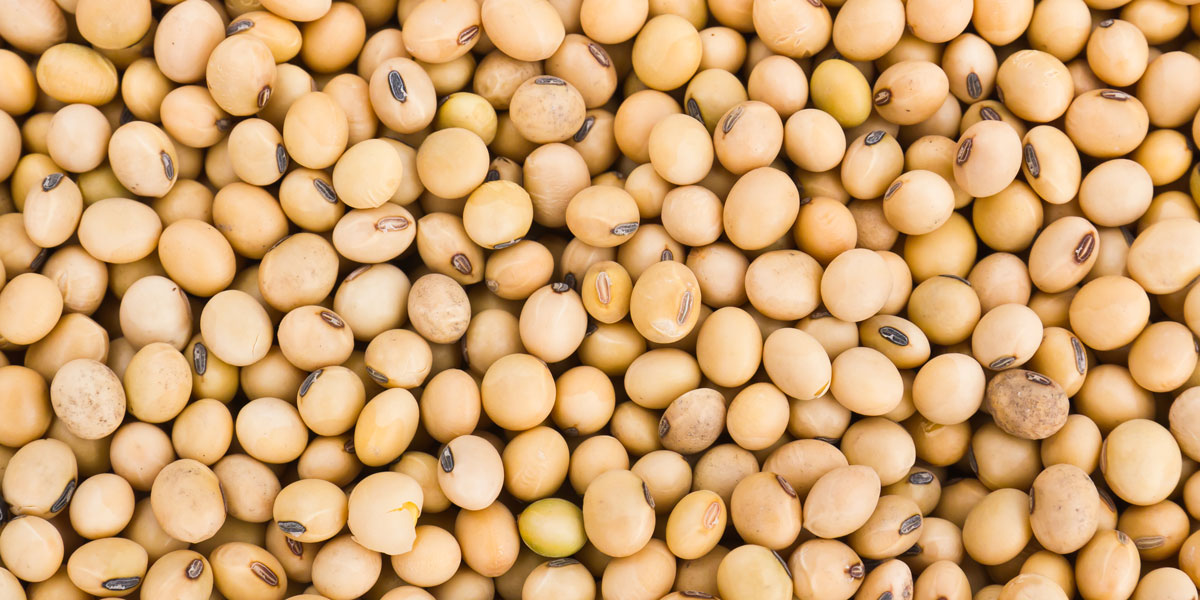 Two papers have been published showing that the GM herbicide-tolerant soybean crops assessed by regulators are not representative of what is grown and put out into the marketplace. This is because the crops grown by industry in field trials and fed to laboratory animals in feeding studies have been sprayed with less herbicide and in fewer applications than in real-farm growing conditions. This matters because the data from these trials and studies are used by regulators to assess the crop in question for health and environmental safety. In other words, because the crops grown in the field trials are sprayed with much less herbicide than is current in real farming conditions, the health and environmental risks posed by these crops are likely to be underestimated.
Researchers in Europe are concerned about the increased levels of herbicide residues found in harvested plants and food products, which they associate with the use of glyphosate-resistant soybeans. One of the researchers, Thomas Bøhn from the Institute of Marine Research in Tromsø in Norway, said this is a cause for concern: "The toxic pesticide glyphosate should not be in the food chain."
Supporters of genetically modified seeds often claim that GM varieties produce greater yields than conventional, non-GMO seed. But results of recent field trials of hybrid corn seed and published research shows that non-GMO seed varieties perform as well as or even better than GM seed.
Intrexon is the synthetic biology company that owns the GMO Arctic apple and the AquaBounty GMO salmon, as well as GM mosquitoes via its subsidiary Oxitec. Now Intrexon is selling off its GMO fish and fruit interests to focus on human healthcare. It will change its name to Precigen, which is the cell and gene therapy business unit it formed in 2018.
Five years ago, the owner of Missouri's largest peach farm started noticing damage to his orchard. A year later, Bader Farms estimated a loss of more than 30,000 trees. A lawsuit filed by the farm in 2016 alleges Monsanto, now owned by Bayer, and herbicide maker BASF are to blame because the weedkiller drifted from other fields of dicamba-tolerant GM crops. Weed scientist Aaron Hager commented, "I've never seen anything quite like this — what some of the implications and consternations that the technology has brought in. I've lost track of the number of times that people have said, 'Yeah, we used to sit next to the neighbors in church on Sunday. We don't even want to be in the same congregation with them anymore.'"
For years, Monsanto and BASF have been blaming alleged crop damage from the weedkiller dicamba on other factors, including weather, other pesticides and applicator misuse. But on the first day of a civil trial in the United States District Court for the Eastern District of Missouri in Cape Girardeau, internal company documents presented in opening arguments showed that both companies were warned about the herbicide's potential to damage other crops. Documents also showed the companies prepared for complaints about the weedkiller prior to the new genetically modified dicamba-tolerant crop systems being released.
Three consecutive years of off-target dicamba herbicide injury is taking its toll on the agricultural industry. Leo Reed even has a name for it: dicamba fatigue. "States recognize that both we and the [EPA], we're all suffering from dicamba fatigue - staffing shortages and issues and processing a huge number of complaint cases again this year," said Reed, an Indiana state pesticide regulator. "The term dicamba fatigue applies to growers as well," Reed continued. "We're hearing from growers who say, 'I've been hit three years in a row and I'm not going to report anymore. It's not doing any good.'"
The primary mechanism of how glyphosate herbicides kill plants is by inhibiting an enzyme called EPSPS, which is part of a biochemical pathway known as the shikimate pathway. However, proof that glyphosate herbicides can inhibit the EPSPS enzyme and the shikimate pathway in gut bacteria has been lacking. But now a new study has proven beyond doubt that this does indeed happen. Fatty liver disease and death of liver tissue were also confirmed in rats fed regulatory permitted and thus presumed safe doses of the weedkiller, as a GMWatch report explains. GMOScience has also published an article on the study.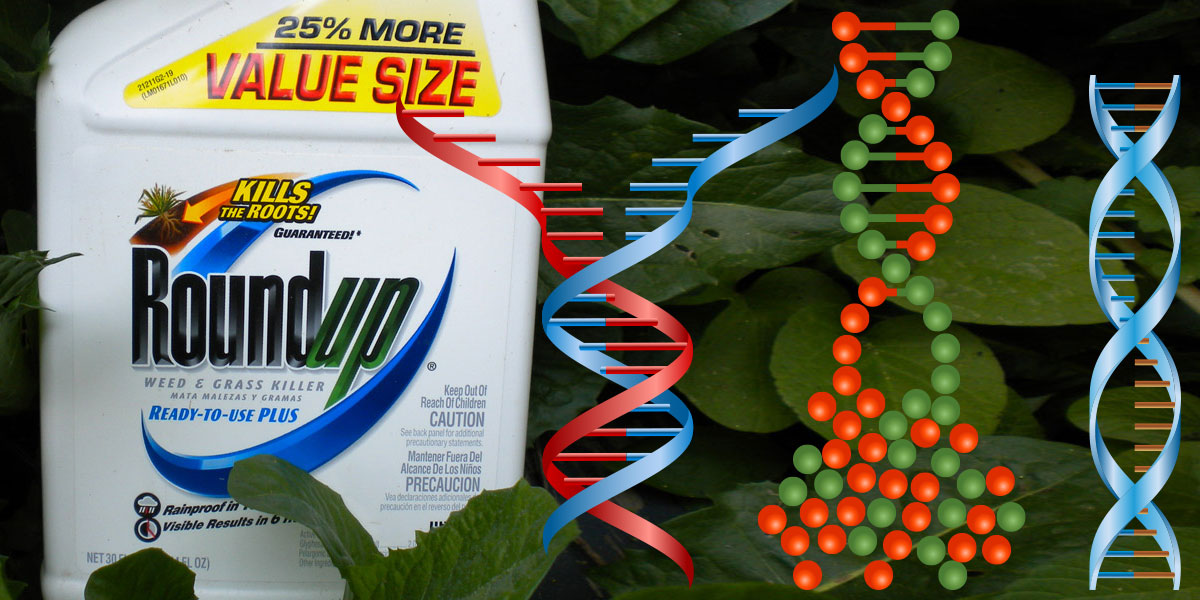 Tests by the US National Toxicology Program (NTP) have found that some complete commercial formulations of glyphosate-based herbicides are genotoxic (damage DNA), but that glyphosate on its own ("glyphosate technical") is not genotoxic. Furthermore, the NTP says neither glyphosate nor its formulations cause oxidative stress. These findings are significant because in 2015 the International Agency for Research on Cancer (IARC) classified glyphosate as a probable human carcinogen, naming genotoxicity and oxidative stress as two main mechanisms. But there are problems with the NTP's argument, as GMWatch explains.
Horticulturalist Colin Arnold is the owner of a company called GrazeAway, which uses goats instead of herbicides to control weeds. Arnold and his goats work with councils and government authorities to address weed problems. In a reference to the weedkiller glyphosate's link with non-Hodgkin's lymphoma, Arnold says, "I am not going to get non-Hodgkin's lymphoma from handling goats."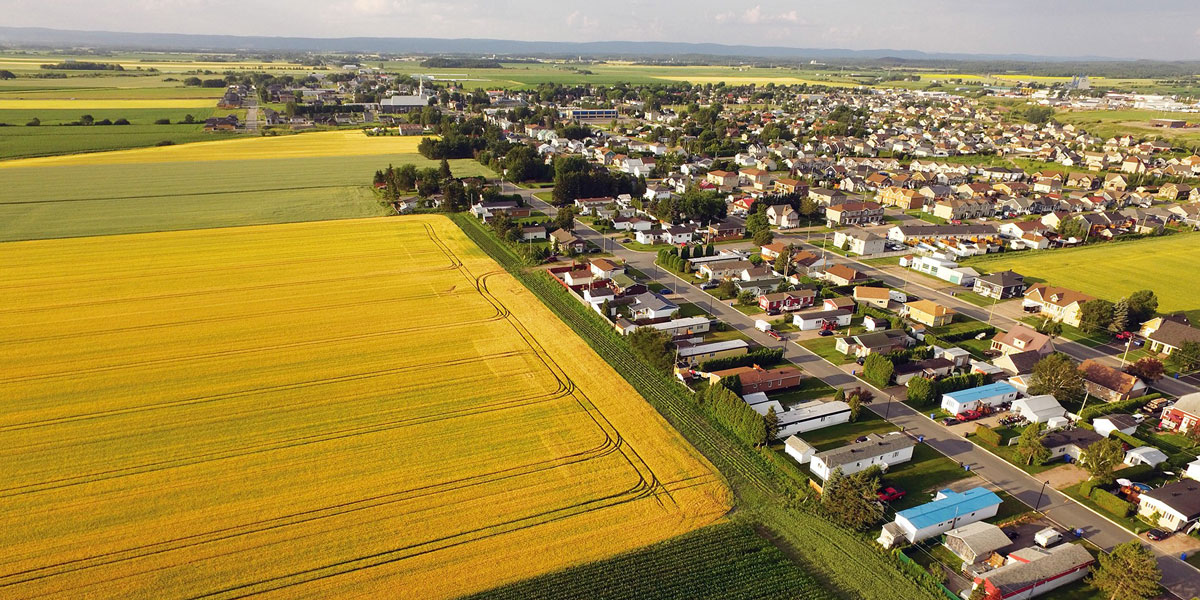 Kellogg's has published a statement saying it will phase out the use of glyphosate herbicide as a drying agent (desiccant) before harvest. Dr Charles Benbrook, coordinator of the Heartland Study Project on the effects of herbicide spraying on children's health and birth outcomes, called the move "a huge development".
Following the five-year re-approval of the active substance glyphosate by the EU in 2017, the French health and safety agency ANSES is reviewing the market authorisations for glyphosate products sold in France and has launched a comparative assessment of the available alternatives. Without waiting for the end of the current process, the Agency has notified the withdrawal of authorisations for 36 glyphosate products and the refusal to authorise 4 new products, as the data provided by manufacturers did not allow a decision to be taken on their possible genotoxicity.
Luxembourg will be the first country in the European Union to ban the use of glyphosate. Withdrawal of the marketing authorization for products containing glyphosate will take place on 1 February 2020. All use must cease by the end of the year.
Monsanto (now owned by Bayer) has submitted a filing in court arguing that the Edwin Hardeman case, which resulted in a jury awarding Hardeman $80 million after deciding that his cancer was likely caused by Roundup herbicide and that the company failed to warn of the risk, should never have been brought to trial in the first place. Monsanto/Bayer argues that the US EPA has repeatedly stated that glyphosate is not carcinogenic. Therefore had Monsanto/Bayer included a label about glyphosate potentially causing cancer, it would have been in violation of the EPA's position, and the company cannot be held responsible for following the law. If the challenge is successful, it will create a precedent that will be difficult to overcome.
Monsanto's owner Bayer has failed in efforts to head off a Missouri trial over claims brought by cancer patients that Monsanto's herbicide caused their diseases and Monsanto hid the risks. St Louis City Judge Elizabeth Byrne Hogan ruled that the company wasn't entitled to summary judgment in the case of Wade v. Monsanto. Hogan further frustrated Monsanto by ordering that the trial could be audio and video recorded and broadcast to the public. Lawyers for Monsanto had argued that the trial should not be broadcast because the publicity could endanger witnesses and former Monsanto executives.
Jurors selected to hear a St Louis case pitting cancer victims against Monsanto have been told the trial that was postponed indefinitely last week could resume as early as next Monday, a court spokesman said, an indication that efforts by Monsanto owner Bayer to end nationwide litigation over the safety of Roundup herbicides via a settlement is still in flux. In another sign that a deal has yet to be secured, jury selection in a separate Roundup cancer trial – this one in California – was continuing this week.
On 27 November 2019 the UK's Labour Party revealed copies of the meeting notes from all six of the US and UK trade and investment working group (TIWG) meetings. These were meetings that took place between US and UK trade representatives. The papers reveal that the US wants UK to speed up GMO approvals after Brexit and doesn't like GMO labelling.
During the prorogation of Parliament in September several key pieces of legislation slipped through undebated, including two on GMOs. The new regulation is largely the same as current EU regulations with one notable exception. It mandates that GMO regulations are reviewed and revised every 5 years (first report due Sept 2024) – and that these should prioritise, where possible, "less onerous regulatory provision".
Boris Johnson has scrapped powers for MPs to scrutinise future trade deals after Brexit amid the UK could be forced to accept lower standards as a price for a trade agreement with the US. The new Brexit deal has been stripped of a clause which would have given MPs oversight of negotiations for trade agreements once the UK leaves the EU.
British Chancellor of the Exchequer Sajid Javid dismissed calls from British businesses to align with European Union rules once the UK has left the bloc. "There will not be alignment, we will not be a rule-taker, we will not be in the single market and we will not be in the customs union — and we will do this by the end of the year," Javid said. GMWatch believes that this is bad news regarding GM and pesticides, as the UK is set to align with the US instead. That means no meaningful labelling for GMOs and a weakening of pesticide regulations.
The Philippines Department of Agriculture-Bureau of Plant Industry has stated that it has found GMO golden rice to be "as safe as conventional rice" – even though the rice does not seem to have been safety tested in animals or humans. The biosafety permit details the approval of GR2E golden rice for direct use as food and feed, or for processing. The Stop Golden Rice Network described the move as "a blow to the millions of rice farmers and consumers" in countries "where rice is the major staple food".
Greenpeace Southeast Asia-Philippines has denounced the Bureau of Plant Industry's (BPI) rubber stamp approval of GM golden rice (GR) and called on the government agency to reverse the faulty decision, which the group says is based on insufficient data.
Contrary to the claims of GMO proponents, India's cotton productivity using GM Bt seed is low compared with other countries and resource-poor farmers have been hurt, writes Imran Siddiqi, an emeritus scientist at the Centre for Cellular and Molecular Biology, Hyderabad. He writes, "In the case of Bt cotton hybrids, the benefits were limited and costs may well have been too high, particularly for resource-poor farmers."
Three genetically modified maize varieties developed by Corteva (the new name of the Dow-DuPont merged entity) to withstand the application of the dangerous 2,4-D herbicide have been approved for general release by the Executive Council: GMO Act. The African Centre for Biodiversity (ACB) said it was "extremely alarmed" to learn of the development, which it said constituted "More poisoning of South Africa's staple food".
The Peasant Farmers Association of Ghana (PFAG) and three other agro-based interest groups have welcomed government's decision not to introduce GMOs in Ghana. PFAG said in a statement that efforts to impose GMOs on Ghanaian farmers and consumers have come to an end following a pronouncement on January 14, 2020.
Kenya's Cabinet has approved the growing of GM Bt cotton in the country even as confusion reigns over the 2012 ban on such crops. This is in spite of the fact that the crop has suffered widespread failure in India, Pakistan, and Burkina Faso.
The uncontrolled misuse of glyphosate will soon be a distant memory for West African farmers, or at least in two countries of the sub-region: Togo and, to a lesser extent, Mali. After years of controversy over glyphosate, the Togolese government has decided to ban the import, marketing and use of this pesticide. In Mali, the authorities seem to want to follow the Togolese government's lead.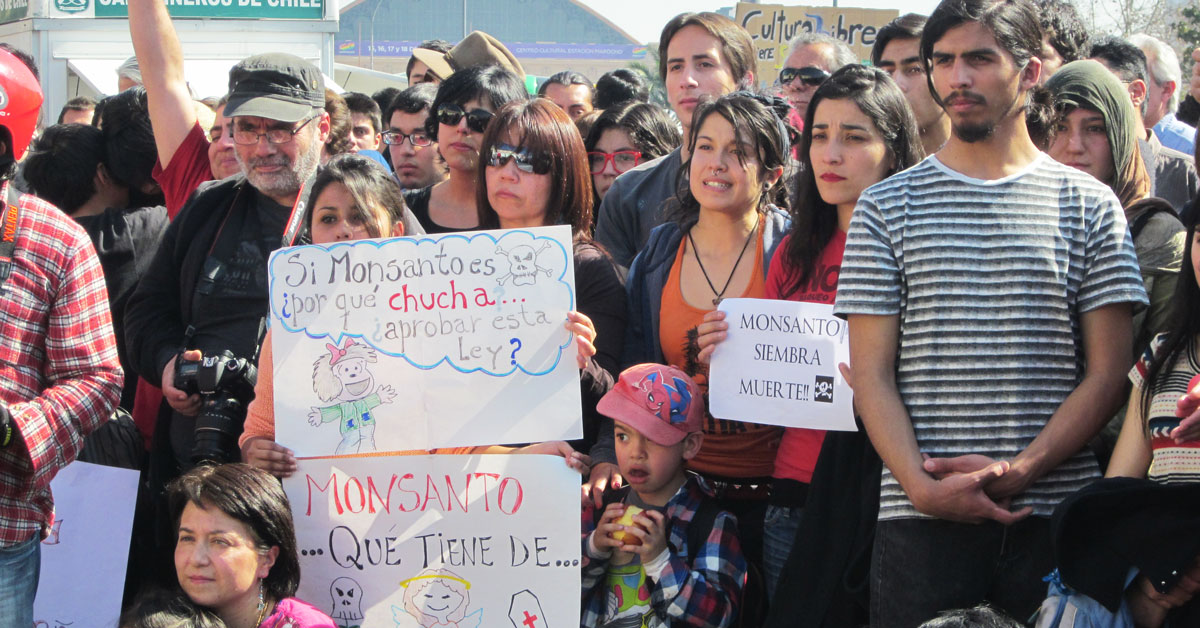 In Chile, the largest seed exporter in the southern hemisphere, Bayer is expanding the GM seed production factories of its subsidiary Monsanto. Camila Olavarría, spokesman for the Paine Defence Committee, which opposes the development of a Bayer seed factory in the rural community of Paine, says, "The largest seed processing plant in Latin America is being built here. There are no studies on its environmental impact. Politicians approved the project without consulting people's opinions." The inhabitants of Paine fear the contamination of local seeds by cross-pollination when pollen from GM plant fields is transported to neighboring fields.
According to a new study, soybean production in South America now covers over 57 million ha, more than on any other continent – and the consequences for amphibians have been devastating. In the study, based in Argentina, 93% of surviving tadpoles exposed to insecticides exhibited impairment of mobility and glyphosate exposures caused sublethal effects, reducing mobility in 79% of tadpoles.
A new decree, urged by US President Trump, means aerial fumigation of coca with glyphosate will likely resume in Colombia after a five-year ban. The move is being criticized by local government officials, environmentalists, drug policy experts and the rural communities living under the toxic flight paths.
A scientist in China who said he had created the world's first gene-edited babies has been jailed for three years. He Jiankui was convicted of violating a government ban by carrying out his own experiments on human embryos, to try to give them protection against HIV. The Chinese government placed He under police investigation and ordered that his research work be stopped.
Humanity will have given up on planet Earth if world leaders cannot reach an agreement this year to stop the mass extinction of wildlife and destruction of life-supporting ecosystems, the United Nation's new biodiversity chief has warned. Elizabeth Maruma Mrema, the acting executive secretary of the UN Convention on Biological Diversity, has implored governments to ensure 2020 is not just another "year of conferences" on the ongoing ecological destruction of the planet, urging countries to take definitive action on deforestation, pollution and the climate crisis.
LOBBYWATCH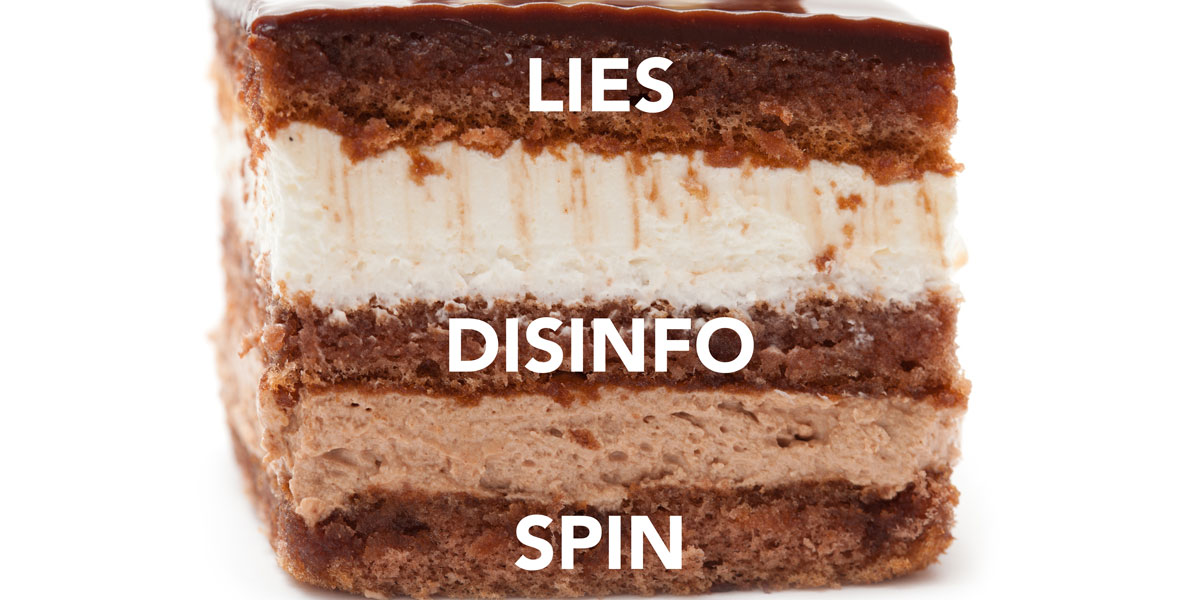 Shetkari Sanghatana, which has been publicly distributing illegal GMO seeds in India, is far from being the kind of "grassroots" Indian farmers union, or "collective", that GMO promoter Mark Lynas has claimed, reports GMWatch's Jonathan Matthews. It is an extremist fringe group led from the top by the free market fundamentalists behind India's ultra-libertarian Swatantra Bharat Pakash party. It also has a history of working with biotech industry PR people. Now India's intelligence agencies are investigating the support they believe Shetkari Sanghatana is getting from "some international seed companies", as well as a global investment firm that is also said to be pressurising the Modi government to legalise the seeds. Colin Todhunter has written a commentary on the story.
Through his campaigning against pesticide restrictions, in favour of GMOs, and in defence of companies like Bayer/Monsanto, "Farmer Willi" has become one of Germany's best known farmers. But according to an article in the German newspaper Taz, a more accurate nickname for Dr Wilhelm Kremer-Schillings might be "Chemical Willi". That's because, despite promoting himself as a small farmer working a "traditional farm", his career turns out to have involved little active farming and a great deal of working with agrichemical interests. And Farmer Willi is not the only "grassroots farmer" opposing farm chemical restrictions and/or promoting GMOs to enjoy a PR platform that airbrushes out his corporate connections.
"Food Evolution", Scott Hamilton Kennedy's pro-GMO documentary film, trades nuance for finger wagging, at once vilifying critics of GMOs and exalting the companies and scientists that promote these controversial crops, writes Tim Schwab in a powerful critique of the film. Schwab points out that Kennedy was commissioned and funded to make "Food Evolution" by a group called the Institute of Food Technologists, led by an agribusiness veteran who had worked for GMO giants including Monsanto and DuPont. But these vested interests are not clearly disclosed to audiences.
In 2017, Dow Chemical scored a long-sought-after victory: after a push from the US government, China approved the import of the company's GM herbicide-tolerant corn seeds. A grateful Dow lobbyist emailed a senior agriculture department official whose support had been critical: "Thank you for your efforts in support of US agriculture." That official, Rebeckah Adcock, was no stranger to Dow. Before joining the Trump administration, Adcock was the chief lobbyist for the herbicide industry's trade group, of which Dow was a prominent member.
Many seeds in the US come precoated with neonicotinoids, one of the most common insecticides in the world. The chemicals are at the heart of what many are calling the "insect apocalypse." They make the landscape toxic to bees, butterflies, birds, and potentially even large mammals. That's why Europe banned three of the main neonicotinoid insecticides. But in the United States, documents reveal, a sophisticated information war kept them on the market.