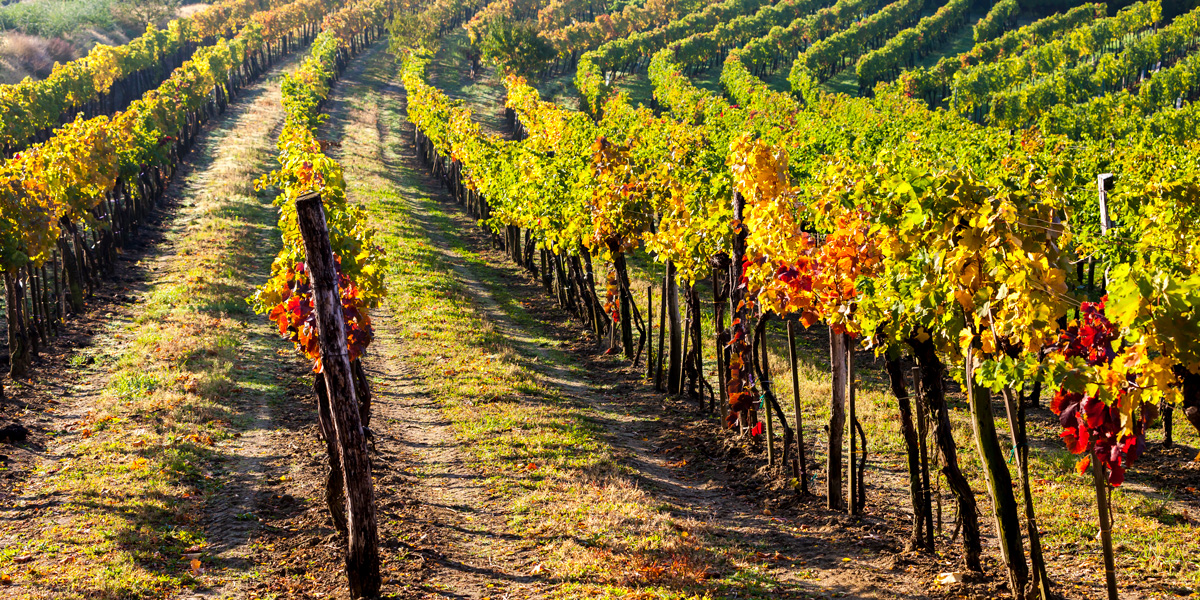 Austria's lower house of parliament has passed a bill banning all uses of the weedkiller glyphosate, the first time a European Union country has taken such strong action against the chemical over concerns that it can cause cancer.
Germany's main train company, Deutsche Bahn, is set to phase out glyphosate herbicides on its 33,000 kilometres of tracks. Deutsche Bahn currently buys nearly 65 tonnes of the herbicide per year to stop weeds from propagating on its tracks.
Swiss Federal Railways (SBB CFF) is set to phase out glyphosate by 2025. Along with France's railway company SNCF, it is studying suppressing weeds with ground cover and other alternatives.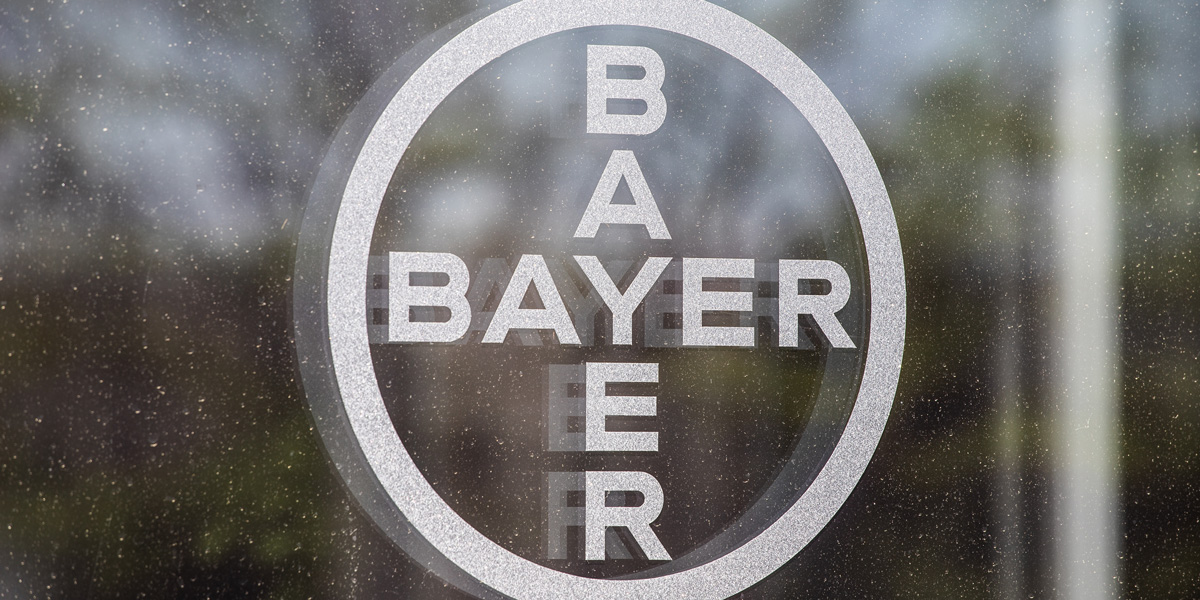 According to an article in the German press, Germany's central bank – the Bundesbank – helped finance Bayer's takeover of Monsanto with European taxpayers' money. Three years ago, Bayer CEO Werner Baumann launched his bid to buy Monsanto, but greed prevented a prudent risk analysis. As a result, Bayer's stock is now in the doldrums, astronomical claims for damages are coming from the US, and Bayer is threatened with takeover or bankruptcy. But unfortunately, the buck stops not with the company but with the taxpayer.
An investment expert says that if Bayer loses less than 1% of its court cases that are similar to Johnson vs. Monsanto and Pilliod vs. Monsanto with regard to glyphosate herbicides causing cancer, the company will potentially face $10.9 billion in implied legal liabilities, which could wipe out its entire shareholders' equity.
Catholic bishops from the Colombian-Ecuadorian border have strongly rejected the use of aerial spraying of the herbicide glyphosate to eliminate coca crops. The bishops condemned the announcement by the Colombian Government that it intended to resume spraying, given the negative effects on health and environment. Colombia's Constitutional Court banned spraying of glyphosate in 2015, after research by the World Health Organization's International Agency for Research on Cancer concluded it probably caused cancer in humans. President Ivan Duque in March asked the Constitutional Court to permit the resumption of spraying. The court has not yet ruled on his request. The Colombian government's desire to resume spraying came after US President Trump threatened to withdraw financial aid.
New research suggests spraying dicamba in warm temperatures and adding glyphosate to a dicamba spray mixture could increase dicamba volatility, potentially leading to increased off-target movement and damage to non-dicamba-tolerant plants. Glyphosate is commonly tank-mixed with dicamba and some GM crops are engineered to tolerate both herbicides.
Dicamba injury reports are starting to surface in a number of states, despite the late start to the planting season. So far, four states have opted to extend their dicamba spray period this year. There are also concerns about dicamba efficacy on Palmer amaranth, as the weeds are becoming resistant to the herbicide.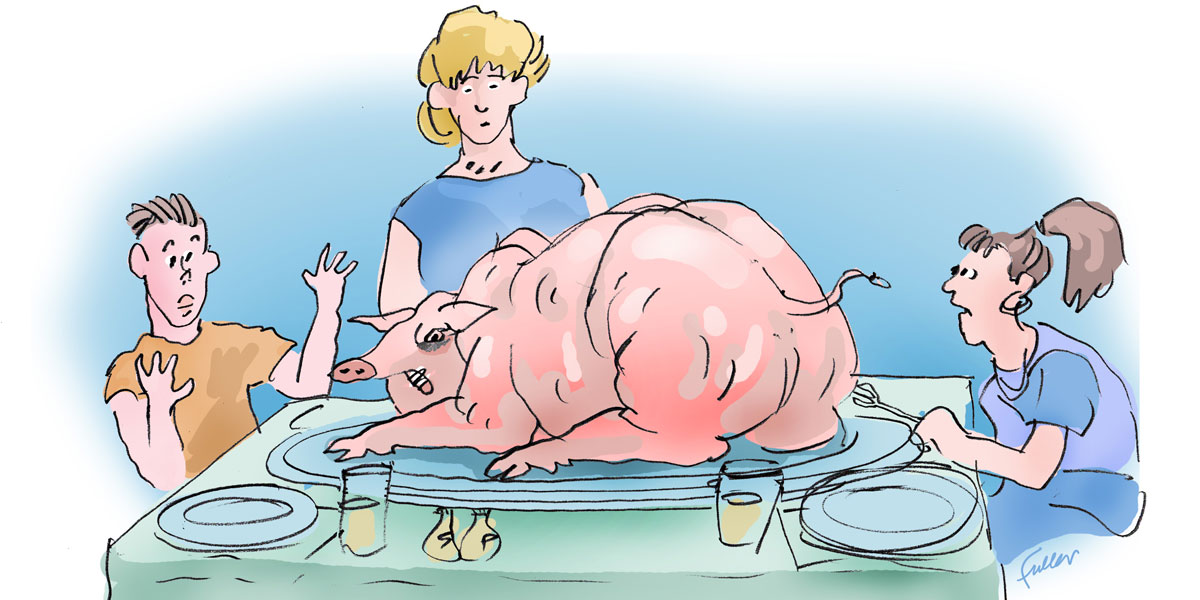 If lobbyists get their way, new GM crops, foods, and farm animals will appear in Europe's fields and on our dinner plates – with few or no safety checks and no labelling. These new GM crops and foods are produced with so-called gene-editing techniques. Gene-edited organisms already developed include super-muscled pigs, a non-browning mushroom, and a soybean that produces altered fats. GMWatch has produced a primer on "new GM" techniques and what European citizens can do to stop the GMO lobby from getting products of the techniques de-regulated.
The organic industry body IFOAM has produced an excellent short leaflet in different languages on "new GM" techniques, demanding that they stay regulated under the EU's GMO laws.
The well known GMO promoter C.S. Prakash is in ecstasies over a new study on golden rice, the genetically engineered grain that has been hyped for the last two decades as a lifesaver for millions suffering from vitamin A deficiency (VAD). But his claims don't stand up to even the most superficial scrutiny as they ignore two fundamental facts about rice: it's stored and cooked before eating, both of which massively reduce the provitamin A content.
The Bangladesh newspaper New Age has published a good article on the study showing that the provitamin A (beta-carotene) in GM golden rice degrades rapidly on storage and even further on cooking – two things that are always done to rice in the developing countries targeted by the developers of the crop.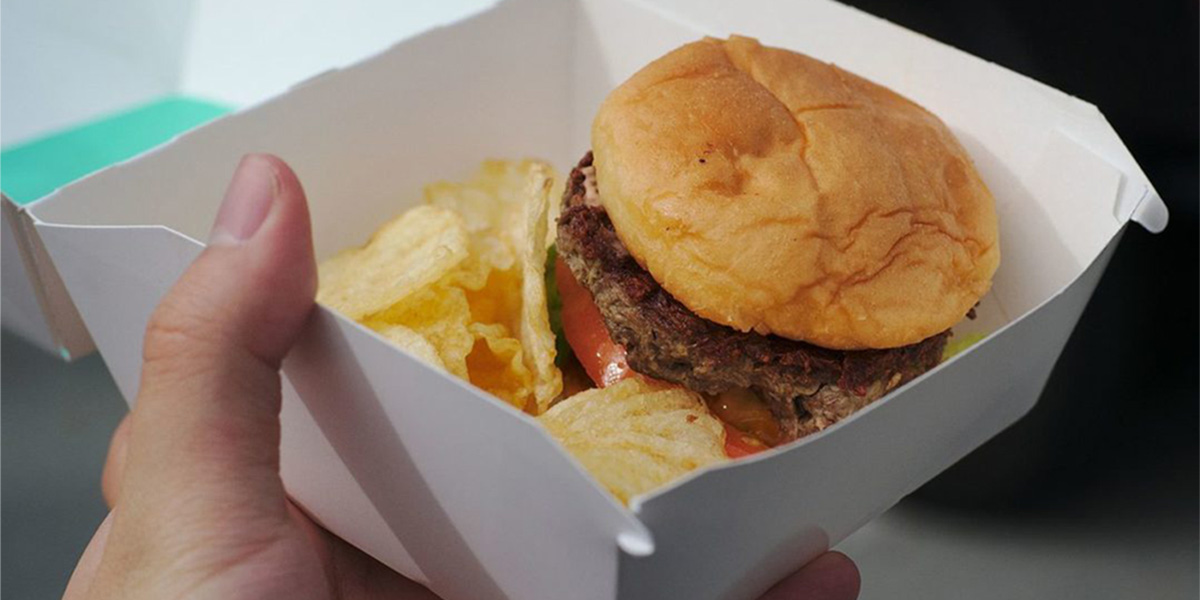 Rats fed the genetically modified yeast-derived protein soy leghemoglobin – the key ingredient of the "fake meat" Impossible Burger – developed signs of toxicity. Claire Robinson and Michael Antoniou, PhD explain the findings of a feeding study commissioned by the burger's manufacturer, Impossible Foods.
The promotion of fake foods seems to have much to do with giving new life to failing GMO agriculture and the junk food industry, as well as combating the threat from organic, local, fresh food that regenerates the planet and our health, writes Dr Vandana Shiva.
The US Department of Agriculture has confirmed the discovery of unapproved GM wheat plants growing in an un-planted agricultural field in Washington state. There was no evidence the wheat had entered the food supply, the USDA's Animal and Plant Health Inspection Service said in a statement (but it's not clear whether they tested, and if yes, how thoroughly). The wheat is tolerant to glyphosate herbicide. Unapproved GM wheat plants were found in 2018 in Alberta, Canada, in 2016 in Washington state, in 2014 in Montana and in 2013 in Oregon.
President Donald Trump has signed an executive order directing federal agencies to ease the rules for approving GM crops and foods. The order instructs the US Dept of Agriculture (USDA), the Food and Drug Administration (FDA) and the Environmental Protection Agency (EPA) – all of which have jurisdiction over agricultural GMOs – to review their biotechnology regulations to streamline approval processes, according to a White House fact sheet.
On June 11, President Donald Trump issued an executive order to "streamline" GMO regulations in the US. The order has a section on what Trump sees as the imperative to "increase international acceptance" and "remove unjustified trade barriers" for GMOs. This is no longer news in itself, but the urgency of it ("within 120 days") is surprising.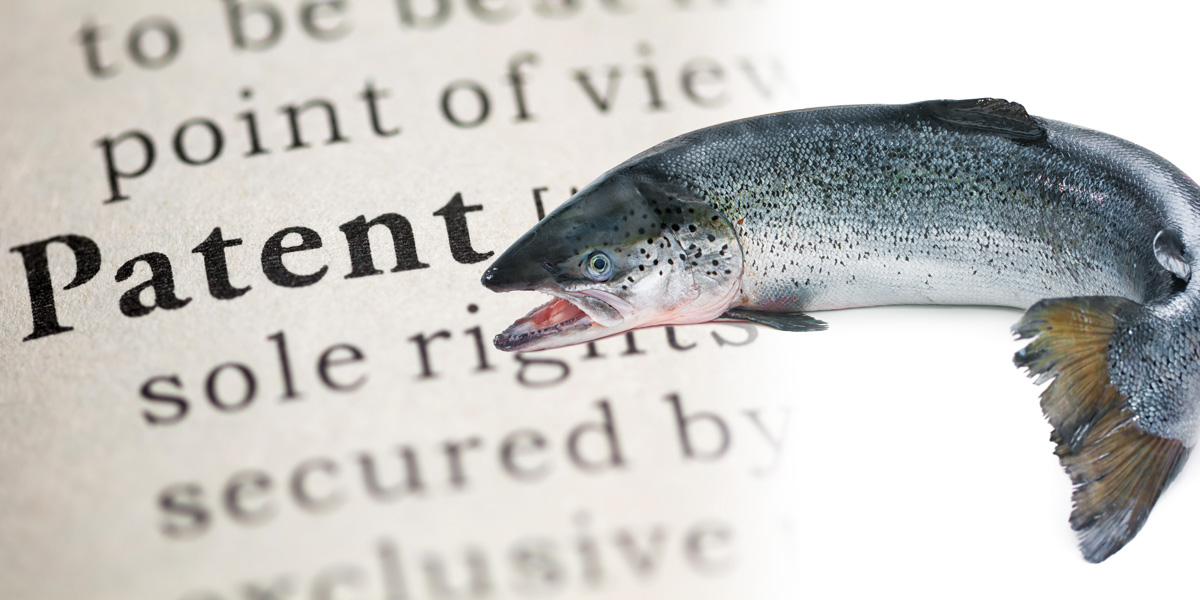 A patent granted by the European Patent Office (EPO) covering salmon and trout reared on specific plants (EP1965658) could now become a precedent for many other patent applications. Recent research shows several similar European patent applications are already pending, claiming food products, such as meat and milk, derived from animals fed with selected plants.
In February 2019, the first paper on using CRISPR technology to produce pesticide-resistant honeybees was published. Ostensibly, this is intended to "protect" the bees from insecticides. This is not just a one-off case: more and more stakeholders are interested in promoting GMOs to "protect" endangered species. Ultimately, it means that wild populations might be replaced by genetically "optimised" organisms.
A group of 43 civil society organisations from Africa and around the world has denounced the release of GM "male-sterile" mosquitoes in Burkina Faso. The GM mosquitoes were released in the village of Bana on 1 July 2019 by the Target Malaria research consortium, which is funded by the Gates Foundation.
Cibus's new herbicide-tolerant canola varieties, marketed under the brand name Falco, are described by the company as non-transgenic, meaning that the genetic engineering processes used to develop them do not involve introducing foreign genetic material. However, they are certainly GMOs.
In Hawaii, GMO seed corn production has dropped statewide by over 50%. Accompanying this development will be a parallel reduction in the use of both general and restricted-use pesticides, says Gary Hooser, volunteer president of the Hawaii Alliance for Progressive Action (HAPA) and a former Hawaii state senator. Also, the Department of Education recently sent out a notice to all public schools in Hawaii telling them herbicides may not be used on school grounds.
In Brazil, researchers have found a pest called the variegated cutworm, Peridroma saucia Hübner, on soybeans that are both GM Bt insecticidal and glyphosate-tolerant, as well as on GM soybeans that are only tolerant to the herbicide glyphosate. This pest has not been seen before on soybeans.
In Nova Scotia, corn farmers are observing that the European corn borer, an insect pest, has developed resistance to the GM trait designed to kill it. This is the first report in the world of the European corn borer (ECB) developing resistance to a genetically engineered trait used to confer insect resistance. It is also the first report in Canada of any insect pest developing resistance to a genetically engineered trait. The development of resistance in other insect pests targeted by Bt (Bacillus thuringiensis) traits in corn has been observed in the US, South Africa and Brazil.
During the past decade, the rapid and large-scale adoption of Bt insecticidal crops has led a number of targeted insect pests to evolve resistance to Bt toxins. Bt crop pyramids produce two or more active Bt toxins to broaden the spectrum of action and to delay the development of resistance in exposed insect populations. However, there are increasing reports of lack of pest control with pyramided Bt crops.
On 10 June 2019, pro-GMO activists stage-managed an event designed to gain publicity by illegally planting Bt brinjal (eggplant) seeds in the state of Maharashtra. A press release issued to coincide with this stunt stated that the event was an act of "Satyagraha" (the notion of nonviolent resistance used by Gandhi against British rule). One of the instigators has even argued that Bt brinjal is "organic", involves almost pesticide-free cultivation, probably uses less fertiliser and is entirely natural.
Dr Vandana Shiva commented on the claimed "Satyagraha" (see above), "This is outright criminal action. As Kishore Tiwari, Chair of the Maharashtra Govt commission on agrarian distress has clearly stated, farmers acting on behest of Monsanto are criminals and will be treated as such."
The seeds for the GM Bt brinjal (eggplant) illegally cultivated in India appear to have come from roadside vendors who cannot be traced. And a farmer who grew it said he had no idea it was genetically modified. This article contains an admission by the farmer that he had to spray pesticides on the GM Bt brinjal, which is, however, being falsely promoted as pesticide-free. It also mentions that another farmer who grew GM Bt brinjal destroyed his crop because it got infested.
The government of Maharashtra has begun a crackdown on farmers who planted illegal GM herbicide-tolerant Bt cotton across the state as a protest against the ban on cultivation.
Three scientific organisations – the Association for Responsible Research and Innovation in Genome Editing (ARRIGE), the Genome Writers Guild, and the Japanese Society for Genome Editing (JSGE), have launched a common statement regarding the use of gene editing techniques in human embryos leading to live births. The statement demands the urgent implementation of international regulation of human gene editing in embryos.
Tritordeum – a (non-GMO) Mediterranean cereal that boasts a significant reduction in gluten proteins associated with food intolerance compared to wheat – offers a clear market opportunity for food producers seeking an ingredient with nutritional, agronomic and taste benefits.
Malcolm Walker, founder and executive chairman of Iceland Foods Ltd, has published an article giving a fascinating glimpse into the sordid history of the GMO industry's attempts to foist GM foods onto the public without their knowledge or consent. He writes, "I think Iceland can honestly claim credit for the fact that UK food has remained almost entirely GM-free for 21 years until today." GMWatch agrees that the public owes a debt of gratitude to Mr Walker.
The American chestnut was decimated in the 20th century by chestnut blight disease and logging. Researchers are developing a genetically engineered (GE) blight-resistant American chestnut (AC) and hope to win government approval for its unregulated release into the environment. If they are successful, the GE AC will be the first GE forest tree species planted specifically to spread freely through forests.
Endocrine disrupting chemicals cost the US $340 bn each year, according to research published in the Lancet Diabetes and Endocrinology journal. The key drivers of these costs in the US are the effects of flame retardants and pesticides on the developing brains of children. If one child loses IQ points, the parent or teacher may not even notice. But if, for example, 100,000 children lose an IQ point, the entire economy notices.
Dr Leonardo Trasande answers the public's questions about the health risks of exposure to glyphosate herbicide. He recommends eating organic to reduce the body burden of pesticides.
Herbicide spraying in public spaces, parks, playgrounds and schools is not necessary and should be halted immediately, writes Prof David Schubert. Non-toxic alternatives are now available. In addition, to reduce personal exposure to glyphosate, individuals are advised to avoid all GM food products and eat and drink organic when possible.
Higher crop diversity could have a substantial impact on stabilising national food harvests and mitigating sharp declines in yields, according to a paper published in the journal Nature. Organic and agroecological farmers have always known this. But now that it's appeared in Nature, perhaps more people will sit up and take note!
The inclusion of hydroponics in organic certification in the US is not an example of innovation and improvement, but an example of conquest and colonization. It has been widely resisted by the organic community, but the USDA continues to embrace hydroponics as organic just as they embrace CAFOs (concentrated animal feeding operations) as organic.
Civil society organisations, together representing millions of Nigerians, have urged the National Biosafety Management Agency (NBMA) to reject an application for a field trial of cassava, genetically modified to express elevated levels of iron and zinc and resistance to cassava brown streak disease (CBSD).
Attempts to genetically modify cassava for resistance to viral diseases have repeatedly failed. One such attempt gave rise to biosafety risks that could have endangered the entire cassava crop if it had been deployed in the field, according to the researcher. In contrast, non-GM approaches have consistently worked well but are starved of funding.
LOBBYWATCH
The "CRISPRcon" conference on CRISPR gene-editing techniques hosted by Wageningen University & Research in the Netherlands was marketed as a not-for-profit event offering "a unique forum in which a broad selection of diverse voices come together to discuss the future of CRISPR and related gene editing technologies". In practice, however, CRISPRcon 2019 was a cleverly choreographed greenwashing rally, funded by corporations such as Bayer and Editas Medicine, industry associations such as Plantum and United Soybean Board, and research centres such as the Innovative Genomics Institute and the Flemish Institute for Biotechnology, according to experts who attended.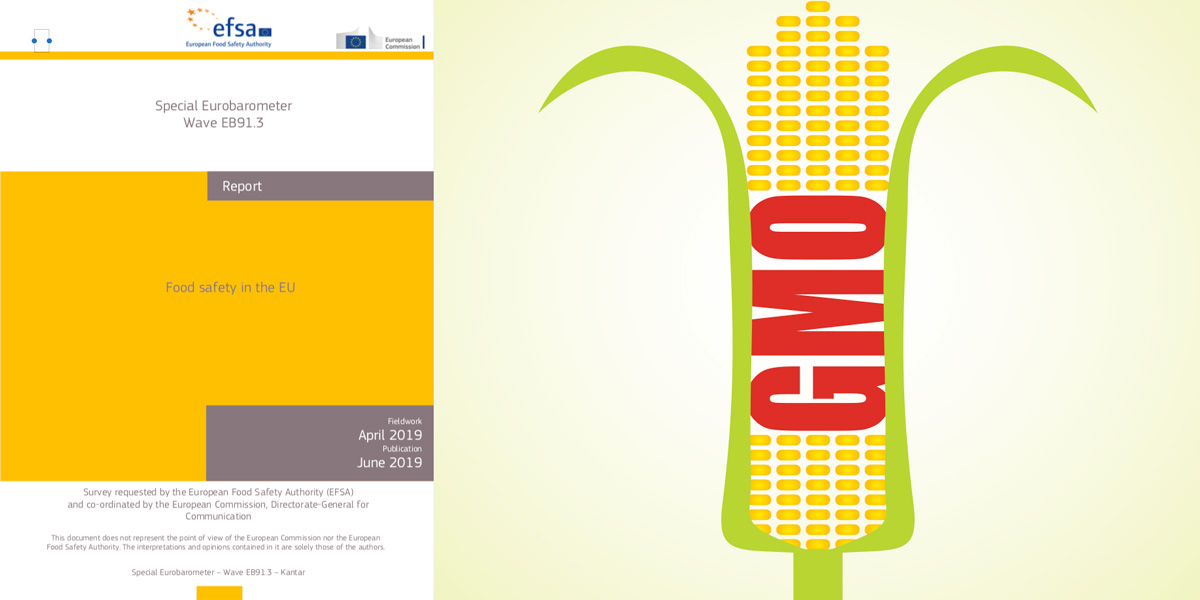 Based on the findings of a new Eurobarometer survey, GMO lobbyists and the European Food Safety Authority (EFSA) have convinced themselves that Europeans are no longer too concerned about GMO foods. But we at GMWatch believe they are deluding themselves.
Gene drive, a potentially powerful but controversial technology, is undergoing regulatory evaluation by the European Food Safety Authority (EFSA). However, two-thirds of the expert group created by EFSA to work on the risks posed by gene drives have financial links with organisations developing this technology. Two of the experts are receiving funding from the Bill & Melinda Gates Foundation, which is in turn financing lobby work in favour of the technology. According to EFSA's own weak independence policy, one of the experts shouldn't even have been recruited.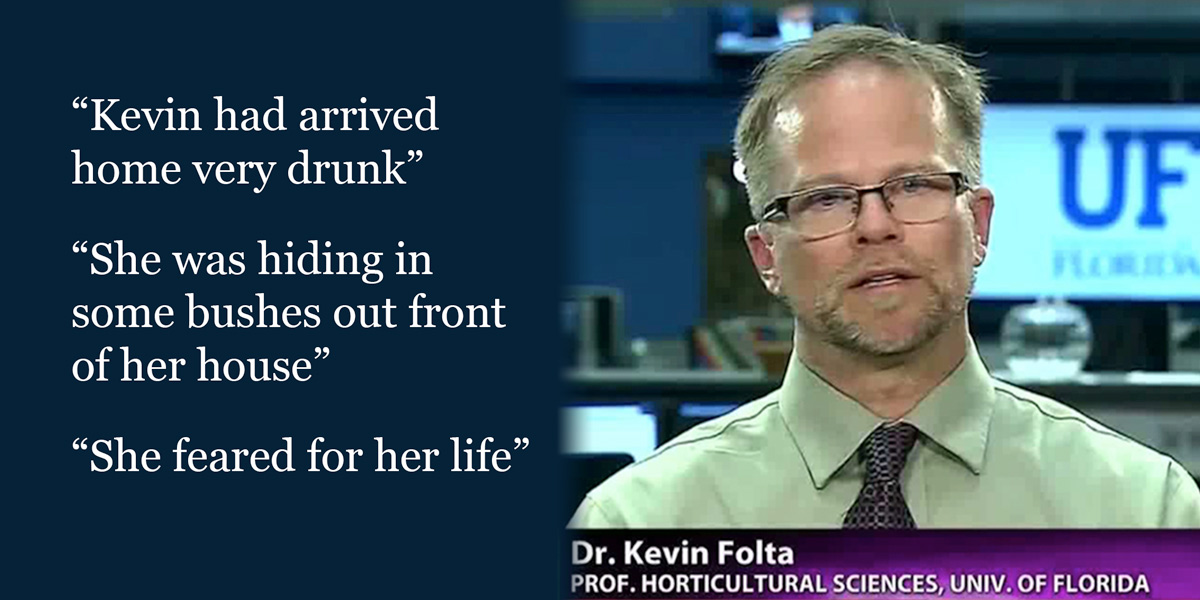 The investigative journalist Michael Balter recently published the terms of the GMO promoter Kevin Folta's consulting for the agrichemical giant Bayer, something that Balter says earned Folta around $200,000 but which Folta had failed to publicly disclose. Balter has also published details of the University of Florida professor's stock holdings in agrichemical and tobacco firms – which Folta also failed to disclose. Now Balter, who is known for his #MeToo reporting, has published "two letters by witnesses to Folta's abuse" of his then wife.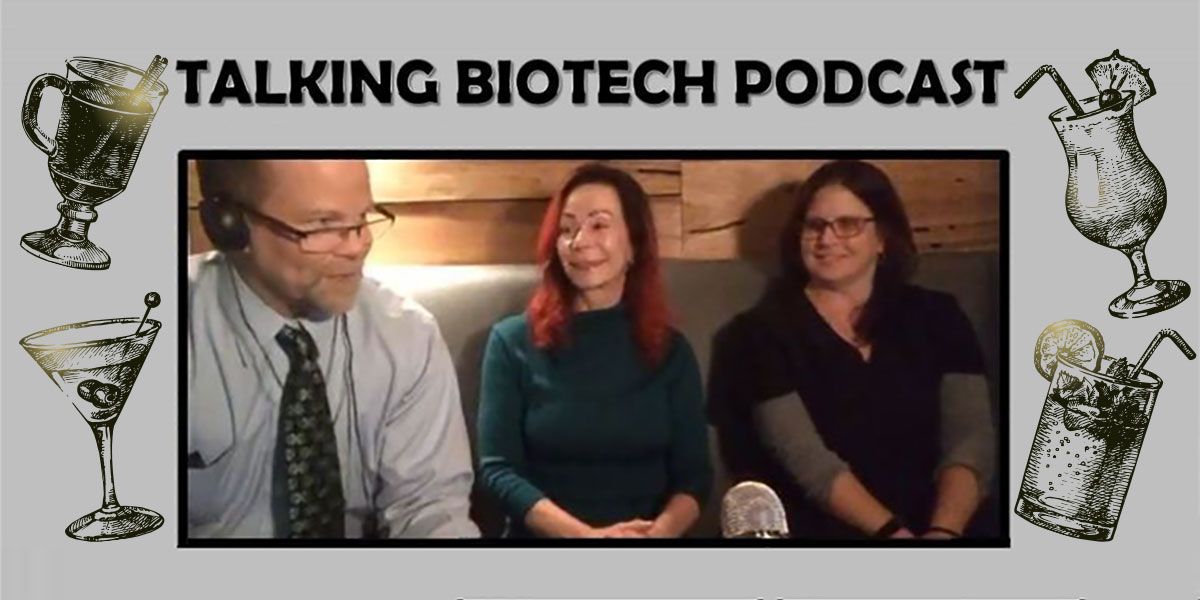 A guest on one of GMO promoter Kevin Folta's weekly Talking Biotech podcasts has described how after an evening of drinking the University of Florida professor was so inebriated that she and her husband tried to prevent him driving home. She also says that despite their best efforts he took off in his car at such "a high rate of speed" that they were unable to follow him.
GMWatch has sent an open letter to Kenneth Kimmell, the president of the Union of Concerned Scientists (UCS). The letter expresses concern over UCS's campaign to undermine transparency in relation to public science, as well as its failure to rectify false claims. The false claims were made about US Right to Know, a small non-profit that has been making effective use of the freedom of information act (FOIA). GMWatch is also asking Kimmell to reconsider UCS's campaign to limit the use of FOIA, which is generating "grave concerns... among journalism and public interest groups".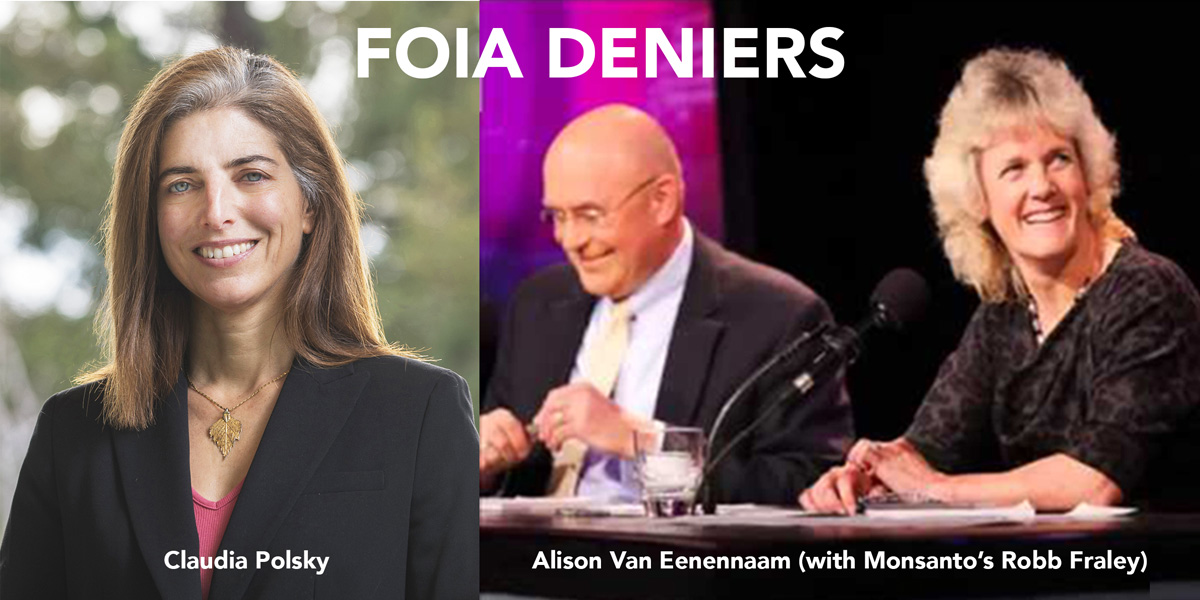 The investigative journalist Paul Thacker has published a scathing article about UC Berkeley law professor Claudia Polsky's quest to exempt publicly funded academics from open public records laws – the laws that US Right to Know has made such brilliant use of to investigate the links between certain university researchers and industry. In her law review, Polsky cites the former Monsanto employee Alison Van Eenennaam, who is now a professor at UC Davis, as an example as to why academics should be exempted from scrutiny — with Polsky implying Van Eenennaam was so distressed by US Right to Know's freedom of information request for her industry-linked emails that "she may retreat wholly into the ivory tower". But this supposed shrinking violet continues to be an active advocate for GM crops and animals.
A former Monsanto executive serving as a political appointee within the US Department of the Interior used her position to further the agrochemical giant's agenda promoting the use of bee-harming pesticides, known as neonicotinoids, and GMOs. Last August, at the urging of industry, the agency rescinded its ban on the use of neonicotinoid insecticides and GMOs within all National Wildlife Refuges.