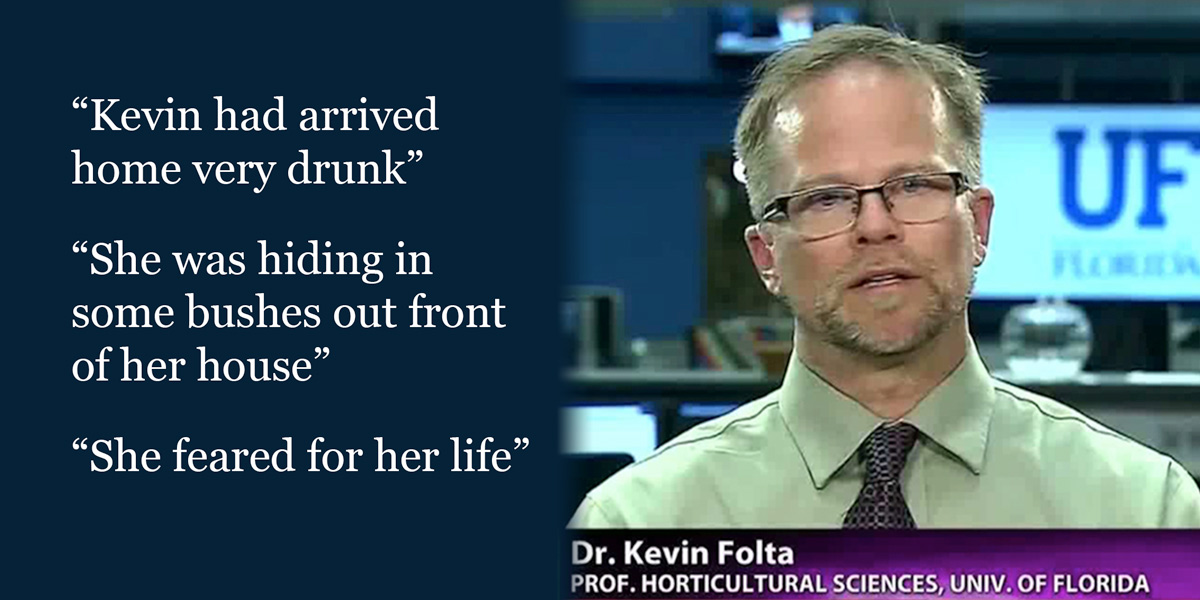 Folta's wife is said to have hidden from him after he prevented her fleeing the marital home
The investigative journalist Michael Balter recently published the terms of the well known GMO promoter Kevin Folta's consulting for the agrichemical giant Bayer, something that Balter says earned Folta around $200,000 but which Folta had failed to publicly disclose. Balter has also published details of the University of Florida professor's stock holdings in agrichemical and tobacco firms – something else Folta has failed to disclose.

Now Michael Balter, who is also known for his fearless #MeToo reporting, has published "two letters by witnesses to Folta's abuse" of his then wife.

In one of the letters (see below), a friend describes how Folta's wife showed her bruising and a bump on her head, which she apparently suffered after getting into an argument with Folta over what she regarded as an inappropriate text to a female student. In the other letter Balter has published, another friend describes how he received calls from Folta's wife when Folta returned home drunk and aggressive, including one where she said she was hiding in bushes because "she feared for her life". The detail of this letter is extremely disturbing.

Dr Folta previously stepped down as head of the University of Florida's horticulture department after GMWatch published details of a letter from the director of a women's shelter who reported seeing Folta kick his wife.

In her letter, the shelter director also points to a wider pattern of abuse: "The things she [the wife] says to me are consistent with things I have heard from the hundreds of women I have counseled that have been abused and manipulated by their husbands."

That pattern seems to be further confirmed by the two other letters Michael Balter has just published. And Balter says that the three separate letters taken together provide sufficient evidence to view the abuse allegations against Folta as now "fully confirmed".

In her letter, the shelter director also says that she told Dr Folta more than once that he needed to get help. It now seems that help should include assistance with alcohol abuse as well as aggression, given not just the linking of the two in one of the newly published letters but the signed statement by a guest on Folta's Talking Biotech podcast who says that he drove drunk after the recording, despite her and her husband's best efforts to prevent him.
---
Bayer consultant and spouse abuser: Why University of Florida researcher Kevin Folta is not a good choice for "science communicator"
Michael Balter
Michael Balter Blogspot, 20 Jun 2019
https://michael-balter.blogspot.com/2019/06/bayer-consultant-and-spouse-abuser-why.html

Recently I have written at length about Kevin Folta, former chair of the University of Florida horticultural sciences department. Folta is of great interest to many science journalists, and to environmental activists as well, because in recent years he has become the poster boy for conflicts of interest in science – a dubious claim to fame that has led to him being featured in the New York Times, among other publications.

In response to the revelations about his $600/hour consulting for Bayer – at the same time as he posed as a neutral scientific arbiter on the safety of Bayer's products, from glyphosate to GMOs – Folta has told anyone who would listen that this cannot be a conflict of interest because it supposedly did not affect his scientific judgement. In other words, Folta has abused the confidence of his followers and other members of the public, and essentially gaslighted them about basic understanding in the scientific community of the need to avoid conflicts of interest and engage in full transparency. As I wrote in the previous commentary, this is a real disservice to the public understanding of science and an assault on scientific integrity itself, in the interests of his personal gain.

I and others have also reported allegations that Folta abused his wife during their marriage (they are now divorced.) In the previous report, I quoted at length from a letter written by the director of a women's community attesting to that abuse, including an incident in which Folta kicked his wife in a brutal and unprovoked fashion. (To protect her privacy and spare her further pain, I will just refer to to her as "R" in this post. However, some of the details of this incident and related matters were published by GMWatch last year.)

In response to my last post, Folta, on Twitter, asked me if journalists had stopped using the word "allegedly." I pointed out to him that I did not use that word if I believed that allegations are fully confirmed (and added that the word "allegedly" is most often something that lawyers require reporters and publications to use, even when it suggests there is doubt that does not actually exist.)

One reason I knew that the word "allegedly" was not necessary is that in addition to the letter referred to above, I was in possession of two other letters by witnesses to Folta's abuse of his ex-wife. I am now authorized to quote from those, and I will do so, but without identifying the individuals who wrote them.

The first letter describes an incident in 2009.

The writer was visiting Folta and R. at their home in Gainesville. Folta was planning to leave on a work-related trip. R. was suspicious about Folta's relationship with a female South American student, and so asked Folta who was traveling with him. While Folta was in another room, R. looked through the phone and text messages on his phone. According to the letter writer, she "discovered a text in which Kevin addressed the South American female student. Kevin advised that she and her girlfriend get a room next to his because they were going to 'party like rock stars.'"

"[R] then proceeded to the bedroom to confront Kevin. I went to the guest bedroom that is on the other side of the house. The next morning, [R] showed me a bruise on her arm and a bump on her head. She told me Kevin was trying to take the phone away from her and they wrestled to the floor where her head was bumped and her arm twisted behind her back until she released the phone."

The second letter describes an incident in 2012 that is particularly troubling.

This letter was written in March 2018. I am quoting it in full to make the meaning clear.

"To Whom it may concern,

"I met Kevin Folta and [R] through the Gainesville Cycling Club in 2012. Over the years my friendship, more specifically with [R], grew to the point where we became the best of friends.

"Several years back (I do not remember exactly when) in the late evening (somewhere between 11:00 p.m. and midnight) I received a call from [R]. She stated that Kevin had arrived home very drunk and was being quite belligerent. She also stated that she was hiding in some bushes out front of her house as she feared for her life. Because [R] had confided in me previously about an instance where Kevin, after a serious argument with [R], aggressively banged pans over her head while she slept, I suggested she call the police. However, [R] said he would get tired looking for her and soon fall asleep.

"Some time later [R] shared just how she ended up in the bushes. She told me that Kevin was extremely aggressive that evening and because she feared for her life she attempted to get in [the] car and leave. Kevin prevented her by repeatedly closing the garage door. Eventually, [R] stated that she ran out under the garage door as it was closing and hid in the bushes out front of the house.

"Over our years of friendship I received several similar calls from [R] in which she stated that Kevin had arrived home intoxicated and was seeking to engage in an argument with her. She told me she had come to realize that not responding to his accusations was her best course of action."
***

It gives me no pleasure to have to quote from these letters, which portray seriously abusive actions on Folta's part. But as a #MeToo reporter in addition to the other hats I wear, I believe that these incidents, along with abundant evidence that Folta has lied repeatedly about his industry connections, raise very serious questions about whether he is an appropriate spokesperson for science in general and the University of Florida in particular. If you re-read the previous post, you will find abundant additional evidence to support this concern.