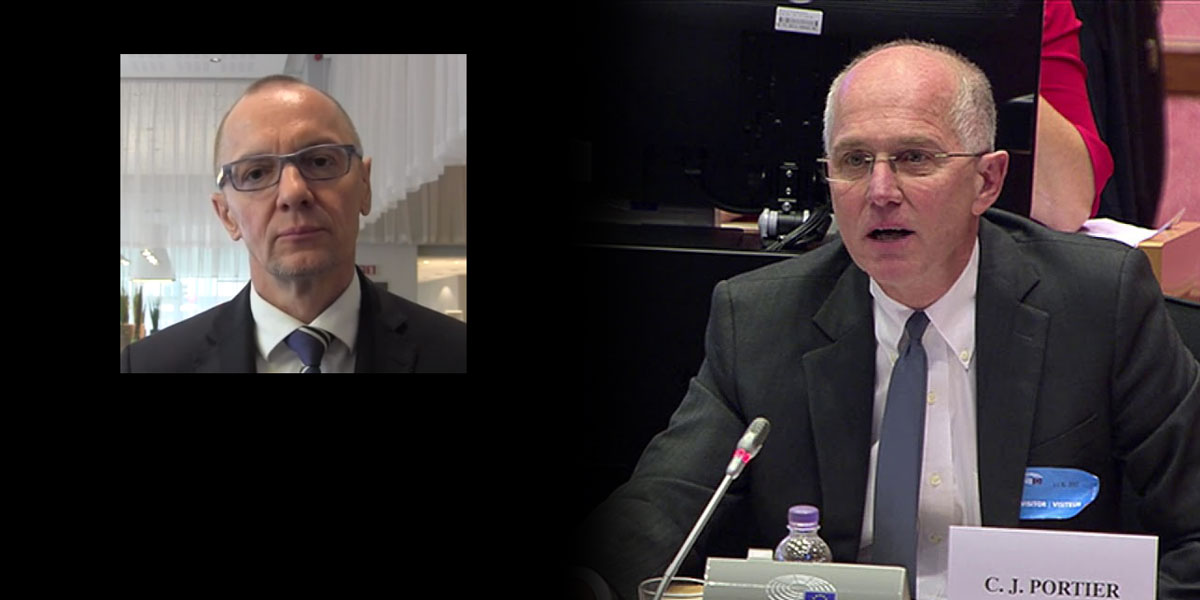 Says EFSA scientists need to improve their scientific approach
The leading US cancer expert Prof Christopher Portier has hit back at allegations made about him in the European Parliament by Bernhard Url, executive director of the European Food Safety Authority (EFSA). This new row in the unfolding glyphosate approval saga is reported in EU Food Policy.[1]
Prof Portier authored a letter in 2015, which was signed by 96 scientists, to the EU Health and Food Safety Commissioner, Vytenis Andriukaitis, criticising EFSA's assessment of glyphosate as "flawed". EFSA had concluded, contrary to the World Health Organisation's cancer agency IARC, that glyphosate was "unlikely to pose a carcinogenic hazard to humans".
According to EU Food Policy, Dr Url accused Prof Portier and the other signatories of not having read all 6,000 pages of EFSA's assessment, saying this was published just one week before their letter was sent.
Prof Portier responded, "Dr Url is not commenting on the contents of the letter we sent him. There is a saying in English: 'If you can't attack the message, attack the messenger'."
Prof Portier added, "The letter we sent is thickly packed with scientific criticisms of the EFSA review, focussing specifically on the addendum prepared by BfR to address the differences between the IARC review and the EFSA review. The addendum is 96 pages long; I am fairly certain that the 95 scientists who signed the letter were capable of reading 96 pages in a week.
"However, the BfR addendum was leaked prior to the release of the final 6,000 pages so we had ample time to review it."
He added that the draft Risk Assessment Report (on which EFSA's assessment was based) was available long before that date and that the crucial chapter on Toxicology and Metabolism was 946 pages long with the section on Long-term Toxicity and Carcinogenicity running from page 435 to 537, again closer to 100 pages than 6,000 pages.

Dr Url said EFSA scientists needed "humble assertiveness". But Prof Portier disagreed. He told EU Food Policy, "The scientists at EFSA do not need 'humble assertiveness', they need to read our documented concerns on the way they conduct their evaluations of these data and act upon improving their scientific approach.
"The guidelines produced by OECD and ECHA should be followed appropriately and instead of arguing why each study is wrong, they should be carefully evaluating which aspects of the science are of concern.
"The ECHA [European Chemicals Agency] guidelines are very clear on what constitutes a class 1B carcinogen and glyphosate fits that definition perfectly," he said, referring to Table 3.6.1 on page 371 and Annex I: 3.6.2.2.3 starting on page 372 and ending on 373.
Prof Portier was involved as an invited specialist in the IARC review by the International Agency on Research on Cancer. However, he did not vote on the agency's classification of glyphosate as a probable carcinogen, or take part in writing the final report (Monograph). He was excluded from the latter roles by IARC's conflicts of interest policy, as he had done part-time work for an environmental organisation that works on pesticides.
He now acts as an expert witness for plaintiffs in the US courts who claim that Roundup caused their cancer and in this role is paid by the plaintiffs' lawyers.
Notes
1. EU Food Policy (2018). Portier responds to Url's comments on letter to Andriukaitis. 25 Oct. Subscription only; no direct link


Image: Bernhard Url (left) and Prof Chris Portier (right)