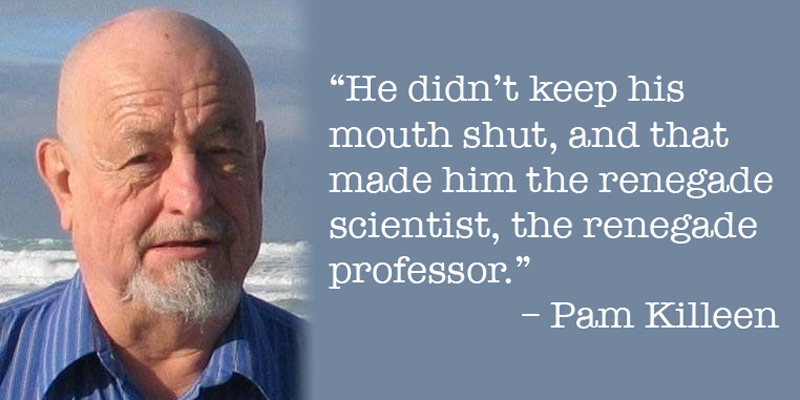 Environmentalist waged countless high-profile battles, taking aim at everything from GM crops and water fluoridation to chemical contamination of lakes and rivers
We at GMWatch remember Joe Cummins with huge gratitude for his never-failing patience in explaining the technical aspects of the risks of GMOs and their accompanying pesticides.
He was always happy to help – and did so with perfect grace, courtesy, and humility. We will miss him.
—
Renowned London environmentalist Joe Cummins dies from cancer at age 82
By Dale Carruthers
The London [Ontario] Free Press, January 10, 2016
http://www.lfpress.com/2016/01/10/genetics-professor-achieved-wide-acclaim-fighting-cancer-causing-agents
In his many David and Goliath-style battles against bigger and more powerful opponents, Joe Cummins used science as his slingshot.
The London environmentalist waged countless high-profile battles over the decades, taking aim at everything from genetically modified crops and water fluoridation to chemical contamination of lakes and rivers.
A longtime genetics professor at Western University, Cummins rose to public prominence in London during the 1980s, sounding the alarm on contamination at Pottersburg Creek, Ontario's largest PCB dump site.
Cummins died of cancer Friday at Victoria Hospital. He was 82.
"We've lost a fearless defender of the environment who spoke out about controversial issues," said longtime friend Barry Wells.
"He rocked the boat. That's what stands out about Joe, he was fearless."
Born Feb. 5, 1933, Cummins grew up in Washington state, earning his PhD in cell biology from the University of Wisconsin in 1962. After stints teaching genetics at Rutgers University and the University of Washington, Cummins joined Western in 1972.
There, he embarked on a career challenging politicians, corporate executives, government bureaucrats — even his own employer.
"He was known as Mighty Joe Cummins because he wasn't afraid to go up against the giants," said Pam Killeen, a London-based author of several health and nutrition books who considered Cummins a mentor.
"He didn't keep his mouth shut, and that made him the renegade scientist, the renegade professor."
Cummins was among the first to speak out against the dangers of genetically modified food and the risk of neonicottinoid pesticides to bees.
His work brought international acclaim — Cummins authored more than 200 scientific and popular articles — and his local initiatives earned him a reputation as a tireless crusader in London.
He was heavily involved in the fight for stringent pollution controls when a giant garbage-burning incinerator and energy-from-waste plant was being built at London's Victoria Hospital, and during the cleanup of PCBs at the former Westinghouse transformer plant near Pottersburg Creek in the city.
Banned in 1997, PCBs were once widely used as industrial coolants, including in transformers, and have been linked to cancer.
Despite the constant battles, many of them uphill, Cummins was an eternal optimist, said Killeen, who last visited the retired professor the day before he died.
Even as his health deteriorated, Cummins stayed positive.
In his final post to Facebook, after he was hospitalized, Cummins announced his cancer had progressed. "I can definitely say that Fentanyl is a wonder drug. Hoping for a miracle, but would be content with more time to enjoy life," he wrote on Christmas Eve.
A memorial service will be held at the Donohue Funeral Home. Visit donohuefuneralhome.ca for more information.