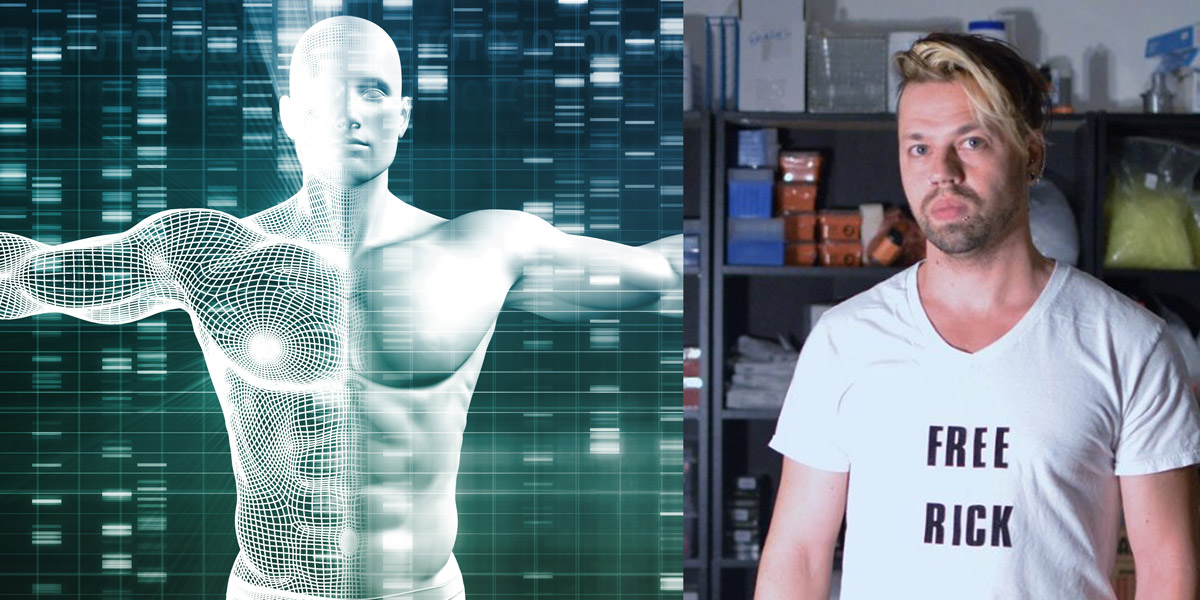 "I want to live in a world where people are genetically modifying themselves" – Josiah Zayner
A CBS News story reports an attempt by the biohacker Josiah Zayner to genetically modify himself to have bigger muscles, using the CRISPR genome-editing tool.

It seems that Zayner tried to alter his DNA by injecting his forearm with a piece of DNA called a plasmid, containing the gene that codes for the Cas9 genome-editing protein and its guide RNA targeted to the myostatin gene. The myostatin protein encoded by this gene checks the growth of muscles so they don't become out-of-proportion huge. Zayner's aim is to disrupt the myostatin gene that blocks muscle growth so that his muscles get larger.

Zayner carried out this process using a CRISPR kit that is available to buy online. Presumably it's the same one that his own company sells and that he hopes to profit from.

Zayner described to CBS his view of the future possibilities with CRISPR: "Do I wanna be big and muscly? Do I wanna – you know, my muscles have, like, high endurance? Do I want to have dark colour skin or light colour skin or whatever you want. I think now is the starting place of where we get to make those choices.
"I think we are in the midst of a genetic revolution. I think this is, like, literally, a new era of human beings. It's gonna create a whole new species of humans."
Zayner expanded on his world view in comments to the online publication SOTT.net: "I want to live in a world where people are genetically modifying themselves. I want to live in a world where all these cool things we see in sci-fi TV shows are real. Maybe I'm crazy and stupid… but I think maybe this is actually possible."

That's why, he said, he injected himself in front of the crowd at a conference: "I want people to stop arguing about whether it's okay to use CRISPR or not use CRISPR, or it's okay to genetically modify yourself. It's too late: I already made the choice for you. Argument over. Let's get on with it now. Let's use this to help people. Or to give people purple skin."
Will it work?
When animals are genetically modified with CRISPR, the genome of the early-stage embryo is altered so that as the cells divide and replicate, the genetic modification spreads throughout the developing foetus. Clearly this process was not available to Zayner because he is no longer an embryo. Hence his attempts to modify his muscle using localised injections.

We asked London-based molecular geneticist Dr Michael Antoniou, who uses genetic engineering to develop gene therapies, whether Zayner's method would work in giving him bigger muscles.

Dr Antoniou said, "It's virtually impossible that Zayner will achieve his desired outcome. Has he biopsied himself and done the molecular genetic analysis to show that the CRISPR knockout of the myostatin-coding gene actually took place?"

Dr Brian Hanley, a microbiologist who founded Butterfly Sciences, a company that develops gene therapies, was less diplomatic about the credibility of Zayner's claims for his product. He said, "Either Josiah Zayner is ignorant or he is deliberately misleading people. What he suggests cannot work as advertised… I have to wonder if he knows what he's telling people is baloney."

By Zayner's own account, his attempt at editing his muscles doesn't seem to have worked yet – it's "too early to tell", he says. Indeed, it might have the opposite effect. This is because he mixes the DNA with a substance called PEI (polyethylenimine) in order to get it into the cells more efficiently when injected. The trouble is, PEI is toxic to cells in excess, causing necrotic cell death (where the tissue turns black and dies) and apoptosis (where cells "commit suicide" and die). So the substance that Zayner is injecting to try to make his muscles bigger might actually destroy them.

Dr Antoniou said that the uptake of the injected DNA by Zayner's muscles would be low even if it is combined with PEI: "PEI works well in some cells in tissue culture. But is never used in living organisms because it is neither efficient nor safe.

"Some plasmid copies will end up in the nuclei of a few cells in a tiny localized area. Those cells may be successfully CRISPR'd (genome-edited) so that the myostatin gene is knocked out. But that won't make the muscles bigger because other nuclei in muscle fibres will be pumping out myostatin to block muscle growth. Zayner may succeed in knocking out a few copies of the myostatin gene but that will not result in his muscles getting bigger.

"Any biologist could tell Zayner that his method won't work. The fact that he has still gone ahead and done it suggests that this is just a publicity stunt."
Risk to those who experiment on themselves
In attempting to genome-edit himself, Zayner is putting his own health at risk, says Emma Frow, an assistant professor with a joint appointment in the School of Biological and Health Systems Engineering and the School for the Future of Innovation in Society at Arizona State University. She is also concerned for the health of those who are tempted to emulate him and use his genome-editing kit on themselves. She said: "Zayner's work is explicitly geared towards putting biotechnology in the hands of citizens, and his experiment points to the growing possibility of individuals experimenting on themselves with CRISPR technology. CRISPR gene-editing technology is still quite new, and there are several safety and efficacy questions that still need to be addressed. Individuals who choose to experiment on themselves are potentially putting their health and safety at risk."

Another well qualified commentator who has warned of the dangers for people who copy Zayner's self-injection stunts is Dr Brian Hanley. He said that while people may develop infections from non-sterile injection procedures, there is also another risk: "Screwing up can kill you from endotoxin."

Endotoxins are toxins present in the outer membranes of bacteria, such as those that would be used to produce the plasmids – circular pieces of DNA – that will carry the genome-editing tools into the muscle fibres to be engineered. When you isolate plasmids from bacteria, you can end up with endotoxin contamination. You need a special kit to get rid of them. Endotoxins are deadly poisons for animals – especially humans, who are particularly sensitive to them.

While Zayner claims he has purified the endotoxin out of his injectable mix, Dr Hanley says that it "is very hard to get rid of in a prep": "For amateurs? Forget it. Your preps are deadly poison in a significant dose – end of story."

Dr Hanley adds, "If someone dies because of an injection stemming from his kit, it won't matter if Mr Zayner has… disclaimers on his box. Because it is quite clear that he intends to make people think they should try self-injection. He advocates it. He 'demonstrates' it in front of crowds, and uses that to attract publicity so he can sell kits from his company."
Risk to society
Some may conclude that if Zayner and those who copy him get sick from their experiments, that's their lookout.

The problem is that he is also putting at risk the wider society.

Dr Antoniou said Zayner is "seriously dangerous" in his cavalier attitude to biosafety. In Europe at least, those working in the arena of gene therapy have to follow stringent "contained use" rules to prevent the public and the environment being exposed to potentially dangerous organisms. In making his kits available to the public, Zayner appears to thumb his nose at such risks.

And as scientists have pointed out, making the CRISPR technology more accessible has implications for bioterrorism. Anyone could use a CRISPR kit to genetically engineer a pathogen to make it more virulent or resistant to drugs and release it into the environment, or even the food or water supply.
FDA issues statement
Recently the US Food and Drug Administration (FDA) issued a statement saying that it is illegal to sell do-it-yourself kits to edit human genes:

"FDA considers any use of CRISPR/Cas9 gene editing in humans to be gene therapy... FDA is aware that gene therapy products intended for self-administration and 'do it yourself' kits to produce gene therapies for self-administration are being made available to the public. The sale of these products is against the law. FDA is concerned about the safety risks involved."

GMWatch asked the FDA whether it had taken any action to stop sales of Zayner's kits to the public. Paul Richards, of the FDA's Office of Communication, Outreach and Development, told us: "Information about the Agency's inspection and surveillance activities, including whether the agency is considering action, is generally not made available to the public unless and until enforcement action is taken. We encourage patients and health care providers to report adverse events, or any other concerns associated with gene therapy products, to FDA."

At the time of writing, however, Zayner's kit is still on sale and Zayner himself is free to continue disseminating a potentially dangerous technology to members of the public who may lack even a basic sense of responsibility. Commenting, Dr Antoniou said, "Such people must be banned from using CRISPR and other genome-editing tools outside of a strictly regulated and ethically policed context for appropriate clinical use."