LOBBYWATCH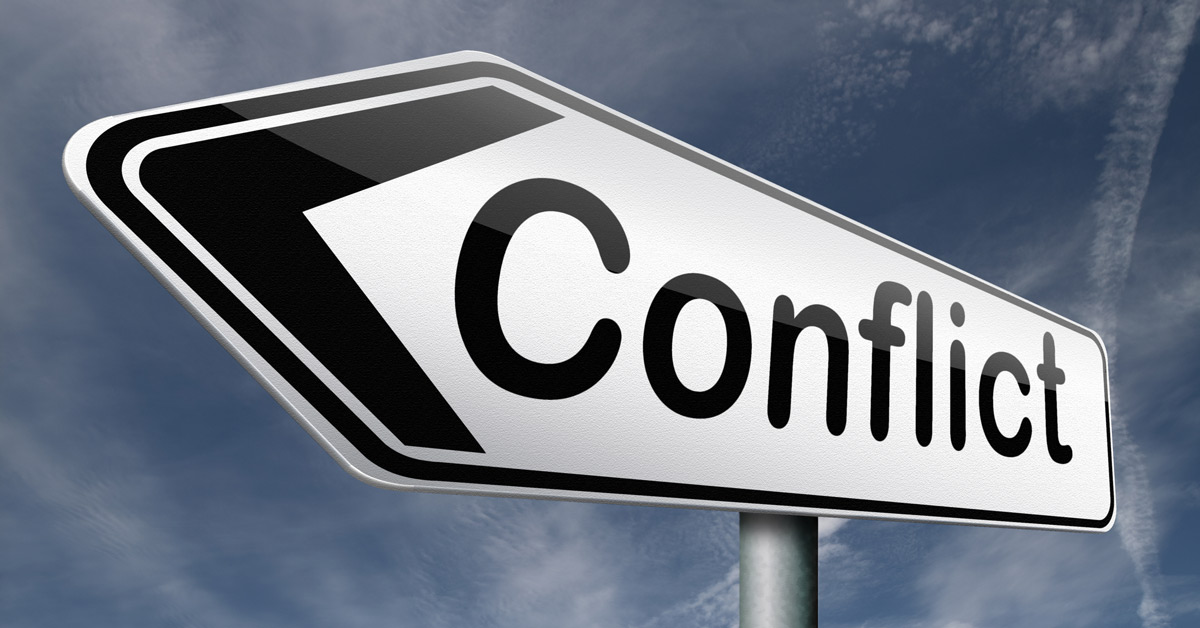 One hundred percent of the members of the UK government's GMO advisory body, the Advisory Committee on Releases to the Environment (ACRE), have potential or actual conflicts of interest that may enable them to benefit from any weakening of the regulations around GMOs, an analysis by GMWatch shows. For instance, the chair of ACRE, Prof Jim Dunwell, is a former biotech industry employee with a Syngenta pension who was also a founding member of a biotech industry-funded lobby group with a mission "to make the case for GM crops and foods". In addition, in spite of ACRE's role in regulating environmental releases of GMOs, only one member of the ACRE panel has expertise in ecology and none appear to have expertise in environmental toxicology.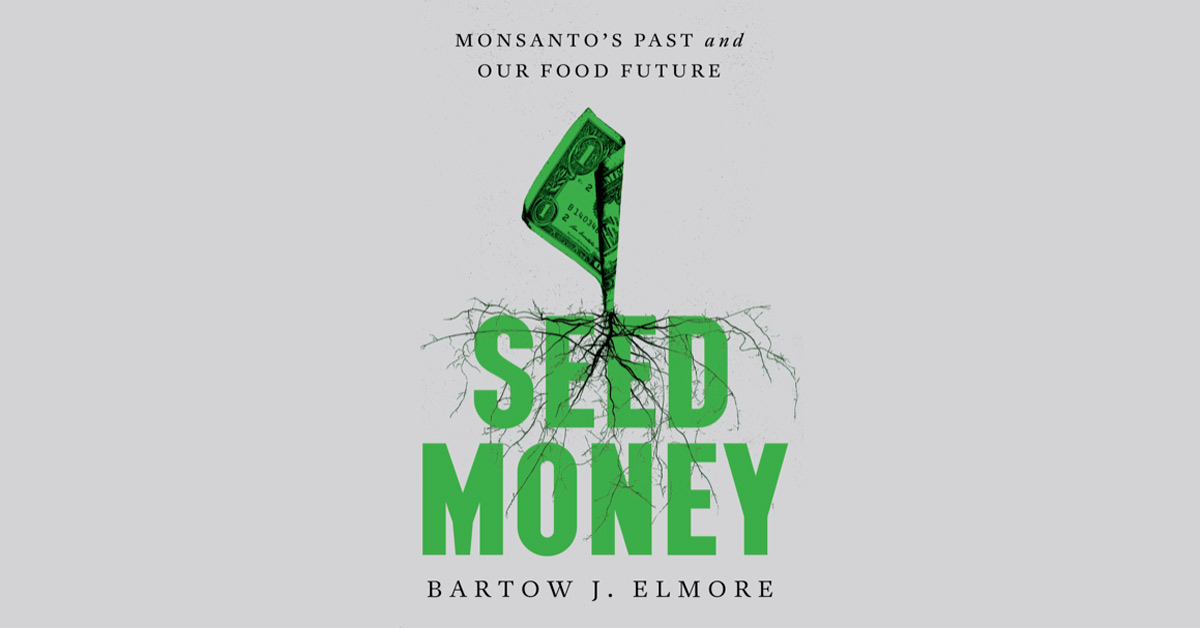 Bart Elmore teaches environmental and business history at Ohio State University and his deep dive into the history of Monsanto - Seed Money: Monsanto's Past and Our Food Future - packs a hefty 80 plus pages of notes. But it's not some turgid academic tome. Despite being deeply researched, the book provides a lively and lucid account of the massive toxic impact Monsanto has had on our world, as well as the company's unsuccessful attempt to escape its toxic legacy by shapeshifting into the world's largest seed company and a pioneer in genetic engineering in agriculture. Long-time Monsanto watcher Tom Philpott calls the book "wonderful" and "the definitive historical account". Despite such rave reviews, Seed Money still hasn't created as big a buzz as it deserves, possibly because people feel they know loads about Monsanto already, but Elmore's book delivers a motherlode of valuable new material.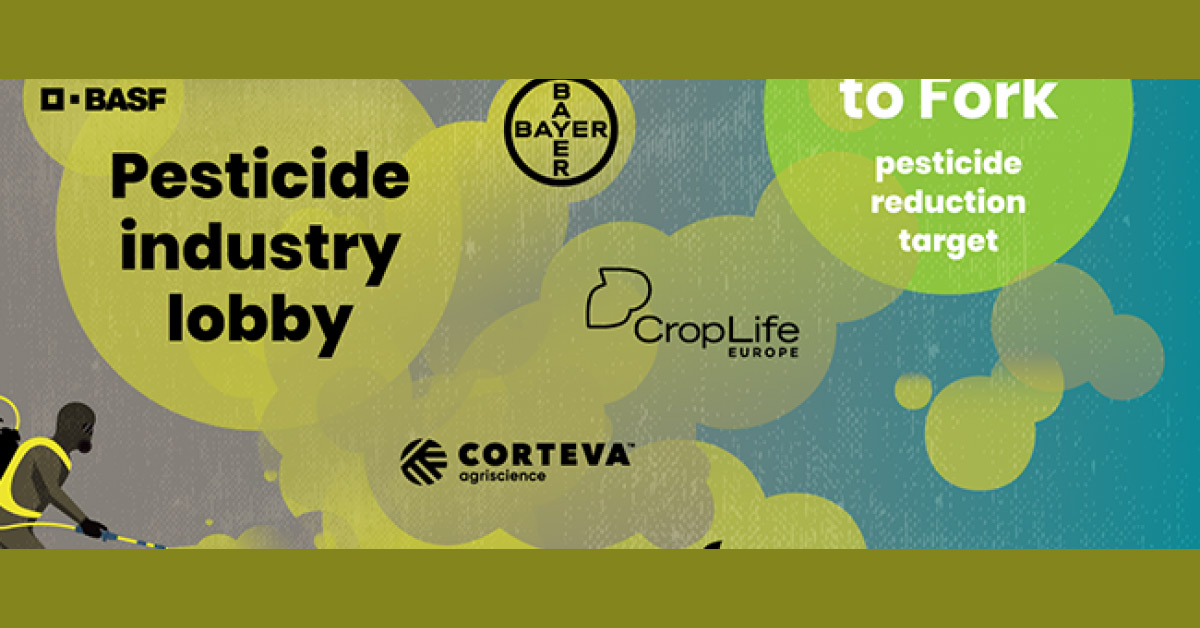 The pesticide industry lobby group CropLife Europe (CLE) and their allies have staged an immense and well resourced lobby campaign against the flagship policy of the EU – the Farm to Fork and Biodiversity strategies (both pillars of the EU Green Deal). On behalf of agrochemical multinationals, CropLife organised a fierce attack on the EU's ambition to protect ecosystems and public health by reducing pesticide risk and use by 50% by 2030. Brussels-based lobby watchdog Corporate Europe Observatory (CEO) has uncovered the toxic lobby strategies in a comprehensive report, "A loud lobby for a silent spring: The pesticide industry's toxic lobbying tactics against Farm to Fork". As well as the report, CEO has also produced an excellent podcast on how agribusiness lobbyists are cynically using the war in Ukraine to promote toxic pesticides.
At the 49th session of the UN Human Rights Council (UNHRC) in Geneva, the UN Special Rapporteurs (UNSR) called for an end to all uses of Highly Hazardous Pesticides, as well as the partnership between Food and Agriculture Organization (FAO) and the pesticide industry. In his report to the UNHRC, the UNSR on the Right to Food Michael Fakhri expressed alarm at the strategic partnership agreement signed between CropLife International and FAO, saying that it "may raise questions of conflict of interest and result in undue corporate influence over international policymaking". He encouraged the FAO Council to "review the agreement with CropLife International with an eye to human rights concerns and to consider directing the Director-General of FAO to rescind the agreement".
The first major official evaluation of the Bill & Melinda Gates Foundation's controversial efforts to expand capital-intensive, high-input agriculture in Africa found that the 15-year-effort has failed to achieve its goals of improving food security. The Gates-led Alliance for a Green Revolution in Africa (AGRA) aimed to transform agriculture in Africa by increasing incomes and food security for millions of smallholder farmers. But an independent evaluation commissioned by AGRA from the consulting firm Mathematica provides no evidence of progress toward these goals. Timothy A. Wise writes that says it's time for donors – and African governments – to stop throwing good money after bad and recognize that their 15-year effort to "catalyze a farming revolution in Africa" through Green Revolution seeds and fertilizers has fallen short.
African civil society and faith leaders are urging the US Congress to shift funding from the Alliance for a Green Revolution in Africa (AGRA) to more promising ecological programs when it votes to re-authorize the Global Food Security Act this year. Join AGRA-Watch's letter campaign, "USAID: Defund AGRA, Support African farmers: – add your name here.
Over 750 scientists have signed an opinion piece in Le Monde in which they say cultivating European areas dedicated to biodiversity, while pretending that this will prevent a food crisis in in Africa and the Middle East, would be disastrous ecologically. They say it doesn't help to increase a type of agricultural production that exacerbates various major threats: biodiversity is collapsing, climate change is accelerating, pollution (fertilisers, pesticides, plastic) is getting worse, and nutrition and health are deteriorating. According to the UN, the world already produces about a third more food than is needed. But still the number of people going hungry has been increasing in recent years, due to problems like poverty and poor distribution – not a shortage of production.
Dramatic claims about plant-based meat, lab-grown meat, and "cellular agriculture" have already succeeded in drawing billions of dollars to the sector, including from big-name investors like Bill Gates and Richard Branson. Governments are now paying attention as well. But these products and their sustainability credentials rest on shaky ground, according to a new report, The Politics of Protein, from the International Panel of Experts on Sustainable Food Systems (IPES-Food). Lead author Phil Howard says the idea that these alternative proteins can save the planet is highly speculative. These claims are based on a narrow assessment of which products can deliver the most protein for the least CO2. But that doesn't tell the whole story. Products like the Impossible Burger and Beyond Burger source their ingredients from chemical-intensive (and therefore fossil fuel-intensive) monocultures and rely on heavy processing — all of which has major impacts on human health, biodiversity, and climate change.
Lab meat — flesh grown in massive tanks instead of in the bodies of sentient animals — offers the promise of having our steak and eating it guilt-free, too. Yet several obstacles hold back a new era of widely available animal-free burgers. The biggest involves something much less appetising than chicken dumplings: The blood of unborn cow fetuses, extracted from their mothers after slaughter. Fetal bovine serum (FBS), a substance that works great for medical purposes, creates two huge problems for an industry seeking to mass-produce slaughter-free meat. The first is expense. FBS sells for upward of $1,000 per litre — so to break even on expenses, companies would have to sell their cultured meat for about $200,000 per pound.
In a post-screening event at the Beau Regard cinema in Paris, France's Green Party presidential candidate Yannick Jadot brought together the makers of the new French film Goliath – a drama showing the chilling power of the GMO and pesticides lobby — and some whistleblowers, researchers and elected officials who've taken on this Goliath. They included Prof Gilles-Eric Séralini, whose studies found adverse effects and signs of toxicity in animals fed GMOs and Roundup herbicide, and Sabine Grataloup, mother of Theo, who was harmed by glyphosate herbicide exposure in the womb.
Canada has vowed to make a "vigorous" push for the UK to accept hormone-treated beef in a trade deal. Hormone beef, which sees cows given growth hormones to boost meat production, is controversial with animal welfare advocates and some opposition politicians in the UK. If it doesn't succeed, it will use the issue as 'leverage to squeeze other wins out of the UK'. GMWatch believes that given Canada's lax attitude to pesticides and GMOs, it is not hard to guess what those might be.
COVID-19
Chasing scientific renown, grant dollars, and approval from Dr Anthony Fauci, Peter Daszak transformed the environmental nonprofit EcoHealth Alliance into a government-funded sponsor of risky virus research in both the US and Wuhan, China. Drawing on more than 100,000 leaked documents, a Vanity Fair investigation shows how an organisation dedicated to preventing the next pandemic found itself suspected of helping start one. [In GMWatch's view, this article contains some disturbing revelations, including about the US National Institutes of Health (NIH), which funded risky coronavirus research at the Wuhan Institute of Virology in China, as well as about Kristian Andersen, author of the infamous paper, "The proximal origin of SARS-CoV-2", which dismissed the lab origin theory of SARS-CoV-2.]
Katherine Eban, author of the Vanity Fair article on COVID origins (see item above), talks about her findings in an interview. She tells how the US NIH never seemed interested in investigating the origins of SARS-CoV-2 but instead appears to have set out to construct a narrative of zoonosis (natural spillover of the virus from animals to humans) that excluded any discussion of the lab leak theory.
"[A lab leak] is far and away the most likely explanation" for the origin of Covid 19 in the light of the evidence that Katherine Eban's Vanity Fair article has now added to, says Ryan Grim, the Intercept's D.C. Bureau Chief. In a recent edition of The Hill's morning politics show that he co-hosts, Grim says that Eban's article makes clear that Peter Daszak's denials that the kind of research that could have produced SARS-CoV-2 was ever done at the Wuhan Institute of Virology are worthless. This is because the latest evidence makes clear that his knowledge of what was actually going on at the WIV was extremely limited. So Daszak cannot know, for example, whether any of the research was carried out that was proposed in a DARPA funding bid involving the WIV. That research has been described by the virologist Simon Wain-Hobson as "basically a road map to a SARS-CoV-2-like virus".
The veteran science journalist Michael Balter sees the failure to properly probe the origins of Covid-19 as a low point for both science and journalism. And the investigative journalist Paul Thacker is equally critical of this failure, particularly on the part of science writers, who he accuses of engaging in advocacy rather than proper reporting. In his latest piece, Thacker points out the misleading "decoy narratives" and "fictions" deployed by Amy Maxmen in her articles in the journal Nature attempting to downplay the possibility of a lab accident in Wuhan. Similar concerns were reflected in a BMJ editorial last year that pointed to "a concerted campaign by heavily conflicted scientists" that had led to biased, failed reporting by science journalists and journals. Thacker and Balter are among those highlighting that this concerted campaign to suppress the lab leak theory is still bearing fruit.
James Le Duc, a professor and former director of Galveston National Laboratory at the University of Texas Medical Branch (UTMB), downplayed the possibility of a lab leak when writing to a Wuhan Institute of Virology (WIV) professor. But only two months later, Le Duc wrote to Phillip Russell, former president of the American Society of Tropical Medicine and Hygiene, that it was "certainly possible a lab accident was the source of the epidemic and I also agree that we can't trust the Chinese government". An April 2020 exchange between Le Duc and Russell shows that Russell was concerned that a "coverup" of the virus's origins may be underway. Russell wrote: "That does not rule out the possibility that one of the many bat coronaviruses isolated in the Wuhan lab infected a technician who walked out the door. No need for engineering the virus. The flimsiness of the epidemiology pointing to the wet market, the absence of bats in the market, the failure to identify an intermediate animal host, the extraordinary measures taken by the Chinese government, including persecution and probable killing of two brave physicians, to cover up the outbreak, the steps taken to silence the laboratory personnel, the change in leadership of the lab, all point to the lab as the source of the outbreak."
James Le Duc (see above) asked Wuhan Institute of Virology scientists to edit a briefing he prepared for Congressional staff, according to documents obtained by US Right to Know. "I certainly do not want to compromise you or your research activities," wrote Le Duc to Shi Zhengli, a top virologist at the Wuhan Institute of Virology nicknamed the "Bat Woman", in April 2020. "Make any changes that you would like," he wrote, attaching a copy of his prepared comments.
Studies attesting to a natural spillover origin of COVID-19, including two preprints recently heavily promoted in parts of the press, fail to provide convincing evidence of natural spillover, let alone proof that that is the origin of the pandemic. In marked contrast to SARS and MERS, there is no direct evidence at all for a natural spillover of COVID-19. Neither the virus nor antibodies to the virus have been identified in the many animals sampled in Wuhan in 2019 or early 2020.