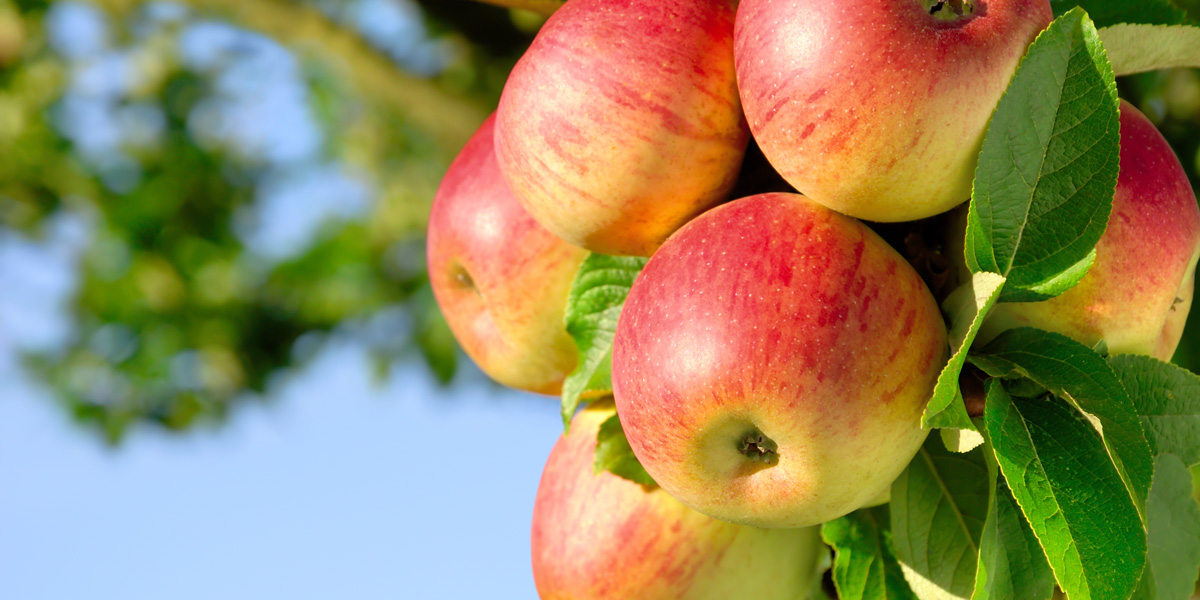 New study suggests organic apples may be better for gut health
Organic apples contain a more diverse, balanced, and healthy bacterial community than chemically grown ones, according to a new study (see abstract below) of apple microbiomes (bacterial populations). This could make them healthier as well as better for the environment, though these aspects were not tested in the study.

"The bacteria, fungi and viruses in our food transiently colonize our gut," said lead author Prof Gabriele Berg, of Graz University of Technology, Austria. "Cooking kills most of these, so raw fruit and veg are particularly important sources of gut microbes."

Prof Berg's team analyzed the microbiome of different tissues (stem, peel, fruit pulp, seeds, and calyx) of the organically grown and chemically grown apples. They compared the bacteria in store-bought chemically grown apples with fresh organic ones.

The researchers found that organic and chemically grown apples hosted similar numbers of bacteria – around 100 m. The majority were located in the seeds, with most of the remainder in the flesh. However, the organic apples harboured a more diverse, more even and distinct bacterial community, compared with the chemically grown ones.

Prof Berg commented, "This variety and balance would be expected to limit overgrowth of any one species, and previous studies have reported a negative correlation between human pathogen abundance and microbiome diversity of fresh produce." As the researchers state in their paper, "The highly diverse microbiome of organically managed apples might probably limit or hamper the abundance of human pathogens, simply by outcompeting them."

Specific types of bacteria known to affect health also differed between the organic and chemically grown apples, with the organic coming out seemingly healthier. Escherichia Shigella, a group of bacteria that includes pathogens, were found in most of the chemically grown apples, but not in the organic ones. For Lactobacilli, a beneficial bacterium, the reverse was true.

The researchers commented on the microbial patterns in the organic apples: "Considering that specific microbial signatures have potential to reduce food allergies... the native microbiome of organic and unprocessed apples could be an advantageous tool to manage and prevent allergic diseases."

The researchers also suggested that differences in bacteria might explain why organic apples often taste better. Methylobacterium, which is known to enhance the biosynthesis of strawberry flavoured compounds, was more abundant in the organic apples.

The organic apples tested were fresher than the chemically grown ones, as the latter were packaged and refrigerated days before the analysis, whereas the former were analyzed immediately after harvest. The apples were from different farms in the same region of Austria.

However, the researchers stated that their results agreed with another recent study on fungal communities in apples, which revealed that the differences were associated with different tissues and farm management practices.

The researchers concluded, "Organic apples conceivably feature favorable health effects for the consumer, the host plant and the environment in contrast to conventional apples, which were found to harbor potential food-borne pathogens."
---
An Apple a Day: Which Bacteria Do We Eat With Organic and Conventional Apples?
Birgit Wassermann, Henry Müller and Gabriele Berg
Frontiers in Microbiology, 24 July 2019
https://doi.org/10.3389/fmicb.2019.01629

Apples are among the most consumed fruits world-wide. They represent a source of direct human exposure to bacterial communities, which is less studied. We analyzed the apple microbiome to detect differences between tissues and the impact of organic and conventional management by a combined approach of 16S rRNA gene amplicon analysis and qPCR, and visualization using fluorescence in situ hybridization and confocal laser scanning microscopy (FISH-CLSM). Each apple fruit harbors different tissues (stem, peel, fruit pulp, seeds, and calyx), which were colonized by distinct bacterial communities. Interestingly, fruit pulp and seeds were bacterial hot spots, while the peel was less colonized. In all, approximately 108 16S rRNA bacterial gene copy numbers were determined in each g apple. Abundances were not influenced by the management practice but we found a strong reduction in bacterial diversity and evenness in conventionally managed apples. In addition, despite the similar structure in general dominated by Proteobacteria (80%), Bacteroidetes (9%), Actinobacteria (5%), and Firmicutes (3%), significant shifts of almost 40% of bacterial genera and orders were monitored. Among them, especially bacterial signatures known for health-affecting potential were found to be enhanced in conventionally managed apples. Our results suggest that we consume about 100 million bacterial cells with one apple. Although this amount was the same, the bacterial composition was significantly different in conventionally and organically produced apples.