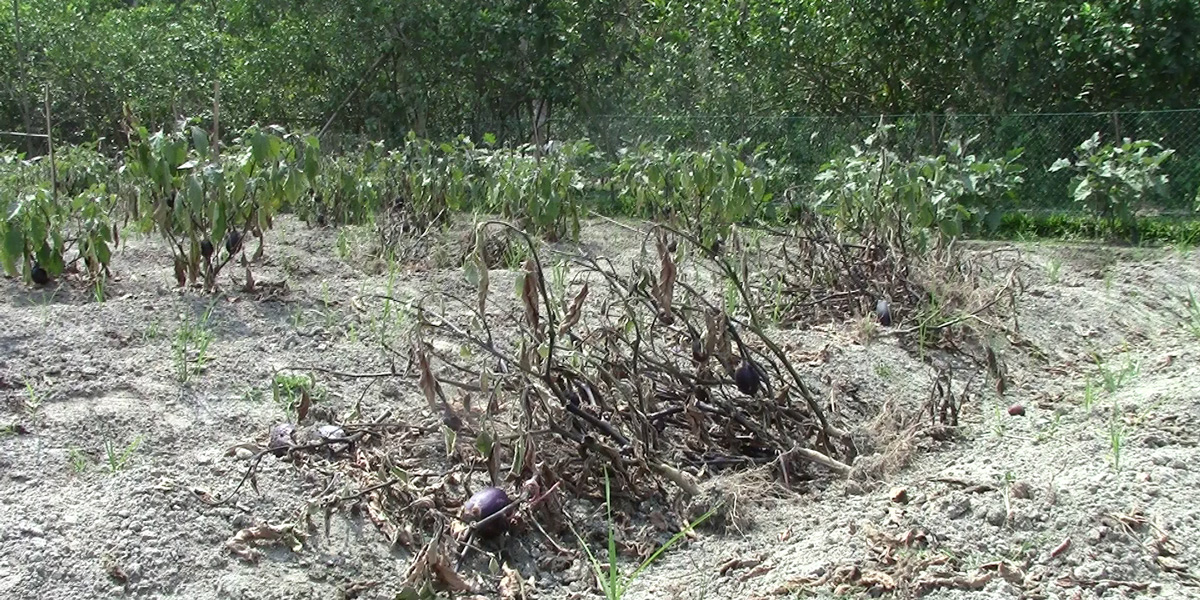 Two-thirds of farmers had "very bad" or "bad" experience
The release of GM Bt brinjal (eggplant) in Bangladesh did not yield the expected results and farmers did not benefit, said Farida Akhter, executive director of the civil society organisation UBINIG, at a press conference.

Akhter was speaking against the planned release of GM golden rice in the country, saying that as Bt brinjal had failed, there was no reason to introduce the GM rice.

Bt brinjal received the environment ministry's approval for farmer-level cultivation in October 2013 and distribution of its saplings among farmers started in January 2014, she said.

UBINIG conducted a field-level survey from December 2018 to January 2019 among 48 Bt brinjal farmers who cultivated the crop in 2014-15 in 19 districts. The results of the survey are documented in a report.

Only 13 of the farmers continued its cultivation in 2015-16. Five of them continued it in 2016-17, and three in 2017.

Farmers alleged that the crop did not yield as much as expected, while some crops also rotted in the field during cultivation, Akhter said, referring to the survey report.

Farmers were not told anything about Bt brinjal being a GMO, the report states.

The seedlings were given to the farmers by the government's Department of Agricultural Extension (DAE).
Report findings
Forty-two out of the 48 farmers were given seedlings because they were known to DAE officials (87%). The next most common reason was that they were progressive farmers (81%) who would accept new varieties. Only one-third of the farmers were recommended to grow Bt brinjal by neighbouring farmers.

The two most important reasons that farmers gave for adopting Bt brinjal were the hope of achieving "more profit (54%)" and "high yield (52%)". Other factors that contributed to the farmers' decision were that Bt brinjal seeds were given "free of cost (35%)", were "provided with other inputs (37%)", were claimed to fetch a "higher price (31%)" in the market, and were claimed to require "no pesticide use (27%)".

The claims made by DAE officials that motivated farmers to adopt Bt brinjal were "no fruit and shoot borer attack (71%)", followed by high yield (68%) and more profit (64%).

Of the 48 farmers interviewed, 29 gave an estimate of costs, which ranged between less than Taka 5000 to over Taka 20,000. The mean was Taka 11,293.

Only five farmers gave a profit estimate and 28 farmers gave estimates of loss. The mean profit was Taka 6,500 and the mean loss was Taka 18,750.

Regarding overall satisfaction level, 22% farmers said their experience was very good or good, compared to 66% farmers having very bad or bad experience.

Fifty-six percent of farmers were not approached by the Department of Agricultural Extension (DAE) officials for another round of cultivation because:
1. The yield was poor
2. The claims made for Bt brinjal were found not to be true
3. They were supposed to get some money for use of the land – but did not, and
4. The claim of profit was found wrong.

Sixty-eight percent of farmers did not want to opt for another round of cultivation. The farmers who had a bad experience did not want to repeat it. They said the claims made by government were not true and that the plants died. The government did not give compensation. Those farmers who wanted to cultivate the crop again said that there is support from DAE and that it was profitable for them to cultivate it.

All 48 farmers who started cultivating Bt brinjal in 2014-15 did not continue in subsequent years. Only 13 (27%) continued for 2015-16, gradually decreasing in 2016-17 (10%) and 2017-18 (6%) and 2018-19 (4%).

Out of the 48 farmers, 73% abandoned Bt brinjal cultivation in the next rounds.


Image of failed Bt brinjal courtesy of the late Faisal Rahman