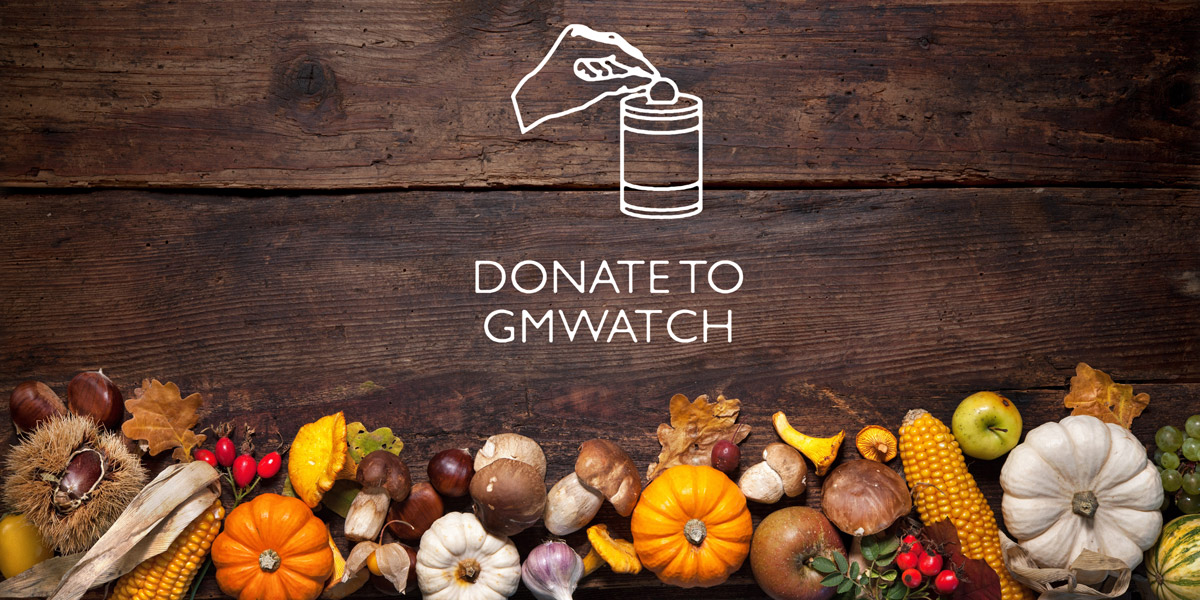 Your support is vital and donating is quick and easy
We need your help. We spend almost all our time getting the word out on GMO crops and the toxic pesticides that go with them, as well as myth-busting the hype and lies used to promote them. What we spend almost no time on is fundraising.

That's why your support is vital to our survival.

If you think a rapid reliable news service and the exposure of deception matter, then please strengthen our work by making a donation.
"I truly cannot think of any group that is more deserving of my pension dollars than GMWatch. You've been courageous, steadfast, and far-seeing pioneers for decades, and I can only hope that you continue to serve as a beacon of information and insight for decades to come." – Dr E Ann Clark, Associate Professor (ret.), Plant Agriculture, University of Guelph, Guelph, Ontario, Canada
Almost every thing we do, we do with what you contribute.

If you can manage a regular donation, that's easy to set up, and it will give us a much more stable financial footing for the coming year.

But whatever support you can manage will be put to good use cutting through the web of deceit on GMOs.

Thank you for keeping us strong and fighting! And a special thank you to those who are already supporting us. Without you, we wouldn't be here.

Claire Robinson and Jonathan Matthews
Editors, GMWatch.org