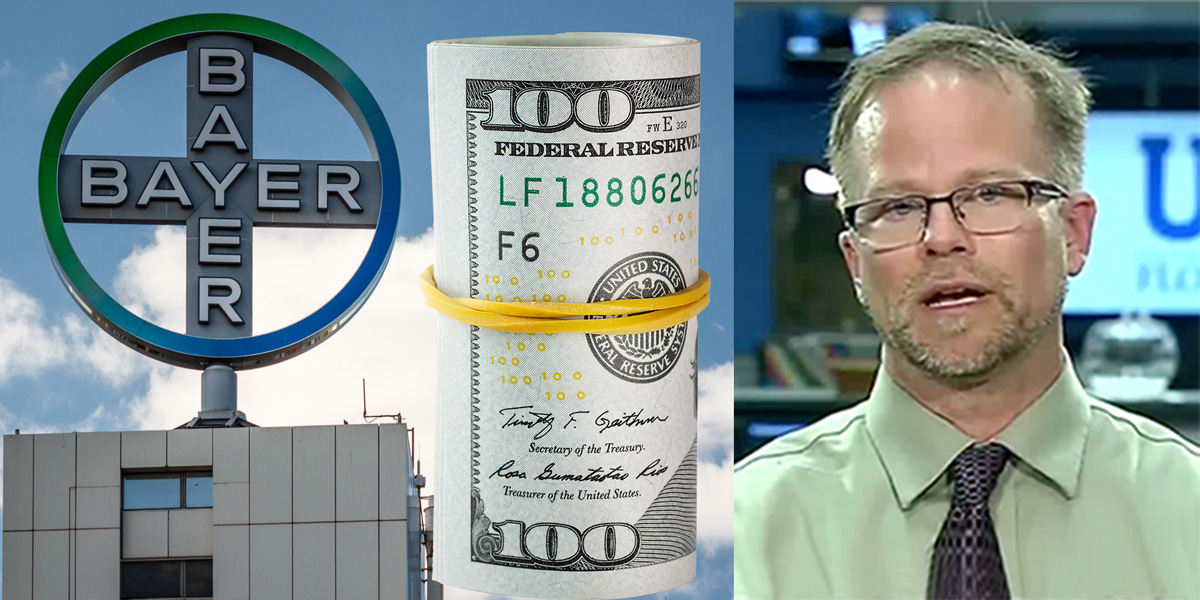 Folta makes threats as former allies sever all ties. Report: Jonathan Matthews
A few months ago GMWatch published two articles about the well known defender of pesticides and GMOs, Kevin Folta, doing lucrative consultancy work for Bayer while simultaneously claiming he declines all paid consultancy. Now the pro-GMO blog Biofortified has not only confirmed the Bayer consultancy but its founders have publicly condemned Folta for lying about it.
Folta has long been a favourite of the biotech industry and until earlier this year was one of Biofortified's quartet of directors, along with David Tribe of Academics Review and Biofortified's two founders, Anastasia Bodnar and Karl Haro von Mogel.
Then in April of this year Folta quietly resigned from Biofortified's board, apparently due to his other commitments. Next, according to Folta, "About two months ago Karl started asking me questions about consulting for Bayer. This was shortly after the article emerged on GMWatch."
Folta told von Mogel that he wasn't doing any consulting, for Bayer or anyone else, but the Biofortified founders clearly weren't convinced because they then made an anonymous Freedom of Information Act (FOIA) request to Folta's employer, the University of Florida (UF).
It seems Folta got wind of their enquiries because von Mogel and Bodnar claim he sent them a series of emails in which he threatened to put an end to their careers. Von Mogel says although he is "not making those emails public yet... His threats were explicit." And Bodnar says Folta's threats were meant to keep the FOIA "information from coming out".
$600-an-hour consultancy
Now they have published that information. The released documents show Folta disclosed to UF as far back as May 2017 that he was serving as "a consultant" – his term – in a legal dispute involving Bayer. The $600-an-hour work was commissioned by a law firm, Clifford Chance, acting for Bayer.
This confirms exactly what we published back in May: that Folta was "earning $600/hr for work involving the agrichemical giant Bayer", and that "it involved legal issues".
Folta, however, claims in a letter to UF that this work is not "formally" consultation, "It is more work as a professional witness, although there is no trial." But the Biofortified authors aren't buying it, "The distinction between consulting and being an expert witness, or of working for a law firm rather than for the company they represent, are merely semantics."
Another well known GMO supporter, the University of Wyoming weed scientist Andrew Kniss, also dismisses Folta's semantic contortions: "Getting paid by a law firm to analyze data outside of one's normal job responsibilities is consulting."
Lying "isn't OK"
Folta has claimed that the reason he couldn't say anything to anyone about this work is because he had signed a strict non-disclosure agreement (NDA). But the Biofortified authors point out that the NDA didn't stop Folta from telling UF about it, so why did it mean he had to lie to them? "Hiding it from collaborators, and lying about it when explicitly asked isn't OK," Bodnar said on Facebook.
And clearly UF can't have been the only ones that Folta told, because word of his Bayer consultancy seems to have been common knowledge in some circles as far back as 2017, as Matthew Dillon reminded Folta on Twitter: "It's odd to me you didn't just go public with this. I even… gave you a heads-up that folks within academia were talking about the Bayer work almost a year ago." That was also when we at GMWatch first heard about it.
Andrew Kniss says that an NDA like the one Folta says kept him silent is completely at odds with the values of being a public scientist charged with giving independent advice on agriculture: "LOTS of research requires confidentiality/NDA. That isn't the issue. But if the NDA is for personal consulting and precludes acknowledging the very existence of a relationship, then I don't see how that's compatible with the land-grant mission."
In fact, Folta not only concealed his Bayer consulting from his fellow directors at Biofortified, he also hid it from the journal Nature, as the journalist Paul Thacker has pointed out. In a paper related to GM crops published in Nature in March of this year, Folta declared he had no conflicts of interest. Folta apparently considered the 5- or 6-figure sum he was getting from one of the biggest producers of GM crops not to be a conflict that anyone needed to know about.
"New standard for science transparency"
Yet this is the man who after previous controversies claimed he had learned the need for the fullest possible disclosure – down to "every last detail". He even claimed to be setting "a new standard for science transparency", and that his new watchwords were: "Omission impossible."
For Andrew Kniss, Folta's "repeated claims of full transparency while not being fully transparent" go to the heart of the issue. He told Folta, "Ever since I've followed you, Kevin, you have made a big deal about not receiving any *personal* compensation for your work with industry. Like, a really big deal." He went on, "Given the history of this topic, given many years worth of repeated denials of receiving personal compensation, given the outrage you faced from previous discoveries – how could you not foresee this being problematic?"
Folta's enablers
This is far from the first time Folta has been exposed as a liar and dissembler. And one of the curious aspects of the current row is why Folta's former colleagues at Biofortified have turned on him now, given their previous tolerance of a long litany of unethical behaviour.
Their attack involves almost breathtaking hypocrisy. After all, when in 2015 the investigative group US Right to Know (USRTK) made FOIA enquiries to UF about Folta's connections to the agrichemical industry, Biofortified fiercely condemned them and even co-sponsored a petition opposing the use of FOIA to investigate the links between publicly funded scientists and industry.
At the time von Mogel claimed such FOIA requests risked "violating academic freedom" and "silencing" "scientist-communicators", like Folta. He also compared the FOIA enquiries to the unlawful hacking of climate science emails in the so-called "climategate" affair. Yet Biofortified have now resorted to the very tactic they condemned so forcefully when trying to protect Folta and others from public scrutiny.
Similarly, Biofortified made no effort to publicly distance themselves from their then director when those earlier FOIA enquiries resulted in a front page article in the New York Times, revealing Folta had a cosy relationship with Monsanto and its PR people, despite having publicly stated he had "nothing to do with Monsanto". This relationship included putting his name to ghostwritten articles and advising Monsanto on how to give him money for "outreach" without it being "publicly noted".
The NYT's revelations led the science writer Emily Jane Willingham to describe Folta as a "poster boy" for the problem of undisclosed conflicts of interest and to accuse him of "seeking some kind of loophole for yourself instead of owning the ethics here". Yet Biofortified showed just as much reluctance to own the ethics of what their then director had been getting up to. Instead of sacking him, they publicly demonstrated their support – with Anastasia Bodnar appearing in a group photo of women describing themselves as "the Kevin Folta fan club".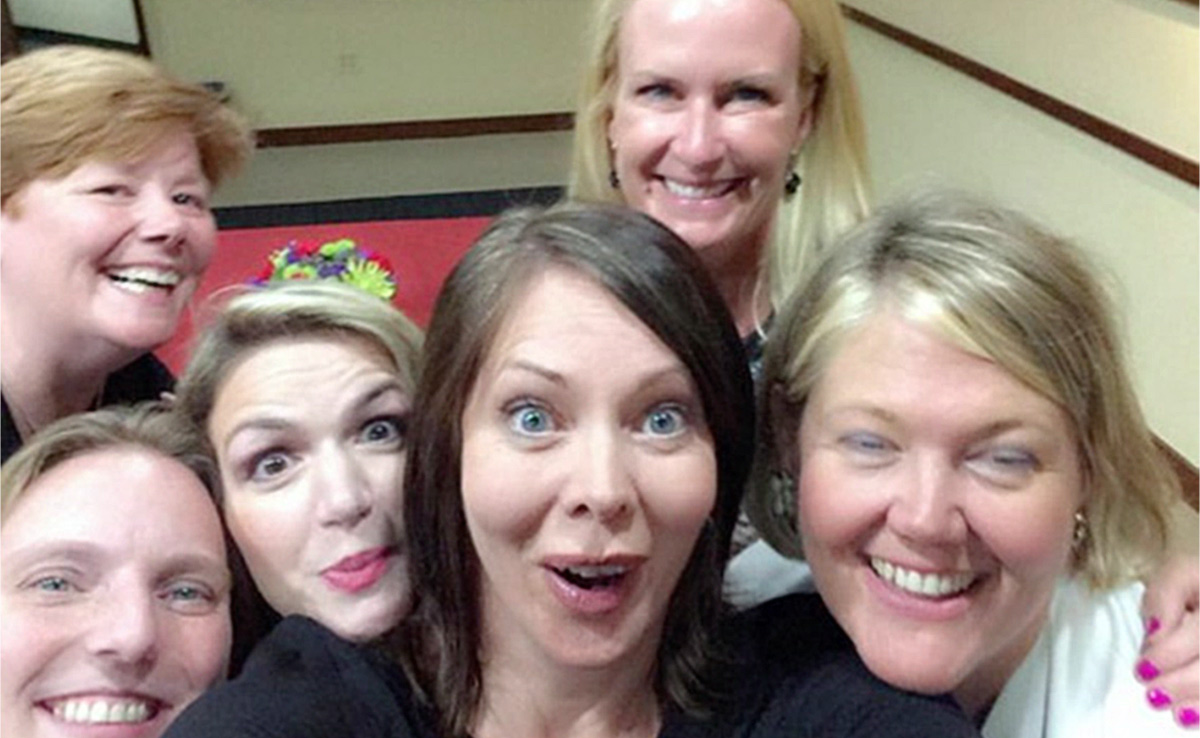 Front (left to right): Anastasia Bodnar – a director at Biofortified, where until April of this year Kevin Folta was a fellow director; Yvette D'Entrement – aka SciBabe. Worked for the pesticide maker and Monsanto collaborator Amvac; Cami Ryan – Monsanto Social Sciences Lead; Julie Gunlock – senior fellow at The Independent Women's Forum, an anti-feminist right-wing public policy group, which grew out of Women for Clarence Thomas. Thomas is an ultra-conservative member of the Supreme Court and a former Monsanto attorney. Back (left to right): Janice Person – Monsanto's Online Engagement Director; Julie Kelly – pro-GMO blogger whose husband is a lobbyist for agribiz giant ADM.
Bodnar and Von Mogel have similarly made no moves to distance themselves from the remaining Biofortified director, David Tribe. Tribe claims to be "independent" and the Academics Review group he co-founded says it only accepts "unrestricted donations from non-corporate sources". But it emerged from USRTK's FOIA requests that the group is actually a front set up with the help of Monsanto, and covert industry funding, to attack the industry's critics.
So why is Folta now persona non grata while Tribe carries on sitting on Biofortified's board? Well, for one thing, Folta attracts far more public attention, and the messy divorce and quixotic lawsuit against the New York Times that he is currently caught up in seem certain to attract still more. And, as Bodnar pointed out to a disgruntled Folta supporter, "Eventually this consulting/expert witness gig would come out in records requests. Better for us to explain in context than for GMWatch or US RTK to run with it and take more of us down with him. This is not something we did lightly."
Their concerns, it seems, are not ethics or transparency so much as jumping clear of the wreckage. And Folta could never have behaved so badly if he hadn't been buoyed up for so long by people who turned a blind eye to his lack of ethics and condemned attempts to inquire into his industry connections.


TAKE ACTION: GMO Free USA is asking people to send a letter to officials at the University of Florida asking them to suspend Folta while it conducts a full investigation. The action is quick and easy and will just take a few moments. Over 2,000 people have already sent letters.  

Image of Bayer building is by Sebastian Rittau via Wikimedia Commons.