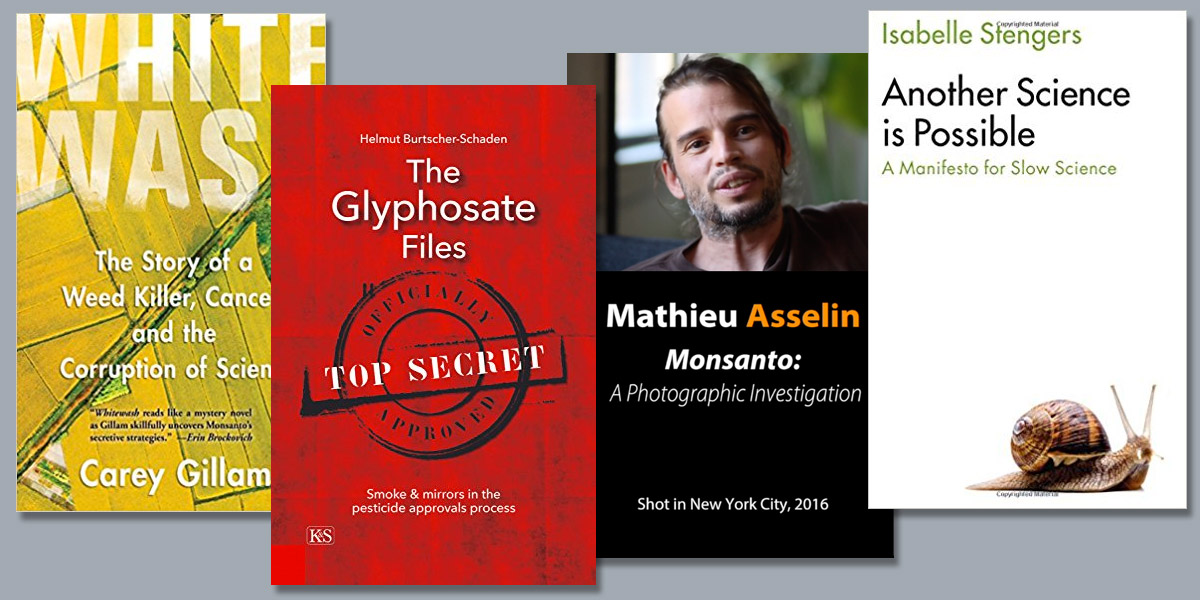 Four books uncover the truth about glyphosate, Monsanto's deadly record, and the urgent need for more responsible science
Here are four recently published books that you should definitely think about putting on your Christmas list. The first two are crackers on the glyphosate scandal, another has award-winning photography that exposes Monsanto's corporate crimes, and the last is by a recipient of the grand prize for philosophy from the Académie Française who tells us, "The story of the resistance against GMOs is about… a primordial democratic right, that of thinking the future."
Whitewash: The Story of a Weed Killer, Cancer, and the Corruption of Science
Carey Gillam
https://islandpress.org/book/whitewash
 
You will probably already have heard about veteran journalist Carey Gillam's new book — it's had some amazing reviews, as well as coming under savage attack by Monsanto's trolls, a sure sign of worth.
 
"Reads like a mystery novel as Gillam skilfully uncovers Monsanto's secretive strategies." — Erin Brockovich
 
"A damning picture... Gillam expertly covers a contentious front." — Publishers Weekly
 
"A must-read." — Booklist
 
"Hard-hitting, eye-opening narrative." — Kirkus
 
For decades glyphosate has been touted as safe enough to drink – and some idiots have even drunk it, but a growing body of evidence indicates the exact opposite, with research tying the chemical to cancers and a host of other health threats.
 
In Whitewash, Gillam uncovers one of the most controversial stories in the history of food and agriculture, exposing new evidence of corporate influence. She introduces readers to farm families devastated by cancers which they believe are caused by the chemical, and to scientists whose reputations have been smeared for publishing research that contradicted business interests. Readers learn about the arm-twisting of regulators who signed off on the chemical, echoing company assurances of safety even as they permitted higher residues of the herbicide in food and skipped compliance tests. And, in startling detail, Gillam reveals secret industry communications that pull back the curtain on corporate efforts to manipulate public perception.
 
Whitewash is more than an exposé about the hazards of one chemical or even the influence of one company. It's a story of power, politics, and the deadly consequences of putting corporate interests ahead of public safety.
The Glyphosate Files: Smoke and Mirrors in the Pesticide Approvals Process
Helmut Burtscher-Schaden
https://www.amazon.com/Glyphosate-Files-Mirrors-Pesticide-Approvals-ebook/dp/B076VRF8PP
 
According to the authorities responsible for its approval, as well as its manufacturers, glyphosate has been thoroughly examined and is safe. Yet the WHO's own cancer agency has classified the pesticide as a "probable human carcinogen". So if the WHO's cancer researchers found "sufficient evidence" of a carcinogenic effect, how could the licensing authorities fail for decades to find "any signs" in the same animal studies?
 
The search for answers leads biochemist Helmut Burtscher, the author of this investigative e-book, into official US archives from the 1970s and 80s, and on to the documents being used in the recent European approvals process. The details of the Monsanto secret studies that this research brings to light provide unsettling insights into the entanglements between industry, private testing institutions and the regulatory authorities. They expose a system that allows the chemical manufacturers to downplay the risks of their products. This book raises the question: do our governments offer greater protection to commercial interests, or to our health?
 
Dr Burtscher is an award-winning science communicator and that comes across in this very readable e-book.
Monsanto: A Photographic Investigation
Mathieu Asselin
http://mathieuasselin.com/monsanto-book-exhibition/
 
In this book, the award-winning photographer Mathieu Asselin explores Monsanto's dubious history, marked by cover-ups and scandals: dioxins in PCB coolants, genetically modified products such as the bovine growth hormone Posilac, and the production of the defoliant Agent Orange. His investigative photographic study captures the complexity of this topic, creating links between past, present and future. His photos show that there are multiple victims of this companies activities: physical deformities in Vietnam, families plagued by death and disease in the US, illegal waste dumps, depopulated regions, destroyed cornfields and farmers whose livelihood has been ruined.
 
The photos are complemented by a wealth of archival material, extracts from press releases, court files, and image campaigns, as well as different slogans and stills from commercials, which in comparison seem as glib and farcical as Disneyland. These expose Monsanto's absurd attempts to pass itself off as a company interested in satisfying today's demands and preserving the earth for future generations.
 
Asselin won the Paris Photo-Aperture Foundation First PhotoBook Award for this investigation into Monsanto. The book is also among the Guardian photography correspondent Sean O'Hagan's "Best photography books of 2017".
 
O'Hagan describes Asselin's book as "an exhaustive look at the ways in which a multinational agrochemical and agricultural biotechnology corporation impacts on the lives and environments of hundreds of communities across America". He continues: "Asselin spent five years delving deep into the company's history, from the use of Agent Orange during the Vietnam war to the introduction of genetically modified seeds in the late 1990s. A book about corporate impunity that unfolds through the deft interweaving of Asselin's own images and a wealth of found material, from personal testimonies to courtroom files.
 
You can read an interview with Asselin here.
Another Science is Possible: A Manifesto for Slow Science
Isabelle Stengers
https://www.amazon.co.uk/Another-Science-Possible-Manifesto-Slow/dp/150952181X
 
"Stengers's slow-science manifesto is timely, trenchant and thoughtful." – Barbara Kiser in Nature
 
Like fast food, fast science is quickly prepared, not particularly good, and clogs up the system. Efforts to tackle our most pressing issues have been stymied by conflict within the scientific community and mixed messages symptomatic of a rushed approach. What is more, scientific research is being shaped by the bubbles and crashes associated with economic speculation and the market. A focus on conformism, competitiveness, opportunism and flexibility has made it difficult to present cases of failure to the public, for fear that they will lose confidence in science altogether.
 
In this bold new book, the distinguished philosopher Isabelle Stengers shows that research is deeply intertwined with broader social interests, which means that science cannot race ahead in isolation but must learn instead to slow down. Stengers offers a path to an alternative science, arguing that researchers should stop seeing themselves as the "thinking, rational brain of humanity" and refuse to allow their expertise to be used to shut down the concerns of the public, or to spread the belief that scientific progress is inevitable and will resolve all of society's problems. Rather, science must engage openly and honestly with an intelligent public and be clear about the kind of knowledge it is capable of producing.
 
Isabelle Stengers is professor in the philosophy of science at the Université Libre de Bruxelles and recipient of the grand prize for philosophy from the Académie Française.
 
Stengers' book was prompted by the sacking of a colleague for supporting civil disobedience against a GMO field trial. In a talk inspired by that event, Stengers set out the arguments of the book:
 
"I would recall that the very possibility of an effective debate about genetically modified crops has been obtained through actions of civil disobedience. More precisely those actions have imposed a modification of the terms of the debate... It may thus be affirmed that the civil disobedience actions about GMOs have opened, and kept open, a space of collective learning... If scientia operates against darkness, in this case at least, it is civil disobedience, not academic science, which has activated resistance against the "darkness" that invades our democracies - a darkness to which Pascal Lamy, then European commissioner for Trade... gave its most striking expression: 'You do not stop the clocks'. In other words, you may democratically babble and express yourselves, but the ticking of the clocks commands our common future. The story of the resistance against GMOs is about a right - not the right to stop the clocks, there are no clocks - but a primordial democratic right, that of thinking the future. Thanks to civil disobedience, the ultimate violence against democracy, that of the ticking clocks argument, has been thwarted."