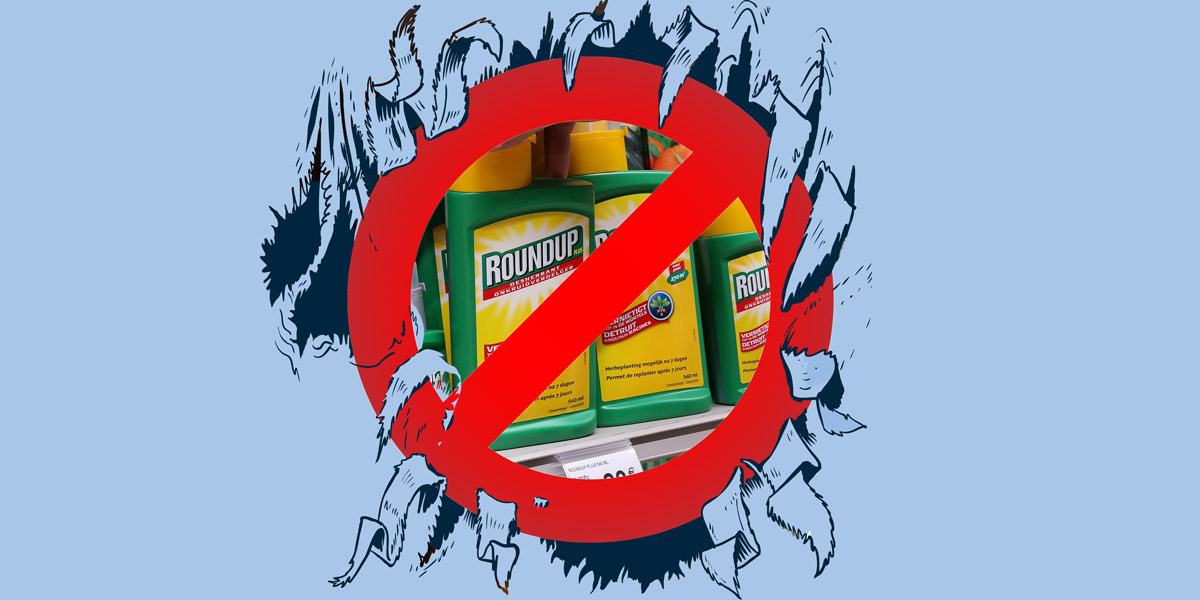 Claire Robinson says the campaign against glyphosate has been a huge public education success
Now that glyphosate has been renewed by the EU for another five years, an article by Dr Jonathan Latham criticises the anti-glyphosate campaign for being ineffective. Dr Latham says, "The environment movement needs to end single chemical campaigns and hit the chemical industry where it hurts. Ban ALL synthetic chemicals from agriculture. Ban ALL synthetic chemicals from schools and school grounds. Ban them from public areas, or your entire municipality (it can be done), including from food contact."

I agree with Dr Latham's aim. But I do not agree that, as the title of his article says, the "EU approval of glyphosate leaves environmentalists' strategy in tatters". I believe that in spite of the EU renewal, the campaign has been a huge success, for the following reasons.

Fist, the glyphosate campaign has never been about a single chemical. It has been a magnifying glass to focus people's attention on the many problems with chemicals, the pesticide industry and the regulatory process. It has woken up politicians, the media and the general public to issues such as:

* Industry does its own testing and proclaims its own products safe
* Regulators just copy-paste what industry tells them about test results
* Test results are not made public so independent scientists can't check them
* When independent scientists are able to check them in rare instances, they discover multiple frauds
* There's no long-term testing of adjuvants
* Mixture effects are not taken into account by regulatory processes and never can be because there are too many combinations to test.

I see these issues being discussed in mainstream newspaper articles, especially in mainland Europe, yet just a few years ago this was unheard of. It was just assumed that a regulatory process was in place to protect us and that regulators were acting in our best interests.
Public education
Out of all chemicals, glyphosate is the ideal magnifying glass because:

* It's the most widely used herbicide, so that bans and restrictions on it, such as are being implemented as we speak, will have a broad effect. And we can't assume that this chemical, once banned, is being replaced by others that are potentially worse, because the NGOs working on the local restrictions that I've heard about have been careful to ensure that non-toxic and mechanical methods of weed control are being substituted
* It's been proclaimed safe, or safer than other herbicides, for decades and the current row about it has punctured that myth in a way that will cause a knock-on effect on all other supposedly "safe" chemicals promoted in future. It's a bit like how the BSE (mad cow disease) scandal in the UK primed the public not to trust government assurances of GMO safety. This learned mistrust is what led to the UK supermarket ban on GMOs in own-brand products that still holds good.

Until very recently, when a remarkable number of EU member states started to make anti-glyphosate statements, I thought there was no chance that glyphosate would be banned this time around and said so in public on several occasions. But that does not translate into saying that the campaign was a waste of time. On the contrary, it was the best public education effort I've seen in decades.
Concrete victories
In recent months, as the campaign gathered momentum and politicians in several countries ran with the issue without prompting from campaigners, I did think there was a chance that there would be a ban. But I've never thought the success of the campaign depended on whether or not we won a ban at EU level. As well as the education that people have gained, there are more concrete victories too. We've heard that France and Italy plan to phase out glyphosate within the next three years. Other countries across the world have already done so, based on scientific studies.

I am not familiar with the inside story regarding France's intended ban. But I understand that the Italian government has taken this step based on the scientific studies that some people doubt have any effect at all. Without such studies, Italy would not be moving against glyphosate. Having said that, it certainly needs more and better studies, such as the one planned by the Ramazzini Institute, so that its current good intention does not falter under the onslaught that will doubtless be directed against it.

For anti-glyphosate campaigners, what's not to like in this picture? Granted, progress is slow, but the system is far weaker now than it was even five years ago. And that has to be a good thing. Nonetheless I support and add my voice to those who are campaigning for an end to all synthetic pesticides. While this latter aim may be some years off, I hope that the glyphosate campaign will continue to raise awareness about the fundamental problems of our pesticide addiction.