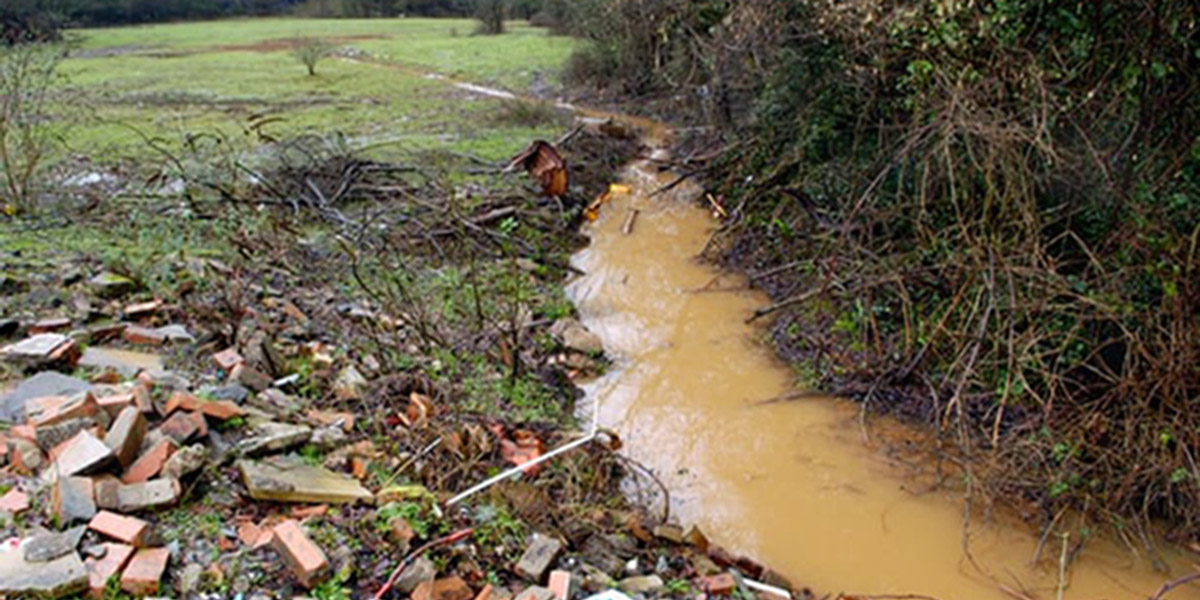 Monsanto's toxic PCBs are said to have contaminated an aquifer that is the reserve water supply for Cardiff and Birmingham
Actor and campaigner Michael Sheen has slammed Monsanto for polluting a region of Wales with toxic PCBs. His comments were made in this year's Raymond Williams Memorial Lecture at the Learning and Work Institute in London, which Sheen was invited to give.
This is an episode that is often forgotten in accounts of Monsanto's irresponsible activities across the globe – yet the people living near Brofiscin Quarry will be living with the consequences for many years into the future.
The Raymond Williams Memorial Lecture is held to honour the memory of the Welsh academic, novelist, critic, and influential figure within the New Left. This year's lecture was sponsored by the Open University Cymru.
You can watch a video of the lecture here.
A transcript is here.
---
Wanting to attract foreign investment and to welcome new industry, with all the jobs for Welsh people that can bring, is completely understandable, especially given everything I've talked about here today. But we have to be vigilant that it is not at the expense of communities who have already dealt with so much and whose voices can all too often either not be heard or too easily be drowned out.
There's one story that we should keep in mind when thinking about how all these elements can come together. It's a story that has been going on for fifty years. The story of Brofiscin Quarry and a man named Douglas Gowan. You won't find much written about this story, certainly not within Wales and certainly not given how long its been going on, who it involves and what its implications are.
Brofiscin Quarry is a disused limestone quarry not too far from here, in Groes-faen near Llantrisant. And Douglas Gowan is now a 74-year-old, disabled man with a lot of different and complicated health issues. But in 1967, when he first visited Brofiscin Quarry, he was 24 and working for the National Farmer's Union. He had been called out to investigate mysterious deaths and abortions among the livestock of farmers in the area around Brofiscin. This led to him discovering that Brofiscin Quarry was being used as a toxic waste dump and that it had been going on for a couple of years already. Multi-national corporation Monsanto had a plant in nearby Newport [which] had been stopped from routinely dumping chemical wastes into the River Severn and public waterways and sewers.
So, with the help of a local haulage company, they identified the site at Brofiscin, secured planning permission and, without capping or lining it against rainfall despite the quarry being permeable, they started dumping their toxic chemical wastes there, instead. Wastes which included large amounts of polychlorinated biphenyls (or PCBs). Little was publicly known about the adverse effects of PCBs at the time, and according to the most in-depth reporting on this story that I have managed to find (which is in the British environmental journal The Ecologist), what was known had been discovered by Monsanto and kept secret. The Ecologist writes: "Company papers subsequently released in America show that for more than 30 years Monsanto had sat on lab test results that showed PCBs were fatal to rats and other animals, causing exactly the symptoms and deaths that had been seen in the Brofiscin cattle."
Production of PCBs was eventually banned in America by 1979, and 7 years later the UK government followed suit. But, according to The Ecologist, "They are not safe and they do not become safe over time; they are long-living and their effect on human and animal health is cumulative. As a consequence their impact might not be immediately felt." The dumping of PCB's went on at Brofiscin Quarry until at least 1972. Despite Douglas Gowan's investigation, his findings about the connections between the dumping and its effect on local livestock, his concerns for the local population's health, his warnings to the local council, the environment agencies, the government and Monsanto itself, nothing was done to even attempt to clean it up until 2005.
In the years between, Gowan has been ridiculed, threatened, beaten up, publicly discredited, he's had numerous attempted break-ins, he's been sued in court, denounced in Parliament and forced into a witness protection program. "Documents have been mysteriously lost, witnesses silenced, scientific data ignored." The Ecologist reports that the then Secretary of State for Wales, Peter Thomas MP, libelled him; scientific luminaries such as Sir Richard Doll, a pioneer in linking smoking to health problems, said PCBs were perfectly safe and Gowan didn't know what he was talking about, only later to be found that he was actually receiving payment from Monsanto; the minister of state for the environment at the Welsh Assembly at the time, Carwyn Jones, chief executive of the Environment Agency, Baroness Barbara Young and Lord Rooker, the Defra minister responsible at the time, according to the same report, all said that the water at Brofiscin was safe and that dumping only took place in a very small and isolated section of the quarry. All claims refuted to this day by Douglas Gowan.
According to the Guardian newspaper, by 2011 officials had concluded that dangerous toxins within the quarry "had the potential to pose a significant health risk to local residents", and that Monsanto was indeed liable for the contamination and should pay the cost of cleaning it up. Monsanto has never accepted liability and has only ever offered a contribution towards the clean-up costs. In spite of hundreds of millions of dollars being paid out by Monsanto over court actions brought against them in the US for doing the same thing there, to the likes of the poor African-American communities of Anniston, Alabama, no such actions were ever taken by the Welsh or UK authorities. In spite of pressure from Douglas Gowan and others.
A cap has since been placed on the quarry but Gowan, whose own body tissue has been found to contain high levels of PCB, still has grave concerns. In an email I received from him recently, he said, "Brofiscin Quarry is the site of the worst ever dumping of PCB's in raw form, in used products or in contaminated waste. It is generally accepted that over 80,000 tonnes of PCB will have been forced down into the aquifer below the porous limestone quarry. The cap over the site has reduced the problem on the surface but only to cause all the waste to now be flushed down into the aquifer. This aquifer is the reserve water supply for Cardiff and Birmingham. The contaminants will adhere to minute solids and travel, and, inevitably, will one day become a health problem."
So far, such concerns have been met with claims of any investigation being too expensive at a time of austerity, and with problems not likely to be seen for another 50 years it's a problem for then not now. And I'm fairly certain that not many of you, if indeed anyone, have heard or read about any of this.