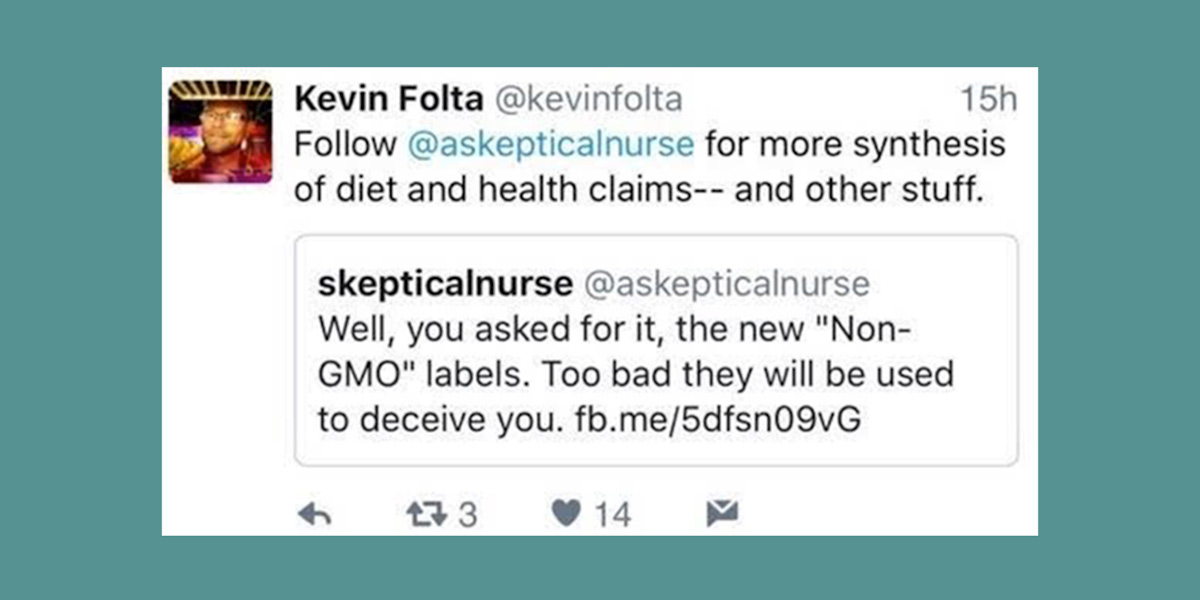 University of Florida scientist promotes diet and health expertise of unlicensed nurse

At the end of last year, the University of Florida scientist Kevin Folta promoted a new Twitter account called @askepticalnurse (see image above).

What happened next is chronicled in Unhealthy Advice: The Mysterious Case of the Disappearing Nurse.

The long and the short of it is that Folta's "nurse" turned out to be someone who has worked as a "cosmetologist" - someone trained in hairdressing, nail care or makeup - with a delinquent licence as a nursing assistant.

When her identity and lack of a nursing licence were flagged up on Twitter, some rapid housecleaning led to the deletion of a whole series of related social media accounts.

Why the panic? The trail of the unqlicensed nurse leads directly to Kevin Folta's door.

@askepticalnurse is Roxanne Porozinski who, it turns out, has had a hairdressing business at an address she shares with Folta. Roxanne and Folta also go to the same dojo and are in the same cycling club.

Also listed at exactly the same address is one "Roxanne Folta". As it is a little improbable Kevin Folta would be cohabiting with two women called Roxanne, it seems a reasonable assumption that Roxanne Porozinski and Roxanne Folta are one and the same.

Either way, one would have thought Kevin Folta would know the woman who has run a hairdressing business out of his house is not a properly qualified nurse, skeptical or otherwise. Yet he still promoted her as one.

If that seems pretty unethical, then consider some of his other shady behaviour:

*Nearly a year after he got $25,000 from Monsanto for his outreach programme, Folta was still publicly proclaiming: "I have nothing to do with Monsanto"

*In his pitch to Monsanto for their cash, Folta outlined exactly how it should be paid to him in order for it NOT to be "publicly noted"

*Folta also put his name as a scientist to pieces ghostwritten for him by Monsanto's PR firm Ketchum

*Although Folta has no known medical or toxicology background, he regularly pontificates on food and chemical safety as if he were an expert, often quite inaccurately

*In his promotion of Monsanto's Roundup herbicide he has not only made a series of false claims but has even drunk it publicly to demonstrate its "harmlessness"

*Folta has repeatedly labelled scientists he disagrees with as fraudsters, charlatans and even morons, without producing any evidence to back up these attacks

*He has also put into circulation fake graphics that contain malicious claims about other scientists.

If it seems ironic that someone who is so ready to accuse others of charlatanism is happy to help dress up someone unlicensed as a nurse, consider this. When a registered dietitian was scheduled to talk in support of GMO labelling at the South Florida Science Center, Folta scathingly compared her to "a psychic, a UFO expert, or a moon-landing hoaxer," not to mention "a Holocaust Denier."

Presumably if in the dietitian's stead, @askepticalnurse had been attacking GMO labelling, Folta would have happily publicized the event as a way of getting the lowdown on diet and health.

It's almost as if, in Folta's world, how one is regarded depends purely on how fanatically one defends GMOs.

That would certainly help explain why since Folta's cosy relations with Monsanto made the front page of the New York Times, he has been the recipient of a series of awards from biotech promoters. These include the Borlaug CAST Communication Award and in just the last couple of weeks, the Pro Farmer Ag Person of the Year award.

As Pro Farmer editor Chip Flory explained, "Dr Folta has been a leader in the fight against the anti-GMO movement for years." And fighting the anti-GMO movement, it seems, is merit enough – even when it involves fighting dirty.