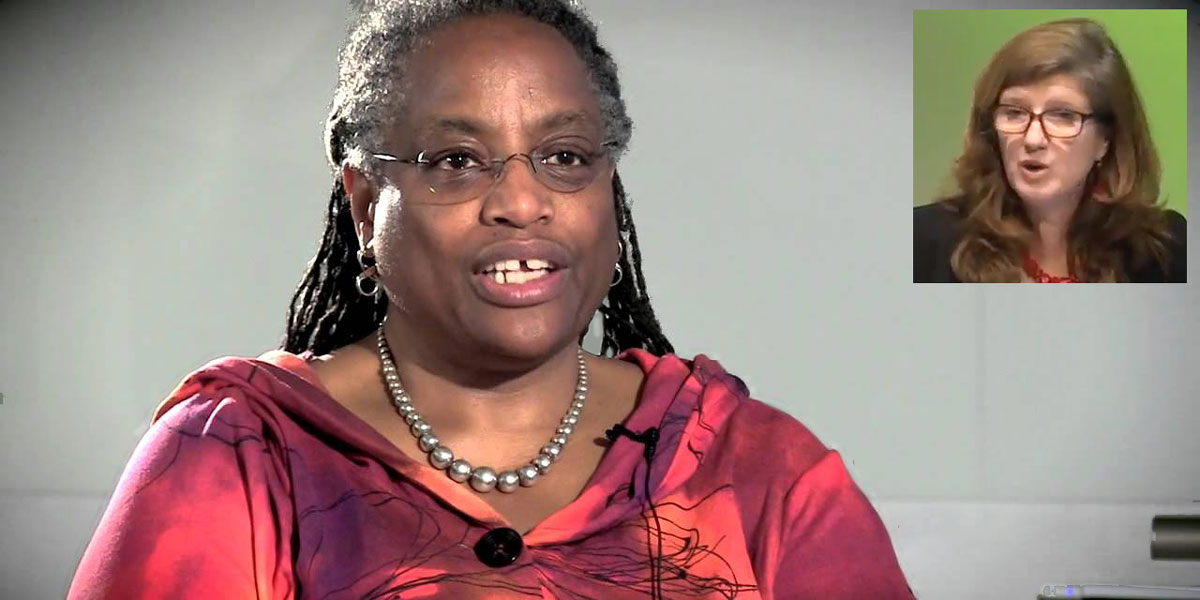 Fiona Fox (inset, right) is facing questions about her possible role in initiating a hate campaign against the science journalist Connie St Louis (main picture). Jonathan Matthews reports

Connie St Louis, the former president of the Association of British Science Writers and a senior lecturer at City University, has told MPs that she wants to see an investigation into the Science Media Centre, following "an ugly and protracted witch hunt" against her after the intervention of the SMC's director, Fiona Fox.

The controversy originated back in 2015 when Connie St Louis drew public attention to some disparaging remarks about women scientists made by Professor Sir Tim Hunt at the World Conference of Science Journalism. "Let me tell you about my trouble with girls. Three things happen when they are in the lab. You fall in love with them, they fall in love with you, and when you criticise them, they cry," he told delegates.

Her tweet about what Hunt said triggered considerable media coverage. The resulting furore led to Hunt's resignation from a number of honorary posts.

It was at this point that the director of the Science Media Centre intervened. Using her SMC base and media contacts, Fox helped turn the story around so that Sir Tim appeared the victim. The investigative journalist Dan Wadell has done an excellent job of setting out how this led to a backlash against Connie St Louis, a black feminist who now found herself cast in the role of Sir Tim's politically correct persecutor.

Around the same time as Fox's intervention, Wadell notes, public support for Hunt was also expressed by Fox's sister Claire, "founder of the right-wing think-tank Institute of Ideas and a regular on Radio 4's Moral Maze". Claire Fox, like Fiona, is a former writer for Living Marxism (or LM) magazine, which went on to become the libertarian magazine Spiked. As Wadell reports, "Brendan O'Neil, Spiked's editor, wrote a typically provocative blog defending Hunt the day after Fiona Fox published hers."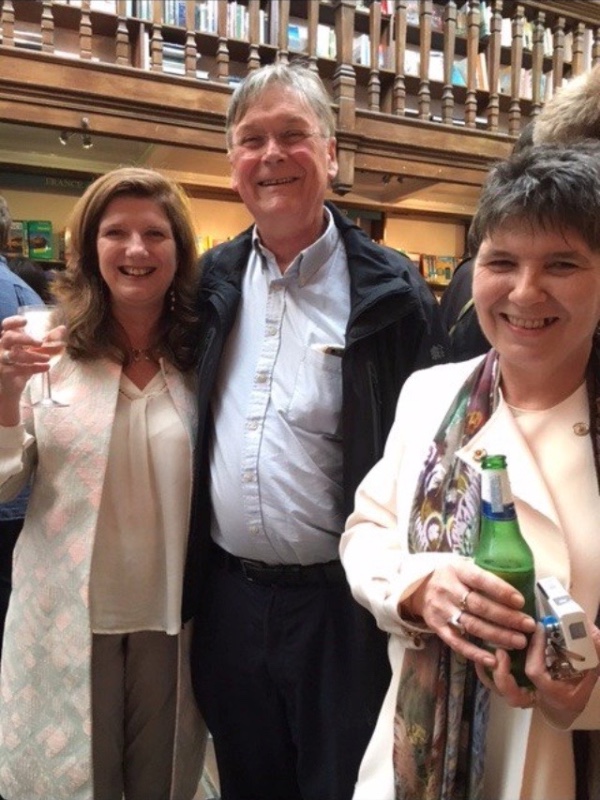 Whether or not these interventions were deliberately coordinated, it is difficult to understand how the Science Media Centre's remit could possibly cover its director's intervention in the Hunt affair. As David Miller, Professor of Sociology at Bath University, notes: "It is striking that in the Hunt case what is being defended is not science or even a particular side in a debate within science. Instead it looks very much like the defence of favoured elite scientists, no matter what they say. Unless it is suggested that Tim Hunt has 'proven expertise' on gender relations in science, it is hard to see how this fits with the mission of the SMC."

The treatment of Connie St Louis inevitably sends a message to other science journalists, who see one of their number being publicly vilified for criticising a leading scientist. In written evidence to the Commons' Science and Technology Committee, St Louis says she has received emails from leading science journalists saying "they wouldn't have a job if they had dared to call science to account in the way that I had done." And St Louis says she is fearful for her own job since, after the attacks on her, the Science Journalism course she taught at City University was closed down, with misleading reasons being given.
 
It's also unlikely to be lost on her colleagues that she had previously been openly critical of Fiona Fox and the SMC. As a senior science journalist tells Wadell, "There is no love lost between them. Fiona has never forgotten the criticism Connie has made of her and the SMC in the past."

In 2014, for instance, Connie St Louis was among those who expressed concern about the number of journalists uncritically reporting the briefings and quotes the SMC sent them without recognizing that the SMC is a government and corporate-funded PR messaging service, rather than a neutral science information provider. She sees the activities of Fox and the SMC as encouraging "churnalism" – journalists passively churning out stories that they're spoonfed by the SMC, rather than the kind of journalism about science that investigates and scrutinizes. Because of the SMC's PR role, St Louis thinks it should be closed down rather than given public money.

When Dan Wadell asked Fiona Fox about "whether her previously difficult relationship with Connie St Louis had affected her decision to offer advice to Hunt or whether she had the full backing of Science Media Centre before her intervention," she refused to comment.
Fox made hoax call, court told
This is not the first time that Fox's behaviour has proven controversial. In 2010, for instance, there was consternation in science communication circles when it emerged during a court case that Fox had made a hoax call on behalf of a Labour MP involved in bullying his staff. The court was told that this hoax call was a key factor in his office manager becoming sick with stress. The Guardian's science editor reported that "otherwise articulate people who read the story struggled to say more than three letters: WTF?"

Even more controversial was Fox's involvement in a campaign to deny the Rwandan genocide. The Guardian called the article she wrote a "bid to rewrite history in favour of the murderers." And it led to Fox's journalism being called "shoddy" and "an affront to the truth."

For Connie St Louis, the consequences of Fox's intervention in the Hunt affair have been grave. She tells the Commons Select Committee that in the ensuing witch hunt she has been subjected to a daily diet of racist and sexist abuse via social media and has even received death threats.

She tells the MPs that despite knowing "how ruthlessly Fox has dealt with me", she doesn't "wish any evil on Fiona Fox". On the other hand, she does think "someone should investigate why a government funded organisation can behave in the way that it did and seemingly outside the remit of its charitable status."
 

For more on the LM (or 'Living Marxism') network and its extensive involvement in science communication and the media, see this interview with George Monbiot: and this article by Andy Rowell.

For the role of Fox and the SMC in spearheading the attacks on Prof. Gilles-Éric Séralini after he published a study suggesting a Monsanto GM maize and the company's Roundup herbicide may pose serious health risks, see this article by Jonathan Matthews.
---
Written evidence submitted by Connie St Louis (COM0130)
It [is] nearly eighteen months since the 'Tim Hunt' affair or 'Huntgate' as it is sometimes called. You may or may not have heard of it but I want to write and tell you about it because I was intimately involved with it and it is all about science communication. If you go here, here and here, you will understand the backbone of the story. In many ways it's an everyday story of how power corrupts. Prof Sir Tim Hunt made some comments at a lunch meeting in Seoul, South Korea at The World Conference of Science Journalism on 7 June 2015. Prof Hunt's comments were made and should be seen in the context in the context of the difficulties that women scientists face and continue to face achieving parity in science. In fact there had been a recent select committee that focused on what is known as 'the leaky pipeline".

The leaky pipeline is a metaphor for the slow but continuous loss of women in STEM subjects as they climb the career ladder. Research shows that, only 20 per cent of girls continue from GCSE physics to A-level. Nearly half of all schools had no girls who complete A-level physics in 2011. It's true some of this can be blamed on the loss of women to the science community at particular stages in their careers. However, there is more to it than that. It's called sexism. Recently there have been many stories of women that have come forward to tell their stories and there have been terrible tales of how male scientists, who indulge in discriminatory behaviour are allowed to continue unchecked by any authority. But there are also other things that happen - some call it 'casual sexism'. I suppose this is a kinder term than straight out 'sexism'. However, the use of euphemistic language should not disguise its effect, as the impacts are exactly the same. Women are demeaned, power is re-asserted and so the whole inequality roundabout goes on and on and on.

When I heard Prof Sir Tim Hunt, a Nobel Laureate saying things that he has subsequently acknowledged about women. I thought to myself, here is another one of those reasons why inequality continues in science. As a journalist I'm going to report this. I wasn't personally offended, I wasn't cross and I wasn't upset. I was just surprised that a Nobel Laureate found it acceptable or reasonable, particularly in that context, and regardless of whether it may have been intended humorously, to say those things about women.

I want to say that I was not and have never been interested in shaming Prof Sir Tim Hunt. I wanted just to highlight how easily and comfortably sexism dwells within the science community. So why am I writing to you? Well because it's important to understand the aftermath of that 'Tweet'. But before I go into that, I would like you to read this. This article highlights the steps that I took to keep the conversation on sexism in science rather than to focus on a particular person i.e. that of Prof Sir Tim Hunt. This did not happen because Prof Sir Tim Hunt chose (and I use the word 'chose' carefully) not to apologise at the first opportunity he was given. That being the Today programme on BBC Radio Four.

Scientists and I include doctors and medical researchers under this umbrella; have done an excellent job of persuading everybody including people like you, that they should regulate themselves. In the words of Fiona Godley the editor of the BMJ.

"I think we have to call it what it is. It is the corruption of the scientific process… There are increasing concerns these days about scientific misconduct. Hundreds of papers are being pulled from the scientific record, for falsified data, for plagiarism, and for a variety of other reasons that are often never explained. Sometimes it's an honest mistake. But it's estimated that 70 per cent of the retractions are based on some form of scientific misconduct. Medicine and science are run by human beings, so there will always be crooks. There will be commercial pressures, academic pressures, and to pretend otherwise is absurd. So we have to have many more mechanisms, much more skepticism, and much more willingness to challenge."

It is against this background that there has been an exponential increase in science communicators and a decrease in science journalists. You will immediately recognise that communicators and journalists are quite different from one another. You will see from submissions from Dr. Andy Williams (Cardiff University), Prof. Martin Bauer (LSE) and others; these are dire times for journalism. We need science journalists who can make sense of science, who can uncover misconduct, fraud, plagiarism and falsified data and interrogate the many conflicts of interests that are intrinsic in the lives of scientists. So why is there an increase in science communication activities? Partly, to bypass the honest scrutiny of journalists, also, to educate the public who are deemed to have a knowledge 'deficit' but mainly because the message of self-regulation is essential for autonomy.

So back to Prof. Sir Tim Hunt who having failed to apologise at the first opportunity is then subjected to a funny, clever but poignant campaign by female scientists ♯distractinglysexy that goes viral.

When Hunt arrived back home from Korea. He was contacted by Fiona Fox, the director of the Science Media Centre. She contacted Tim Hunt's family and then in the words of the Dan Waddell's article she attempted "to save Tim Hunt".

In order to 'save Tim Hunt'; which by definition means; or in large part includes his professional reputation, mine had to be destroyed. So Fox began by facilitating a campaign, starting with an interview with Prof Hunt and his wife in the Observer by science editor Robin Mckie. During which Hunt claimed he had been abandoned, or in his words, "hung out to dry". Whether or not this was intended, this interview initiated what can only be described as a witch-hunt on me. This deliberate interference, of course is way beyond the remit of a PR communication organisation such as the SMC that is in receipt of government funds.

As a journalist I know what I did was the right thing to do. However, from a personal perspective I regret doing so. I had support from my two American colleagues Deborah Blum and Ivan Oransky who also witnessed and wrote about the same incident. However, part of the strategy of the choreographed witch-hunt was to isolated me from my American colleagues. However, I will always remain grateful for the support of colleagues like Natasha Loder, Sue Nelson and Paula Higgins. The downside of this ugly and protracted witch-hunt that I had to endure is that I think it's unlikely that any UK science journalist will openly criticise and call science to account in the near future.

One of the saddest things that happened was in the first month after the 'tweet' was I received a number of emails from leading science journalists who sent me private emails congratulating me reporting the story. They all said it was good and important journalism but said that they couldn't have done it because they wouldn't have a job if they had dared to call science to account in the way that I had done. Welcome to my world. I think that is the one of the most salutary lesson for science journalism in the UK.

Despite the fact that I know how ruthlessly Fox has dealt with me. I don't wish any evil on Fiona Fox. It's hard for me to be glad about the publication of the stories on Byline, but it is an important step. It only confirms what I really knew was happening. This is an important story that the mainstream press has chosen to ignore. Each day, I continue to pay the price for what I did. For the last eighteen months, the daily diet of racism, sexism and too 'disgusting to mention' emails continue. It is draining, aggressive, disturbing and depressing. It has taken a huge emotional toll.

On the anniversary of the Tim Hunt affair, two new articles were published on the innovative website Byline. It's a crowd-funded platform that was created to redress the imbalance of investigative reporting within journalism. Much of what the work it publishes is journalism that 'calls to account'; it is a critical friend; or sometimes it just digs up things that people in power don't want publish and that the public should know. I say public because as a journalist that is was my audience, not scientists or station controllers.

So the truth is out. What will the 'establishment' do about it? Nothing at all, I suspect. I have nothing to lose. I'm not gloating. I won't ever gloat. I won't make gain out of this. I don't want to see people destroyed or lose their jobs. But perhaps when you have lost everything (and I mean everything, including my job), then it doesn't matter what I do next. I want to ensure this doesn't happen again.

Many commentators have tried to justify Fox's assault on me as a 'personal vendetta'. I don't think this is true and certainly not so in my case. My dealings with Fox have been entirely professional and have been to discuss the role of the PR organisations such as the Science Media Centre and its impact on the quality science journalism. I have carried out a small empirical study that suggests that PR and communication organisations such as the SMC are increasing 'churnalism'. The term is used by Nick Davies in his book Flat Earth News and he says that churnalism is produced by "Journalists who are no longer gathering news but are reduced instead to passive processors of whatever material comes their way, churning out stories, whether real event or PR artifice, important or trivial, true or false" (p.59).

This campaign continued and as you will read in the Byline article it also involved the Hunt family recruiting the help of Louise Mensch. Mensch led and continues to lead a vicious Twitter and trolling campaign to which I am still subject. It recently gathered stream again when someone at City University leaked the journalism's teaching timetables to one of Mensch's reporters.

Others such as Professors Athene Donald and Sir Colin Blakemore also played key roles, as you will have read. I have been painted as a liar, which I am not. A so-called 'feminazi', which I am not. Furthermore, I have been subjected to death threats sent to me. June 8 2016 was the anniversary of that 'tweet that broke the Tim Hunt Story. I have reflected on that year, my annus horibilis.

In May 2016 the new head of the Journalism Department decided to suspend the Science Journalism MA. The university's excuse was that I had not recruited enough students. However on further investigation it was later discovered that students who tried to apply were told by the university that the course was not taking any application and had closed. Its difficult to recruit the required number of students under these circumstances.

Doing my high-pressure job as a university lecturer has been almost impossible with no support or duty of care from the university. Unfortunately, like most modern universities, it has become a corporation; more interested in his own image rather than caring for and defending its staff and their academic freedom. I am certain that this so called 'suspension' will eventually lead to the course's complete closure. It was the only masters in science journalism in Europe. They will also use the 'supposed' low student numbers as a way to 'get rid' and bundle me out of the door. Nothing is too difficult for the new corporatised university.

If I do not say something, then the next person who tries to report something challenging about science. Something that science and the science community doesn't want reported – will end up like me. Picked off and silenced. Treated by professionals and members of the public alike in an appalling, personal, unprofessional and wholly unacceptable manner, out of keeping with the values and traditions that should apply both in public life and in the conduct of proper communication in the science and science community, and at great personal and professional cost to me, when I have at all times sought to act with integrity and in good faith.

Things will not improve in science, unless someone is prepared to say something and speak up. This is not just about Fox or the SMC. Though someone should investigate why a government funded organisation can behave in the way that it did and seemingly outside the remit of its charitable status. It's also not about Prof Sir Tim Hunt. It's about equality. Equality for all women wherever they work and what ever they do. It's also about science journalism, the profession that I care about. Independent science journalism is needed now more than ever.

As you are part of an enquiry that is looking at science communication; the question I want to raise is: Who investigates and calls science to account? This is a crucially important question. It is not the question of someone who is anti science. However, it is my question as an extremely concerned and interested as a citizen, a journalism academic and a science journalist. I want to see this question asked by people such as you; who have the power to change things.

Yes, lets have some science communication; we need a public that understands what is going on but we also need journalism about science that investigates, reports and also scrutinises. That will enable a better science, better science journalism and a better society.

November 2016

References

Crowe, Kelly. (2016) BMJ editor Fiona Godlee takes on corruption in science http://www.cbc.ca/news/health/bmj-fiona-godlee-science-1.3541769

Wertheim, Margaret. (2016) The sexism problem. Harassment drove me out of physics 30 years ago and little has changed. Why is scientific sexism so intractable? https://aeon.co/essays/why-is-scientific-sexism-so-intractably-resistant-to-reform
 
St Louis, Connie (2015) Furor over Tim Hunt Must Lead to Systemic Change http://blogs.scientificamerican.com/voices/furor-over-tim-hunt-must-lead-to-systemic-change/
Davies, Nick (2008) Flat Earth News Published by Chatto and Windus

Mikelionis, Lukas (2016), Infamous Lecturer Who Trashed Sir Tim Hunt Has Her Course Axed. http://heatst.com/world/has-the-infamous-lecturer-who-trashed-sir-tim-hunt-had-her-course-hours-cut/

Summers, Chris (2016) City University lecturer who cost Nobel Prize-winning scientist Sir Tim Hunt his job after accusing him of being sexist has her OWN classes cut. http://www.dailymail.co.uk/news/article-3797081/City-University-lecturer-accused-Nobel-Prize-winning-scientist-Sir-Tim-Hunt-sexist-classes-cut.html
Source for Connie St Louis's written evidence to Parliament: http://data.parliament.uk/writtenevidence/committeeevidence.svc/evidencedocument/science-and-technology-committee/science-communication/written/43569.html