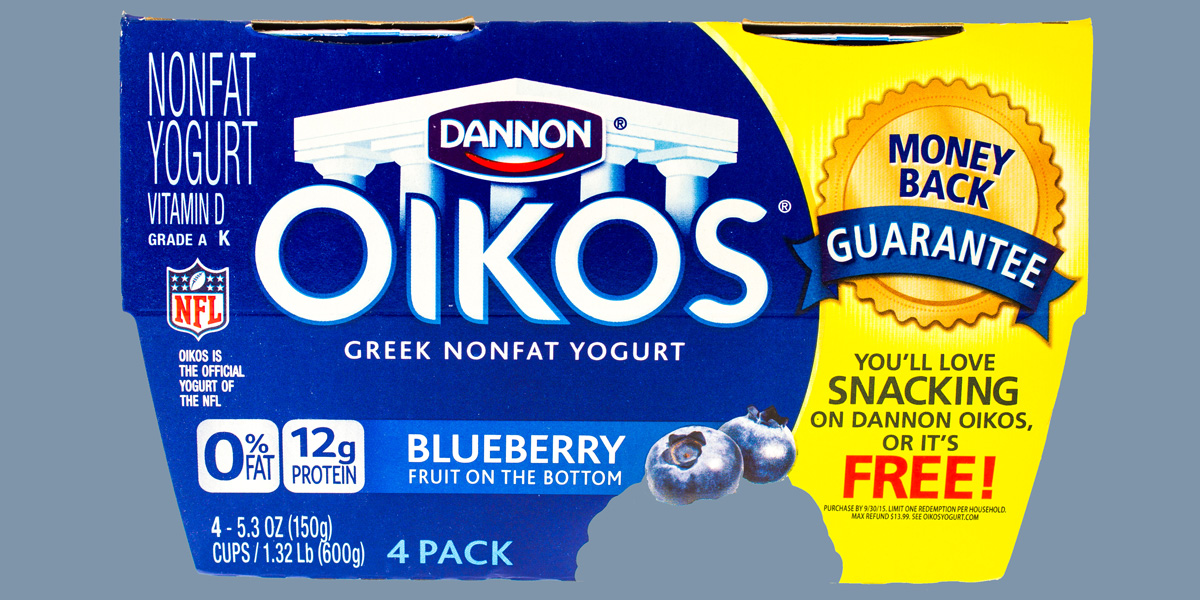 US Farmers & Ranchers Alliance reportedly gets $500,000 a year from Monsanto and DuPont
As the article below reports, the US Farmers & Ranchers Alliance (USFRA) and five other Big Ag lobby groups have sent a letter to dairy company Dannon's chief executive officer criticising the company for requiring its farmers to use non-GMO feed.
Randy Mooney, chairman of the National Milk Producers Federation (an affiliate of the USFRA and also a signatory of the letter to Dannon), is quoted as saying that Dannon's non-GMO feed requirement is the "tipping point" in a retreat from sustainability. That claim is also made in USFRA's letter. Mooney refers to Dannon's estimate that about 80,000 acres of conventional farmland will be converted to non-GMO and warns of a "domino effect" throughout the whole dairy industry. (Let's hope he's right on that.)
Mooney and his Big Ag allies appear to be unaware that GM herbicide-tolerant crops have increased the use of pesticides and that pests have evolved resistance to the insecticidal toxins in GM Bt crops. There is nothing "sustainable" about either type of crop.
Or perhaps the explanation for his misplaced claims is that "it's the money talking".
According to the New York Times, USFRA's $11 million annual budget comes partly from mandatory marketing fees that the US Dept of Agriculture (USDA) helps collect from farmers; and partly from corporations like GM seed firm Monsanto and pesticide giant DuPont. Each company had committed to an annual contribution of $500,000, as of September 2011.
Other signatories of the letter to Dannon are:
* The American Farm Bureau Federation. The AFBF works to defeat labour and environmental initiatives, including climate change legislation. It keeps a stock portfolio that includes agribusiness giants Archer Daniels Midland, ConAgra, Monsanto, DuPont, and Dow.
* The American Soybean Association, which has received funding from Monsanto, Pioneer Hi-Bred International, and BASF.
* The National Corn Growers Association, which has received funding from Syngenta and Monsanto.
* The American Sugarbeet Growers Association, which has received sponsorship for "meetings" from Monsanto, Bayer, and Syngenta, and for its website from Monsanto.
Dannon responded to the Big Ag lobbying letter by calling it "divisive and misinformed".
—
Dannon's non-GMO feed pledge 'tipping point'
By Jacqui Fatka
Feedstuffs, 27 Oct 2016
http://feedstuffs.com/story-dannons-non-gmo-feed-pledge-tipping-point-45-148518
When it comes to truthful and accurate conversations about food sustainability, U.S. farmers groups feel Dannon has fallen short. Now, those groups have pledged to continue to stand up for U.S. farmers' interests if food companies move away from reasonable and accurate conversations.
Together with its farmer partners and others, Dannon, the leading maker of yogurt in the U.S., is beginning to implement the Dannon Pledge it announced in April 2016, which commits to evolve the Dannon, Danimals and Oikos brands to be made with non-genetically modified organisms (GMOs). In addition, and as part of the company's ambition to secure independent verification from the Non-GMO Project, the company and its farmer partners have committed to convert the diet for the cows that provide the milk for these products to be non-GMO by the end of 2018 — specifically, Dannon and Danimals during 2017 and Oikos during 2018. These three brands represent about half of Dannon's portfolio of products.
The U.S. Farmers & Ranchers Alliance (USFRA), made up of more than 100 organizations representing hundreds of thousands of farmers, sent a letter to Dannon's chief executive officer urging Dannon and other food companies to recognize that their sustainability goals, which are intended to reduce the use of natural resources, cannot be achieved without the use of modern agricultural practices.
Randy Mooney, chairman on the National Milk Producers Federation and a farmer of 200 dairy cows in southeast Missouri, said Dannon's decision is the "tipping point" in requiring its farmers to use only non-GMO feed. "There is nothing different in the milk from non-GMO feed and GMO feed," he said. "What we've seen in the dairy industry is, before you know it, there is a domino effect, and the whole feed supply affects all the feed that goes to dairy."
Michael J. Neuwirth, Dannon senior director of public relations, noted that, during the course of the transition to non-GMO feed for the cows Dannon relies on for some of its anticipated milk needs, the company estimates that about 80,000 acres of conventional farmland will be converted to non-GMO.
Mooney worries that, within the dairy supply, when larger companies start making these decisions, it begins changing thousands of acres from what the agriculture industry has quantified as sustainable.
Currently food chain groups such as the collaborative group Field to Market have tried not to pit one technology against another but rather work towards a common goal of improving sustainability. Instead, it has helped those across the supply chain achieve improved overall sustainability goals without limiting farmers' choice in technologies or conservation methods.
During a media call Thursday, USFRA leaders said discussions had been attempted with Dannon over the past few months. USFRA CEO Randy Krotz said the dialogue with Dannon turned; it "didn't go in a direction that was reasonable and accurate." He said Dannon was "unwilling to listen" on the safety of food science.
USFRA outlined the many positive environmental benefits that technology – such as biotech seeds – provide, including reduced pesticide and herbicide use, reduced water needs, fewer greenhouse gas emissions and conserving soils.
Krotz said USFRA plans to have more conversations and partner with food companies to explain the many things farmers are doing that consumers desire. "We've heard so much about the 'right to know' (what's in food) over the last couple of years. We believe in the 'right to know' but also that it is a wholly accurate conversation," he said.
Krotz noted that those in agriculture sometimes will have to "step up and challenge when food companies misinform consumers about practices and what it means to the environment."
He said USFRA is starting at least a year-long effort to engage more deeply with food companies to talk about the benefits of different technologies farmers use. "This was an opportunity to step up and more assertively defend the technology. It is so important to not try to limit choice for farmers in what they grow or food companies on what they market," Krotz said.
In response to how things turned sour with Dannon, Krotz said he hopes the conversations that have been started with other food companies will be more productive as they're occurring earlier in the decision-making process. He said he doesn't want to have to call out another food company again but would rather work collaboratively with the food industry to communicate the positive steps farmers are taking.
Krotz said a continued focus is on having those conversations through consumer key connectors, which also includes food companies.
Mooney said, from an agricultural standpoint, if food companies try to tout something that's "outrageously wrong, all of us need to step up and attack it." He explained that going back to using 20-year-old technology is not sustainable for plants and raises food prices, which will hit the poorest consumers the hardest.