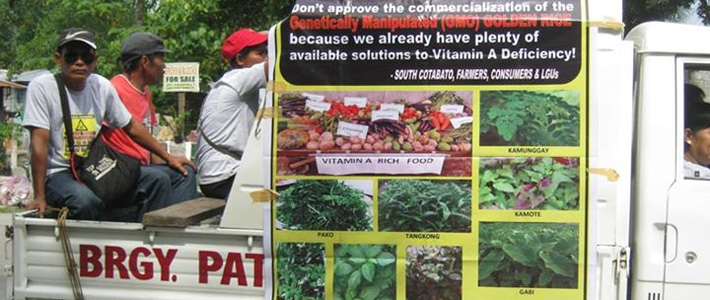 Farmers challenge lobbyist Patrick Moore to a debate

EXCERPT: "This lobby group (Allow Golden Rice Now) has been spewing a lot of misleading claims about Golden Rice and its 'alleged' benefits to the public and farmers. We therefore challenge Patrick Moore, the leader of the group, to a public debate so that the people can once and for all know the truth behind the lies of Golden Rice."
—
Farmers oppose Golden Rice; challenge foreign lobbyists to a debate
Advocacy Desk Masipag Mindanao, 3 March 2015
https://www.facebook.com/advocacydesk.masipagmindanao/posts/898971890124787
"We reiterate the opposition of Filipino farmers to genetically modified (GM) crops and we will register our resistance against Golden Rice and other GM crops," said Kilusang Magbubukid ng Pilipinas (KMP) chairperson and RESIST Agrochem TNCs! Convenor Rafael 'Ka Paeng' Mariano in response to the regional campaign waged by the Allow Golden Rice Now!, a Canada-based lobby group pushing for the immediate adoption of Golden Rice in the Philippines. The group is coming to the country on March 3-10, 2015 to actively campaign and lobby for the adoption of the genetically modified "Golden Rice" in the domestic market. The said visit is part of their Asia-wide campaign tour in the Philippines, Bangladesh, and India to promote Golden Rice.
The "Allow Golden Rice Now!" lead by Dr. Patrick Moore, aims to convince government officials and the Filipino people to accept Golden Rice as means to solve Vitamin A deficiency or VAD. Golden Rice is genetically modified rice with a gene from the maize plant and a soil bacterium (Erwinia uredovora) which forces the rice plant to artificially express beta-carotene, a precursor of Vitamin A. Moore, on their website, claimed that the Golden Rice will solve the Vitamin A deficiency (VAD) problem which is prevalent among women and children especially in the developing countries, the Philippines being one of them.
Last August 8, 2013, more than 400 farmers uprooted the Golden Rice field trials at the experimental lot of the Department of Agriculture Regional Field Unit 5 in Pili, Camarines Sur. On their website, Moore also demonized this action, saying that the protesters are committing a crime against humanity by campaigning against the commercialization of Golden Rice.
These accusations however were baseless and full of lies, according to Mariano. "This lobby group (Allow Golden Rice Now) has been spewing a lot of misleading claims about Golden Rice and its 'alleged' benefits to the public and farmers. We therefore challenge Patrick Moore, the leader of the group, to a public debate so that the people can once and for all know the truth behind the lies of Golden Rice," said Mariano.
Mariano cited that protesters are not to be blamed [for] why Golden Rice is yet to be released. Last year, IRRI and PhilRice announced that they have failed to commercialize Golden Rice due to the very low yield performance of the said crop. Mariano also cited a report of the DOST's Food and Nutritional Research Institute saying that VAD in the country has already reached the threshold level, as a result of varying interventions to curb VAD. From 40% of children aged 0-5 years old in 2003, the VAD cases plummeted to 15% in 2008. Percentage of VAD cases among pregnant and lactating mothers also went down. Mariano said these figures already show that there are inexpensive and viable alternatives to solve VAD.
Ka Bert Autor, coordinator of Sararong Inisyatiba nin Kahinwanmaan na Wasakon ang Agrokemikals na Lasong-GMO (SIKWAL-GMO) and secretary general of Kilusang Magbubukid ng Bikol (KMB) made clear that the uprooting of Golden Rice trials in Bicol is a principled action to protect the health, life, and quality of the environment, not only for farmers, but for Filipinos. "Those who uprooted the Golden Rice field trials are landless farmers and rural poor sectors from far-flung provinces of Camarines Sur, Camarines Norte, and Sorsogon. As rice producers and consumers, they have every right to protest against the ill-effects of Golden Rice.
Autor also clarified that Greenpeace did not instigate or join the uprooting, contrary to what Allow Golden Rice Now! Society claimed.
Dr. Chito Medina, National Coordinator of MASIPAG, said that the complex issue of VAD and malnutrition is inextricably linked to poverty and lack of access to resources. Golden Rice, however grand it is, is a deceptive solution to the problem. "The issue of Vitamin A Deficiency and malnutrition cannot be solved by an unstable and yet unproven technology, such as genetic engineering. On the contrary, it will further endanger the health and livelihood of farmers and consumers."
"Our opposition to Golden Rice and other GM crops are founded on solid arguments and actual experiences of Filipino farmers on GM crops. Filipino farmers who have been planting GM crops suffered negative income, health problems and poisoned environment," added Medina. He cited the study made by MASIPAG in which farmers who adopted GM corn suffered further indebtedness, health problems and a poisoned environment.
Autor said, "The Philippines is abundant with vitamin-A rich vegetables such as malunggay, gabi leaves, kangkong, squash, and camote. In fact, these crops contain more betacarotene than Golden Rice. So it's no reason for the government to commercialize this Golden Rice. We will not allow Filipinos to become guinea pigs of agro-chemical TNCs [trans-national companies]."