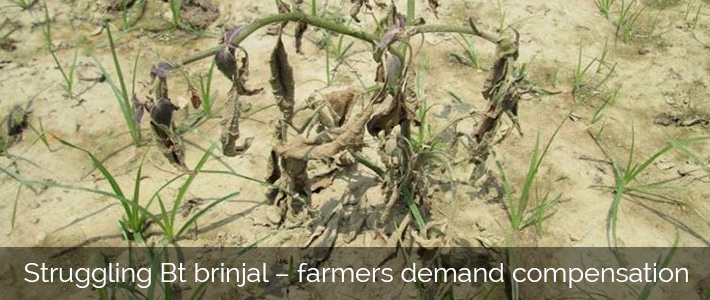 Farmers say they were "fooled" and used as "guinea pigs" for failed crop
Farmers in Bangladesh who were given Bt brinjal plants have demanded compensation for huge losses they incurred cultivating the GM crop.

British pro-GMO campaigner Mark Lynas presented the Bt brinjal as a success, claiming that reports about its failure were false "scare stories" put about by anti-GMO activists.

However, an investigation by The Guardian newspaper (UK) confirmed the widespread failure of the crop.

EXCERPT: [Bangladesh Environmental Lawyers Association] chief executive Syeda Rizwana Hasan said they would go to court if the government did not compensate the farmers. Demanding Bt brinjal cultivation to be stopped, she said that the government was adamant to cultivate the controversial crop despite public outcry and failure in its field level cultivation.
---
Bt brinjal farmers demand compensation
Staff Correspondent
New Age (Bangladesh), September 1, 2014
http://newagebd.net/44155/bt-brinjal-farmers-demand-compensation/#sthash.sbn4tRM7.8M295qmp.dpbs

Farmers, who were given Bt brinjal saplings, on Sunday demanded compensation for huge losses they incurred cultivating the genetically modified crop.

At a press conference at Dhaka Reporters' Unity, they alleged that they were 'fooled' and used as 'guinea pig' for the cultivation of the genetically modified Bt brinjal by the Bangladesh Agricultural Research Institute, but they were not compensated for the losses.
The institute, under an USAID project, released Bt brinjal owned by US seed giant Monsanto and its Indian affiliate Mahyco, saying that it was a high-yielding variety of brinjal resistant to fruit and shoot borer.

The agriculture minister, Matia Chowdhury, on January 22, handed over the Bt brinjal saplings to 20 farmers in Gazipur, Jamalpur, Sherpur, Rangpur and Pabna for cultivation.

Only one of the 20 Bt brinjal fields succeeded, while 13 were fully and the rest six were partially damaged, the organisers of the press conference said.

Bt brinjal farmers from Gazipur, Jamalpur and Sherpur attended the press conference, while the organisers alleged that other farmers from Rangpur and Pabna were barred from attending the press conference by the institute officials and ruling party men.

Bangladesh Environmental Lawyers Association, Unnayan Bikalper Nitinirdharoni Gobeshona (UBINIG), Consumers Association of Bangladesh, Bangladesh Organic Product Manufacturers Association, Bangladesh Fruits, Vegetables and Allied Products Exporters Association and seven other organisations organised the press conference in association with UKAID and British Council.

The farmers said that their fields were damaged although they followed all the instructions of the institute.

They asked all the farmers of the country not to cultivate Bt brinjal any more and said they would protest against any government move to further release of Bt brinjal saplings.

Shahjahan from Sherpur said that cultivation of vegetables, mostly brinjal, was the only means of his livelihood and he became helpless cultivating Bt brinjal being fooled by the institute.

Abdul Baten from Gazipur said that he was allured by the institute to cultivate Bt brinjal.

'I have invested Tk 50,000 in bt brinjal cultivation and got no return,' he said, adding that the institute paid him Tk 8,000 in two instalments.

Mujibur Rahman from Gazipur said that institution officials asked them not to disclose the loss in Bt brinjal cultivation before journalists.

Babul Khan from Jamalpur said, 'We expect the government to stop Bt brinjal cultivation as farmers would concede huge loss.'

BELA [Bangladesh Environmental Lawyers Association] chief executive Syeda Rizwana Hasan said they would go to court if the government did not compensate the farmers.

Demanding Bt brinjal cultivation to be stopped, she said that the government was adamant to cultivate the controversial crop despite public outcry and failure in its field level cultivation.

'The government has appeared as a service provider of Monsanto and Mahyco. The companies have failed to release Bt brinjal in India and the Philippines but the government is using political influence to release it among poor farmers in our country,' Rizwana said.

UBINIG executive director Farida Akter apprehended that the corporate companies were creating way for genetically modified rice and other crops in Bangladesh through Bt brinjal.

Ecology and biodiversity conservation researcher Pavel Partha said that the government and the companies were using propaganda about Bt brinjal, its property rights and risks in health and biodiversity.

Bangladesh Fruits, Vegetables and Allied Products Exporters Association adviser Monjurul Islam said that the government was shrinking the market of Bangladeshi vegetables in Europe through cultivation of genetically modified crops.

Bangladesh is the first country to cultivate the Bt brinjal although it has been barred from India and the Philippines because of risks for both human and nature.