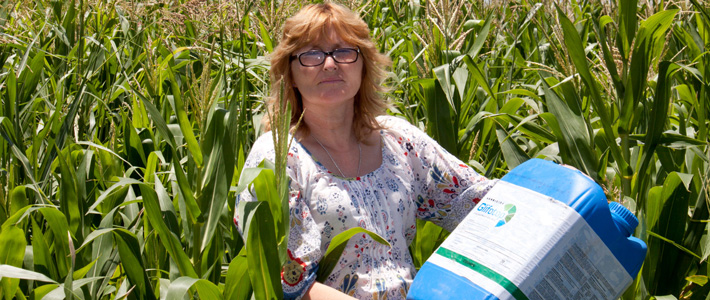 Winner of the Goldman Prize, Sofía Gatica, is said to have received a death threat from a suspected Monsanto mercenary.
Protesters in Argentina continue to block construction of what is planned to be the biggest Monsanto plant in Latin America. They have occupied the construction site in Malvinas, Argentina for about two months now and Monsanto stands accused of resorting to intimidation tactics to try and remove them.
Sign the petition to support the brave protesters at Monsanto Malvinas: http://bit.ly/1jmF0KM
See the protesters' Facebook page here: https://www.facebook.com/pages/Malvinas-lucha-por-la-Vida/424159400959844
For more on Sofía Gatica and the the Mothers of Ituzaingó opposing Monsanto: http://bit.ly/HQgEMP
Argentina: Sofia Gatica receives death threat from suspected Monsanto mercenary
November 20, 2013 - Argentina, Revolution News
It happened at 6am today in Alta Gracia when Sofia Gatica got on the bus to head to work in Córdoba.
It is not the first time that Sofia, one of the founders of Madres de Barrio Ituzaingó Anexo, has received death threats. Usually Sofia travels daily to the municipal dispensary where she works in Córdoba. Today was a special day because she not only changed her schedule to accommodate job training but also because she traveled accompanied by a man who had a gun pointed at her from the time she got on at the bus stop.
"There are several ways of dying. Stop with Monsanto or I'm going to end your life and spread your brains by Malvinas Argentina."
This was the statement given by her attorney and later confirmed by Sofia who added, "I could not move, he came to my side with a gun pointed at me. When a seat opened up I moved to sit near the driver but he remained glued to my side. He was going to kill me if I spoke. I was paralyzed until we reached the bus terminal then I managed to run into a bar, sit next to a woman and then I went to the police station to file a report."
Sofia gave a description of the man who made the death threat to Ecos Córdoba. "He was a man of my height about 55 years old, with round glasses, a pronounced stomach and I know him. I've seen him at the campsite or in the marches, I'm sure."
The complaint was filed at the Station Precinct No. 01 at 534 Corrientes Street.
This past September 30, Sofia was hospitalized with head trauma after a struggle with police. The injuries happened due to police repression that occurred in Malvinas Argentina in an attempt to stop trucks with construction material. They were trying to enter the plant where the multinational company Monsanto aims to install a processing plant of genetically modified seeds.
The blockade has been in place for 2 months and Monsanto continues to send harassing letters to the protesters. Sofia Gatica has received several threats in the past. "A man also came to my house with a gun. He said do not mess with the topic of soy. I received phone calls saying I would only have two children left the next day. I called the police to investigate these threats but they told me they could not disclose instructions."