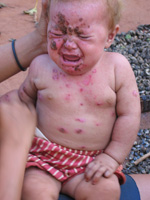 The Round Table on Responsible Soy (RTRS) is a multi-stakeholder forum on sustainable soy production with corporate members including Monsanto, Syngenta, Cargill, Bunge, Shell, BP, and Marks & Spencer, and NGO members including WWF and Dutch church-based organisation Solidaridad.
In 2011 the RTRS will launch a voluntary standard that will enable genetically modified Roundup Ready (GM RR) soy sprayed with glyphosate to be labelled as responsible.[1] The label will reassure ethically-minded traders and consumers that the soy was produced responsibly and sustainably, with consideration for people and the environment.[2][3]
GMWatch comment: the photograph on the right shows a baby with sores caused by agrochemicals spraying in a GM soy-producing region of Paraguay (click the image to view a larger version).
What a rural physician working in Argentine soy producing areas says about GM RR soy:
"Our town experienced drastic changes before and after soy. I've seen people die from cancer at age 30. I have witnessed pregnancy problems and a significant increase in fertility problems. I have seen an increase in respiratory diseases, as has never been seen before"¦ GM soy has been a death sentence for humans and for the environment. No money can compensate for the damage that has been caused the contamination, the deaths, the cases of cancer and malformations." Dr Dario Gianfelici, Argentine family physician http://www.gmwatch.eu/index.php?option=com_content&view=article&id=12484:reports-dario-gianfelici-interview
What an Argentine peasant farmer and educator says about GM RR soy:
"Agribusiness companies have a lot of power and most of the media at their service. Sometimes we hear their lies and we laugh. They say it is 'sustainable and responsible' but actually it is only sustainable for their pockets. The model they hold is a model of death, of exclusion, of denial of future generations, of hunger, of plundering of our natural resources. It is a model of wealth monopoly, manipulation of nature, and violation of Mother Earth's rights. This model is all about impositions, wires, dispossession, and subjugation." – íngel Strapazzón, member of Mocase-VC, the largest peasant farmer organisation in Argentina http://www.gmwatch.eu/index.php?option=com_content&view=article&id=12483:reports-angel-strapazzon-interview
What Viviana Peralta, an Argentine housewife whose family was hospitalized after glyphosate and agrochemicals spraying on GM RR soy, says:
"I do not understand chemistry, I did not go to university, but I know what my family suffered. To people who are not familiar with this agricultural model, I say, 'Do not believe the companies. Reject agrochemicals. Do it for the life of your children.'" – Viviana Peralta, Argentine housewife, who won a landmark lawsuit banning the spraying of glyphosate and other agrochemicals near houses http://www.gmwatch.eu/index.php?option=com_content&view=article&id=12486:reports-viviana-peralta-interview
What Prof Andres Carrasco, whose research found that glyphosate causes birth defects in frog and chicken embryos in very low doses, says:
"I didn't discover anything new. I just confirmed what other scientists discovered. In spite of the evidence, they still tried to run down 30 years of my reputation as a scientist. They are hypocrites, lackeys of the big corporations, but they are afraid.

"The provinces are full of victims of pesticides, but the newspapers do not want to reach out there to the communities, much less the responsible companies. I do not understand why my story is more important than that of the Mothers of Ituzaingó (activist group fighting agrochemicals spraying on GM soy, based in Cordoba province). Why? In no way, am I more important." http://www.gmwatch.eu/index.php?option=com_content&view=article&id=12482:reports-andres-carrasco-interview

From GM Soy: Sustainable? Responsible? – New report
"The cultivation of GM RR soy endangers human and animal health, increases herbicide use, damages the environment, reduces biodiversity, and has negative impacts on rural populations. The monopolistic control by agribusiness companies over GM RR soy technology and production endangers markets, compromises the economic viability of farming, and threatens food security."
http://www.gmwatch.eu/index.php?option=com_content&view=article&id=12479:reports-reports

Notes
The RTRS Standard can be downloaded from the RTRS website, http://www.responsiblesoy.org/. GM soy is treated the same as non-GM see p.i.
Solidaridad. Verantwoord geteelde soja in 2011 op de markt. June 11, 2010. http://www.solidaridad.nl/pers/2010/06/11/verantwoord-geteelde-soja-2011-op-markt Solidaridad is a Dutch church-based organisation and a prominent member of the RTRS.
Marks & Spencer. Tackling deforestation. http://plana.marksandspencer.com/we-are-doing/sustainable-raw-materials/stories/86/