Last June the Argentinian newspaper Página 12 carried a report (see article in Spanish, below) regarding a publication prepared by a commission opened by the Chaco State Government (in the north of the country) analyzing health statistics in intensive agrochemical use zones. In one decade, the rates of childhood cancer tripled and babies with birth defects increased fourfold.
Download Chaco State Government report
on the effects of agrochemical
spraying on GM soy and rice
on human health in English or Spanish.
These staggering data confirm denouncements that have been made for some years, by local residents, in the regions of intensive soya and rice crops. This frightening increase of diseases linked to agrochemicals occurred in only one decade, a period in which the use of agrochemicals grew considerably.
The study, simply called "First Information," was handed to the State Government in the local office of the Ministry of Agriculture. The cases of cancer are concentrated in the locality of La Leonesa, epicenter of the denouncements about the use of herbicides and pesticides. Birth defects correspond to the whole State's data, and always agreed with the official data of 17 cases a month.
La Leonesa is a locality with 10,000 inhabitants 60 kilometers from Resistencia, the State capital. For the past ten years, the health effects of agrotoxics used in the rice plantations have been denounced. The following chemicals have been singled out: glyphosate, endosulfan, methamidophos, picloram, and chlopyriphos, among other chemicals also used on soybeans.
Due to the constant mobilization and demand for studies, the Chaco State Government established, in December 2009, a State Research Commission, including the participation of the Public Health Ministry, the State Water Administration, the National Health Ministry, the National Northeast University and the Ministry of Production. The "First Information" was finished five months later.
According to the study: "Regarding childhood cancers, leukemia, brain tumors and lymphomas, one can observe a greater number of cases, beginning 2002. In La Leonesa, from 2000 to 2009 there is evidence of a considerable increase, tripling the occurrence of cancer in children under ten."
In the 1990-1999 decade an average of 0.2 cases a year were recorded (1 each 60 months). From 2000 – 2009, 0.6 cases a year were recorded (1 each 20 months)…
The world's cancer average for children under 15 is 12–14 cases per 100,000 children. Official Chaco data show that the La Leonesa average jumps to 20.2.
The information observed many cancer causes, but draws attention to one in particular: "This increase of causes coincides with the expansion of the agricultural frontier (…), turning the population's health vulnerable, due to the fact that the technical agricultural practices include herbicide spraying, such as glyphosate and other agrotoxics".
All the numbers stem from the Statistical Services of the local Pediatric Hospital, but the information stresses that about 25% of other cases are seen to directly in the Garrahan Hospital, in Buenos Aires, suggesting that the total number of cases is still greater.
Laura Mazitelli, a La Leonesa resident, used to take her baby to wave to the crop spraying planes that flew close by her house. At the age of two, Ivan, the baby, was diagnosed with leukemia. He was taken to the Garrahan Hospital and given eight months of chemotherapy, followed by two years of intensive treatment. Laura became a militant aganst the use of agochemicals in the region. As the number of cases grew, her neighbours began organizing themselves.
"Tatiana, 5 years old, Milagros, 8, Maria, 7, Francisco, 12, and Victoria, 6. All are neighbours with cancer. And what is worse, the list grows. Were so many cases necessary for them to realise they are poisoning us?" asks Laura.
But the cases of congenital birth defects in newly born grew even more. In one decade they increased nearly fourfold in the whole Chaco State. During one year, from 1997 to 1998, there were 24,030 births in the State, of which 46 had birth defects. A decade later, during the twelve months from 2008 to 2009, fewer births were recorded: 21,808; however, birth defects multiplied: 186 cases. The official information stresses that an index of 19.1 grew to 85.3 per 10,000 births.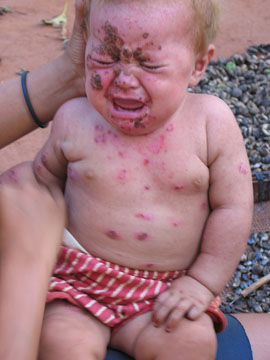 These data come from the Perrando Hospital's Neonatal Intensive Therapy Unit (ITU), in Resistencia. From 1997 to 1998 an average of 4.9 cases month were recorded. From 2002 to 2002 this grew to 7.5 cases and between 2008 and 2009 increased to 16.8 monthly cases.
The research also stresses that only figures of the public heath service are included. Statistical data, as well as childhood cancers, as birth defects in newly born, are not included in the records of private hospitals, whose statistics are similar, a fact the increases figures considerably.
A member of the commission that prepared the study, who asked not to be identified due to the "tremendous pressures" they are subject to, stated that "all the professionals who signed the study are very experienced in the subject under study, but rice and soya planters are strongly pressing the government. We don't know how this will end, as there are many interests involved."
Two of the Commission's members confirmed that they are working on a second report, analyzing the official statistics about the geographical increase in the zones of intensive use of agrotoxics, of pregnancy cases that abort spontaneously, the increases of reproductive problems with adults and an exponential growth of breast cancer. No definite date has been set for its conclusion, but the researchers have drawn attention to the possibility of "interferences in the Commission's work."
The research Commission's "First Information" requests that all "preventive measures" be taken in La Leonesa, until an environmental impact study can be made. It also requests that analyses be extended to the other six localities that are subject to the same conditions (Gancedo, Napenay, Santa Sylvina, Tres Isletas, Avia Terai e Colonia Elisa).
---
La salud no es lo primero en el modelo agroindustrial
Una comisión conformada por el gobierno provincial analizó estadí­sticas en zonas con uso intensivo de agroquí­micos. En una década se triplicaron los casos de cáncer en niños y cuadruplicaron los nacimientos con malformaciones.
Por Darí­o Aranda
Pagina12, June 14, 2010
http://www.pagina12.com.ar/diario/elpais/1-147561-2010-06-14.html
Es la primera vez que una provincia aporta estadí­sticas sanitarias vinculadas con zonas con uso intensivo de agroquí­micos. Los datos son contundentes y confirman las denuncias que desde hace años realizan los vecinos: los casos de cáncer en niños se triplicaron y las malformaciones en recién nacidos aumentaron 400 por ciento. Sucedió en sólo una década y corresponden a un estudio oficial de la Comisión de Investigación de Contaminantes del Agua del Chaco, creada por el gobernador en diciembre pasado. "Primer Informe" es el simple tí­tulo del documento que fue entregado en la Casa de Gobierno provincial y en el Ministerio de Salud local. Los casos de cáncer están focalizados en la localidad de La Leonesa, cercana a Resistencia y epicentro de las denuncias por el uso de herbicidas y plaguicidas. Las malformaciones corresponden a datos de toda la provincia, donde –siempre según datos oficiales– se producen 17 casos por mes. La Justicia ordenó frenar las fumigaciones y exigió urgentes estudios de impacto ambiental (ver aparte).
A Iván le gustaba ver las avionetas que sobrevolaban sobre su casa. Tení­a seis meses, escuchaba los motores y pedí­a upa para salir al patio y saludar el paso del aeroplano. Laura, la mamá, lo levantaba y llevaba al jardí­n para dar el gusto al bebé. Con el paso de las avionetas, Iván aprendió a saludar con la mano, se reí­a y festejaba el vuelo rasante. A los 2 años le detectaron leucemia. Fue trasladado de urgencia al Hospital Garrahan, padeció ocho meses de quimioterapia y dos años de tratamiento intensivo.
"Los médicos me preguntaron si viví­amos cerca de plantaciones con agroquí­micos. Recién ahí­ me enteré de que la avioneta que saludábamos con mi bebé lo que hací­a era echar veneno en el campo frente a mi casa. Se me vino el mundo abajo", explica Laura Mazitelli, del barrio La Ralera de La Leonesa. Era 2002, Iván se recuperó, y Laura se transformó en una denunciante de los agroquí­micos. La trataron de loca y opositora al desarrollo, pero los casos de cáncer se multiplicaron y los vecinos comenzaron a organizarse.
La Leonesa es una localidad de diez mil habitantes a 60 kilómetros de Resistencia. Desde hace una década denuncian el efecto sanitario de los agroquí­micos utilizados en plantaciones de arroz. Apuntan al glifosato, endosulfan, metamidofos, picloran y clopirifos, entre otros quí­micos usados también en los cultivos de soja.
Por la movilización constante y el reclamo de estudios, el gobierno del Chaco creó por decreto el 9 de diciembre de 2009 la Comisión Provincial de Investigación de Contaminantes del Agua. Incluyó la participación del Ministerio de Salud Pública, la Administración Provincial del Agua (APA), el Ministerio de Salud de Nación, la Universidad Nacional del Nordeste (UNNE) y el Ministerio de Producción. "Tendrá como misión receptar, estudiar, coordinar y conducir las acciones para garantizar y optimizar la contaminación de arsénico, agroquí­micos y otros", señala el breve decreto, de sólo dos páginas.
A cinco meses de su creación, la Comisión Investigadora finalizó su primer informe, que fue publicado por el periodista Brian Pellegrini, del sitio de noticias Chaco Dí­a por Dí­a.
"Respecto de patologí­as oncológicas infantiles, leucemias, tumores cerebrales y linfomas, se observa un mayor número de casos anuales a partir de 2002. En La Leonesa, en el perí­odo 2000-2009 se comprueba un incremento notable, que triplica la ocurrencia de cánceres en niños", afirma el trabajo de la Comisión oficial, focalizado en La Leonesa.
En la década de 1990-1999 se registró un promedio de 0,2 casos por año (1 caso cada 60 meses). En tanto en el perí­odo 2000-2009 se contabilizaron 0,6 casos por año (1 caso cada 20 meses). "Los valores se encuentran por encima de lo esperado, incrementándose notablemente en los últimos diez años, perí­odo en el que los casos registrados triplican la ocurrencia de cáncer en niños menores de diez años."
La media mundial de cáncer en menores de 15 años es de 12-14 casos cada 100.000 niños. Los datos oficiales de Chaco muestran que en La Leonesa el registro trepa a 20,2.
El informe señala la multicausalidad del cáncer, pero llama la atención: "Este incremento de la casuí­stica coincide con la expansión de la frontera agrí­cola (...) vulnerando la salud de la población, debido a que las prácticas y técnicas de cultivo incluyen pulverizaciones aéreas con herbicidas cuyo principio activo es el glifosato y otros agrotóxicos." Todas las cifras surgen del Servicio de Estadí­sticas del Hospital Pediátrico local y destaca que un 25 por ciento más de casos son atendidos directamente en el Hospital Garrahan de Buenos Aires, por lo cual las cifras totales de casos es mayor.
Beatriz Nicolini es pediatra, trabaja desde hace 25 años con pacientes oncológicos, integra la Comisión oficial y confiesa que, "a pesar de la magnitud de las cifras", no le asombraron los datos. "Hace tiempo que vemos cómo se multiplican los chiquitos con cáncer. Pareciera no detenerse. Y, aunque no hay una sola causa de ese incremento, los casos aumentaron al mismo tiempo que aumentaba el uso de agroquí­micos, ya sea en arroceras o soja", explica y detalla que sobresalen los casos de leucemia, seguidos por tumores cerebrales y linfomas.
"Tatiana de 5 años. Milagros de 8. Marí­a de 7. Francisco de 12. Victoria de 6. Son todos vecinos con cáncer. Y lo peor es que la lista sigue. Todas familias humildes que están pasando lo mismo que nosotros", lamenta Laura Mazitelli, la mamá de Iván, la que llamaron "loca" y ahora reprocha: "¿Hací­an falta tantos casos para reconocer que nos están envenenando?"
Las malformaciones crecieron aún más. En una década se cuadruplicaron en toda la provincia del Chaco los casos en recién nacidos. En el lapso de un año, entre 1997-1998, hubo en Chaco 24.030 nacimientos, de los cuales se contabilizaron 46 malformaciones. Una década después, en doce meses entre 2008 y 2009, se registraron menos nacimientos: 21.808, pero se multiplicaron las malformaciones: 186 casos. El informe oficial destaca que se pasó de un í­ndice de 19,1 por cada 10.000 nacidos a 85,3.
Los datos corresponden a la Unidad de Terapia Intensiva (UTI) de Neonatologí­a del Hospital Perrando de Resistencia. De 1997 a 1998 hubo un promedio de 4,9 casos por mes. De 2001 a 2002 creció a 7,5 casos. Y entre 2008 y 2009 aumentó a 16,8 casos mensuales.
Desde el Ministerio de Salud de Nación informaron que no se cuenta con estadí­sticas nacionales sobre el tema. Desde la Comisión investigadora, una integrante –que pidió mantener el anonimato por "las enormes presiones" que están recibiendo–, consideró que "todos los firmantes del informe tenemos mucha experiencia y antecedentes en lo que estudiamos, pero las empresas arroceras y sojeras están presionando mucho al Gobierno. No sabemos cómo terminará, hay demasiados intereses en juego".
Dos integrantes de la Comisión confirmaron que están elaborando un segundo informe que aporta estadí­sticas oficiales sobre el geométrico incremento, en zonas con uso de agroquí­micos, de los embarazos que no llegan a término por abortos espontáneos, el aumento de problemas reproductivos en adultos y crecimiento exponencial de cáncer de mamas. No tienen fecha definida para entregarlo a las autoridades, pero alertaron sobre la posibilidad de "intromisiones en el trabajo de la Comisión".
El primer informe fue elevado al gobernador del Chaco, Jorge Capitanich, y al Ministerio de Salud provincial el 8 de abril. La investigación oficial resalta que sólo son incluidos datos del servicio de salud pública. "Tanto en datos estadí­sticos de enfermedades oncológicas infantiles como en malformaciones en recién nacidos no están incluidos los registros de instituciones sanitarias privadas, en los cuales las estadí­sticas son similares, aspecto que las aumentarí­a considerablemente."
El informe de la Comisión investigadora solicita que se tomen "medidas precautorias" en La Leonesa hasta que se realice un estudio de impacto ambiental y piden que se amplí­en los análisis a otras seis localidades que estarí­an en las mismas condiciones: Gancedo, Napenay, Santa Sylvina, Tres Isletas, Avia Terai y Colonia Elisa.