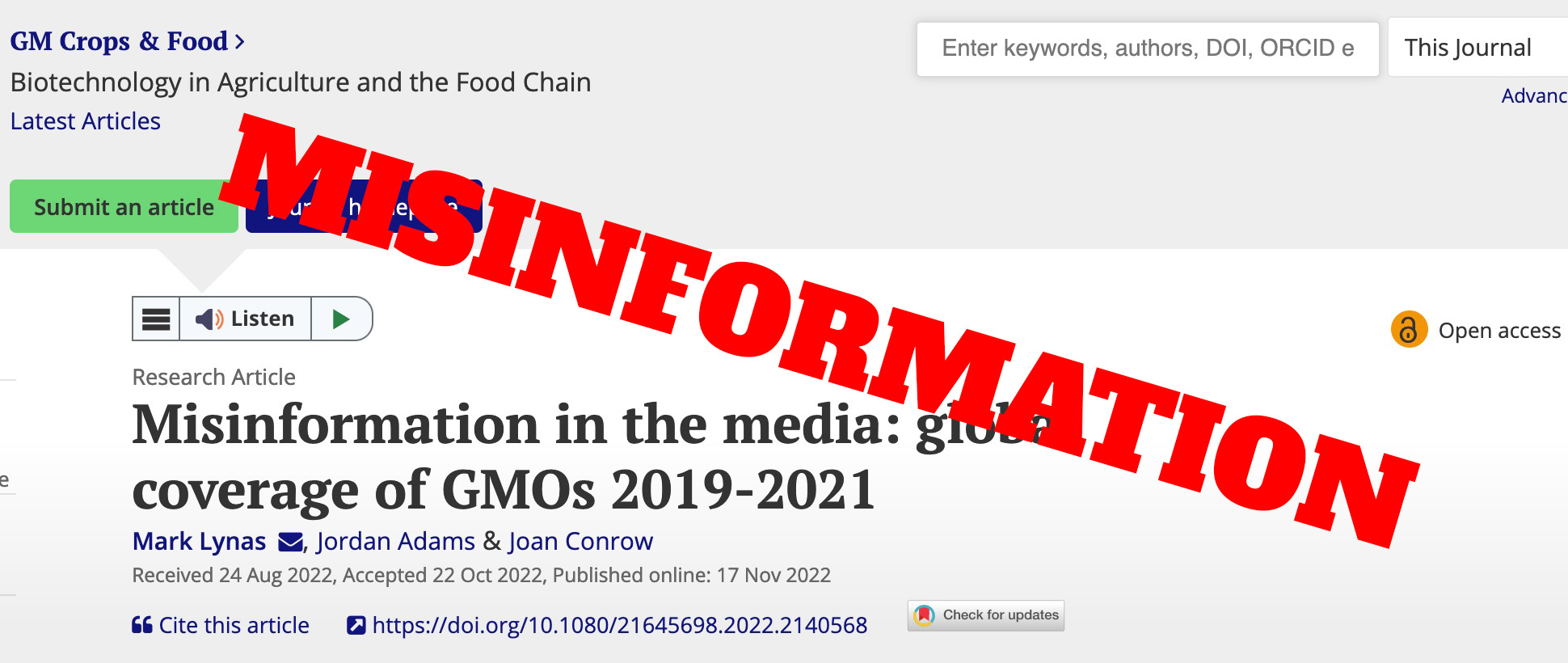 Authors conclude Lynas and co-authors' article is itself misinformation. Report: Jonathan Matthews
Last year the Alliance for Science's chief lobbyist for GMOs, Mark Lynas, teamed up with two co-authors to publish in a peer-reviewed journal an article that equated people who criticise GMOs with those who spread "misinformation" on climate change, COVID, and vaccines.  

They claim that there is a significant amount of this kind of "misinformation" about GMOs in the media – in fact, proportionally more of it than for other contentious science-related topics, and that this has given rise to negative public attitudes to GMOs and overly strict regulatory regimes. They single out Africa as a continent where media "misinformation" is a particular problem and call this "a worrying finding given the potential for genetic engineering to deliver improved nutrition and food security in the continent".

The authors of "Misinformation in the media: global coverage of GMOs 2019-2021" add that there is a consensus that GM foods are as safe as conventional foods. They dismiss the more than 300 scientists who signed a statement saying there was no such consensus on GMO safety – labelling them "self-proclaimed experts".

Given the obviously partisan nature of the article, GMWatch was concerned to discover that it was being used to try and shape, if not censor, media coverage in Africa and to pressure African governments to drop their restrictions and bans on GMOs.
Who is guilty of misinformation?
Now a critical response to Lynas and his co-authors has passed a stringent peer review process and been published in the journal Environmental Sciences Europe.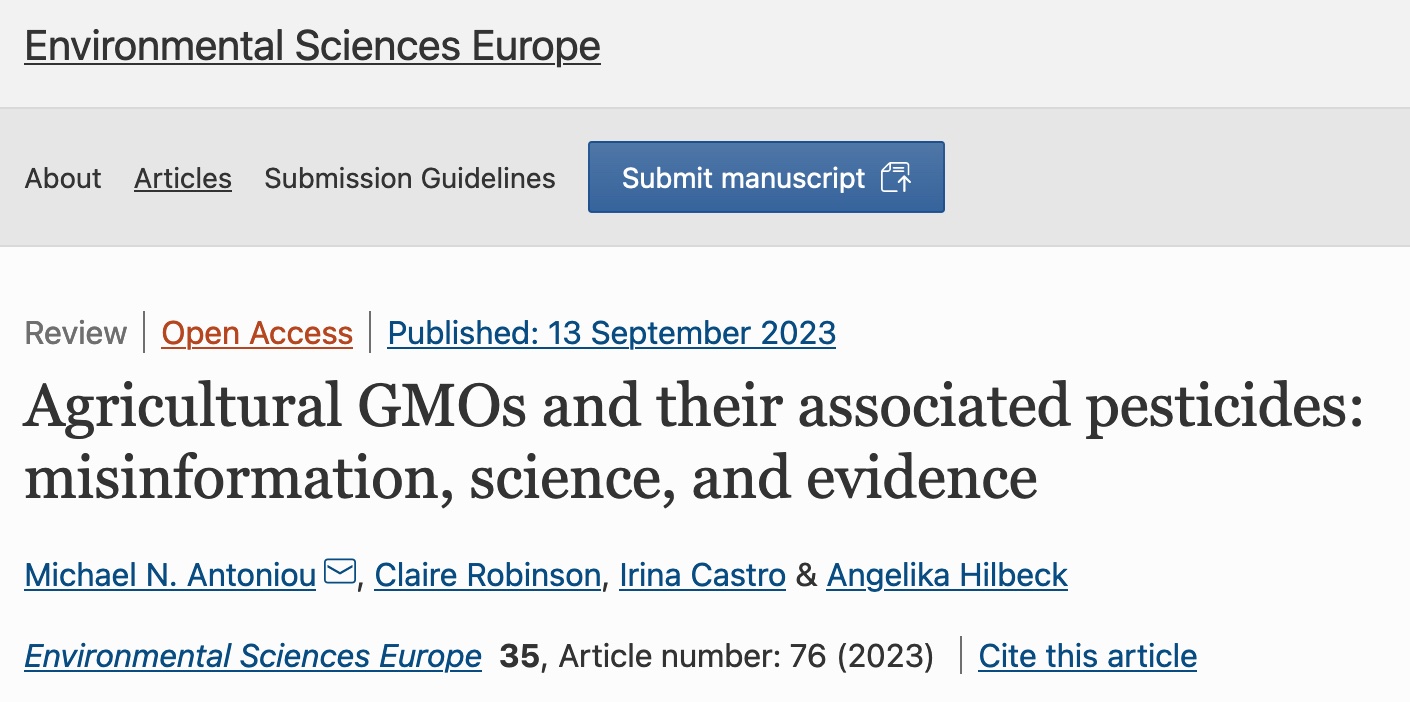 "Agricultural GMOs and their associated pesticides: misinformation, science, and evidence" is co-authored by GMWatch co-director Claire Robinson together with molecular geneticist Prof Michael Antoniou, sociologist Dr Irina Castro, and agroecologist Dr Angelika Hilbeck.

In their paper, Antoniou et al show that the Lynas et al article is so full of incorrect and misleading claims, spurious analogies, biased and selective use of research, and serious methodological weaknesses, that it is itself an example of misinformation. In particular, they cite evidence to demonstrate that Lynas et al's claims of the alleged success of GMOs in India are one-sided and unreliable. They also state that Lynas et al's characterisation of the history of GMOs in Africa – which in reality is a catalogue of failure – is highly misleading and that this troubled history may be equally or more to blame for the negative policy environment around GMOs on the African continent than any "misinformation" in the media.

Antoniou et al also draw attention to Lynas et al's subjective interpretation of "misinformation", which assumes that any article that is negative, mixed, or neutral in sentiment about GMOs is misinformation, without providing any analysis to show how it is incorrect. This fundamental methodological error leads them to "the highly improbable conclusion that no article giving a positive impression of GMOs contains misinformation, while only articles that are negative, mixed or neutral about GMOs contain misinformation".

As evidence of the folly of this approach, Antoniou et al analyse a media article that Lynas et al characterise as "misinformation" on the basis that it makes two cautionary statements about risks to health posed by GM foods. They find that one statement about health is clearly presented as a matter of opinion or experience, which can no more be proven "wrong" than, say, someone's subjective opinion on a film they've seen, while the other statement branded "misinformation" could, in fact, be backed by a significant number of peer-reviewed animal feeding studies finding that some GMOs do pose risks to health. Neither statement can correctly be classified as "misinformation".
Guilt by association
Antoniou et al also note, "The first six paragraphs of Lynas et al.'s article (13% of the total) are not related to the issue of GM foods and crops. Instead, the authors invoke guilt by association, by drawing an analogy between scientists and others who publish critical research and commentaries on GMOs and associated pesticides with individuals and organisations who promote 'misinformation' on climate change, COVID-19, and vaccines."

Antoniou et al point out that there is no proven correlation between views on GMOs and views on COVID and vaccines, and on climate, the correlation is in the opposite direction to that implied by Lynas et al: GMO proponents have been repeatedly linked with climate science denial.

The journalist and author Tom Philpott is among those who have drawn this correlation to public notice. In doing so, he also noted that there is no consensus on GMOs similar to that on climate: "The consensus around climate change developed in spite of a multi-decade campaign by some of the globe's most powerful and lucrative industries – the petroleum and coal giants – to protect markets worth hundreds of billions of dollars. The consensus around GMOs – or at least the spectre of one – arose through the lobbying and support of an industry desperate to protect its own multibillion-dollar investments".
Lynas and his co-authors do PR for GMOs
Despite their dismissal of hundreds of genuine scientists as mere "self-proclaimed experts", not one of Lynas and his co-authors has a scientific background, which raises the question of how they felt qualified to evaluate the evidence on a highly technical and specialised topic such as agricultural GMOs. Instead their backgrounds are primarily in campaigning and writing (Lynas) and public communications and relations (Joan Conrow and Jordan Adams).

Lynas and Conrow are affiliated with the Alliance for Science. Adams works for the PR and communications company Cision Insights. Cision has worked with the Alliance for Science to develop a "more effective communications strategy" around GMOs.

The transparency watchdog US Right to Know calls the Alliance for Science "a public relations campaign funded by the Bill & Melinda Gates Foundation that works to promote and increase acceptance for genetically engineered foods around the world, especially in Africa". And it lists well-evidenced criticisms of the Alliance's work.

Since its inception, the Alliance for Science has been advised by Monsanto's former head of public affairs and their chief internet strategist, Jay Byrne. According to US Right to Know, the Alliance's messaging "aligns closely with pesticide industry talking points: a myopic focus on touting possible future benefits of GMOs while downplaying, ignoring or denying risks and problems. Like industry PR efforts, Alliance members have attacked and tried to discredit critics of pesticide industry products, including scientists who raise health or environmental concerns about pesticides."

The Alliance for Science has also consistently defended the glyphosate-based Roundup herbicide, which is sprayed on GM glyphosate-tolerant crops. In this context, Mark Lynas even wrote an article for the Alliance that painted Monsanto and its product as the victim of a European "witch hunt".

As for the Alliance's principal funder, the Gates Foundation, its strategy for agriculture in Africa (and that of the Gates-funded Alliance for a Green Revolution in Africa, AGRA) has come under heavy criticism from African and international commentators. The Gates Foundation has invested heavily in GMOs and, in the past, directly in Monsanto, raising the question of whether the Alliance stands for "science" or GMO industry profits.
The Alliance's misinformation campaign
Since 2020, with the help of $10 million in new funding from the Gates Foundation, the Alliance for Science has had an increasing focus on countering what it calls "conspiracy theories and disinformation campaigns". The result has been not just a whole series of Alliance commentaries and surveys, in which Mark Lynas has increasingly been to the fore, but also their use as weapons by the Alliance in a concerted campaign to try and shape media coverage, especially on GM crops, and with Africa as a key target. The Lynas et al article needs to be seen in this context.

A good example of the article's use as a campaigning tool is the press briefing held in Nairobi at the Africa Science Media Centre (AfriSMC), which was itself established with funding from the Alliance for Science. The event was addressed by Lynas and the claims in the Lynas et al article were used to push for increased media wariness of the "misinformation which is being pushed around by anti-GMO activists or anti-science advocates".

It is particularly ironic, in terms of the Alliance's public promotion of Mark Lynas as an expert on misinformation, that Lynas himself has been repeatedly called out for making inaccurate, misleading, and even totally false claims. This includes making claims about agriculture in Africa that are so deceptive that there have been calls by academics for their retraction.
Bringing balance to the discussion
Commenting on the newly published critique of Lynas et al's article, co-author Claire Robinson said, "Obviously, misleading media reports sometimes get published on both sides of this debate, and standards of accuracy are always important. But when I first came across Lynas et al's piece, I was shocked by its bias and seeming contempt for the breadth and depth of scientific evidence that should inform public policymaking on GMOs. Fortunately, the scientists and academic who became my co-authors had a similar reaction and together we decided we had to write a response in order to bring balance to the discussion.

"The peer review process was extremely thorough. We are grateful to the reviewers for their constructive comments, which helped improve our paper considerably. I hope the resulting paper is helpful to journalists, editors, and decision-makers across the globe in highlighting some of the many reasons to take a cautious approach to GM foods and crops."


The new article:
Antoniou MN et al (2023). Agricultural GMOs and their associated pesticides: misinformation, science, and evidence. Environmental Sciences Europe 35, Article number: 76. 13 Sept. https://enveurope.springeropen.com/articles/10.1186/s12302-023-00787-4