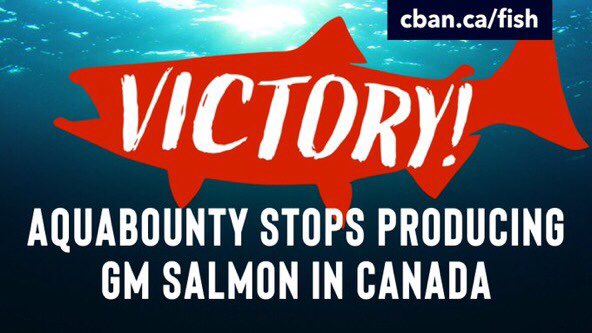 World's first GM food animal has struggled to find a market
In a major turnaround, the US company AquaBounty says it will stop producing its controversial genetically modified (GM or genetically engineered) Atlantic salmon in Prince Edward Island (PEI), Canada.
"This is a huge victory for everyone in PEI and across Canada who protested against this dangerous technology," said Sharon Labchuk of the coalition GMO Free PEI. "Genetically modified fish are unnecessary and risky."
AquaBounty has decided it will no longer produce GM fish in Canada, after raising just two "cohorts" of its GM salmon at their only Canadian production site, on land at Rollo Bay, PEI. This facility was the world's first purpose-built GM fish factory. The decision was reported in the seafood industry media SeafoodSource, quoting the company's CEO, Sylvia Wulf.[1]
The company says it will now convert its Rollo Bay site to producing non-GM salmon eggs for aquaculture companies, though AquaBounty will continue to produce GM salmon eggs in PEI for grow-out at its remaining GM salmon factory in Indiana, US. AquaBounty is in the first stages of building a second GM salmon "tank farm" in Ohio, US, though local people are opposing construction.[2]
"We're happy to see AquaBounty is finally beginning to realise that no one actually wants their GM salmon," said Leo Broderick of the PEI Chapter of The Council of Canadians. "The company now needs to stop producing GM salmon eggs here."
"This reduces one of the many threats to endangered, wild Atlantic salmon in Atlantic Canada and New England," said Mark Butler of Nature Canada.
Construction of the Rollo Bay facility was completed in 2019 with financing from a provincial government loan and federal government interest-free loan.[3]
"The provincial and federal government should never have subsidised this company," said Mary Boyd of the MacKillop Centre for Social Justice in PEI. "It's an appalling, risky use of taxpayers' money."
The genetically modified salmon was the first-ever GM food animal sold in the world. It was first sold in Canada in 2017 (from AquaBounty's small research facility in Panama, now closed). There is no mandatory labelling of GM foods in Canada for consumers.
"The federal government needs to stop approving GM animals and start listening to the public's concerns about genetic engineering," said Lucy Sharratt, Coordinator for the Canadian Biotechnology Action Network, which has been tracking AquaBounty for over 10 years.
Changes to improve the Canadian Environmental Protection Act (CEPA), which governs the use of GM animals, are currently being debated in the House of Commons environment committee.
Notes
1. https://www.seafoodsource.com/news/premium/aquaculture/aquabounty-sees-opportunity-in-egg-sales-pulling-back-on-china-plans
2. https://www.13abc.com/2022/06/23/protesters-pioneer-speak-out-against-aquabounty-fish-farm/
3. https://www.cbc.ca/news/canada/prince-edward-island/pei-aquabounty-provincial-loan-1.4879564 ; https://investors.aquabounty.com/static-files/fcffcd89-db44-4823-a9df-5f425bf360a7
For more background: www.cban.ca/fish
GMO Free PEI is a coalition of community groups in Prince Edward Island that works with concerned islanders to stop the introduction of genetically modified organisms (GMOs). The coalition has been active since 2001 and includes Earth Action PEI, The Council of Canadians-PEI Chapter, and the MacKillop Centre for Social Justice in P.E.I.
Nature Canada is one of the oldest national nature conservation charities in Canada. For 80 years, Nature Canada has helped protect over 110 million acres of parks and wildlife areas in Canada and countless species. Today, Nature Canada represents a network of over 130,000 members and supporters and more than 1,000 nature organizations. www.naturecanada.ca
The Canadian Biotechnology Action Network (CBAN) brings together 16 groups to research, monitor and raise awareness about issues relating to genetic engineering in food and farming. CBAN members include farmer associations, environmental and social justice organisations, and regional coalitions of grassroots groups. CBAN is a project of MakeWay's shared platform. www.cban.ca/fish

Source: CBAN