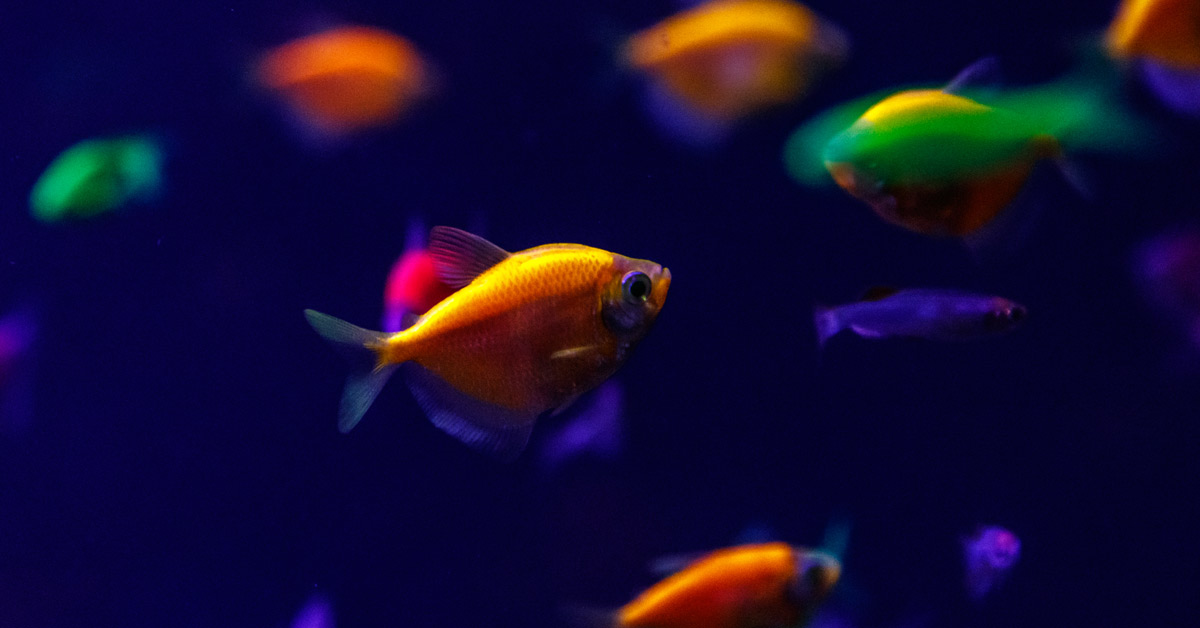 Escape underlines yet again the inadequacy of GMO regulations around the world. Report: Claire Robinson and Jonathan Matthews

Fish genetically engineered to glow in the dark have escaped from fish farms in Brazil and are multiplying in creeks in the Atlantic forest, a new study shows. The GM fluorescent fish are designed for aquariums and are trademarked and marketed as Glofish.

Biologists worry that the GM fish could threaten the local fauna in one of the most biodiverse spots on the planet. "This is serious," ecologist Jean Vitule at the Federal University of Paraná, Curitiba, told Science magazine. Vitule says the ecological impacts are unpredictable. He worries that fluorescence genes could be introduced into native fish with detrimental effects, perhaps making them more visible to predators. "It's like a shot in the dark," he says.
Warnings were ignored
Canada was one of the first countries to approve GM Glofish. Mark Butler, senior advisor to Nature Canada, commented on Twitter that the GM fish escape was "Just one of the scenarios we have been warning Government about and they have been blandly dismissing with their risk assessment models."

Nature Canada's objection to the proposal to approve the Glofish read: "GloFish LLC has genetically engineered fish that are found in freshwater systems in South America and Asia. As more of these fish are sold in more countries, including potentially in countries where these fish naturally occur, the possibility of these fish escaping or being released and breeding with their wild counterparts increases. Canada by approving these fish is encouraging other countries to do so, including countries which are in, or adjacent to, the home range of the zebra fish, Siamese fighting fish, or tetra."

But the Canadian government responded, "No such environments exist within Canada. The effects of genetically engineered organisms on environments outside of Canada are outside the scope of the risk assessment conducted under the Canadian Environmental Protection Act, 1999."

Mark Butler comments that the Canadian government's "None of our business" attitude to ecological impacts beyond its own borders and approval of the Glofish helped create a market and set a regulatory precedent.
GMO invaders could threaten local biodiversity
Now the scenario that Nature Canada warned about has played out in Brazil. The GM glowing zebrafish were first spotted swimming in the Paraíba do Sul River Basin in 2015 by André Magalhães, a biologist at the Federal University of São João del-Rei who is an author of the new study. The waters border the largest ornamental aquaculture centre of Latin America, in Muriaé, and Magalhães says the fish probably escaped from some of the centre's 4500 ponds, which release water into the streams.

According to Science magazine, the fish are reproducing all year round, with a peak during the rainy season — just as native zebrafish do in Asia. But the transgenic fish seem to achieve sexual maturity earlier than their forebears, which allows them to reproduce more and spread faster.

Magalhães says, "They are in the first stages of invasion with potential to keep going." Before long, he says, the fish could become plentiful enough to directly affect local species by competing for food or preying on them.

Brazil has banned sales of the fish, reports Science magazine, but local farms keep breeding them, and stores all over the country sell them as pets. They may soon colonize other parts of the country: Isolated Glofish individuals were spotted in ponds and streams in south and northeast Brazil in 2020.

In 2014, a single Glofish was spotted in canals near ornamental fish farms in the Tampa Bay region of Florida, but it doesn't seem to have multiplied, probably because native predators ate it. But where the Glofish have escaped in Brazil, they have no local predators.
GM salmon also pose a threat
Nature Canada is also strongly opposed to GM salmon, which Canada was the first country in the world to approve and which is now being eaten there unlabelled. The group has warned that the GM salmon, which are raised on Prince Edward Island, could escape and interbreed with wild salmon, resulting in irreversible impacts: "As these operations scale up, it becomes not a question of 'if', but 'when'."

While the Canadian government is reviewing its GMO regulations, Nature Canada has proposed a moratorium on the approval of any new GM animals.
Other GMO escapees
In comparison to most GM creations, the Glofish are highly visible and thus easier to track, suggesting they could be, as neurobiologist Andre Goffinet pointed out, just "the easily visible tip of the iceberg".

Among the less visible escapees that are known about is GM creeping bentgrass, which absconded from field trials in the US. The developers, Monsanto and Scotts, claimed to have cleared up the problem, but five years later, feral populations were discovered thriving in the wild. This time, despite Monsanto and Scotts' promises, they continued to spread out of control.. To add to the problems, GM bentgrass can also cross-pollinate with related wild species.
 
GM herbicide-tolerant oilseed rape has also escaped from field trials, cultivated fields, and food and feed imports, establishing feral populations around importing harbours and along transportation routes. It is now widespread around the world. It can cross-pollinate with related wild mustard species, a number of which are already considered noxious weeds, even when they do not present the additional problem of herbicide tolerance genes.
Does it matter?
GMO proponents invariably argue first that unintended dispersal will not happen and then, when it does, that it doesn't matter. But in the case of wild cotton in Mexico, GMO contamination has already caused serious effects that only came to light thanks to a research study. The wild cotton seems to be at an evolutionary disadvantage because of gaining either GM Bt insecticidal or glyphosate tolerance genes.

The Bt gene made the plants secrete more nectar when under stress, attracting ants that would normally protect cotton plants against hungry herbivores. But these plants didn't reproduce much, suggesting that either the GM insecticidal gene or the ants scared off or killed the pollinators.

The glyphosate resistance gene made the plants secrete less nectar when under stress, meaning that ants didn't come to feed off the nectar and didn't protect the plants from herbivores.

This study also blew away the standard risk assessments based on the number of metres that pollen can travel from fields. The closest fields of genetically engineered cotton were nearly 2,000 kilometers away. Study lead Ana Wegier, a plant geneticist from the National Autonomous University of Mexico, said, "What surprised me the most was how easy it was to find changes where we didn't expect them."
Bonfire of GMO regulations
The proliferation of the transgenic glowing fish shows up the inadequacy of GMO regulations worldwide to contain and track the growing number of genetically engineered organisms being experimentally and commercially released.

Nature Canada's Mark Butler says of the Glofish, "This was predictable and predicted. It's a failure of conventional risk assessment. It's putting the amusement of aquarium hobbyists over nature and the well-being of wild fish and ecosystems. And more engineered aquarium fish with 'cool features' are being proposed."

But instead of regulations being strengthened and improved, what we're seeing is industry pushing for deregulation. In the UK, for instance, the Westminster government is busy dismantling the existing regulations that govern GMOs – beginning with scrapping environmental protections around gene-edited plants in field trials, but with a view to eventually giving free rein to GM animals and older-style transgenic GMOs throughout the food production chain. If they succeed in their aim, we can expect many more nasty surprises from GMO contamination.