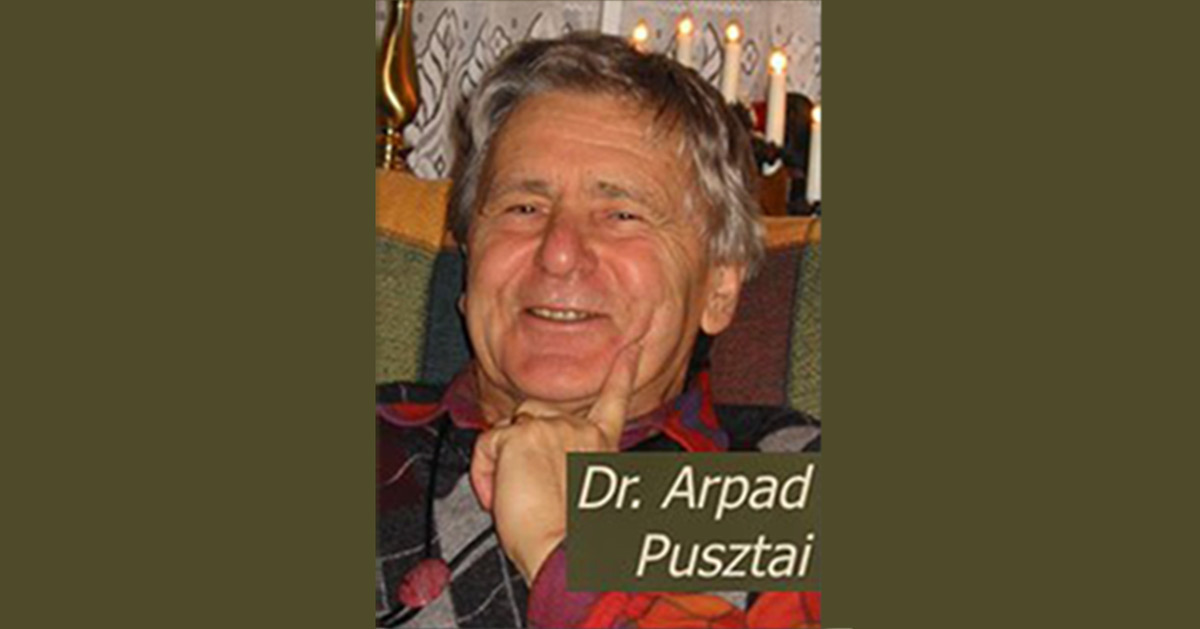 A meticulous scientist who woke up the world to the dangers of GM foods
We are sad to hear that the eminent scientist Dr Arpad Pusztai passed away on 17 December. As the lead author of the landmark 1999 study that found that GM insecticidal potatoes had toxic effects on rats, Arpad woke up the world to the fact that some GM crops can be unexpectedly toxic, even when they are deliberately designed not to be.
As a meticulous scientist whose only concern was representing his findings honestly and accurately, Arpad was ill prepared for the vilification and persecution that he suffered from some sectors of the scientific and political establishment. The story is told in detail by Andrew Rowell in his book, Don't Worry, It's Safe to Eat. The media commentator Media Lens published an extract from the book at the time of its publication, which can be read as Item 1 below.
The best account of Arpad's experiments for the layperson or the scientist alike is in Jeffrey Smith's book Genetic Roulette. This account was checked for accuracy by Arpad and other scientists.
After his experience with the GM potatoes, Arpad went on to be a global guiding light on issues of GMO food safety and risks, helping scientists, campaigners, and members of the public from all over the world understand complex technical topics – always with patience, courtesy, and humility.
Arpad was always fearless and incisive in his responses to critics. We are republishing below as Item 2 his reply to CSIRO scientist Dr Roger Morton, which we first published in 2001. Dr Morton had claimed that GM foods are well tested and that there is a significant body of scientific literature supporting the safety of these foods. That was – and still is – far from the truth, as Arpad shows.
Those who are interested in the body of peer-reviewed research showing toxic and allergenic effects of GM foods (including commercialised ones) are recommended to read the book GMO Myths and Truths, in its most recent 4th edition.
Paying tribute to Arpad, Dr Michael Antoniou, who regularly gives technical advice to GMWatch, said: "Arpad was the embodiment of a true scientist, as well as a wonderful human being. He was always true to the science and was led by the evidence, no matter where it took him. He was a giant in his field and will be sorely missed."

Finally, note how prophetic Arpad's concluding remarks in his response to Morton have turned out to be, in the light of the current demands from the GM industry and its supporters for deregulation. Arpad wrote: "The only thing the GM biotech industry needs to do in future is not do any testing as then the myth of the safety of GM food will be maintained for eternity. I am sure, to judge by present standards, that they are well on their way to achieving this."
1. Guest Media Alert: Hot potato
2. Reply from Dr Arpad Pusztai to Dr Roger Morton
---
1. Guest Media Alert: Hot potato. Excerpt from 'Don't Worry, It's Safe To Eat – The True Story Of GM Food, BSE, And Foot And Mouth', by Andrew Rowell
Media Lens, 15 Jul 2003
https://www.medialens.org/2003/guest-media-alert-hot-potato/
As the UK government continues to wriggle over weapons of mass destruction, of sexing up dossiers and general spin, Tony Blair argues that there is no greater charge against a prime minister than for him to have personally falsified claims on which to take a country to war.
That may be so, but another grave charge would be personally ordering the sacking of a scientist who was involved in some of the first independent tests on GM, especially if those tests showed evidence of harm, and also especially if the orders came from Monsanto, via the White House. This is what Dr Arpad Pusztai, who raised concerns about GM food in 1998, claims happened to him.
Part of the recent argument between the BBC and the government concern the claims by a single unnamed intelligence source that the government "sexed" up one of the dossiers on Iraq. In contrast five people have said that they were told that Tony Blair ordered the sacking of Dr Pusztai. Here is Dr Pusztai's story. It raises many unanswered questions about new Labour, its link to the biotech industry and the safety of GM food.
Dr Arpad Pusztai
As we witness the dawn of the biotech revolution, Dr Arpad Pusztai is a scientist who is convinced that he has uncovered vital evidence that shows there are potential major health risks with GM crops. Pusztai was catapulted from an unknown laboratory scientist based at the Rowett Research Institute in Aberdeen to the forefront of a raging debate about the safety of GM foods, when he spoke on the World in Action TV programme in 1998.
Overnight the Hungarian-born scientist, with some 35 years lab experience, found himself at the centre of an international media spotlight. The controversy would put him on a collision course with the UK and US governments, the biotech industry and the scientific establishment. His 150-second interview lead to Pusztai being suspended, silenced and threatened with losing his pension. His wife, Susan Bardocz, who also worked at the Rowett for 13 years, was eventually suspended too. Their research was locked up. Scientists and politicians alike vilified Pusztai.
As we search for answers as to whether GM foods are safe, two questions stand out. Given such a huge controversy over Pusztai's experiments, and the preliminary nature of their findings, why were the political and scientific establishments so intent on rebutting him? More importantly why have the experiments never been repeated?
The saga has had very personal consequences. Pusztai has suffered two heart attacks and the saga has left him and his wife, Susan, needing permanent medication for high blood pressure. Pusztai is still angry about the whole affair. His only crime was to speak out, in his words, according to his conscience: 'I obviously spoke out at a very sensitive time. But things were coming to a head with the GM debate and I just lit the fuse', he says. 'I grew up under the Nazis and the Communists and I understand that people are frightened and not willing to jeopardise their future, but they just sold me down the river.'
His story begins in post-war communist Hungary. After the Hungarian revolution was crushed by the communists, the young Pusztai, a chemistry graduate, escaped to refugee camps in Austria and from there to England. By 1963, having finished his doctorate in biochemistry and post-doctorate at the Lister Institute, he was invited to join the prestigious Protein Chemistry Department at the Rowett Research Institute, which has become the pre-eminent nutritional centre in Europe.
Dr Pusztai was put to work on lectins, plant proteins that were going to be central in the GM controversy years later. Over the intervening years, Pusztai became the world's leading expert on plant lectins, publishing over 270 scientific studies, and three books on the subject. Two books were co-written with his wife, Susan. Pusztai became one of the Rowett's most senior and renowned scientists.
In 1995, the Scottish Office Agriculture Environment and Fisheries Department commissioned a three-year multi-centre research programme under the coordinatorship of Dr Pusztai into the safety of GM food. At the time there was not a single publication in a peer-reviewed journal on the safety of GM food.
The scientists' primary task was to establish credible methods for the identification of possible human/animal health and environmental hazards of GM. The idea was that the methodologies that they tested would be used by the regulatory authorities in later risk assessments of GM crops. For the first time, independent studies would be undertaken to examine whether feeding GM potatoes to rats caused any harmful effects on their health, bodies or metabolism.
The theory behind the modification of the potatoes was simple. For years Dr Pusztai had explored the beneficial effects of lectins in foods as well as in nutritional supplements and pharmaceutical agents. Lectins can affect the digestive systems of insects and can act as natural insecticides. Arpad's work had shown that one such lectin called GNA (Galanthus nivalis), isolated from the snowdrop, acted in this way. Pusztai had worked on the snowdrop lectin since the late 1980s.
The thinking was that, if you could genetically modify a potato with the lectin gene inside it, the potato could have an inherent built-in defence mechanism that would act as a natural insecticide, preventing aphid attack. Because it looked promising, the snowdrop gene had already been incorporated into several experimental crops, including rice, cabbages and oil-seed rape.
But by late 1997, the first storm clouds were brewing at the Rowett. Preliminary results from the rat-feeding experiments were showing totally unexpected and worrying changes in the size and weight of the rat's body organs. Liver and heart sizes were getting smaller, and so was the brain. There were also indications that the rats' immune systems were weakening.
150 seconds that changed the GM debate
Finally in August 1998, Pusztai expressed his growing concerns on World in Action in a 150 second interview. So what did he say? 'We're assured that this is absolutely safe,' said Pusztai. 'We can eat it all the time. We must eat it all the time. There is no conceivable harm, which can come to us. But as a scientist looking at it, actively working in the field, I find that it's very, very unfair to use our fellow citizens as guinea pigs. We have to find guinea-pigs in the laboratory.' Dr Pusztai had been told not to talk about his experiments in detail, but he did say, in a sentence that would become the centre of the controversy, that 'the effect was slight growth retardation and an effect on the immune system. One of the genetically modified potatoes, after 110 days, made the rats less responsive to immune effects'.
He continued: 'If I had the choice, I would certainly not eat it till I see at least comparable experimental evidence which we are producing for our genetically modified potatoes. I actually believe that this technology can be made to work for us. And if the genetically modified foods will be shown to be safe, then we have really done a great service to all our fellow citizens. And I very strongly believe in this, and that's one of the main reasons why I demand to tighten up the rules, tighten up the standards.'
On the evening of the broadcast, the head of the Rowett Professor James 'congratulated,' Pusztai on his TV appearance, commenting on 'how well Arpad had handled the questions'. The following morning a further press release from the Rowett noticed that a 'range of carefully controlled studies underlie the basis of Dr Pusztai's concerns'.
The riddle of the Rowett
But it is here that the Rowett and Pusztai differ in what happened next. The day after the programme, on the Tuesday James maintains he asked Pusztai's staff for the data for the 110-day experiment, which he claims they told him did not exist. 'I couldn't believe it, says James, 'I just said that this is the end of the world for us all'. James maintains that this is the reason why Pusztai was suspended on the Wednesday.
On Wednesday morning, Pusztai and Susan were told to hand over their data. All GM work was stopped immediately and Pusztai's team was dispersed. His three PhD students were moved to other areas. He was threatened with legal action if he spoke to anyone. His phone calls and emails were diverted.
The Rowett press machinery was adopting Orwellian overtones and beginning to change the official story. First of all they said that Pusztai had got muddled with the wrong potatoes, then they had said that the experiments had not been done, but finally they reported that Pusztai had done the right experiments but the results were not ready yet.
Other disputed events happened on the Tuesday too. Two phone calls, Pusztai says he was told, were put through to James from the Prime Minister's office. One was 'around noon, the other was slightly earlier'. He learnt this information from two different employees at the Rowett, who could be sacked if their identities were known. The Pusztais were also later told by someone at the Rowett, currently in a senior management position at the Institute, that Bill Clinton had phoned Blair and told him to sort out the problem. 'That was the beginning of all the trouble – Arpad was sacked as a consequence of what was said in those phone calls,' says a friend.
The events of August 1998 have always puzzled Stanley Ewen, then a top pathologist from the University of Aberdeen who had worked with Pusztai for over a decade. Ewen too had often wondered what caused the sudden turn-around at the Rowett.
Speaking about the incident for the first time now he is retired from the University of Aberdeen, he confirms the Pusztais' stories, but crucially he was told by yet another senior member of the Rowett. This makes four separate Rowett personnel who have spoken in private about the phone calls. 'On Tuesday, Blair phoned the Rowett twice, although everybody denies it', Ewen says.
Another ex-employee who was prepared to talk is Professor Robert Ørskov OBE. Professor Ørskov worked at the Rowett for 33 years, and is one of the UK's leading experts in ruminant nutrition. He too was told about the phone calls. Professor Ørskov says he was told that the phone calls went from Monsanto to Clinton to Blair. 'Clinton rang Blair and Blair rang James – you better keep that man [Pusztai] shut up. James didn't know what to do. Instead of telling him to keep his mouth shut, they should have told him to say it needs more work. But there is no doubt that he was pushed by Blair to do something.'
But Professor James is adamant the phone call never happened. 'There is no way I talked to anybody in any circumstances' he says. 'It's a complete pack of lies. I have never talked to Blair since the day of the opening of Parliament in 1997.' This week Downing Street also called the claims "total rubbish".
Although there is no proof that phone calls ever took place, Pusztai points to other evidence about Blair and GM. It is a well-known fact that Blair had been persuaded to back GM by Clinton, leading even the BBC to remark that in the GM debate 'a question mark remains over the government's independence of pressure from Washington'. In the mid-1990s the Clinton administration was backing the biotech industry 'second to none'. One White House staff member said the 1990s were going to be the decade of 'successful commercialization of agricultural biotechnology products'.
When Pusztai spoke out in August 1998, the new Labour administration was already beginning to shape government policy for its second term. It was looking for drivers of the economy that could be trusted to deliver the growth and hence results that Labour needed. Hightech industries, such as biotechnology, were to be the central cogs of the engine that would drive the Blairite revolution, and deliver the coveted second term. What Pusztai was saying could literally derail an entire industry and with it many of the hopes and aspirations of New Labour.
Pusztai backed by colleagues
By the end of 1998, the Pusztai saga could have slowly subsided, with the scientist forbidden to talk to inquiring journalists. But wherever he went, scientific colleagues were curious to find out what had really happened to their colleague. Although banned from talking to the press, he was not banned from talking to other scientists outside the Rowett. In February 1999 30 international scientists from 13 countries published a memo supporting Pusztai that was published in the Guardian which sparked a media frenzy over GM.
A week after the international scientists backed Pusztai, a secret committee met to counter the growing alarm over GM. Contrary to reassurances by the government that GM food was safe, the minutes show the cross departmental committee formed to deal with the crisis, called MISC6, knew the reassurances were premature. It 'requested' a paper by the Chief Medical Officer (CMO) and the Chief Scientific Advisor (CSA) on the 'human health implications of GM foods'.
What would happen, the minutes asked, if the CMO/CSA's paper 'shows up any doubts? We will be pressurised to ban them immediately. What if it says that we need evidence of long-term effects? This will look like we are not sure about their safety'.
The "Star Chamber"
That very same day – 19 February – The Royal Society publicly waded into the Pusztai controversy saying it was going to review the evidence on GM, but Pusztai argues it was nothing more than an attack on him.
'Their remit was to screw me and they screwed me,' he argues. 'They have never done it before and I had never submitted anything to them. They took on a role in which they were self-appointed, they were the prosecutors, the judges and they tried to be the executioners as well. I see no reason why I should have cooperated with them in my own hanging.'
But hung Pusztai was. On 18 May 1999, the Royal Society issued its damning verdict against Pusztai, at a press conference. The report said that Pusztai's work was 'flawed in many aspects of design, execution and analysis and that no conclusions should be drawn from it'. The same day, 18 May, the House of Commons Science and Technology Select Committee attacked Pusztai too.
It is beyond coincidence that The Royal Society and the Science and Select Committee published on the same day. Political insiders say that pressure was put on the Science and Technology Committee and The Royal Society to discredit Pusztai, thereby enabling the government to take control again.
This behind-the-scene coordination was partly revealed by a memo showing that the government had set up a 'Biotechnology Presentation Group', which included senior Ministers. A decision was taken to 'present the government's stance as a single package by way of an oral statement in the House. This would allow the government to get on the front foot'.
This is exactly what happened. On 21 May, just three days after The Royal Society and Select Committee published – Jack Cunningham stood up in the House of Commons: 'Biotechnology is an important and exciting area of scientific advance that offers enormous opportunities for improving our quality of life.'
Cunningham then laid his killer punch: 'The Royal Society this week convincingly dismissed as wholly misleading the results of some recent research into potatoes, and the misinterpretation of it – There is no evidence to suggest that any GM foods on sale in this country are harmful'.
The Lancet
However Pusztai and Ewen had submitted a paper to the Lancet, which was finally published in October 1999. Ewen faxed a copy of the article to the Rowett before publication, as Pusztai was still required to show them any papers based on his work there. However publication was delayed by two weeks for technical reasons. 'The rubbishing brigade had been given two weeks to do the dirty on the article. I was almost sure they would stop it,' says Pusztai.
First of all came the misinformation. 'Scientists Revolt at Publication of "Flawed" GM Study', ran The Independent, 'the study that sparked the furore over genetically modified food has failed the ultimate test of scientific credibility'. Connor said that the referees were against publication.
However four out of the six reviewers were for publication. 'A clear majority of The Lancet's reviewers were in favour,' says Richard Horton, the editor of the Lancet. Then came the 'threats'. Three days after The Independent article, Richard Horton received a phone call from Professor Lachmann, the former Vice-President and Biological Secretary of The Royal Society and President of the Academy of Medical Sciences.
According to Horton, Professor Lachmann threatened that his job would be at risk if he published Pusztai's paper, and called Horton 'immoral' for publishing something he knew to be 'untrue'. Towards the end of the conversation Horton maintains that Lachmann said that if he published this would 'have implications for his personal position' as editor. Lachmann confirms that he rang Horton but vehemently denies that he threatened him.
After the article was published, Horton and The Lancet were once again attacked for publishing the work by the biotechnology industry and The Royal Society. Horton likened the actions of the Royal Society to a "Star Chamber". The publication of The Lancet paper also had a detrimental effect on Stanley Ewen's long-term employment with the University of Aberdeen, and rather than get recognition for his work, all he seemed to get was anguish.
'I felt that I had done so much work that had been unacknowledged', says the pathologist. 'I felt that I deserved some recognition, but this was being blocked at a very high level by other spokespersons. It wasn't helpful to my career. When you do these sorts of things it is very difficult for your pension. Because that is what it comes down to in the final analysis: money'. Eventually he felt that he had no option left and Ewen retired on the 26 March, 2001. He now works as a consultant to the NHS.
Why have the experiments never been repeated?
But the fundamental flaw in the scientific establishment's response is that in 1999 everyone agreed that more work was needed. Three years later, that work remains to be undertaken. A scientific body, like The Royal Society, that allocates millions in research funds every year, could have funded a repeat of Pusztai's experiments. Is it that it is easier to say there is no evidence to support his claim, because no evidence exists, than it is to say that no one has looked?
Don't Worry, It's Safe To Eat – The True Story Of GM Food, BSE, And Foot And Mouth, by Andrew Rowell was published by Earthscan on 10th July 2003.
---
2. Reply from Dr Arpad Pusztai to Dr Roger Morton
GMWatch, 8 Jan 2001
https://gmwatch.org/en/news/archive/2001/1169-pusztai-on-morton-and-whether-gm-food-is-safe-round-2
Dear Dr Morton,
We now seem to be playing silly games with numbers and other unfortunate deviations from what we really ought to be focusing on. So let's first call an end to the numbers' game.
There were 56 so-called references in your initial piece, 5 of which were in fact duplicates or triplicates. So, in the new list there should have been 51. It took me half an hour to establish how 56 - 5 came to equal 53. It appears that our J. Nutrition paper has been added to the list and a previously listed paper, which lacked a reference no. in the original list, has now acquired one. However, otherwise the references were still the same as in the original list (although numbered differently), despite my rather commonsense criticisms.
For a moment I thought that our Lancet paper might have now been included in the new list, as one of these two extras. Alas, it was not to be because it was deemed to be "irrelevant to the discussion as to whether the GM food on the market is safe or not". Clearly, even though this article and a few others in Domingo's list in Science were most definitely peer-reviewed papers, they obviously did not come up to the pro-GM scientists' standards, as exemplified by the 41 non peer-reviewed references in the original and in the amended list.
I am afraid, even now I and, I guess, a lot of other scientists would regard the contents of these 41 "references" as little more than opinions. I pick out a few glaring examples at random. How could articles such as that published in the FDA Consumer magazine (no. 45), the R&D Magazine (no. 48), or Canadian Newswire Oct 25 (no. 52), etc. be regarded as superior to the peer-reviewed papers in Domingo's references in Science?
This, I am sure, would require an explanation for most unbiased people. Even abstracts given at scientific meetings are not much use because they very seldom contain much hard data and information and are of limited circulation. In fact, regarding them as peer-reviewed publications places Dr Morton on very dangerous ground because most of our GM potato work has also been presented at scientific meetings and their abstracts were published in the proceedings prior to my talking about it during the TV interview. Therefore, the original charge against us, i.e. that I prematurely gave details of our work without their having been first peer-reviewed, seems to lose its validity.
While reading the Morton "Response" I realised why it is so difficult to find common ground between the pro-GM believers and those scientists who take a more sceptical view of the soundness of the GM science and technology. I would recommend that people should read the original piece posted on the AGBIOVIEW website at the beginning of December as it clearly describes a novel idea of refereeing:
"Look at the bibliography above and you will see the vast majority of the [56] publications mentioned are full peer-reviewed publications in journals. Some reports submitted to FDA, EPA etc are not peer-reviewed by journal editors but you can be sure they are peer-reviewed by the people at FDA and EPA."
Most scientists regard publishing their results in peer-reviewed journals as a difficult, sometimes painful and laborious job. However, they still do this because we have not come up yet with a better and more responsible system for the dissemination of new results, ideas and concepts, so that other scientists could use them for their own work. This is the way science has progressed through the ages. True, it is not foolproof but it is the best we have for the time being.
Personally, I would be extremely grateful if the biotechnology companies could prevail on their scientists to properly publish their work instead of using these bits of communications, articles etc, as typified by 41 references on the list. Currently they are preventing other scientists from incorporating the data in their own research and checking it.
It would also be useful because then we would not have to play this silly numbers game. I am sure, Dr Morton knows perfectly well that I am right. Let us all hope that science will win out at the end.
Incidentally, it is rather revealing that, in line with what has been maintained by the GM biotechnology industry, pro-GM scientists apparently do not expect to find any differences between GM and non-GM crops under any conditions in their research. Otherwise the following passage in the Morton piece which states that "publishing the results of experiments where there is no difference between the treatments is very difficult - because there is not a Journal of Boring Results", would be meaningless.
There is a second essential point about the perspective of pro-GM enthusiasts which needs to be understood. In Dr Morton's list, with the addition of our J. Nutrition paper there are now 5 peer-reviewed publications describing animal feeding studies done with diets containing GM crops. Although one may not agree with some of the findings described in these papers and even criticise them, these are now part of the scientific debate on GM foods and I welcome that. However, it appears that the GM enthusiasts cannot embrace the idea of reciprocity or that there are usually two sides to any debate. Indeed, the word "to debate" in the pro-GM scientist's vocabulary apparently means "to agree" with the pro-GM point of view. Dr Morton's piece has demonstrated this, if it has demonstrated nothing else, by leaving out the more sceptical references (including the Lancet paper and some others) from the list.
Moreover, as I mentioned previously, the direct relevance of the 7 peer-reviewed compositional studies to the safety of GM food is somewhat debatable and the sooner this is realized by the pro-GM lobby the better it will be all round. It needs to be understood that establishing compositional equivalence of macronutrients between GM and conventional crops, though important, is of rather limited value.
As the present technology of genetic crop transformation cannot deliver GM crops which are predictably safe and have no unintended effects, some sceptics, quite rightly in my opinion, regard the use of the word "technology" as a misnomer. Provision of tonnes of analytical data will not make up for the uncertainty as to whether the GM product is safe or not.
A distinguished French scientist and regulator who was invited to give an official contribution at the OECD Conference in Edinburgh (incidentally he is not included in the "list" either) gave a brilliant example of the basic fallacy of "substantial equivalence" in macronutrient composition. He said that although a BSE cow is substantially equivalent to a healthy one nobody would be happy to eat it. Before scientific work had revealed the reason for the difference between the two animals nobody knew what to look for. Having identified that, when scientists try to identify which cow is infected with BSE they do not measure the macronutrient content of the cow but will look for the appropriate prion proteins (0.0000....% of the cow's weight) that makes the cow potentially lethal for herself and the humans eating it.
The message is that you must first establish whether there is a difference between the GM crop and its conventional counterpart by short- and long-term laboratory animal testing and then, if there is, look for what chemical component(s) is/are responsible for this difference. From there on, just like with the prions, it is relatively plain sailing: scientists will determine the changes in the content of this component(s) in the various lines of GM crops and then physiologists/nutritionists/toxicologists will establish whether predictions based on the content of these (toxic, antinutritive, antihormonal, etc) components will be borne out by animal tests. This is how science has worked in the past and I need to be persuaded by logical and factual arguments why this should not apply to GM crops.
I am glad to say that at least in one respect Morton's views and mine are similar. No true scientist can (or will) ever say that a food is 100% safe regardless of whether its a GM or non-GM variety although we have in the past two years been bombarded by politicians telling us that, based on the best scientific advice, it is inconceivable that GM foods are not safe.
Unfortunately, it is the food processing industry's (and the regulators') cutting corners which is responsible for not properly testing novel foods and processes before allowing them onto the market. However, as we know well, two wrongs do not make a right. Again we come back to BSE. Why were those re-processed animal remnants not properly tested before feeding them to cows? Or, why for that matter were the tryptophan supplements not properly tested before they poisoned and maimed so many people? It is immaterial whether this effect was due to genetic modification or cutting corners with the purification of the product or both. A novel production method was introduced without testing the outcome. Incidentally, the newly produced tryptophan was also "substantially equivalent" to the non-toxic tryptophan produced by all other manufacturers (99% or better).
At this point we must also confront this business about how, by demanding independent verification of GM safety, the "activists" imply that the industry-financed "laboratories are fraudulently producing results showing the food is safe when in fact it is unsafe". In such a light Sir John Krebs' and the OECD Edinburgh Conference's final motto of "openness, transparency and inclusiveness" can also be regarded as questioning the GM industry's credibility.
The fact is that when one buys a second hand car one does not exclusively rely on the seller's assurance but, if one has any sense, also asks for an independent opinion. Obviously, the industry does test their products but that also leaves room for independent testing. The idea that there is a terrible quandary as to who is going to pay for this, because the public will not, rings rather hollow in the wake of the Cry9 Taco shell disaster because it was testing by a public NGO and not Aventis' scientists which alerted everyone to the problem of contamination.
Perhaps the industry ought to set up a fund from which money could be used to support independent scientific investigations. It would not only be in the interest of public safety but the GM companies would also clearly benefit if independent research workers found that their products presented no unacceptable health or environmental safety risks. Industry could only gain by such an endorsement, which inevitably leads one to ponder why there is so much difficulty about achieving such "openness, transparency and inclusiveness". Are the companies, in reality, afraid that the independent research scientists might find something negative about their GM products? Certainly I (and I am told many others) had a great deal of difficulties in the past when we tried to obtain bona fide samples of GM and parent line crops from biotech companies for our testing. And we did not even ask for their money, just for the samples.
In the Morton "Responses" there was a return to our GM pea paper. It was quite revealing that, apparently, it was envisaged that there could be no possible detrimental effects of these peas on the rats. Thus, there was a plea that the paper's title should have said that the GM peas had "NO DETRIMENTAL EFFECT" rather than minimal detrimental effect. First of all, I should point out that the title was coined by T.J. Higgins and seconded by Maarten Chrispeels, neither of whom are known to be rabid anti-GM scientists. Of course, they were right because although Dr Morton may think that the differences found could not be regarded as potentially detrimental, some more cautious scientists might regard the changes as potentially harmful. Now there are two peer-reviewed papers, in addition to the FDA's own FLAVR SAVR tomato study, in which gut lesions have been found with GM foodstuffs in three different labs. In this light, even though in the GM pea study there was no histology, the significant weight and compositional differences in the caecum (large intestine) and the increased weight (not significant) of the small intestine should have at least cautioned anyone against claiming no detrimental effects and suggested doing further and more relevant (histological, immunological, etc) studies to investigate whether these differences had any physiological significance.
This is of particular importance when one takes into account that in practically all biological testing of GM crops the scientists use SPF and fully healthy rats or other animals. No tests have ever been performed with animals which had problems with their digestive system, despite the fact that a very sizeable proportion of the human population has diseases of the alimentary tract, such as Crohn's disease, ulcerative colitis, intestinal and pancreatic tumours of all kinds, H. pylori and other bacterial infections, and a compromised immune system, etc. Can anyone from the GM fraternity assure these people that they will suffer no ill effects when animal studies have already indicated the possibility of such? I do not want to appear to be pedantic but we all must be reminded of the fact that once a GM crop is released we lose all control over it. If the Taco shell disaster proved nothing else, it showed that neither the industry, nor the EPA or FDA are equipped to deal with a recall. This places extra responsibility on scientists to be ultra cautious and not to claim that something has no detrimental effects just because their experiences are not wide enough to see possible problems.
In the "Response" document, in addition to an interpretation of the word "commercialization", there were again references to our potato study. As I previously dealt with this point, I have nothing further to add apart from asking a question as to who would have done a "proper safety assessment including animal feeding studies" (on these GM potatoes) in the UK. After all, ACNFP, our regulatory authority, have no labs of their own and only ask for the companies to submit the results of their own testing. Incidentally, even this level of regulation is more rigorous than that in the USA where there is self-regulation and the FDA would not have required any such documentation, just a notification of the impending release of a new GM food crop.
There was also some query at the end of the "Response" document about the comments I have reportedly made about the CaMV 35 s promoter. According to (as it is claimed in the document) some unidentified activists (who keep popping up), I claimed that the transgenic potatoes behaved differently to non-transgenic potatoes spiked with the transgene product because of the 35 s promoter.
I am now going to quote from our Lancet paper: "The possibility that a plant vector in common use in some GM plants can affect the mucosa of the gastrointestinal tract and exert powerful biological effects may also apply to GM plants containing similar constructs, particularly those containing lectins..." Or as in the Abstract: "Other parts of the construct or the genetic transformation (or both) could have also contributed to the overall biological effects..." Perhaps, after all it may have been useful to include the Lancet paper in the list and quote its Abstract to prevent any misunderstandings. One thing is, however, crystal clear that any mentioning of the 35 s promoter was conspicuously absent from the paper even though that construct would have, of course, contained the promoter too. However, a scientist can only refer to facts revealed by his/her studies and not, as it is often found nowadays, to his/her opinions.
Finally, as referred to above, I do not necessarily agree with the view that we found no potentially detrimental effects with our GM peas. We are back to the old claim by the GM protagonists that as there is no proof that human health is affected by GM food, it must be safe! According to this line of argument, the only thing the GM biotech industry needs to do in future is not do any testing as then the myth of the safety of GM food will be maintained for eternity. I am sure, to judge by present standards, that they are well on their way to achieving this.