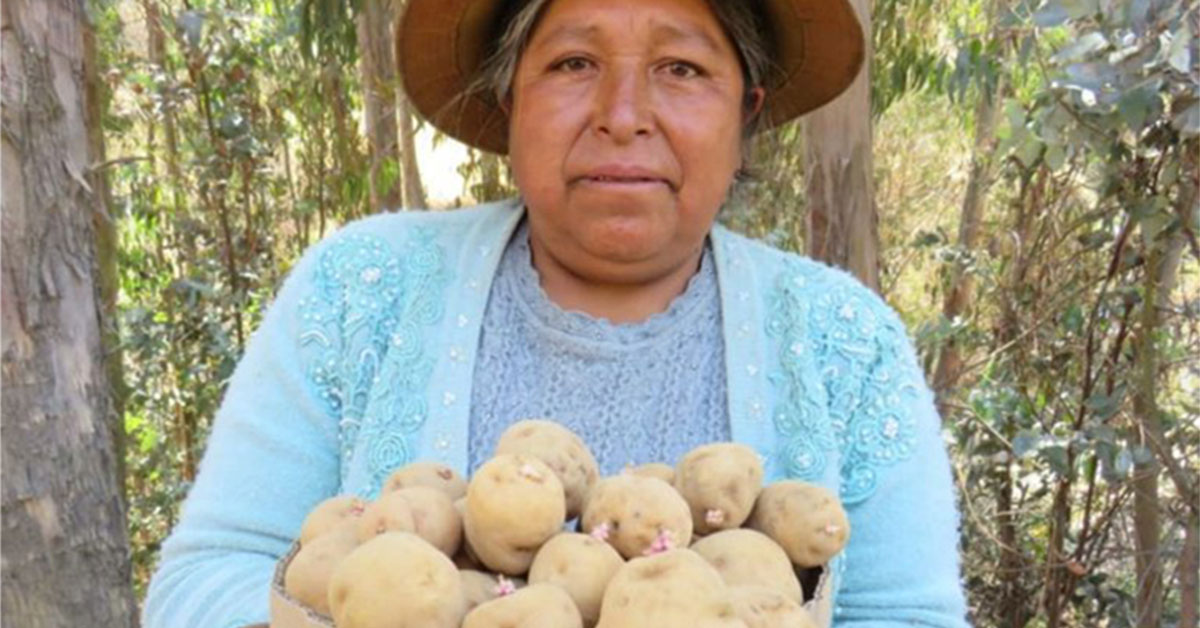 Leading ag journalist hails plant breeding breakthrough, saying it "flies in the face" of Monsanto. Report: Jonathan Matthews and Claire Robinson
When Boris Johnson used his very first speech as prime minister to promote GM crops and support their deregulation, he did so by proclaiming, "Let's develop the blight-resistant crops that will feed the world."

His focus on blight was no accident. Overcoming this devastating crop disease is regarded as something of an agricultural holy grail, particularly among tomato and potato growers. The international potato sector loses billions of euros' worth of crops every year to late blight.

But Johnson also focused on this fungus-like disease because UK researchers have been developing a GM blight-resistant spud that has been spun as a breakthrough that was only made possible by genetic engineering.

Media outlets have lapped this up, particularly as press releases rarely resist pointing out that late blight isn't just a scourge of modern potato growers but was one of the major causes of the Irish potato famine. This has generated headlines such as Potato developed to beat blight behind Irish famine and Scientists develop GM potato that's immune to Irish famine fungus.

What this "GM-will-feed-the-world" UK media coverage almost never acknowledges is that blight resistant potato cultivars already exist, including Athlete, Alouette, Carolus, and most notably the various Sarpo cultivars, including Sarpo Mira, which is claimed to have "probably the highest resistance to late blight known".
Farming press welcomes new blight resistant potato
But now, thanks to some clever media work on World Food Day by the Crop Trust and the International Potato Center (CIP), some media attention, at least from the farming press, has finally been garnered for a non-GMO disease-free blight-resistant potato, named CIP-Matilde, which has been developed by international breeders in collaboration with farmers in Peru.

Outlets like Potato News Today, PotatoPro, SpudSmart and Agriland all enthused about this new variety's inherent resistance to late blight, which was developed by farmers, breeders, and scientists in Peru by identifying wild potatoes with resistance to disease and incorporating this resistance into cultivated varieties, via a process known as pre-breeding.*
Leading ag journalist hails important breakthrough
An agricultural journalist who has waxed particularly lyrical about the new blight-resistant potato is Richard Halleron, a past chairman of the Northern Ireland Institute of Agricultural Science, as well as a former chairman of the Guild of Agricultural Journalists in Northern Ireland. Like anyone knowledgeable about potato growing in Ireland, Halloran is keenly aware of the importance of blight resistance for growers dealing with damp conditions. And in his article for Agriland, he hailed the new potato as "one of the most important breakthroughs within the field of agricultural science in living memory".

He wrote, "What makes this development all the more memorable is the fact that it has been achieved without the use of genetic modification (GM) and/or genomic editing. It truly was a case of plant breeders seeking out the native potato strains that they needed in Peru, and taking the project on from there."

Halleron continued, "The coming years will see if the claims made by the plant breeders for the new potato variety can be verified on a truly commercial scale in countries around the world. One of the most significant aspects to the work undertaken, has been its total dependence on the plant biodiversity that exists in Peru. If ever the world needed proof that we do away with native species and the vast diversity within the natural world that is all around us at our peril, this is it."
Breeding success "flies in the face" of Monsanto
Halleron, who is an agricultural chemist by background, said that the plant breeding breakthrough "flies in the face of the likes of Monsanto, which seems to think that GM is the answer to all our problems".

And in a striking statement, he added, "In truth, I am fast coming to the conclusion that GM and all other related sciences could be creating long-term issues for humanity – many, or all of which, could prove very difficult to step back from."
Netherlands-based breeders also producing non-GMO varieties
Breeders based in the Netherlands have also come up with new late blight-resistant non-GMO potato varieties that could be on the market as early as next year.

These can be added to the existing portfolio of Sarpo's strongly blight-resistant potato varieties noted above. And for many more examples of successful disease resistance breakthroughs with non-GMO crops, including potatoes, see the GMWatch database of non-GM successes in solving precisely the kind of problems (e.g. drought resistance, salt resistance, biofortification, etc.) that GM proponents often claim only genetic engineering can provide the answer to.

Given that non-GM breeding is also generally much cheaper and has far greater public acceptance, this all raises the question as to why so much time and money gets poured into trying to develop GM versions in the first place. The answer is that politicians like Boris Johnson have long been bewitched by the hype around GM crops. Johnson has been led to believe that the UK can achieve a competitive advantage by bolstering research institutes in this sector and relaxing regulatory checks. And, of course, GM crops are easy to patent and large profits can be generated from the resulting "intellectual property".
Global relevance and climate resilience
According to Thiago Mendes, a potato breeder at the International Potato Center (CIP), although the blight resistant CIP-Matilde was developed specially to suit the potato growing conditions and consumer preferences in Peru's Central Andes, it and other shortlisted candidates could also be used as parents by breeding programmes in other countries for the development of locally adapted, late-blight resistant varieties. He explains that while working toward the release of CIP-Matilde, CIP shared late blight-resistant potatoes with national partners in several African countries for use in the development of their own new varieties.

Mendes said, "Those potential breeding parents are conserved in the CIP genebank, which can share them with a potato breeding program in any country under the Plant Treaty for use in developing late-blight resistant varieties."

The CIP is also using wild relatives of the potato to breed climate-resilient varieties.
Boris Johnson – and all those in thrall to the supposed promise of gene editing and older-style GM techniques – should take note of these developments and shift their political support to food and farming solutions that are proving genuinely worthwhile.


* According to this website, "Using crop wild relatives (CWR) in crop improvement is much more difficult than breeding with domesticated varieties. Pre-breeding aims to isolate desired genetic traits (e.g. disease resistance) from unadapted material like CWR and introduce them into breeding lines that are more readily crossable with modern, elite varieties. Pre-breeding broadens the elite genepool by re-capturing lost beneficial genetic diversity."

Image: Farmer Marilus Cardenas holds CIP-Matilde tubers. CIP/J Huanai