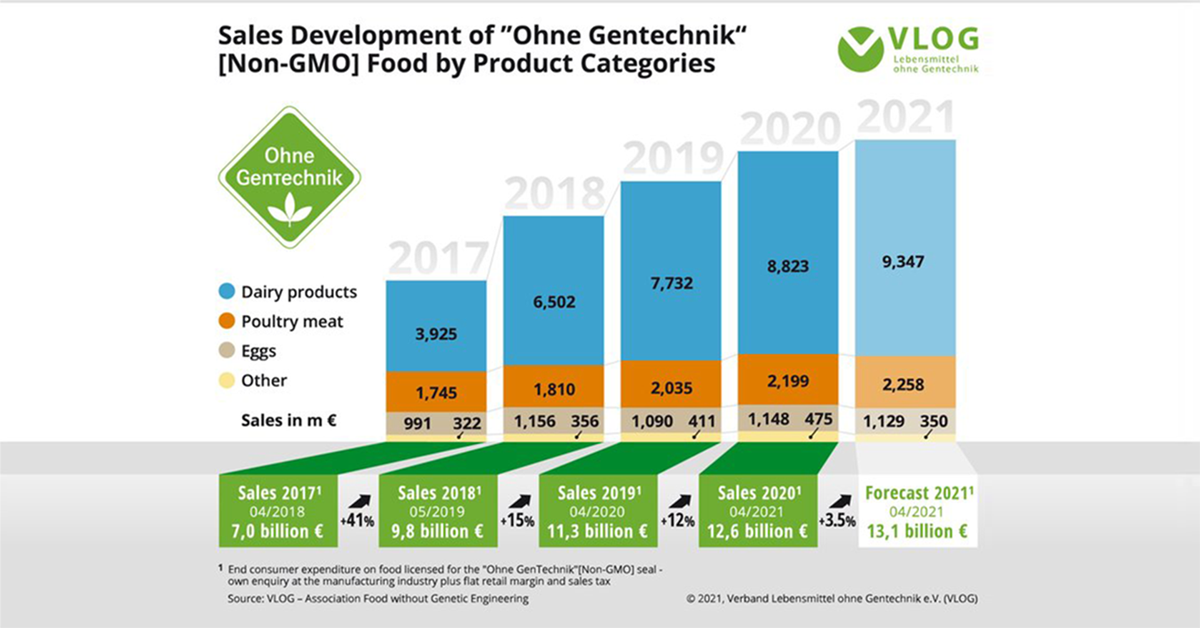 Non-GMO industry association demands ongoing transparency and labelling for new GM products
In 2020, consumers in Germany spent around 12.6 billion euros on products with the "Ohne GenTechnik" (Non-GMO) label, an increase of more than 12 percent. The market share in food is thus around 5.4 percent. To secure this success in the long term, new GMOs must also remain regulated as GMOs, says the German non-GMO industry association VLOG. After the publication of the EU study on the topic next week, the debate is likely to gain steam.
"In the last ten years, 'Ohne Gentechnik' (Non-GMO) products have gained a firm place on grocery shelves and in shopping baskets. Consumers value the absence GMOs in food products highly. By this, they explicitly also mean new GMOs from new methods such as CRISPR, as recent surveys show," comments VLOG Executive Director Alexander Hissting.
New GMOs also have to remain regulated, control must eventually be implemented
With regard to the announced EU study on the regulation of new GMOs, he warns: "For consumers, the agricultural and food sector and retailers, it is therefore essential that gene editing, CRISPR and the like continue to be considered GMOs in the EU without exception. Otherwise, there would no longer be any transparency and labelling would become almost impossible. GMOs are GMOs, consumers view this in the same way as Europe's highest judges. In order to enforce this regulation and exclude illegal GMO imports, the authorities must eventually use detection methods. That this is possible was shown by VLOG together with other organisations in 2020 with the Cibus test."
Further increase in sales expected
Milk and dairy products accounted for the largest share of the €12.6 billion consumer spending on "Ohne Gentechnik" (Non-GMO) products again in 2020 with €8.8 billion (70 per cent). Poultry meat products accounted for 2.2 billion euros (17 per cent), eggs for 1.1 billion euros (9 per cent) and other products for 0.5 billion euros (4 per cent). The figures are based on information provided by the licensees of the "Ohne GenTechnik" label plus a flat trade margin and VAT. Based on the forecasts of the current licensees alone, VLOG expects the "Ohne Gentechnik" sales to increase by at least another 3.5 percent in 2021.
The legal basis for the "Ohne GenTechnik" label is the German law "EG-Gentechnik-Durchführungsgesetz (EGGenTDurchfG)". In 2009, the then Federal Minister of Agriculture Ilse Aigner had the unique "Ohne GenTechnik" label designed. In 2010, she transferred its licensing and control exclusively to VLOG.
The German Association for Food without Genetic Engineering (Verband Lebensmittel ohne Gentechnik e.V., VLOG) represents about 750 food producers and traders as well as the preceding and following sectors of food production. It issues licences for the unique "Ohne GenTechnik" seal for food produced without genetic engineering. The product database now contains over 15,500 entries.

Source: VLOG
https://www.ohnegentechnik.org/en/news/article/ohne-gentechnik-grows-preserve-transparency