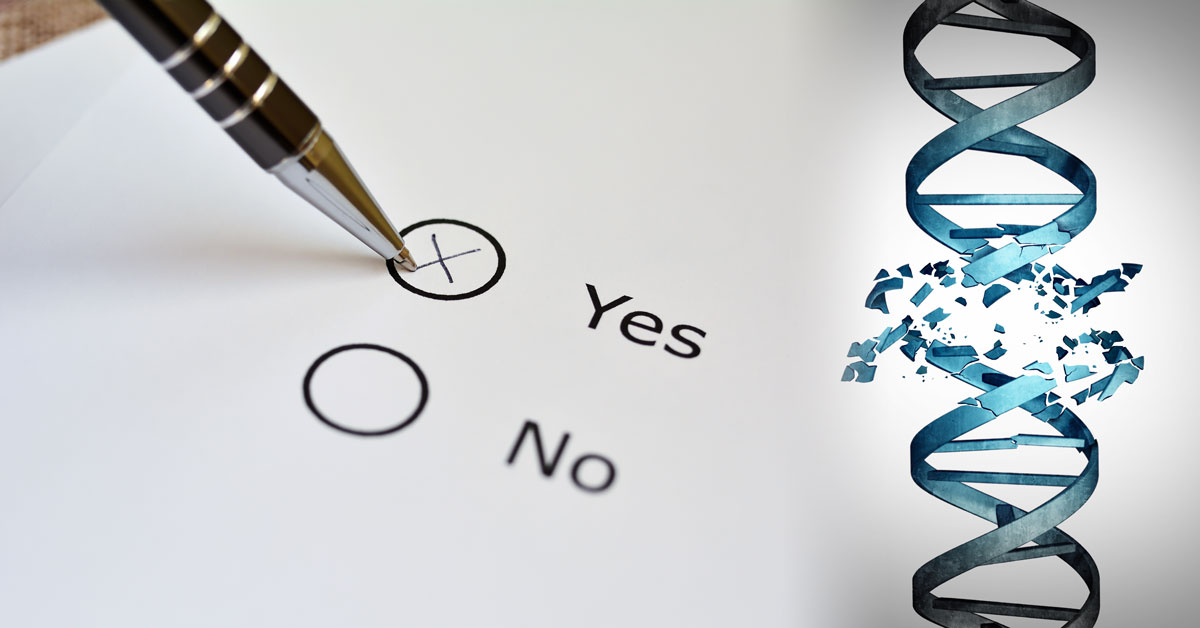 DEFRA circulates false and misleading propaganda
The UK government has launched its public consultation on the deregulation of gene editing in England. Deregulation means there would be no or few safety checks and probably no GMO labelling for gene-edited products, even though scientists warn that they could be dangerous for human health and the environment.
 
The plans for the consultation were set out today by Environment Secretary George Eustice in his speech at the Oxford Farming Conference. Eustice told the conference:
 
"Gene editing has the ability to harness the genetic resources that Mother Nature has provided, in order to tackle the challenges of our age. This includes breeding crops that perform better, reducing costs to farmers and impacts on the environment, and helping us all adapt to the challenges of climate change.
 
"Its potential was blocked by a European Court of Justice ruling in 2018, which is flawed and stifling to scientific progress. Now that we have left the EU, we are free to make coherent policy decisions based on science and evidence. That begins with this consultation."
Hastily thrown together notice
Beyond GM reported: "Yesterday, NGOs and other stakeholders received only the most hastily thrown together heads-up of the consultation, which will run for 10 weeks until 17 March.
 
"What is clear is that the government has an agenda and is determined to see that through. In a DEFRA briefing yesterday attendees, including Beyond GM, were told that deregulation of genome editing was seen as a key way to 'incentivise more sustainable agricultural practices' and that as soon as practicable after the end of the consultation period the government would be looking for ways to make changes in the way we define GMOs in England."
 
Beyond GM added: "Is the timing of the consultation incidental or deliberate? It's hard to tell. With the entire country on lockdown and people worried about their jobs and their health, the government may be banking on the fact that the public already has a lot on its plate and anticipating a low response rate from 'average people', which it will be free to interpret as permission to deregulate.
 
"It may be hoping, too, that the mendacious propaganda material on the benefits of genome editing – a shameful low point even for DEFRA – which was sent to journalists throughout the country yesterday, will be widely taken up as fact, preventing any intelligent public debate during the consultation period."
DEFRA propaganda
The "mendacious propaganda material" – the DEFRA press release reproduced below – is, in GMWatch's view, a pack of lies from beginning to end. It makes unsubstantiated "jam tomorrow" claims that gene editing has the "potential to protect the nation's environment, pollinators and wildlife".

This ignores the unfortunate reality that the first gene-edited crop to be commercialised (Cibus's SU canola) is gene edited to survive being sprayed with toxic herbicides and that there is no gene-edited crop available anywhere in the world that offers environmental benefits.

DEFRA also claims that gene editing could produce crops resistant to pests, diseases and extreme weather – which is extremely unlikely as these are genetically complex traits that cannot be achieved by manipulating one or a few genes.

In reality, all the benefits that are being put forward for the gene-edited GM crops of the future are already available in the form of agroecological farming methods and high-performing conventionally bred crops. These are system-wide solutions for system-wide problems. But the UK government shows no interest whatsoever in encouraging wider rollout of these solutions.
DEFRA wrong-footed by Bayer
Scandalously, the DEFRA press release claims that gene editing is not genetic modification, even though it is most certainly genetic modification from the technical, scientific, and legal (in the EU) perspectives. DEFRA bases this claim on the assumption that "Gene edited organisms do not contain DNA from different species".

In fact, the EU and existing UK definition of a GMO does not depend on whether it contains foreign DNA. EU law defines a GMO as an organism in which "the genetic material has been altered in a way that does not occur naturally by mating and/or natural recombination". Gene-edited organisms fall under this definition, whether the UK government likes it or not.

And DEFRA is wrong to claim that gene-edited organisms don't contain foreign DNA. They can and do. This can happen intentionally (in the case of certain types of gene-edited organism) and unintentionally, as a result of the inherent inaccuracy and imprecision of gene-editing procedures (for an example of the latter, see the summary of Ono R et al (2019) here).

Even Bayer (which took over Monsanto) "has widened the definition of 'genetically modified'... to include gene editing". So DEFRA finds itself in the interesting position of holding an opinion on gene editing that is so extreme and marginal that one of the world's biggest developers of GMOs disagrees with it.

As for DEFRA's claim that gene-edited organisms only contain "changes that could be made more slowly using traditional breeding methods", we look forward to their proof that the unintended outcomes of gene editing listed here and here could happen in traditional breeding. They include large deletions, insertions, and rearrangements of DNA, as well as unintended incorporation of foreign DNA and entire genes.
Advice to the public
Beyond GM's advice to concerned members of the public is as follows:

"All is not lost. We believe the government has badly miscalculated this, that the contempt it has shown for open debate and the views of citizens is likely to backfire, and that we have a reasonable amount to time to make an impact on this issue.
 
"The consultation document itself is not long. If consists of two parts with a handful of questions each. We invite you to download the document first and become familiar with the questions before responding. You can do that here (scroll to the bottom of the page under 'related').
 
"The consultation and proposed changes only cover England but we encourage people in Scotland, Wales and Northern Ireland to take part because a) the devolved nations hold a lot of power in this discussion, and b) any changes to English law on GMOs would impact all parts of the UK.

"We will be working with GM Freeze to support and coordinate responses to this key consultation. We are currently finalising materials to help everyone respond strategically and effectively in as much or as little depth as they have time and energy for. The key thing is that we do respond en masse. We will be in touch early next week with links for these materials and tips on how to respond effectively which we hope will make your life easier."
---
Gene editing creates potential to protect the nation's environment, pollinators and wildlife
Press release
DEFRA, 7 Jan 2021
 
* Consultation on future of gene editing to be launched by Environment Secretary at Oxford Farming Conference
* Government to work with farmers and environmental groups to maintain highest food safety standards while supporting the production of healthier food.
* Environment Secretary pays tribute to the industry's efforts over the last 12 months and their response to current challenges.
 
Plans to consult on gene editing – which could unlock substantial benefits to nature, the environment and help farmers with crops resistant to pests, disease or extreme weather and to produce healthier, more nutritious food – will be set out today by Environment Secretary George Eustice in his speech at the Oxford Farming Conference.
 
The way that plants and animals grow is controlled by the information in their genes. For centuries, farmers and growers have carefully chosen to breed stronger, healthier individual animals or plants so that the next generation has these beneficial traits - but this is a slow process.  
 
Technologies developed in the last decade enable genes to be edited much more quickly and precisely to mimic the natural breeding process, helping to target plant and animal breeding to help the UK reach its vital climate and biodiversity goals in a safe and sustainable way.
 
Gene editing is different to genetic modification where DNA from one species is introduced to a different one. Gene edited organisms do not contain DNA from different species, and instead only produce changes that could be made slowly using traditional breeding methods. But at the moment, due to a legal ruling from the European Court of Justice in 2018 gene editing is regulated in the same way as genetic modification.
 
The consultation announced today will focus on stopping certain gene editing organisms from being regulated in the same way as genetic modification, as long as they could have been produced naturally or through traditional breeding. This approach has already been adopted by a wide range of countries across the world, including Japan, Australia and Argentina.
 
Government will continue to work with farming and environmental groups to develop the right rules and ensure robust controls are in place to maintain the highest food safety standards while supporting the production of healthier food.
 
Speaking at the Oxford Farming Conference today (Thursday), Environment Secretary George Eustice will say:   
 
"Gene editing has the ability to harness the genetic resources that mother nature has provided, in order to tackle the challenges of our age. This includes breeding crops that perform better, reducing costs to farmers and impacts on the environment, and helping us all adapt to the challenges of climate change.
 
"Its potential was blocked by a European Court of Justice ruling in 2018, which is flawed and stifling to scientific progress. Now that we have left the EU, we are free to make coherent policy decisions based on science and evidence. That begins with this consultation."
 
Consulting with academia, environmental groups, the food and farming sectors and the public is the beginning of this process which, depending on the outcome, will require primary legislation scrutinized and approved by Parliament.
 
Professor Robin May, the Food Standards Agency's Chief Scientific Advisor, welcomed the consultation and said:
 
"The UK prides itself in having the very highest standards of food safety, and there are strict controls on GM crops, seeds and food which the FSA will continue to apply moving forward.
 
"As with all novel foods, GE foods will only be permitted to be marketed if they are judged to not present a risk to health, not to mislead consumers, and not have lower nutritional value than existing equivalent foods. We will continue to put the consumer first and be transparent and open in our decision-making. Any possible change would be based on an appropriate risk assessment that looks at the best available science."
 
Sir David Baulcombe, Regius Professor of Botany in the Department of Plant Sciences at the University of Cambridge, said:
 
"The overwhelming view in public sector scientists is that the Nobel Prize winning methods for gene editing can accelerate the availability of crops and livestock for sustainable, productive and profitable agriculture. I welcome the DEFRA consultation that will help with a broader assessment of gene editing as an appropriate technology in agriculture."
 
Aside from gene editing, the consultation will also begin a longer-term project to gather evidence on updating our approach to genetic modification by gathering information on what controls are needed and how best to deliver them. We want our regulations to be in step with the current science and the knowledge we have learned from 30 years of existing regulation.
 
The consultation will run for ten weeks from Thurs 7th January to Weds 17 March at 23:59. The full consultation document will shortly be available here on Citizen Space when published at 00:15 and applies to England only.
 
During his speech at the Oxford Farming Conference, the Environment Secretary is also expected to pay tribute to the farming industry after a challenging year and note the beginning of the Agricultural Transition Period announced in November.  
 
NOTES TO EDITORS

The use of genetic technologies in agriculture is a topic which has attracted high levels of public interest in the past. A short explainer document is linked to a Dropbox here: https://shwca.se/gene_editing_consultation

The consultation will go live at 00:15 on 7 January 2021 and will close on Weds 17 March at 23:59.