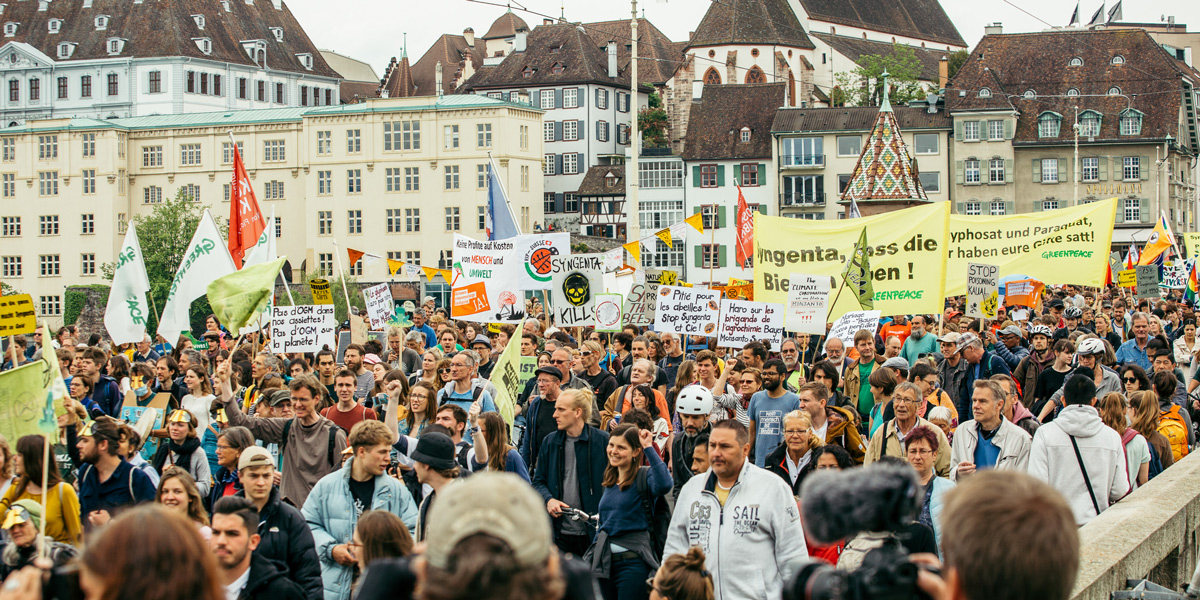 "Transition to sustainable agriculture is more urgent than ever"
On 18 May 2019, a demonstration for a revolution in agricultural paradigms and against Bayer and Syngenta took place in Basel for the fifth year in a row. Over 2000 participants loudly demanded the implementation of real climate protection measures. Syngenta is based in Basel.

The demonstration moved through the town to Syngenta's headquarters and was accompanied by street artists, musical contributions and children dressed as bees. Bayer's takeover of Monsanto makes the corporation a leading player in the pesticide market. The event, formerly known as the March against Monsanto and Syngenta, has changed its name accordingly to the March Against Bayer and Syngenta.

At the centre of this year's march lay the influence of agriculture on the present climate catastrophe and the massive insect die-off. Industrial agriculture is responsible for over 30% of worldwide carbon emissions. The production and excessive use of fertilizers leads to biodiversity destruction. "Industrial agriculture, in which Syngenta is a market leader, heftily accelerates global climate change," said Nicole Gisler, speaker for the Climate Alliance.
No to pesticides and industrial agriculture
In the last 30 years, the amount of flying insects has decreased by 75%. Industrial agriculture, with its extensive monocultures and pesticides, is one of the main causes of this insect die-off. In this way the industry is destroying our entire ecosystem and endangering our survival. "In 2017, no corporation has made more money with highly dangerous pesticides than the Basel-based multinational Syngenta – approximately 3.9 billion dollars," said Jonas Schälle, spokesperson for the social justice association, Public Eye.

A press release issued by the March Against Bayer and Syngenta said, "The modern industrial agricultural system devours massive amounts of fossil energy, overuses and poisons groundwater reserves, erodes soil and destroys biodiversity. Its pesticides kill 200,000 people a year, according to UN-funded expert reports. This poisoning and exploitation mainly takes place in the global south – the profits flow to the north, to Basel. Here, at Syngenta's headquarters, responsibility must be taken."

The press release added, "The transition to sustainable agriculture is more urgent than ever."

Judith Reusser, spokesperson for SWISSAID, said, "Influenced by the seed industry, politicians pass restrictive seed laws, which benefit the corporations first and foremost. These aspirations endanger the food sovereignty of small farmers."
Over 50 organisations demand a transition
The March Against Monsanto and Syngenta in Basel was supported by over 50 organisations from Switzerland and southern Germany. Among these were Basel-based trade unions, the Greens, and numerous environmental, agricultural and development organisations, such as Greenpeace, BUND, Uniterre and SWISSAID.
Source: The March Against Bayer and Syngenta