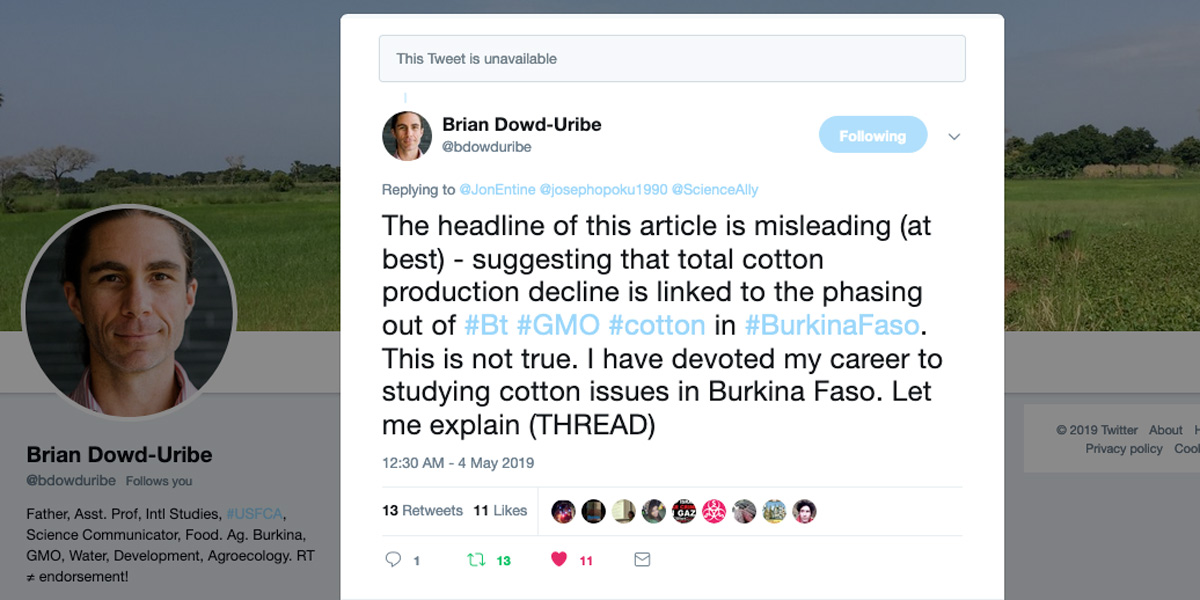 Expert debunks GMO hype by Cornell Alliance for Science, Genetic Literacy Project
An expert in international development and agroecology has debunked claims by the Cornell Alliance for Science that cotton production in the African country of Burkina Faso has declined due to its renouncing GM Bt cotton.

Writing on his Twitter account,* Brian Dowd-Uribe, assistant professor of international studies at the University of San Franciso and an expert on GM crops in Burkina, responded to claims made by Joseph Opoku Gakpo of the Cornell Alliance for Science on the website of the Genetic Literacy Project.

Both organisations are notorious mouthpieces for the GMO industry.

Burkina Faso phased out GM Bt cotton in 2017 due to its poor fibre quality.

Gakpo's article was titled, "Burkina Faso cotton production plummets after phasing out insect resistant Bt GMO crop".

But Prof Dowd-Uribe commented, "The headline of this article is misleading (at best) – suggesting that total cotton production decline is linked to the phasing out of Bt GMO cotton in Burkina Faso. This is not true. I have devoted my career to studying cotton issues in Burkina Faso.

"Let me explain.

"A number of issues contributed to the fall of cotton production in Burkina Faso this past year - and ... they have nothing to do with the phasing out of Bt cotton.

"Farmers were under the impression they were going to receive a 14 billion FCFA [Central Africa 'Financial Cooperation in Central Africa' franc] payment from the government to incentivize cotton growing.

"But 9 billion of that came in already promised money for an input subsidy – leaving only 6 billion (or 11 FCFA per kilo) to be given to cotton producers. This angered farmers and led them away from cotton."

Prof Dowd-Uribe explained that in addition, farmers received fertilizers of very poor quality which were less effective than normal, yet they went into debt to purchase them from the cotton company: "This further angered cotton producers."

Prof Dowd-Uribe continued, "On top of these issues, there is increasing competition from a number of viable cash crops: maize, cowpea and sesame, which don't have the [same] high labor demands, high input demands, and high bureaucratic issues as cotton.

"Essentially none of these explanations are in this article. Rather the author and organizations publishing this research would like to attribute Burkina Faso's recent cotton production decline to the lack of GM cotton. This is simply not true."

GMWatch is encouraged to see how quickly some of the promotional narratives of the GMO lobby are being shot down by experts soon after they emerge.


* GMWatch has slightly edited Prof Dowd-Uribe's comments to remove Twitter hashtags and obvious typos.