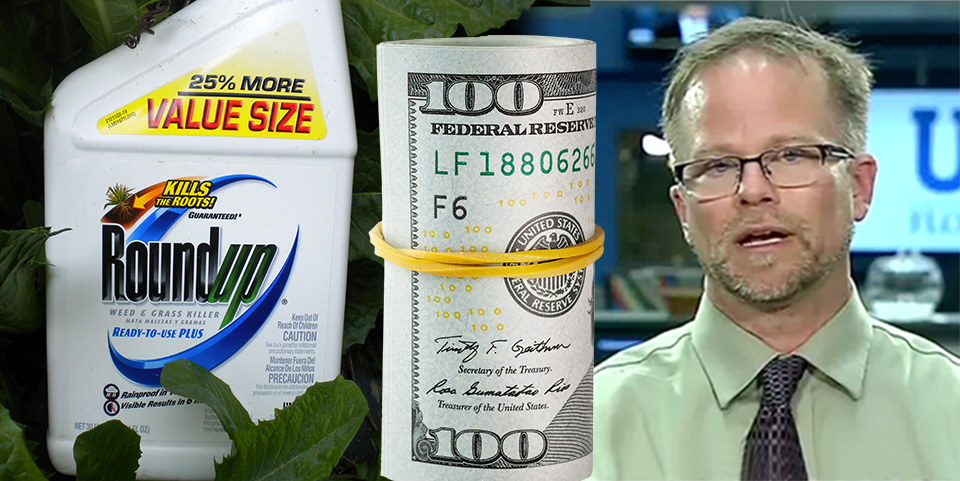 GMO promoter Folta sued the NYT and Lipton for reporting his ties to Monsanto
A US federal judge has dismissed a lawsuit brought by GMO-promoting scientist Kevin Folta against the New York Times and its Pulitzer Prize-winning reporter Eric Lipton.

Folta sued the NYT and Lipton for reporting his ties to Monsanto. Folta claimed they defamed him with a 2015 front-page article that described how Monsanto enlisted academics to oppose the labelling of GM foods.

Lipton tweeted, "Nearly two years after I was sued – the first time in my career – for a story I did in 2015 about lobbying by GMO & organics industry related to GMO foods, a federal court judge in Florida today dismissed the case against me & The NYT."
Lawsuit documents
Amended complaint (10/5/2017)

NYT motion to dismiss (10/19/2017)

Federal judge denied Folta's motions to compel discovery, calling some of the requests "downright silly" and "laughable" (5/11/2018)

NYT and Eric Lipton motion for final summary judgment (7/25/18)

Folta's amended opposition to motion for summary judgment (8/16/18)

Order granting defendants' motion for final summary judgement (2/27/19)
Details of the lawsuit
According to US Right to Know's updated factsheet (sources for the statements that follow can be accessed on that page), Folta's lawsuit claimed the defendants "misrepresented him as a covertly paid operative of one of the largest and most controversial companies in America, Monsanto", and that they did so in order to "to further their own 'anti GMO' agenda". According to Folta's lawsuit, Lipton "has almost singlehandedly silenced the scientific community from teaching scientists how to communicate".

The lawsuit claimed that Folta "never received" an "unrestricted grant" from Monsanto and that he "never received any form of grant, and never received support for him to 'travel around the country and defend genetically modified foods.'" However, documents show that Monsanto provided Folta with, in their words, "an unrestricted grant in the amount of $25,000 which may be used at your discretion in support of your research and outreach projects."

Emails indicate that Monsanto donated the money in response to a 9-page proposal from Folta, in which he asked Monsanto for $25,000 to fund his "three tiered solution" to the "biotech communications problem." Proposed activities included traveling each month to a major domestic university to promote GMOs. The money was donated to a food bank after the documents became public.

Folta's lawsuit also claimed (point 67), "Dr. Folta does not discuss industry products of any sort, he teaches broadly about technology." Yet he has vouched for the supposed safety of Monsanto's RoundUp, going so far as to drink the product "to demonstrate harmlessness." He has also said he "will do it again".

In a Sept. 29, 2015 email, Janine Sikes, University of Florida Assistant Vice President of Public Affairs, wrote to a colleague about Lipton's NYT story: "for the record I thought the story was fair".

The NYT and Eric Lipton made the following statements in response to Folta's lawsuit, in their July 2018 motion for final summary judgement:

"Mr. Lipton relied on Plaintiff's own email communications, which were provided to him by UF in response to a public records request. While it may be that Plaintiff, a self-described "public" scientist, would rather not have his associations with industry giants like Monsanto examined, accurate reporting on the records documenting those associations cannot form the basis for a defamation lawsuit." (Page 1)

"Among other things, (Folta's) UF records documented: (1) Plaintiff's actions in securing a $25,000 "unrestricted grant" from Monsanto—that Plaintiff told Monsanto would not have to be publicly disclosed—to fund talks about GMO science, including the discussion of industry products; (2) Plaintiff's testifying before governmental bodies in favor of pro-GMO policies; (3) Plaintiff's interactions with industry, including numerous email communications with industry representatives providing his thoughts about lobbying strategy and describing his efforts to communicate GMO science to the public; (4) his posts for GMOAnswers, an industry-sponsored website; and (5) travel expenses paid by industry, including expenses related to his trip to Monsanto headquarters." (Page 7)
Folta repeatedly – and falsely – claimed no association with Monsanto 
Folta stated numerous times that he had no connection to Monsanto. Yet emails reported by The New York Times established that he was in frequent contact with Monsanto and their public relations allies to collaborate on activities to promote genetically engineered foods.

The emails indicate that Monsanto and allies set up media opportunities and lobbying activities for Folta and worked with him on messaging. In August 2014, Monsanto informed Folta that he would receive $25,000 to further his promotional activities. The email exchanges suggest a close collaboration:

In July 2014, a Monsanto executive praised Folta's grant proposal and asked four other Monsanto executives to provide feedback to improve it. He wrote, "This is a great 3rd-party approach to developing the advocacy that we're looking to develop."

In August 2014, Folta responded to the acceptance letter for his grant, "I'm grateful for this opportunity and promise a solid return on the investment."

In October 2014, Folta wrote to a Monsanto executive, "I'm glad to sign on to whatever you like, or write whatever you like."

Just weeks after the grant details were worked out, in August 2014, Folta asserted that he had "no formal connection to Monsanto". He has also claimed he received "no research or personal funding" from "Big Ag", had "no financial ties to any of the Big Ag companies that make transgenic crops, including Monsanto", and had "nothing to do with MON".