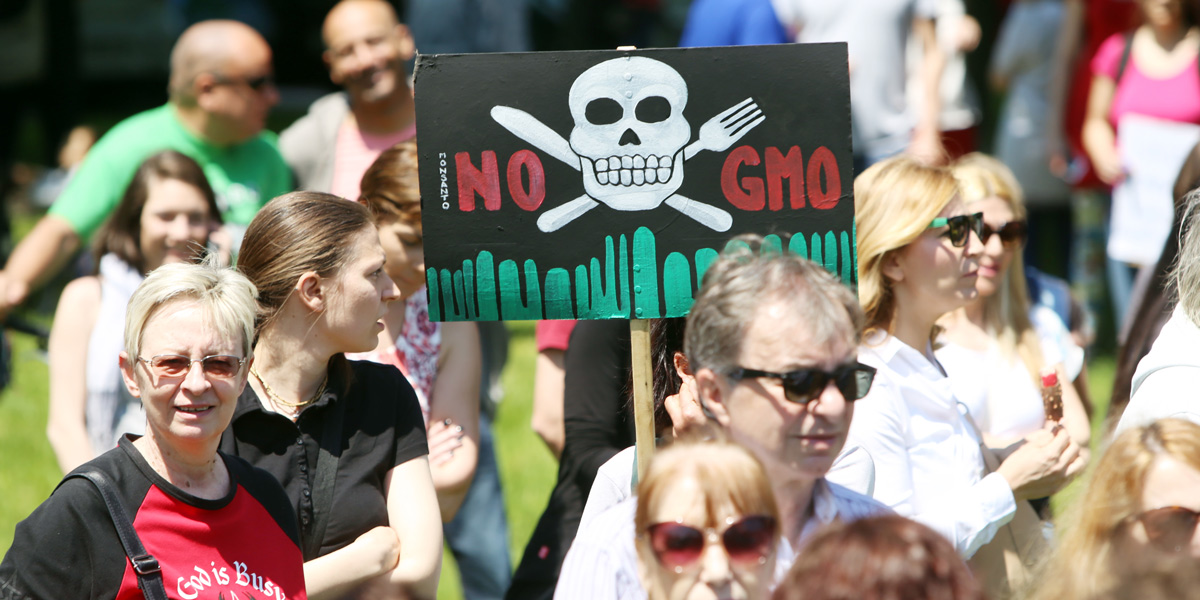 As Europe's universities shut down their GMO programmes, one researcher is quitting the field, blaming public hostility to GM. But in Part 1 of a two-part series, Claire Robinson says the real reason may be very different
Plant genetic engineer Devang Mehta is quitting GMO research and he wants us all to know why. In a long article subtitled, "Constantly confronting people who think my research will harm them is profoundly distressing", Mehta complains: "My time in GMO research creating virus-resistant plants has meant dealing with the overwhelming negative responses the topic evokes in so many people. These range from daily conversations halting into awkward silence when the subject of my work crops up, to hateful Twitter trolls, and even the occasional fear that public protesters might destroy our research."

Mehta, who is based at ETH Zurich in Switzerland, says he is not alone: "As many as a quarter of European universities have shut down their GMO research programs, some due to a loss of funding and others because scientists are leaving the GMO sphere, tired of the backlash and criticism".

This is a tragedy in Mehta's view, because he is convinced that GM technology can "help feed millions". He points to two GMO projects that he believes have fallen foul of lack of public acceptance. The first is the GMO golden rice project, launched by Ingo Potrykus at the same lab where he conducted his own PhD thesis research. GMO golden rice is engineered to express raised amounts of beta-carotene, a vitamin A precursor that can be converted to vitamin A in the human body. Golden rice, Mehta says, "has the potential to alleviate the problem of vitamin A deficiency".

The second project is the one that Mehta himself was working on, to "engineer better varieties of cassava for African and South Asian farmers". According to ETH Zurich's website, this project "focuses on the production of farmer-preferred cassava cultivars with increased resistance to cassava mosaic disease (CMD) and cassava brown streak disease (CBSD)". Mehta finds himself quitting the project "halfway through", which prompts him to feel "a measure of guilt at leaving this field of research".

According to Mehta's narrative, the ignorant masses, through their irrational anti-science attitudes, are responsible for preventing philanthropic genetic engineers from feeding the poor. But the facts tell a different story. They suggest that it's not public opinion but the failure of GM technology that has prompted scientists to leave the field.
In this article we'll look at Mehta's first example, GMO golden rice (cassava will be the subject of Part 2).

Mehta laments that 20 years after research began on golden rice, even thought it "has repeatedly passed regulatory safety testing", it is "still not available to the children who need it most".

But this claim is a double falsehood. First, no regulator on earth has subjected GMO golden rice to "safety testing"; neither have the developers carried out any meaningful tests. A very limited efficacy trial was carried out in which Chinese schoolchildren were fed golden rice to see if the beta-carotene it contained was converted efficiently to vitamin A. However, a controversy erupted when the researchers were found to have failed to obtain informed consent for the trial from the children's families. As golden rice had never been toxicity tested in animals first, this was not just a red-tape omission, but was dangerous and irresponsible. The researchers were sacked for breaching Chinese laws and ethical standards and the paper reporting their findings was retracted.

While the Australian/New Zealand and Canadian regulators have granted approval for golden rice to be used in food and feed (see below), the question of whether the food is safe to eat is addressed by the developers through theoretical arguments, not actual "safety testing" in live animals or humans, as Mehta seems to imply was done.
Golden rice development problems
Regarding Mehta's second point, GMO golden rice has been kept out of farmers' fields not by "negative press driven by anti-GMO activists" and "regulatory blocks which slowed down the adoption of the technology into rice varieties used by Asian farmers", as Mehta claims, but by repeated research and development problems. The most recent peer-reviewed published data on GMO golden rice describes an attempt to engineer the golden rice vitamin A trait into a high-performing Indian variety – a necessary step towards getting the crop released to farmers in a form they can use. The result was stunted and deformed plants and drastic yield loss.

The US anthropologist Glenn Davis Stone has confirmed that anti-GMO activism is not the reason why golden rice has failed to materialize as a viable crop. Stone says that even though the Philippines is the target country for golden rice's release, it has proved difficult to breed the golden rice trait into varieties that grow well in that country. He adds that the institute tasked with rolling out GMO golden rice, IRRI, is now supporting a scheme to promote traditional ''heirloom'' locally adapted landrace rice – the very types of rice that GMO golden rice sought to replace.

In contrast, Stone writes, the GMO golden rice programme is the epitome of a "disembedded and placeless" approach, "an invention of European biologists who used primarily American funding to insert DNA from scattered locations across the biological kingdoms to alter Green Revolution rice in order to treat malnourished children of Asia, partly to help fight a global public relations war". Meanwhile the Philippines, Stone adds, "has managed to slash its childhood VAD levels with conventional nutrition programs just as golden rice is being touted as the cure to an otherwise intractable problem".
Australia, New Zealand and Canada approve GMO golden rice
Golden Rice's failure is not contradicted by recent announcements that Australia, New Zealand and Canada have approved GMO golden rice for food use. Neither of the applications contain any data on the agronomic performance or yield of the crop, or on its efficacy in alleviating vitamin A deficiency. No animal feeding data are supplied to show that golden rice is safe to eat.

The Australia/New Zealand application was submitted to the food regulator FSANZ by the International Rice Research Institute (IRRI), the body tasked with the rollout of golden rice. IRRI states that it does not intend to apply for permission to cultivate golden rice, or GR2E, in Australia or New Zealand. It admits that its motive for applying for regulatory approval is that it anticipates that this GM rice will contaminate rice imports into those countries.[1] 

It's also likely that golden rice proponents will make good lobbying use of the "safety stamp" of approval by Canada, Australia and New Zealand to persuade the countries targeted for golden rice cultivation to skip doing their own safety evaluations.
FSANZ admits golden rice "unlikely" to help vitamin A deficiency
As there has been no safety testing of golden rice in animals or people for medium- or long-term effects, no one knows if it could turn out to be toxic or allergenic.

Those who believe that this risk is worth taking in exchange for people in developing countries being saved from vitamin A deficiency are in for major disillusionment. FSANZ's approval report for golden rice states that suppliers of golden rice are "unlikely" to be able to make any health or nutrition claims because "the amount of vitamin A (beta-carotene as retinol equivalents) will be insufficient to meet claim conditions" (my emphasis).

FSANZ adds, "To require a statement to the effect that the food has been genetically modified to contain vitamin A as beta-carotene could imply the food contributes a nutritionally significant amount of this vitamin, when the actual amount may be negligible, and therefore be potentially misleading" (my emphasis).

In answer to concerns about the potential health impact of ingesting additional vitamin A, which can be toxic to some people, FSANZ replied that it did address this issue and found that golden rice would provide an estimated increase in intake equivalent to the amount of beta-carotene from "1 teaspoon or less of carrot juice"!

These statements from the GMO regulator's own mouth make a nonsense of claims that GM golden rice is any sort of solution to vitamin A deficiency. But there's little chance that plain facts will stop GMO proponents touting golden rice as the saviour of the poor and hungry.
Beta-carotene a common molecule
No one needs to engineer beta-carotene into rice. It is one of the commonest molecules in nature and abounds in the indigenous fruits and vegetables of the target countries for golden rice – that's Bangladesh, Indonesia and the Philippines, according to FSANZ. The reason why some people in those countries are malnourished is not due to a shortage of beta-carotene-rich foods but because they are too poor to buy the nutritious foods that are available in every marketplace in the world, even in the poorest countries.

This raises a key problem with golden rice: farmers who grow it will need to be paid. How will the poor afford to buy it? And who will supply them with the dietary fat that they need to absorb the vitamin A?

Such questions are clearly far from Mehta's mind as he clings to his claim that the public, and not the failure of the technology, is to blame for the move away from GM in Europe.


Notes
1. IRRI (2016). Provitamin A Biofortified Rice Event GR2E: Application for Amendment to Standard 1.5.2 — Food Produced Using Gene Technology. "Rice varieties containing event GR2E are intended for cultivation and use in a number of south and southeast Asian countries. It is therefore anticipated that raw agricultural commodity and/or food products derived from GR2E rice varieties will enter the Australian and New Zealand food supply via imports from countries of production".