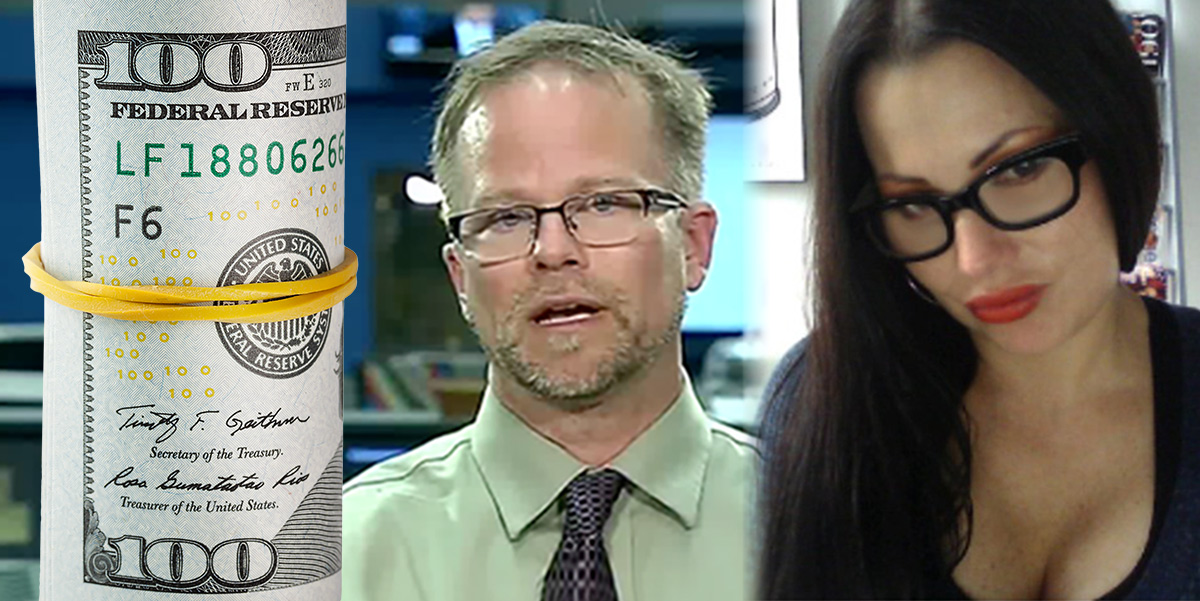 She alleges Folta was paid $400 an hour by Bayer
In another extraordinary development in the saga of Dr Kevin Folta, one of the most prominent defenders of glyphosate and GMOs, his own wife has accused him of trying to hide monies paid to him by corporations. Folta denies all her charges.
Folta is already suing the New York Times, and its two-time Pulitzer prize winning reporter Eric Lipton, for defamation over a front-page article that used Folta as a prime example of how some academics had become "actors in lobbying and corporate public relations campaigns". The article also accused him of not having disclosed the extent of his ties to Monsanto.
His estranged wife's intervention came after Folta told his followers in a blog that he was "going through a rather nasty divorce", having "put the nail in the coffin of a stale relationship that needed to end". In the original version of the blog he also delineated a series of actions by his wife that he objected to, commenting, "That's the tip of the iceberg, and it's amazing how evil people can be." This comment was later deleted.
His wife responded with her own blog post, entitled "Oh! What a tangled web we weave when first we practice to deceive". This post was also later deleted but an archived version is still available.
In the post, Roxanne Folta (formerly Porozinski), who blogs as "Skeptical Nurse", says of her husband, "When he cries out that he is a victim, that people are persecuting him, and he says he is not that guy that lies, cheats, etc., then he better not be that guy that lies, cheats, etc." She also accuses him of abusing his public platform "for his own ego massaging", and of throwing "his own pity party", all under the guise of "science communication".
She says, "I know what I know, and I know even more. I will tell my story and he can go on a smear campaign about me." She then says, "He is trying to hide funds. He has done consulting work in 2017 for Bayer at $400/hr and has not come forward with it during discovery and even if the consulting is not finished, he already has billable hours to date made during our marriage. These funds were to be paid to him personally, we had plans to pay off the reminder [sic.] of our mortgage and build a new home... These companies will be transparent during discovery as well: Monsanto/Bayer, McGill, Light Emitting Company, Syngenta, Simplot, etc."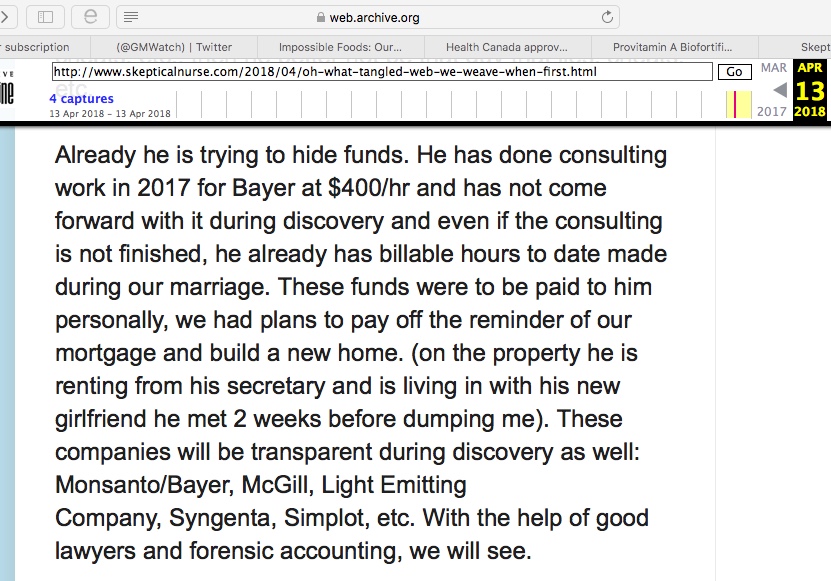 Beneath this, Mrs Folta reproduced a public statement about Kevin Folta's funding, and highlighted a section about "Consulting", which reads, "To date, Folta has declined opportunities for paid consulting and has performed such work at no charge as part of his job." The statement comes from a University of Florida webpage, current at the time that Mrs Folta posted her blog. It is clearly at odds with her statement that Folta has done paid consulting for Bayer.
She also provided screenshots of a Monsanto cheque from 2014 that went to Folta's private residence, as an illustration of cheques she said "came to the house in his name", rather than going to the University of Florida, where Folta works.
Kevin Folta hit back forcefully on Twitter against his wife's accusations, denying any wrongdoing and saying that he had only been reimbursed for his costs. He also called his wife "truly evil and vindictive".

In addition, Folta claimed that his finances were completely transparent, referring to a publicly available spreadsheet as evidence – presumably this one (as of 19 April 2018, the spreadsheet has been deleted; it is unclear why), which lists who paid for his "outreach" expenses. This spreadsheet lists an outreach event in Colorado about a month before the date of the cheque from Monsanto in his wife's screenshot. According to the spreadsheet, Monsanto paid Folta's airfare, hotel stay and car rental.
Curiously though, given Folta's claims to exemplary transparency, this spreadsheet does not appear to have been updated to cover any events after September 2015. There is therefore currently no way of looking for any corporate payments in the last two and a half years.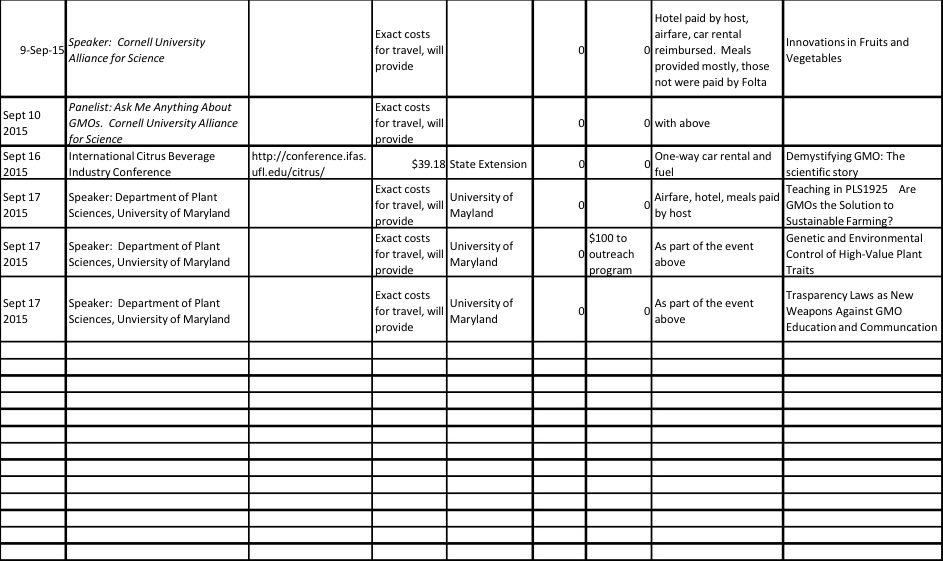 The spreadsheet, of course, covers only "outreach" and not paid consultancy. Whatever the truth of Roxanne Folta's now deleted accusations, there are many people who remain deeply suspicious of Folta's claims to transparency. After all, he only posted the details of his reimbursed expenses in the first place after becoming a "poster boy" for the problem of undisclosed conflicts of interest.
And how do we relate the screenshot of the cheque from Monsanto dated 13 October 2014 to what Folta told the Pennsylvania House of Representatives just seven days earlier – that in his outreach work he is always being asked, "'How much do you get from Monsanto?' And the answer is zero"? Folta must surely have known that that cheque was winging its way to him when he spoke to the Pennsylvania legislators.
And that's quite apart from the fact that it later emerged that Monsanto had given him an unrestricted grant of $25,000 back in August 2014, i.e. two months before he made the declaration about getting "zero". Incidentally, the slide that Folta was showing the Pennsylvania legislators, while telling them he had never had a dime from the company, was about his "outreach program" – exactly where he subsequently said the Monsanto money went.
Pennsylvania was no aberration. In June 2015, almost a year after he got the $25,000, not to mention the cheque for those expenses, Folta was still publicly proclaiming: "I have nothing to do with Monsanto." And that's despite his disclosed emails subsequently showing that he was working very closely indeed with the company and its PR people.
Finally, as Carey Gillam points out in her book Whitewash, keeping his Monsanto ties secret was always "part of the plan": "Folta suggested that Monsanto send its money to a programme within the non-profit University of Florida Foundation that would allow the funding to be hidden from public scrutiny." In Folta's own words to Monsanto, the fact that Monsanto's money would not be "publicly noted… eliminates the potential concern of the funding organization influencing the message".
Of course, the allegations of a woman deserted by her husband can't be given automatic credence, any more than the denials of a man who's repeatedly denied things that turned out to be true. And so it's impossible to be sure where the new claims of undisclosed payments, and a plan to pay off their mortgage with corporate monies, have come from. They could be purely fantasies, but given that rejected spouses can turn into whistleblowers, the allegations clearly need to be thoroughly investigated.
The investigative journalist Paul Thacker has also speculated about what Folta's wife's intervention may mean for Folta's suit against Eric Lipton and the New York Times. "I'm wondering if this means that Folta has misrepresented himself in court filing during his lawsuit," he tweeted. As Thacker says, only time will tell.


Report: Jonathan Matthews