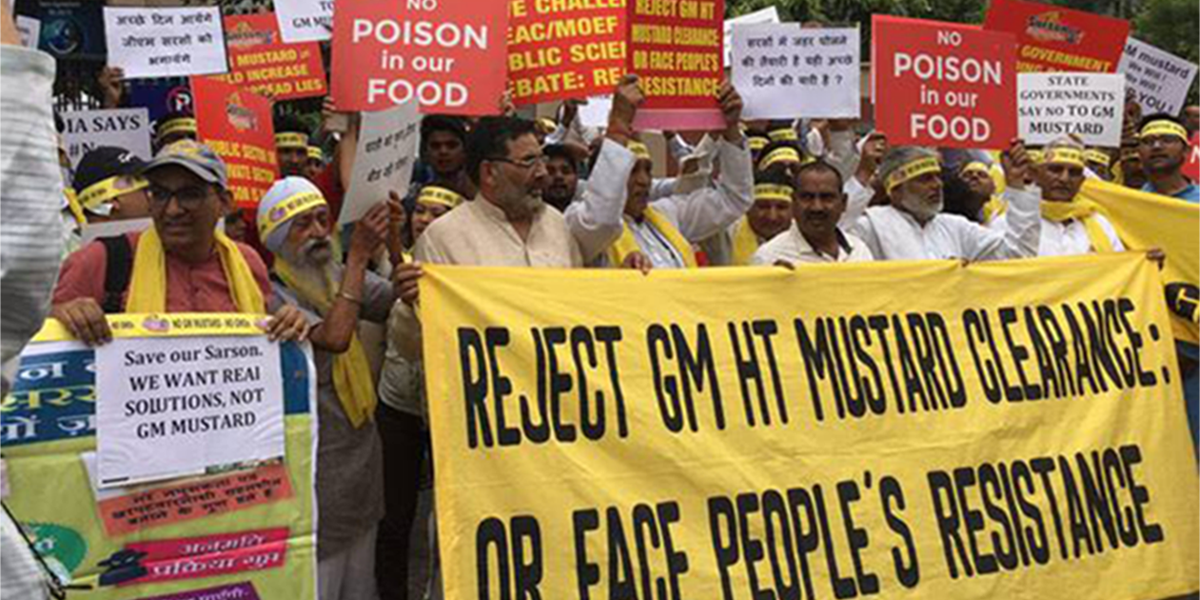 More than 100 organisations representing farmer unions, trade unions, civil society groups, and political parties are protesting the government's plans to commercially release GM mustard
EXCERPT: Yudhvir Singh, national coordinator of the Bharatiya Kisan Union (BKU) and member of Indian Coordination Committee of Farmers Movement said… "The farmers' problem is not production. We don't need GM technology because farmers can produce enough and more. Their problem is marketing and protection in the market. Because they don't get a fair price in the market, they are affected. Why isn't the government addressing that? Why is it focused on GM technology?"
—
We don't need GM Mustard, support us with better market price: Farmer groups
Jayashree Nandi
Times of India, Oct 25, 2016
http://timesofindia.indiatimes.com/india/We-dont-need-GM-Mustard-support-us-with-better-market-price-Farmer-groups/articleshow/55048380.cms
More than 100 organisations representing farmer unions, trade unions, civil society groups and political parties are protesting the government's plans to commercially release genetically modified (GM) Mustard. On Tuesday a large number of representatives from all of these organisations under the banner "sarson satygraha" gathered at Jantar Mantar to pledge and declare that they will continue to fight efforts to introduce GM crops in India.
Yudhvir Singh, national coordinator of the Bharatiya Kisan Union (BKU) and member of Indian Coordination Committee of Farmers Movement said "Farmers are here because they don't want to lose control over the seed. The traditional seeds will disappear from the market when GM Mustard is introduced. After introduction of Bt cotton, about 3,400 traditional varieties of cotton disappeared. They may be in the government's gene bank but not with farmers anymore," he said adding that "the farmers' problem is not production. We don't need GM technology because farmers can produce enough and more. Their problem is marketing and protection in the market. Because they don't get a fair price in the market, they are affected. Why isn't the government addressing that? Why is it focused on GM technology?"
Among national organisations—All India Agricultural Workers Union, All India Kisan Sabha, All India Trade Union Congress among trade unions, Bharatiya Kisan Union, Bharatiya Kisan Sangh, Jai Kisan Andolan, Kisan Ekta, Kisan Maha Panchayat, Kisan Sangharsh Samiti, Right to Food campaign , Rashtriya Swayam Sevak Sangh (RSS) affiliated Swadeshi Jagaran Manch are leading the movement. This apart there are farmers organisations from nearly all states. Farmers groups also have support from political personalities and parties. Earlier, Bihar CM, Nitish Kumar, Rajasthan CM, Vasundhara Raje, Kerala Agriculture minister, VS Sunil Kumar, Delhi water minister, Kapil Mishra, Pattali Makkal Katchi (PMK) leader, Ambumani Ramadoss, CPI secretary D Raja are among those who have either opposed the introduction of GM Mustard or made public remarks questioning the move.
On Tuesday, all the 120 or more organisations under Sarson Satygraha wrote to PM Narendra Modi explaining their concerns about GM Mustard. "The mustard hybrids already in the market obver the past decade did not increase the production and yield in the country or reduce oil imports. The area under mustard cultivation has actually been decreasing because farmers are finding it unremunerative due to market and climatic factors. Ensuring better market price will go a long way in increasing production..." it read.