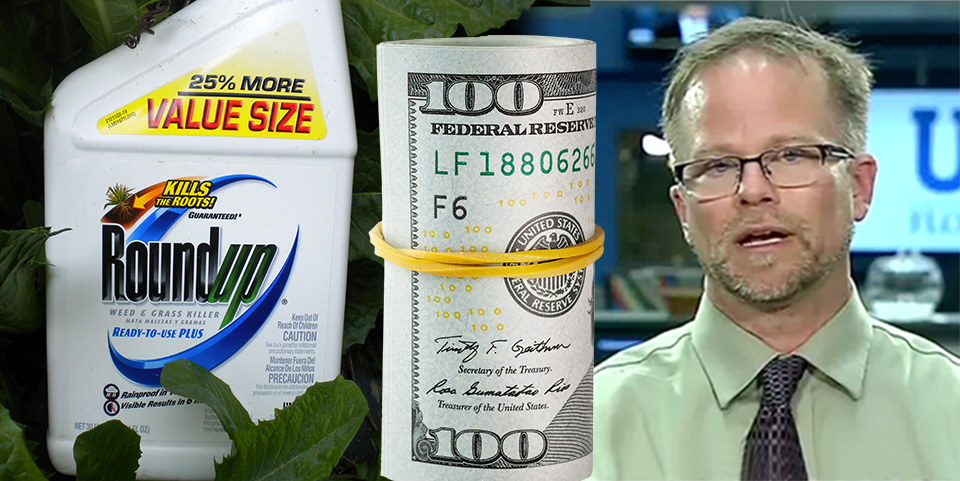 Here are a few of the unethical actions that GMO and pesticide promoter Kevin Folta has engaged in
Dr Kevin Folta of the University of Florida is one of the most prominent GMO and pesticide promoters in the United States, who as well as giving talks and writing articles has been very active on social media. He has even been given awards for his science communication. But he appears to have a serious problem with ethics, which has led to him making the front page of the New York Times, as well as prompting articles in a number of other publications. Here are some examples of the problem:

* Kevin Folta likes to present himself as completely independent of industry. Nearly a year after he got $25,000 from Monsanto for his pro-GMO outreach programme, Folta was still publicly proclaiming: "I have nothing to do with Monsanto." He even said as much to the Pennsylvania House of Representatives.

* In his pitch to Monsanto for their cash, Folta outlined exactly how it should be paid to him in order for it NOT to be "publicly noted"

* Folta put his name as a scientist to pieces ghostwritten for him by the biotech industry's PR firm Ketchum

* Although Folta has no known medical or toxicology background, he regularly pontificates on food and chemical safety as if he were an expert, often quite inaccurately

* In his promotion of Monsanto's Roundup herbicide he has not only made a series of false claims but, incredibly irresponsibly, has even drunk it publicly, supposedly to demonstrate its "harmlessness"

* Folta has repeatedly labelled scientists he disagrees with as fraudsters, charlatans and even morons, without producing any evidence to back up these attacks

* He has put into circulation fake graphics that contain malicious claims about other scientists

* He created a shady podcast alter ego and then interviewed people (including himself over the money he had obtained from Monsanto) without informing his listeners, or some of his guests, who he really was

* He promoted his wife as a nurse with expertise on diet and health, when she was not licensed as a nurse. This is not just unethical but illegal

* He has promoted himself on social media in a way that attracts a cult-like following, including followers who threaten and abuse his critics

But his employers, the University of Florida (UF), have defended Kevin Folta in the face of persistent criticism, and have shown no apparent concern about his behaviour beyond discouraging him for a limited period from engaging in social media. As the journalist Paul Thacker has asked of Folta's antics, "Can someone please explain to me why this is OK in academia?" The suspicion is that UF likes him because industry loves him, which helps bring in UF's substantial corporate donations.
US media coverage
Food industry enlisted academics in GMO lobbying war, emails show

In science, follow the money – if you can

Seed money: How Kevin Folta got entangled with Monsanto, created a shady podcast alter ego, and spurred a hot public debate over conflicts of interest in big ag