But the University of Florida professor fails to provide any evidence the claims are untrue
Kevin Folta has responded to accusations that he knowingly promoted the diet and health expertise of an unlicensed nurse, by condemning the criticism as "libelous" and the work of "evil people". But he has failed to rebut the charge that the person in question is not a nurse, yet calls herself one, and that he knew it.
The accusations first surfaced in a blogpost, Unhealthy Advice: The Mysterious Case of the Disappearing Nurse, by "Vixen Valentino". Valentino showed that the Twitter account (@askepticalnurse) and related blog that Folta was promoting belonged to Roxanne Porozinski, who has worked as a beautician and appears to have no nursing licence other than an expired one as a nursing assistant.
We publicised Valentino's blog and also pointed out that this so-called "nurse" not only belonged to clubs that Folta belonged to but has run a hairdressing business out of his house, making it highly unlikely that Folta didn't know she wasn't a licensed nurse when he promoted her as one.
When the veteran journalist Carey Gillam posted a link to our article on Twitter, asking what people made of it, Folta objected forcefully, saying this was not a case of "a fake nurse", as we had called it, but of "a professional protecting her privacy." And he warned Gillam, "This will not play well for you."
Folta also responded on Valentino's blog by arguing that Valentino should take down her blogpost because Roxanne Porozinski – alias @askepticalnurse – had been driven off social media by "evil people that revel in harming others."
But Valentino's explanation for some of Porozinski's social media accounts disappearing so suddenly seems far more credible – that it was a direct response to it being made public that Porozinski is not, in fact, a nurse, as she was calling herself.
After all, the title nurse simply shouldn't be used by those not currently licensed to practise nursing. There is no ambiguity about this. It is not just unethical to use the title without the appropriate licence – it is illegal.
Under the regulation of professions in Florida, from where Porozinski and Folta both operate, using the title "nurse" when you are not duly licensed or certified is a crime and punishable as such.
Even if we put the law completely to one side, qualifications matter – a point that Kevin Folta is all too keen to make whenever it seems to his advantage in the GMO debate. They matter a lot in Folta's world of academia. And they certainly matter in medicine, not least when people are giving opinions on issues of diet and health, which is exactly what Folta said @askepticalnurse would be doing.
In his responses to Valentino, Folta produces no evidence that Porozinski has a proper nursing qualification, only saying that she has been seeing patients, and that providing more information would violate her privacy. But as Valentino points out: "It should be a matter of public record if she [Porozinski] is licensed to see patients… I do believe it is within reason to request verification that someone holds the degree by which they are promoting themselves, and as it is public record, not an invasion of privacy."
Folta also says we do not know what training Porozinski has. But even if Porozinski is training as a nurse, it doesn't make her one, any more than someone training as a medical practitioner can call themselves a doctor before successfully completing their training. After all, how would Folta feel if one of his undergraduate students went around passing themselves off as a scientist with a horticultural science degree? And how would he regard a professor who promoted such claims?
As Valentino tells him, "The only issue here is the behavior you have both exhibited. You promoted her as nurse. She promoted herself as a nurse. She is not a nurse… A Certified Nursing Assistant is NOT A NURSE. It does not matter if she still works in the field uncertified – because she is still NOT A NURSE. This is not simply unethical behavior, it is also illegal... and I will not be hushed up about it. You've made yourself a public figure, and you promoted Roxanne in a public forum, you should not be so surprised when the public have something to say about it."
We have no doubt about the accuracy of Valentino's statements. But this is far from the first time that controversy has blown up around the doubtful accuracy of Kevin Folta's – see, for instance, our article, Documented Liar?. In fact, what has really stoked the whole Folta controversy is not so much the money he got from Monsanto, or even his inflammatory rhetoric, but the persistent questions about a lack of frankness and honesty.

Kevin Folta must now provide the clear evidence of Porozinski's nursing licence that Valentino has asked for, which would resolve any questions about her qualifications, or apologize for his highly unethical behaviour.
Finally, it is worth adding that Folta's attempt to paint Roxanne Porozinski as some sort of innocent bystander desperate to avoid being drawn into controversy is also highly dubious. Quite apart from tweeting and blogging on the GMO issue for some time, she has also posted multiple public comments, some of which could be seen as pretty provocative.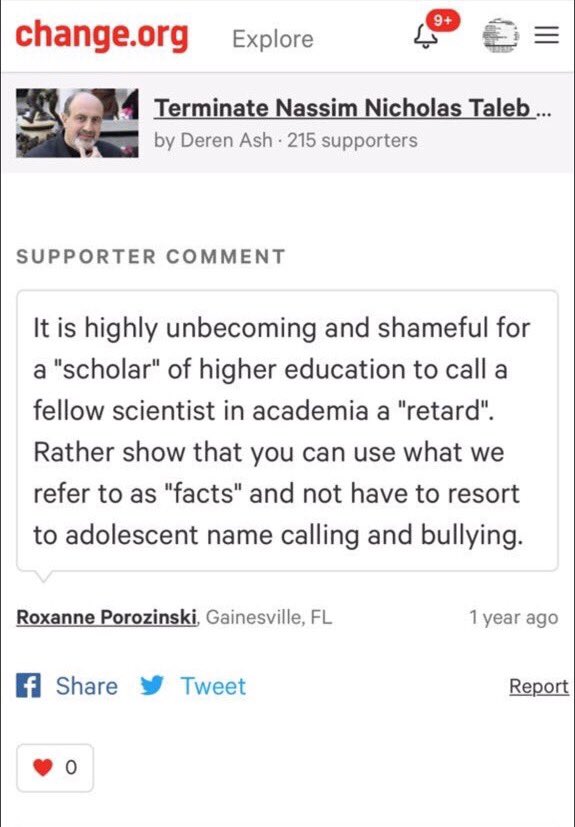 Porozinski has stated, for instance, that her preferred term for anti-GMO activists is "terrorists". And in a public comment in support of a petition calling for the sacking by NYU of the well-known Lebanese-American scholar Nassim Nicholas Taleb, Porozinski attacks him for calling "a fellow scientist in academia" a "retard".
She accuses Taleb of resorting to "adolescent name calling and bullying" – behaviour that is "highly unbecoming and shameful" for a "scholar". Porozinski does not say how she regards Kevin Folta's name-calling of fellow scientists as morons, whackjobs, and charlatans, or whether she also regards that as "shameful" and a sackable offence.

Incidentally, after this article was first published, Porozinski appears to have changed the name of her Change.org profile so that when people follow the link to her comment in support of the petition to sack Taleb, it no longer shows as the supporter comment of "Roxanne Porozinski, Gainesville, FL" but as that of the more anonymous "N A, AP." Fortunately, we had a screenshot showing the original name and location – and that's what you can see on the right.
But all of that is a sideshow. The critical issue is completely straightforward: Is there any evidence that Porozinski had a licence to nurse when they promoted her as one? Until Folta stops hiding behind the privacy issue and properly addresses that, this controversy is unlikely to go away.