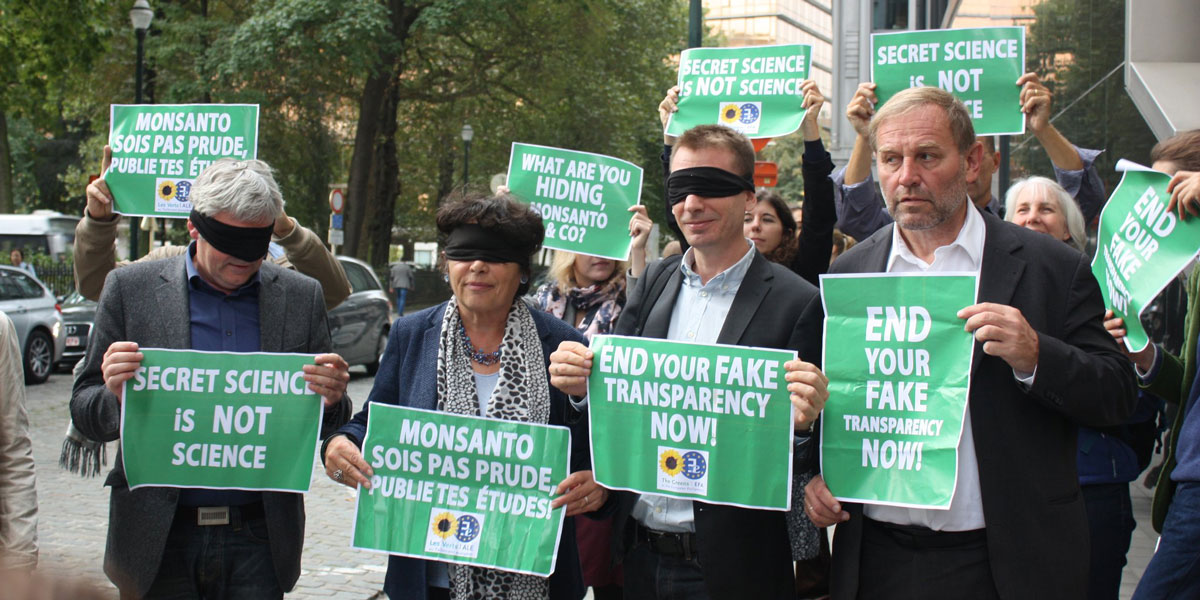 Unimpressed by the restrictive conditions imposed by glyphosate companies on access to toxicology studies, Michèle Rivasi and other MEPs say they are willing to sue EFSA to force disclosure
On 28 September, International Right to Know Day, environmentalist MEPs gathered in front of Monsanto's "reading room" in Brussels, according to a report by the French Green MEP Michèle Rivasi in the Huffington Post. In this room Monsanto has made available the studies on glyphosate, the active ingredient of the most widely used herbicide in the world.

However, Monsanto has imposed strict conditions on access to the studies: viewers have to be accompanied by a guard, and are banned from taking photos, accessing the internet, or downloading information onto a memory stick.

The MEPs, Rivasi among them, were protesting against these restrictive conditions.

The background to the protest is that in March 2015, the International Agency for Research on Cancer (IARC) of the World Health Organisation concluded that glyphosate was "probably carcinogenic". In November of the same year, the European Food Safety Authority (EFSA) said otherwise: glyphosate was "unlikely" to be carcinogenic.

The problem with EFSA's view is that it is based on unpublished studies held by the industry. Experts outside of EFSA are unable to read them. Rivasi called this an "opacity that we and three other environmentalist colleagues in the European Parliament could not tolerate".  

Thus Rivasi and fellow MEPs Benedek Jávor, Heidi Hautala, and Bart Staes asked, in line with EU legislation, for the secret studies to be made fully available to the public.

Here's the background to what Rivasi called a "tragicomic saga of which we do not yet know the outcome":

15 March 2016: Pursuant to Article 4 of Regulation 1049/2001, the MEPs believe that there is an overriding public interest in disclosing the studies considered for reauthorization of glyphosate. They formally request EFSA to provide access to all the studies that were submitted by 24 companies, including Monsanto, to reauthorize glyphosate. They also required EFSA to provide the names of the 76 experts who participated in the re-evaluation of glyphosate, as well as their declarations of interest.

11 April 2016: EFSA told the MEPs that their request, if granted, would result in the publication of nearly 1500 studies and that the Authority had to ensure that the publication of each of them did not violate the interests of companies marketing glyphosate. These interests are not protected by European regulations, in some cases.

Regarding the publication of the names of the experts and their declaration of interests, EFSA only published 14 because others refused to reveal their identity. So these are experts who themselves decided to make their declarations public, or not.

In addition, rather than take the decision itself, EFSA clearly stated that it would first consult the companies to find out if they would publish their studies.

25 April 2016: Realizing that their overly broad request might not succeed, the MEPs narrowed it down. They asked EFSA to make public the studies that focused on carcinogenicity or non-carcinogenicity of glyphosate, as well as studies on glyphosate and its co-formulants. They demanded more precisely the publication of 14 studies in rodents and several studies on mice.

31 May 2016: EFSA responded that the MEPs' application covered 182 studies of which 100 are already available in the scientific literature. 82 therefore remain secret. These studies belonged to the glyphosate industry, with which EFSA had to hold discussions in order to ensure that their publication would not harm its commercial interests and intellectual property.

10 June 2016: The MEPs confirmed to EFSA that they demanded the release of 82 studies even though they comprised almost 200,000 pages, according to the Authority. This was surprising, given that same authority had argued in April that the publication of 1500 studies comprised 700,000 pages.

20 June 2016: According to EFSA, analyzing 82 studies to decide whether or not they could be published would require 1600 hours of work.

In arguing that the conditions of Article 8 of Regulation 45/2001 on personal data were not met, EFSA refused to publish the names of all the experts and their declaration of interests, in order to protect their personal data.

12 July 2016: EFSA sent the MEPs its correspondence with Monsanto, Cheminova, Arysta and other companies.

Monsanto complained that the publication of 82 studies cost about 15 million euros in damages to 24 companies seeking the reauthorization of glyphosate. Rivasi added, "Of course, Monsanto did not ask how much non-transparency will cost to our environment and our health."

Monsanto and its cronies are offering a fine farce that has been offered to us in the framework of the TAFTA (free trade agreement EU-USA): to open a reading room for access to 82 studies. A room on industry property in which it is impossible to take photos… Certainly, transparency requires patience.

Rivasi concludes that she and her fellow MEPs "will not hesitate to sue EFSA in the EU Court of Justice if the studies are not made public without restrictions".


Photo of Michèle Rivasi: Leila Paul via Wikimedia Commons