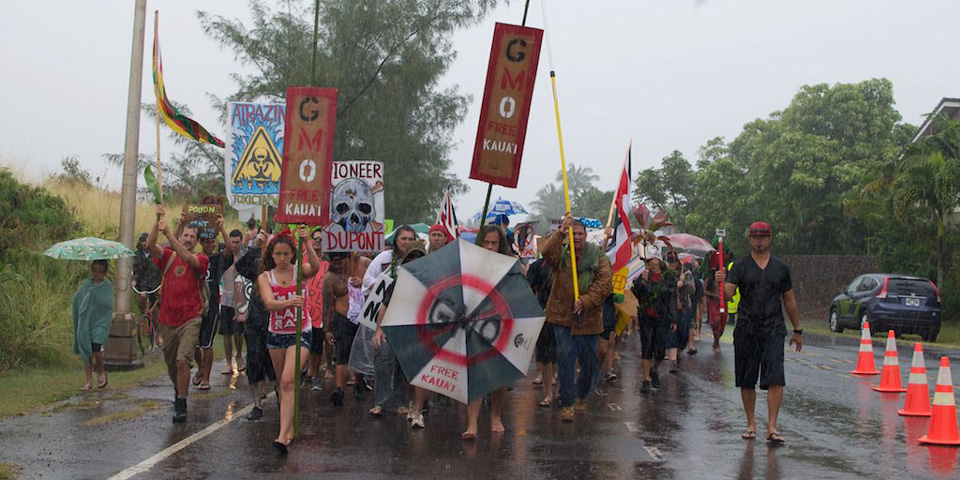 Industry calls pro-GMO scientists "part of our overall public education strategy"
In 2013 in Kauai, Hawaii, Kauai County Councilman Gary Hooser proposed a bill to protect people from pesticide spraying on GMO crops. Bill 2491 would have enforced buffer zones between sprayed and public areas and required disclosure of the pesticides being sprayed.

Reasonable demands, you might think – but the pesticide industry disagreed. It launched a massive PR and lobbying exercise to defeat the bill, as revealed by a recent New York Times' investigation. The industry's chosen mouthpieces for the Hawaii project were the pro-GMO scientist Kevin Folta and a group of other supposedly independent scientists, who travelled to Kauai to testify against the bill in Kauai County Council hearings.
The "Biofortified boys"
The trip to Kauai was organized and sponsored by the Hawaii Crop Improvement Association (HCIA), which includes pesticide and GMO seed companies Dow, Monsanto, DuPont, BASF, and Syngenta among its members. Executives from the first four of these companies are shown recruiting and liaising with their chosen scientists in an email stream published by the New York Times. Industry representatives made arrangements for the trip and decided the strategy that the scientists would follow. The episode was an example of the third-party PR technique, in which industry finds ways of delivering its messages through supposedly independent academics and scientists because the public is more likely to trust them.

The team recruited for the Hawaii project included the well-known agribiz apologist Jon Entine, along with Karl Haro Von Mogel, Steve Savage, and Kevin Folta. All of the latter three connect to the GMO-promoting blog Biofortified, with both Folta and Von Mogel sitting on its board.

Biofortified describes itself as an "independent educational tax-exempt non-profit organization". There is nothing to suggest any industry connections or the involvement of its board members in defending industrial agriculture and pesticides. Some of its board members even claim to be keen on incorporating genetic engineering into "sustainable agriculture" and organic farming.

Folta and Savage are also "experts" at the GMO industry-backed website GMO Answers, where they answer the public's questions on GMOs. Although Folta has repeatedly claimed he has no relationship with Monsanto and is completely independent, he was recently exposed as having received a $25,000 grant from Monsanto for doing communication and outreach on GMOs. Savage is an industry consultant who used to work for the DuPont chemical company.

Alicia Maluafiti, executive director of the Hawaii Crop Improvement Association (HCIA), was one of the industry people who coordinated the Kauai project. She wrote to Entine, von Mogel, Folta, and Savage: "We will need to craft out short term… and longer term strategy… using the Biofortified boys… So please know that you are part of our overall public education strategy."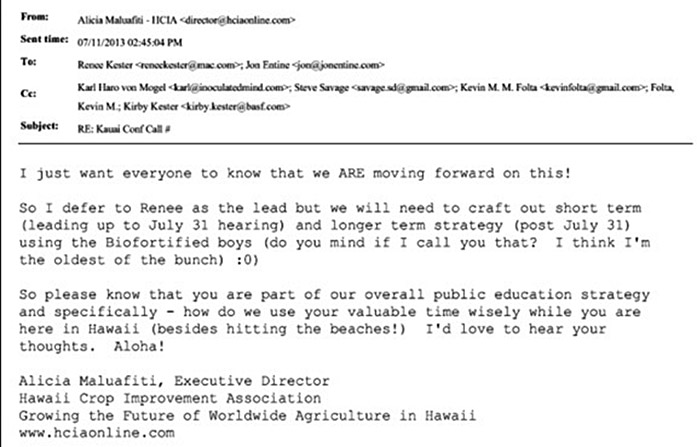 In another email, Renee Kester of the HCIA said that Kirby Kester, an employee of BASF, would set up a conference call with Entine, von Mogel, Folta and Savage "from his office at BASF". Kester also thanked Entine, von Mogel, Folta and Savage for their support during "our recent legislative battles". She invited them to take part in a conference call to "discuss strategy and your availability to support us with a trip over to Hawaii for the next hearing… We have lots of ideas to keep you all busy!"
"Peace of mind" about pesticides
Maluafiti of the HCIA wrote to Savage and Folta arranging for them to attend a breakfast meeting with Kauai businesspeople to educate them about the "flaws in the bill and its impact on the island" and give them "peace of mind about the pesticides being used".

The industry certainly chose the right candidate in Folta when it came to defending pesticides. This Biofortified board member has given extreme reassurances about the safety of Monsanto's Roundup herbicide. He claimed on Twitter, "I've drank [sic] it before to demonstrate harmlessness". In one tweet he boasted that he was going to "tip a freshly opened pint" at one of his "science communication" events. "No fear here. Trust science," he declared.

Folta has also claimed that glyphosate is "less toxic than sunlight, cell phones, caffeine, table salt, and 10,000 times less of a risk for cancer as alcohol consumption". His claim was dismissed as "wrong" by a real expert on glyphosate toxicity, Prof Chris Portier of IARC, the World Health Organisation's cancer agency, which concluded that glyphosate was a "probable" carcinogen. Prof Portier explained, "The comparison suggested by Dr Folta's quote does not exist. However, some comparisons are possible, such as the evidence that glyphosate is carcinogenic is stronger than for cell phones" – the complete opposite of what Folta claimed. Despite this, Folta again made misleading claims about cell phones and glyphosate in an interview in McGill Reporter only this week.
Folta shuts his eyes to pesticide reality
When Folta appeared at a public hearing of the Kauai Council to oppose the bill to regulate GMOs and pesticides, he testified that he had not been paid to be there: "I should state upfront that I have not been compensated for any testimony". That may have been technically true in the sense that he was not being paid a speakers' fee – but he failed to disclose that industry executives had paid the costs of his being there. It is behaviour like this that has led the science writer Emily Jane Willingham to warn Folta that he is now a "poster boy" for the need for greater transparency about conflicts of interest.

Folta also told the hearing that GMO crops allow farmers to use less pesticide. He ignored the fact that Hawaii is a testing ground for experimental crops developed by the GMO seed and agrochemical companies Monsanto, Dow, BASF, Syngenta and DuPont. Hawaii was chosen for its year-round growing season, enabling two or three crops to be grown per year where only one would be possible in the US. Also, the vast majority of GMO crops are engineered to tolerate being sprayed with pesticides. For these reasons, it has been estimated that 17 times more "restricted use" pesticides are sprayed per acre in Hawaii than on ordinary fields on the US mainland. The use of these pesticides is "restricted" because they are recognized as highly toxic.

Even on the US mainland, with its generally lower pesticide use than Hawaii, Folta's claim would still be false. USDA data show that GMO crops have increased pesticide use by around 7%, compared with what would have been the case if non-GMO crops had been planted. The increase is mostly due to the planting of herbicide-tolerant GMO crops, which are designed to be grown with applications of herbicide. Claims that GMO Bt insecticidal crops have decreased chemical insecticide use have been shown to be false because only insecticides sprayed on the growing crop were considered. Neonicotinoid insecticides applied as seed treatments were ignored, as was the fact the GMO Bt crops are in themselves an insecticide. When the neonic seed treatments are considered, insecticide use is seen to have escalated on US maize and soybean crops since GMO versions of those crops became the norm.
The "Biofortified boys" vs suffering people
In evaluating the actions of Kevin Folta and his fellow scientist-lobbyists in Hawaii, we should remember whom they were trying to undermine. Supporters of the bill included Hawaiian health professionals who described horrific illnesses in their patients, which they linked to the heavy pesticide spraying on experimental GMO crops. They also included citizens' groups whose representatives spoke for the many who suffer illnesses associated with pesticide exposure. Some of this disturbing testimony can be seen in the documents released by the New York Times.
Bill passes – but is struck down
After Folta and Savage left Hawaii, Kirby Kester of BASF wrote to them: "I miss you guys already and can't thank you enough for your time on Kauai last week and your professional attention to our issue."

It's a testament to the determination of the people of Kauai that in spite of the "professional attention" of Folta and his colleagues, Bill 2491 was passed by a 6-1 vote, as Ordinance 690, in the fall of 2013. However, in August 2014 a federal judge struck down the ordinance on the grounds that it unlawfully pre-empted state law governing pesticide use.

Local doctors continue to denounce the pesticide spraying on GMO crops, blaming it for a spike in birth defects, as a long investigative piece in the Guardian recently reported.

It remains to be seen how many more people will sicken and die before action is taken to protect them – or how long the "Biofortified boys" will continue to work hand-in-glove with industry to keep the GMO and pesticide treadmill turning.


Report by Claire Robinson