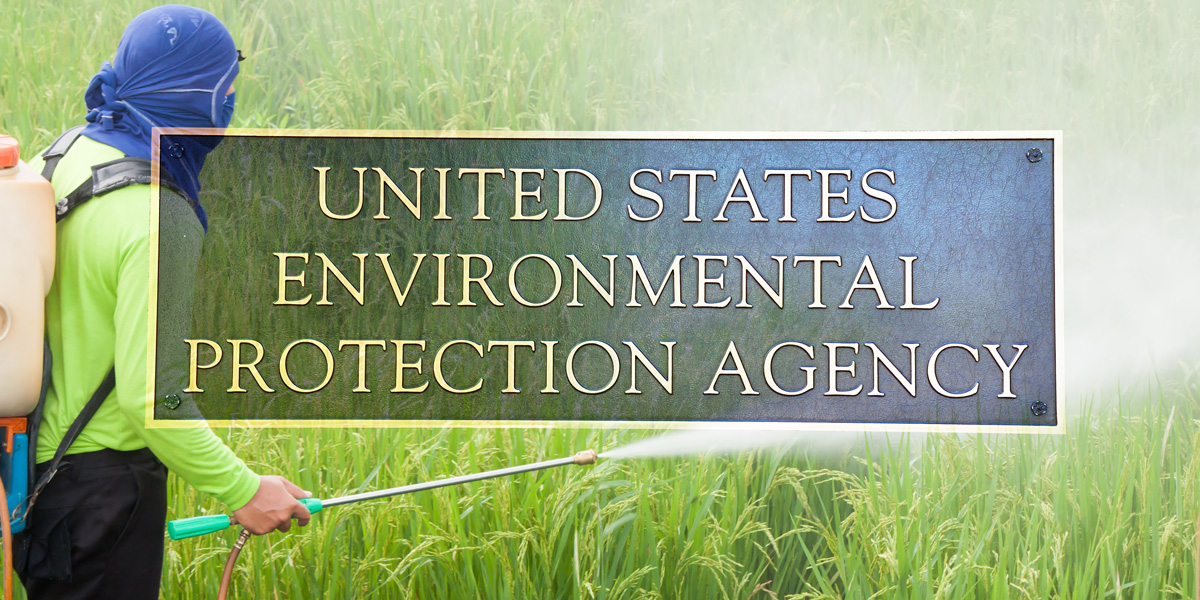 Committee's motivation may not be to protect the public interest
Recently the US EPA yanked off its website a report concluding that the weedkiller glyphosate is unlikely to be carcinogenic. The EPA said it had made a mistake in publishing the report before its review of glyphosate was finalised.

Now the US House of Representatives Committee on Science, Space and Technology has launched an investigation into the 'mistaken' release of the report – see the article below.

However, this investigation into the EPA's workings is highly unlikely to be in the public interest. It is far more likely to be a hostile move against the EPA in order to pressure it into pleasing industry and approving glyphosate, rather than protecting the public.

This is because of who is spearheading the investigation. The committee's chair is Lamar Smith, a Republican from Texas and a climate science denier who has received major funding from the oil and gas industry.

According to the Union of Concerned Scientists, Smith is is on a mission to make it more difficult for the EPA to carry out its job to protect public health and the environment.
Secret Science Reform Act
Smith is sponsoring a bill called the Secret Science Reform Act, which would "prohibit the EPA from implementing a regulation unless it makes public all related data, scientific analyses and materials". Smith says the bill's intent is to increase transparency at the agency so that it can't use "hidden and flawed" science.

Interestingly, we and many other NGOs are also arguing for transparency of the science used in regulatory decisions. We don't trust the commercially secret industry data that regulators use to approve pesticides and want to force them into the open so that independent scientists can review them.

But the UCS is concerned that the bill introduced by Smith "would obstruct the Environmental Protection Agency (EPA) and other federal agencies from enacting science-based rules, setting back public health and environmental protections for decades to come… They would tie up federal agencies with bureaucratic red tape, limit the data they could use, deter independent scientists from participating, and give corporations even more influence over the rulemaking process." The UCS says, "The legislation may sound reasonable, but it's actually a cynical attack on the EPA's ability to do its job."

One part of the bill that certainly seems ill-advised is its demand that only reproducible data should be considered in regulatory assessments. Reproducibility has an important place, such as in controlled laboratory studies. But insisting that all the data used has to be reproducible would exclude epidemiological studies and clinical case studies of people exposed to toxins, as well as data gathered from environmental disasters. By their very nature, such data are restricted to certain times, places, or individuals and cannot be reproduced.

If such data were excluded by law from regulatory processes, this would undoubtedly suit the interests of polluting industries.
TTIP would give corporations influence over regulatory lawmaking
A parallel process that could increase corporate influence over lawmaking has been proposed by the US in the talks for the TTIP trade deal.

According to Corporate Europe Observatory, if the TTIP passes, corporations and industry groups will be able to influence the development of regulatory cooperation by making what is referred to as a "substantial proposal" to the working agenda of the Commission and US agencies. Kenneth Haar, researcher for CEO, said, "EU and US determination to put big business at the heart of decision-making is a direct threat to democratic principles. This document shows how TTIP's regulatory cooperation will facilitate big business influence – and US influence – on lawmaking before a proposal is even presented to parliaments."
The way forward
So what's the way forward for transparency of regulatory processes? We believe it must happen, but it cannot be a case of privileged and unilateral access for industry and its allies, as in TTIP. Transparency of data and decision-making must apply for the public as well as industry, and must occur at the same time.

Meanwhile Smith's challenge to the US EPA over the 'inadvertent' publication of its conclusion that glyphosate isn't carcinogenic is likely to be based on a concern that the agency might change its mind and conclude that it is a cancer risk after all. Hence the committee's investigation could be a way of increasing pressure on the agency to toe the industry line and keep to its prematurely publicised verdict that the chemical is non-carcinogenic.
—
US House Committee launches investigation into EPA glyphosate cover up
Sustainable Pulse, May 8 2016
http://sustainablepulse.com/2016/05/08/us-house-committee-launches-investigation-into-epa-glyphosate-cover-up-2/#.Vy9azz_hUyC
[links to sources at the URL above]

The U.S. House of Representatives Committee on Science, Space and Technology has launched an investigation into the 'mistaken' release of a draft report by the U.S. EPA on the World's most used herbicide, glyphosate.

The EPA 'mistakenly' published a draft report online on April 29 by the Cancer Assessment Review Committee (CARC). The report stated that glyphosate is 'not likely to be carcinogenic to humans', which is in direct contradiction to the World Health Organization cancer agency IARC's much more comprehensive report, which stated in 2015 that glyphosate is a "probable human carcinogen".

An EPA assessment on the herbicide atrazine was also posted on the agency's website on April 29 but subsequently taken down. The documents are available here. The assessment said atrazine was found to cause reproductive harm to birds and mammals.

In a letter to EPA Administrator Gina McCarthy on Wednesday, committee chairman Rep. Lamar Smith, R-Texas, announced his committee is launching an investigation into the matter.

"…EPA's removal of this report and the subsequent backtracking on its finality raises questions about the agency's motivation in providing a fair assessment of glyphosate — an assessment based on the scientific analysis conducted by CARC," Smith said in the letter.

"Furthermore, EPA's apparent mishandling of this report may shed light on larger systemic problems occurring at the agency."

Smith has asked EPA to provide "documents and communications" from January 1, 2015, to the present between agency personnel on the glyphosate assessment to the committee by May 18.

According to expert Sustainable Pulse sources in the U.S. the EPA allegedly attempted "to take the legal pressure off  the pesticide industry and specifically large producers of glyphosate-based herbicides such as Monsanto," by releasing the CARC draft report.

The legal pressure on glyphosate has come in the form of many lawsuits in the U.S.  that have been started against Monsanto's Roundup herbicide (a glyphosate-based herbicide), since the IARC classification of glyphosate as a probable human carcinogen last year.

Monsanto has repeatedly asked regulators to publicly protect their number one product, however the EPA has not been able to meet Monsanto's timeline for a full re-licensing of glyphosate, which is now expected later in 2016 or even early 2017.

Sustainable Pulse Director Henry Rowlands stated; "The EPA's 'mistaken' release of the main part of  their report that is designed to protect the pesticide industry seems rather a strange coincidence.

"Glyphosate is now on the agenda for consumers and farmers across the World. The discovery of the herbicide in our bodies and our food at hormone hacking levels is very alarming. The EPA should be protecting us all by providing a fully independent scientific analysis of the chemical. However, this is not what is happening and the EPA is again working against public health protection," Rowlands concluded.

Glyphosate: The Hormone Hacker

Stone-Age industry funded science suggested that the higher the dose of a chemical the more dangerous it was, however modern independent science has discovered that many toxic chemicals have as much or more of an influence on our health at low doses– these chemicals are known as hormone hackers (endocrine disruptors).

A study from March 2015 stated that the health costs to the European Union of hormone hacking chemicals is over $ 150 Billion per year! The study stated that lower IQ, adult obesity and 5% or more of autism cases are all linked to exposure to endocrine disruptors.

Glyphosate is likely to be one of these hormone hacking chemicals according to independent science. Find more information on this here.